17 Free Baby Girl Journaling Cards, Tags and Labels in Pink
Recording the happy events of your baby girl is more fun through scrapbooks and journaling. Here, we are giving away a set of baby girl cards for journaling in 3×4 and 6×4 sizes. These baby girl cards come in soft pink and cream color combinations. Some of the baby girl cards include texts while most of them are blank so you have more flexibility on what you want to use them for.
ABOUT THE BABY GIRL CARDS
We divided the files that you may download in two parts. The first download pack includes the 12 pieces of 3×4 journaling baby girl cards and five in bigger size. The second download pack includes the printable ribbons and flags. To use them, all you need to do is to download the file (link below the preview image), extract the PDF file from the archived file, open in your computer, print, and then cut. The layout is sized 8.5×11 inches, thus it is best to print them on letter sized paper. It will also fit on A4 size paper without a problem.
To give you a better idea on what you are going to get from this pack, we also included below close-up previews of these pink journaling cards. However, these are still not the actual resolution. For best results, you need to download the PDF file by clicking on the link below. The first four card are examples of the 3×4 journaling cards while the last two pictures are the 6×4 cards. Aside from scrapbooking and journaling, you may also use the bigger cards to create photo cards, post cards, or greeting cards.
DOWNLOAD
password: bdo
---
As a bonus, we also created some cute flags and ribbons using the same soft pink patterns that you can use as labels or washi tape in your journaling projects. You may print this page on a sticker paper so you can easily stick them on your layout. Each of these ribbons and labels has unique pattern on it and come in three different sizes and shapes. As usual, download, extract, print and cut. We wanted to make gift tags as well but we ran out of time. Please let us know if you wish to have matching gift tags for this journaling set as well by leaving us a comment below.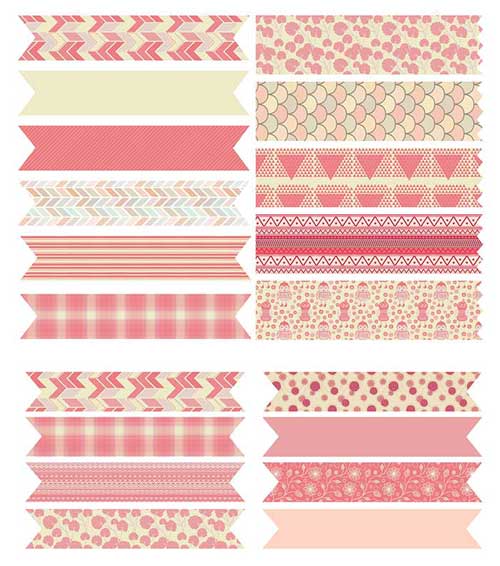 Please note of the password for extracting the zipped file. Enjoy!
DOWNLOAD
password: bdo
---
TERMS OF USE:
These printables may be used for personal projects only. A link back is required if you use them. Also, please refrain from making them available for download outside of this site. If you want other people to know about our freebies, please refer them to this post.
IMPORTANT!
The download file is password-protected to prevent hotlinking and discourage people from violating terms of use of our brushes. When prompted for a password, just key in "bdo".
Related Free Design Resources