10K+ Free Seamless Background Pattern Designs
Background pattern designs, especially those seamless and scalable ones,  are very useful as elements in both print and web creative works. As background for websites, for example, you can simply add a bright and interesting pattern as background and presto! the appearance of your website will instantly improve without much effort. Patterns as backgrounds are also useful for scrapbooks, invitation cards, even business card designs.
In case you are looking for some pretty but free background patterns that you can use for free, here are more than a thousand (1000+)  designs that you can use for your projects. To download the set that you want, just click on the text link found below each preview image. Also, do not forget to check out the terms of use of each set as license could change from time to time and from one author to another.
On the other hand, if you need scalable and high quality pattern that you can edit in programs like Adobe Illustrator or Corel Draw, then check out our earlier posts about free illustrator patterns or vector patterns.
Please note that the first 12 entries are websites where you can download or generate free patterns. These websites alone will give you limitless seamless background pattern designs that are enough to last you a lifetime.
1000+ FREE BACKGROUND PATTERN DESIGNS TO DOWNLOAD
I. Websites Dedicated to Free Background Pattern Designs
01- PATTERN COOLER
At Pattern Cooler, you may download thousands of seamless background pattern images that you can use for your projects for free. The background pattern designs are organized into styles, so if you are looking for stripes patterns, clicking on that style category will show you all stripes patterns on the site. Pattern Cooler also offers an editing tool to customize the size of the pattern, color as well as the background textures.
02- COLOURLOVERS PATTERNS
Here is another site where you can get thousands of free background pattern designs. You'll find over 5,116,137 user-created seamless background patterns to use in your creative projects. At colourlovers, you may color a pattern, design your own seamless pattern or get the ready-to-use latest patterns.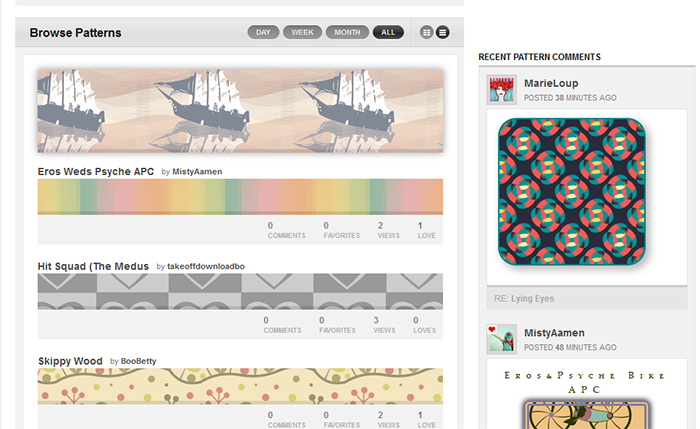 03- PATTERN 8
Pattern8 was created to make it easier to find high quality free seamless background patterns. Pattern8 keeps things simple and allows searching by color. When you preview a pattern you'll find a link to the vector version of the pattern from PatternHead.com (if available).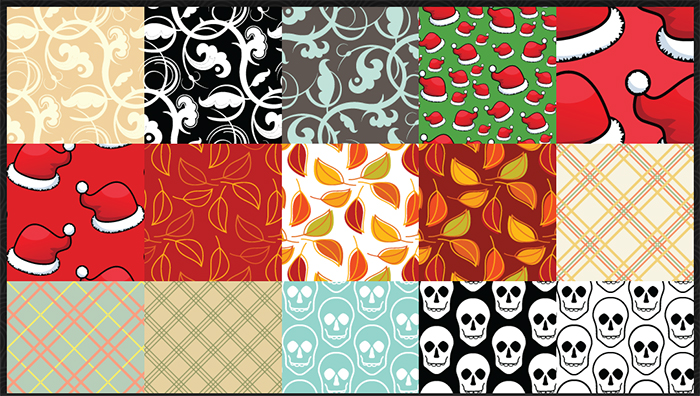 04- THE PATTERN LIBRARY
Created by designers for designers, this site offers thousands of cool seamless background patterns that you can use for free in your projects and websites. Whether looking for a wallpaper pattern for your iPhone or your living room, the Pattern Library is a fun resource. It allows you to keep scrolling through a responsive web library of great patterns. If you're a designer you can also contribute your own design to to the Pattern Library.
05- WEB TREATS PATTERNS
There are thousands of free seamless background pattern designs for Photoshop layering that you can download from Web Treats. The collection includes around a hundred sets of patterns in various themes–from grunge to stripes to polka dots and a lot more!
06- DIN PATTERN
This site also offers thousands of seamless background pattern designs in various categories, styles and colors. DinPattern offers its patterns in numerous formats — .jpeg, .png or .gif — so you can use the most convenient option for your site.
07- BG PATTERNS
This site lets you make your own own background pattern images through a seamless background tools found in the website. You can preview your pattern on the website and make any adjustments before downloading it. This is a fun option if you find it difficult to create patterns using programs like Photoshop. Using the seamless pattern generator tool at BG Patterns, creating your own pattern can take less a few minutes only.
08- SUBTLE PATTERNS
If you are not a fan of bright and festive patterns and colors, then this website is for you. It offers hundreds of patterns that are more subdued in light and dark hues. The preview option allows you to see it in actual use on a website and give you a good feel for how it looks.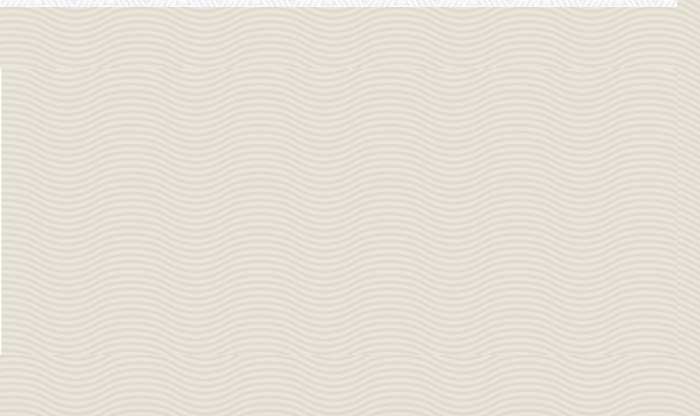 09- BG REPEAT
This website offers hundreds of fresh, cool, minimalist, awesome repeating backgrounds and patterns.
10- PATTERN HEAD
The patterns that you may download from this blog includes both editable vector patterns and pixel patterns that are useful for projects both web and print.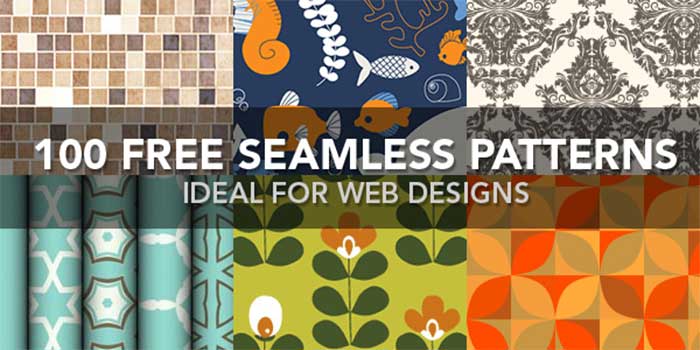 II. Free Background Pattern Packs from Blogs
11- PATTERNS BY PHOTOSHOP FREE BRUSHES
Aside from high-quality brushes for Photoshop, you may also hundreds of quality background pattern designs from this website. The patterns range from geometric to ornamental, swirls, and floral designs. Digital papers at 12 x 12 inches in JPEG or PNG formats are also available to download.
12: SEAMLESS PATTERNS FROM DEVIANTART
DeviantArt also offers tremendous free seamless background resources. Most of these seamless patterns come in Photoshop PAT files as well as ready-to-use image files.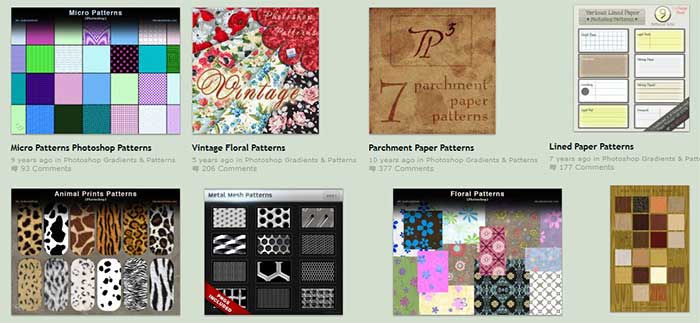 13-Miscellaneous Textures and Patterns
This DeviantArt member has a lovely collection of patterns that you can use in your projects. Most of the patterns in the collection are floral and other decorative patterns.
14- 16 Seamless Pink and Gray Geometric Patterns
There are seven styles and layout in two different color schemes. If you know how to use Photoshop patterns, then good for you, because you can do many things and make different color schemes by changing the background in Photoshop. The patterns come in transparent background.
15- Pink Photoshop patterns
16-Blue Photoshop patterns
Inspired by the Spring season, here is a set of seamless Photoshop patterns in blue.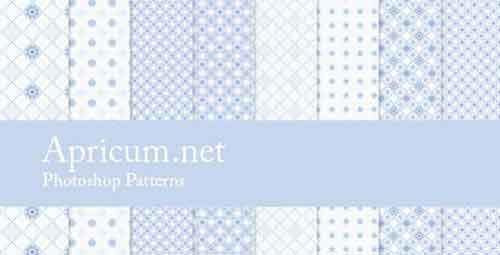 17- Pretty Plaids 001
This set features 30 100×100 seamless plaid patterns that you can tile as background for websites.
18- Seamless Tiled Backgrounds
This set contains 50 seamless patterns that you can use as tiled background for personal sites, blogs and social networking profiles, family sites, kid-friendly sites, and business sites (of a certain nature). Very clean and professional-looking, fun and cute. Plus, These backgrounds will work at any resolution.
19 – Pattern set 2
A set of 12 seamless tile-able patterns that you can use for Photoshop 7 and above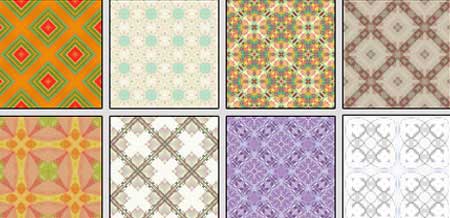 20-Patterns #38
This pack includes 25 seamless patterns for Photoshop and an image pack just in case you need to use these patterns in another program.
21- GypsyGarden" Seamless Tile
A pack of seamless patterns thatyou can use as background. Included are two sets of .pat files in different resolutions and a PNG files so you could also use these patterns outside of Photoshop.
22- Textured Stripes
A set of of 6 textured stripe patterns made in Photoshop CS2.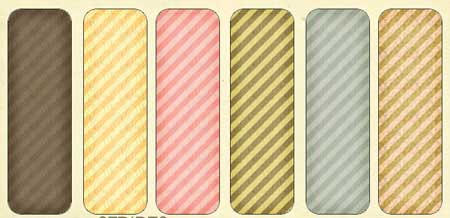 23- Pattern Part 1
A set of 9 seamless patterns featuring floral and swirl designs that you can use as background. The zipped download file include .pat (for Photoshop patterns) and JPEG files (in case you want to use it outside of Photoshop).
24- Patterns #23
This set of seamless and can be tiled patterns is intended for Photoshop CS+. In case you want to use it outside of Photoshop, an image pack is provided as well.Includes a total of 33 background patterns.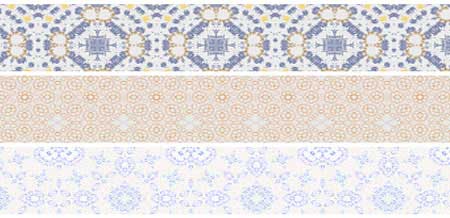 25- Green Patterns
This set of 6 green patterns is made in Photoshop CS2 & PSP 9. The zipped download pack contains .pat file and an image pack for other programs.