15 Birthday Card Template Files to Download Free
If you need a unique and personalized birthday card to give to your loved ones, then here are some free birthday card template files you can download and use for free. Each of these birthday card files are easy to edit so you can fill in your personal message, text, or photos in the design. All the templates are vector graphics so you can easily scale and edit them as you please without worrying about resolution or crispness of the design elements. (Note: You will need a vector editing program like Adobe Illustrator to edit these birthday card template files).
There is nothing sweeter and thoughtful than giving your loved ones a personalized birthday greeting card on their special day. In the era of Internet and mobile phones, getting a personalized birthday card sent to your home or office could mean a lot. It says a lot about the effort put by the sender in coming up with a printed card.
Some of these birthday card template files are already print-ready, all you need to do is to add the name of that person you are going to give the card to. So what are you waiting for? Start downloading all of these vector templates now. I am sure these will all come handy in the coming days. Enjoy these freebies! However, if you do not have the program to edit these file, then we recommend that you download our free printable birthday cards instead.
---
Birthday Card Template Files to Download Free
To download the template that you want, simply click on download link below the preview image.
Elephant Birthday Card Vector
A fun birthday card template in vector AI and EPS format that you can use to create birthday greeting card or party invitation card for babies or toddlers.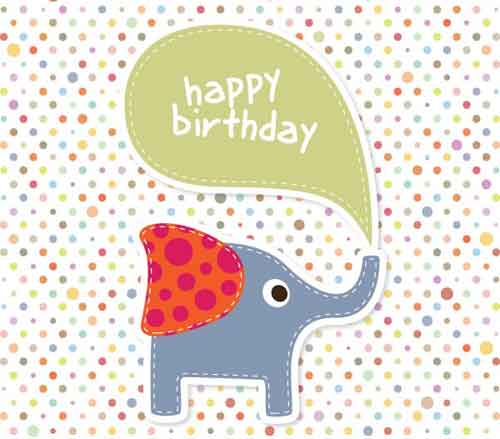 Birthday Bunting Card
Start your birthday party the right way with this light, fun card background. Birthday bunting extends across an eggshell background; the banners feature a variety of colors and patterns, and the background has some light textures. The bunting lines extend slightly past the border and into the graphic's white frame. It's a casual card, and it's bright and fun thanks to the varied designs of the bunting flags. The "Happy Birthday!" message at the bottom of the card is presented in a happy handwritten font. Add a personal message and you're ready for a fun birthday party.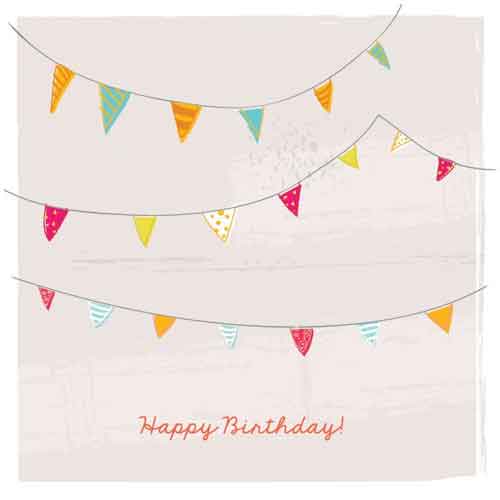 Birthday Card Design
Lovely Happy Birthday card design with romantic letters and cute gift vector illustration. Use this colorful design it to create your own birthday card and make someone you love happy.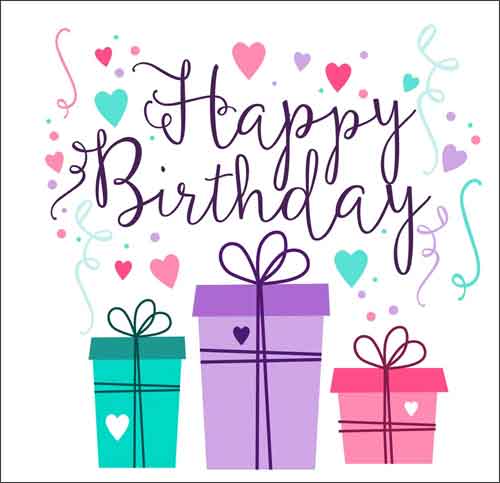 Happy Birthday Cards Collection
A collection of four editable birthday card templates in yellow, blue and green color schemes. The cards sport playful design featuring hand drawn balloons, cakes, confetti, gifts, and ribbons.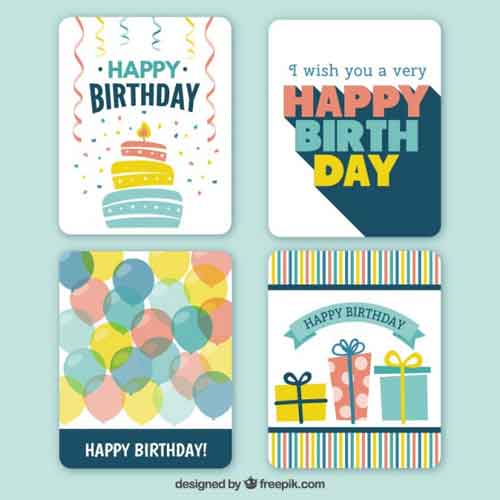 Variety of Birthday Cards
Another set of birthday card templates. You can customize these templates to use as party invitation card or as your usual greeting card.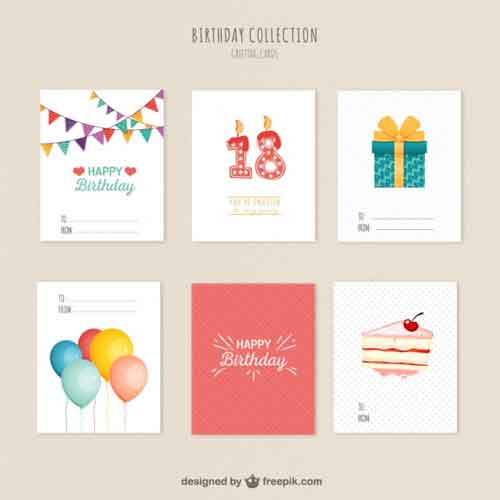 Vintage Happy Birthday Postcard
Cool Birthday postcard in a vintage/retro style with grunge background and classic Fonts. High quality JPG included.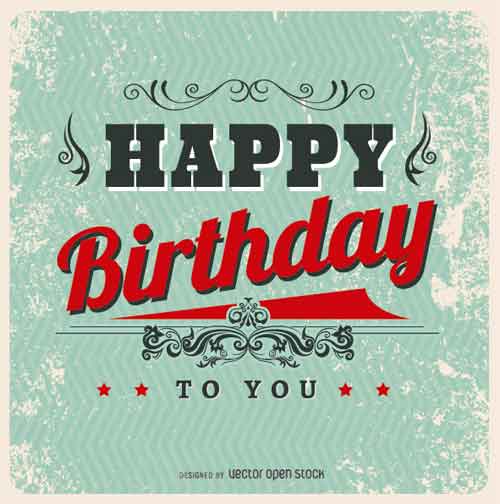 Happy Birthday Balloons Card
Orange and blue balloon background with rounded badge and happy birthday badge. High quality JPG included.
Free Cute Playful Birthday Card
A free birthday card template featuring cute cartoon-ish elements.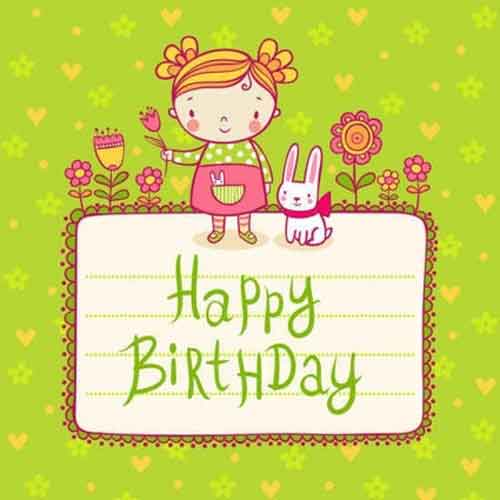 Retro Happy Birthday Card Vector
A vector birthday card template for a retro birthday greeting card featuring dots, bunting and sun rays in vintage color scheme. This template is also available as PSD template.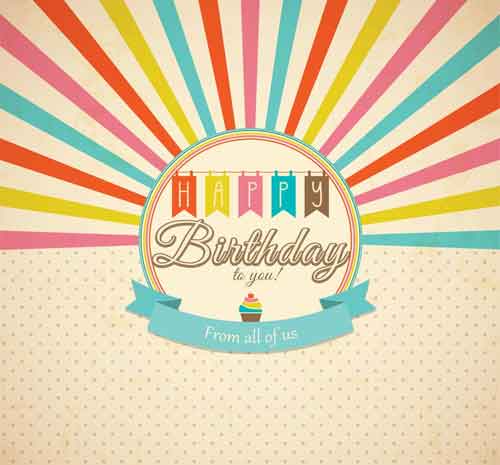 Happy Birthday Vector Labels
This set of vector templates includes 4 bright fun Happy Birthday labels that you can use in your birthday party-related designs.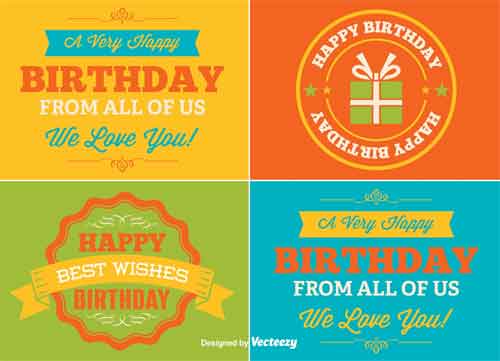 Happy Birthday Cards Collection
There are four lovely birthday greeting card designs in this set featuring candy colored balloons. Just add some text or put pictures inside the frames provided to customize these templates. This is a vector file so you need a program like Adobe Illustrator to edit it.
Vintage Birthday Backgrounds
This set includes four birthday card template designs in vintage or retro style.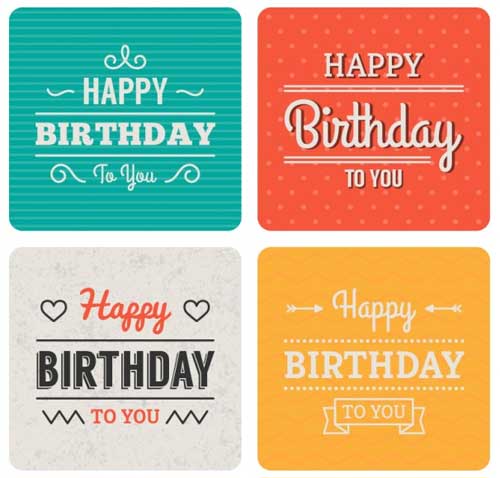 Beautiful Birthday Greetings Card PSD
In this post, you will find five birthday card greeting templates in Photoshop PSD format.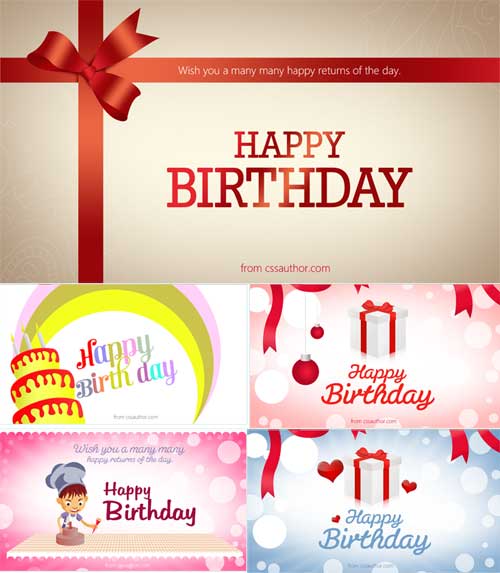 Baby Birthday Photo Template in PSD Format
Here is a nice editable Photoshop PSD birthday card template file for making personalized birthday greeting cards or birthday party invitation cards for your baby. To personalize, simply replace the photo of the baby in the template. There are two elegant designs to choose from in this set.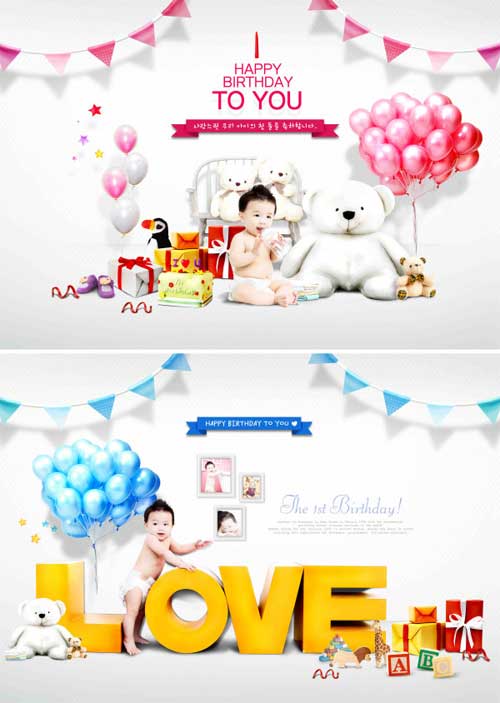 Happy Birthday Greeting Card Vector
Here is another birthday card template, but this time, in vector format that you can use for making birthday greeting card or party invitation card. This template in yellow and green with playful graphics and fonts are suitable for kids' birthdays. You can also replace the monkey graphics with a photo of the birthday celebrant to customize it further.
Related Free Design Resources