200+ Free Black and White Background Patterns
Using seamless background patterns is a great way to give your layout, both web and for print, additional interest and  depth. Especially in designing websites, using seamless patterns is the most efficient way to make the background interesting without compromising loading speed of your website. Black and white patterns are among the sought after backgrounds since they are very versatile and uncomplicated. You can combine with any color scheme without problem. Black and white patterns are also not loud and attention grabber, allowing the foreground or the main element of a layout stand out.
In this post, we are going to direct you to more than 200 patterns in black and white. The patterns that you will find from these links include different types of patterns–from fabrics to geometric shapes, fancy, retro, vintage, floral, lines, and more. For more free resources like these, visit our exclusive freebies page.
I. Free Vector Black and White Patterns
The first 14 entries are vector patterns, which are available as either .AI or .EPS files. The rest are Photoshop patterns (.PAT) or image files in .PNG or .JPG. I hope you will find these patterns useful.
Free Simple Patterns Vectors
This is a set of vector patterns in simple designs like herringbone, dots and lines patterns.
Free Herringbone Pattern Vector
This set includes 6 herringbone patterns  useful for creating great backgrounds.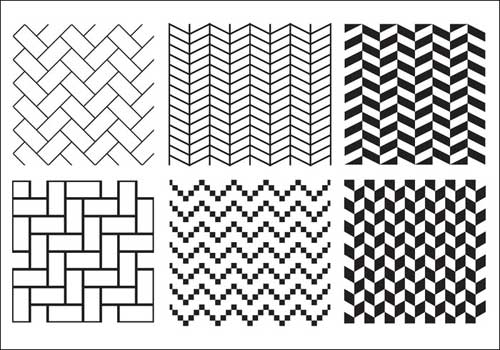 Free Dotted Patterns Vectors
This set includes free simple patterns and textures, perfect for business cards, birthday cards, or sports-themed designs. Included in the set are polka dots pattern, football texture, and tennis texture.
Simple Black and White Vector Patterns 6
A set of black and white patterns in diagonal and diamond-like arrangement of lines and shapes. Included in this pack are gingham vectors, checkered vector patterns, and more.
Simple Black and White Vector Patterns 5
A simple black and white vector pattern pack consisting six black and white pattern vectors with abstract shape base.
Simple Black and White Pattern Vectors
Another vector pattern set consisting of a herringbone, cubes, and other geometric lines and shapes.
Geometric Pattern Set
A very useful set of geometric patterns that includes chevron, checker board style and many more!
Fish Scale Pattern Vector
This black and white pattern set in vector format includes fish scale patterns in various arrangements and thickness.
100 Monochrome Geometric Patterns
Here are 100 free seamless vector pattern swatches (also as symbols) for Adobe Illustrator CS and higher in this set.
Black and White Zig Zag Patterns
There are 9 zigzag patterns in this set with different thickness and arrangements.
Abstract Pattern in Black and White
There are four linear seamless vector patterns great as background for your high-res layout projects.
Geometrical Patterns in Black and White Color
Another set of vector patterns from Freepik featuring diamond shapes, fish scales, stars and cubes.
Geometric Seamless Patterns Pack Free Vector
This set of free vector seamless patterns include waves, diagonal lines, polka dot, and many more, all in black and white.
Black And White Line Patterns
Here are minimalist thin lines patterns in black and white that you can download free.
II. Free Black and White Patterns as Photoshop .PAT Files
Photoshop Pattern Set 1 – Scan Pattern
There are 20 patterns in this set contained in a single Photoshop (.pat) fil. Includes mainly geometric and line patterns.
Photoshop Pattern Set 1 – Scan Pattern
Created in Photoshop CC, this set contains 15 different scan patterns (in .pat and .png formats). Black transparent and non-transparent patterns are both included.
Floral Black and White Photoshop Patterns
This set includes 6 floral and vintage Photoshop patterns. These are great for creating invitation cards for wedding and other occasions.
Free Photoshop Patterns
Another set of black and white patterns featuring different designs.
IZ Patterns
There are 16 patterns of diagonal lines and other geometric shapes in black and white in this pack.
Hexagon Photoshop Patterns (PAT)
Here are seamless hexagon Photoshop patterns (or honeycomb patterns) with transparent background. These 22 Photoshop hexagon patterns are contained in .pat file, with 11 white and 11 black patterns. Enjoy!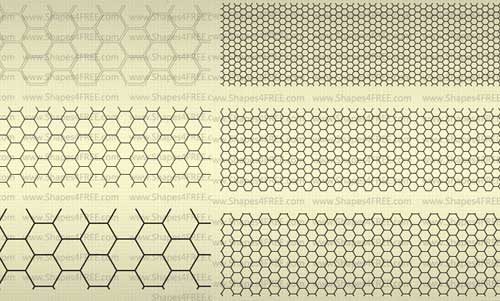 Related Free Design Resources