Black Business Card Designs: 27 Letterpress Printed Cards
We have seen a lot of inspiring galleries featuring letterpress business cards on white card stock. And we fully agree that they look stunning and very elegant, especially those that make use of the minimalist approach in design.  To balance the equation, we decided to come up with our own gallery of letterpress black business card designs.
Letterpress printing on black paper can be equally stunning and elegant. Just browse through the designs below and be inspired! Technically speaking, however, the process of printing black business card on letterpress is more complicated than their white counterparts since it requires a range of production challenges. Let us know of your thoughts about this post by leaving your comment or suggestion below.
---
BLACK BUSINESS CARD EXAMPLES
01- Livia Caporale by Lambert Letterpress
Silver vegetable based ink was used on Pegasus black cover (130lb)
[ SOURCE ]
02- Single Brothers by Shane Cranford (via Card Observer)
Letterpress printed on French Construction Black and double laminated for thickness. Served as both a business and membership card.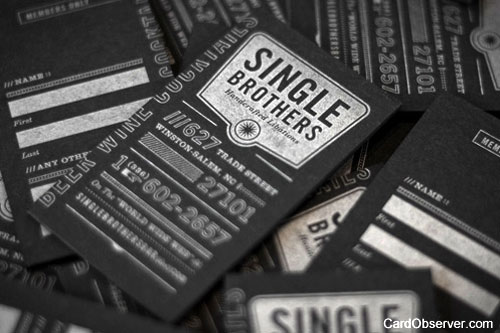 [ SOURCE ]
PROJEKT INC. BLACK BUSINESS CARD
04- Hail Design
Silver ink was used on black stock
[ SOURCE ]
05- Dita Eyewear Business Cards by Beast Pieces
These are the brand new cards for Dita Eyewear in Los Angeles designed by Bryan Crabtree. The blind flourish on the light side and the diamond pattern on the black gives these cards a tonal and elegant look.
[ SOURCE ]
06- Rob Price by French Press
The cards were letterpress printed on 1/0 silver on black
[ SOURCE ]
07- Table4 Photography's Edgy Black Letterpress Business Cards
"Black, super-thick (over 1/16? thick) Museum Mounting Board goes through the Heidelberg Windmill three times: One time for gloss foil for "Table4 Weddings," so it is just pressed in very deeply with only the shine of the foil, no color, merely the shadow and mystery that can only belong to Huang/Chan. Second time for their names, in turquoise metallic foil. Third time for the actual information, in a sort of not-too-shiny silver foil. That is the letterpress printing part, three foils. Then we have to die cut each one. And then we send them to the edge painters who live far away. This is the coup de gras, the extravaganza of all business-card time. Brilliant turquoise matte ink applied along the edges of each and every card."-Studio Z Mendocino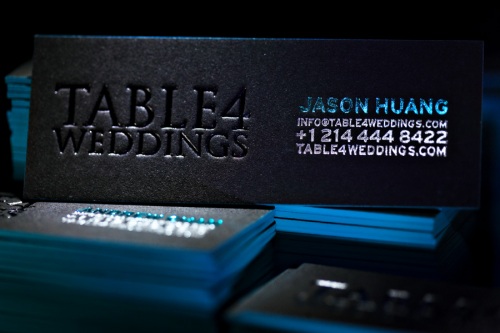 [ SOURCE ]
08- Jaime Wickard by Beat Pieces
This card was produced on black paper stock: Tonal Black letterpress ink and a gloss black FOIL (side 1) and Silver Letterpress (side 2).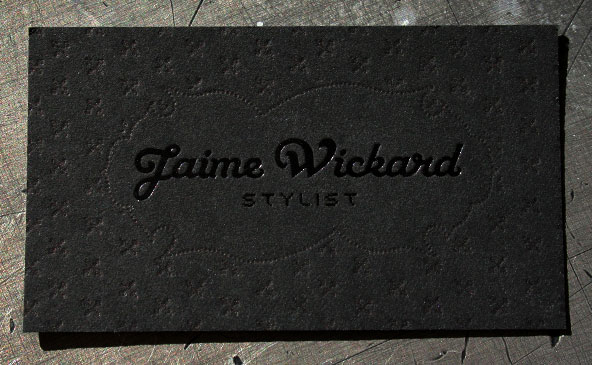 [ SOURCE ]
09-Clint Shuttlesworth Photographer
[ SOURCE ]
10- Jason McGrew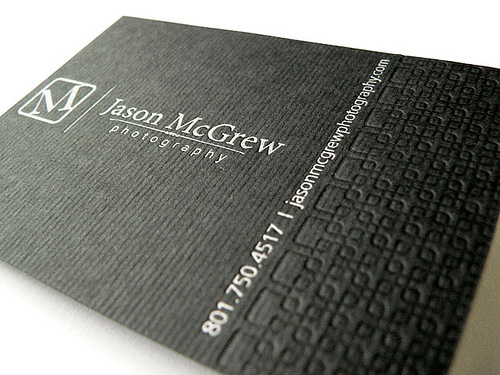 [ SOURCE ]
11- Details Corporate Events by Beast Pieces
[ SOURCE ]
12- Bradley Spitzer Photography
Printed on heavy 2ply black museum board in silver ink
[ SOURCE ]
13-Men's Vogue by Dolce Press
1/4 thick black card stock using silver metallic ink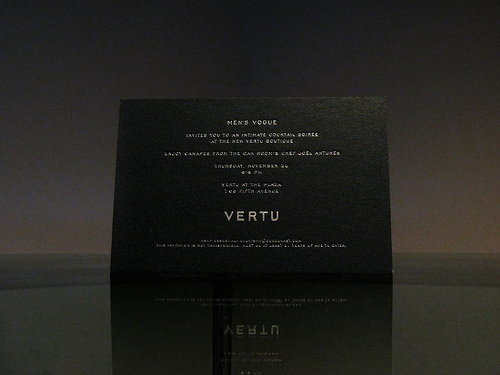 [ SOURCE ]
14- Mac Daddy
Super-thick, scrumptious black museum mount paper was foil stamped in shiny, light- and attention-catching silver foil. Clean and modern typography makes them extra-Yum.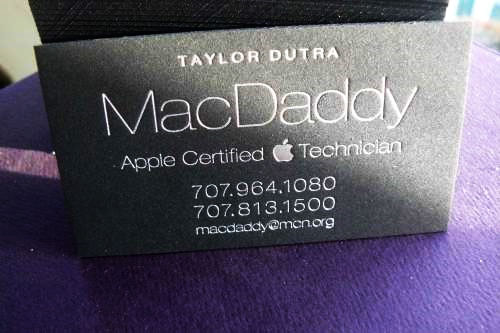 [ SOURCE ]
15– Scott Roberts
At 540gsm, it's quite a heavy weight but it feels great in the hand. Black foiling, overlaid with white foiling.
[ SOURCE ]
16-Silver on Black Letterpress Business Card
The cards were printed on our Heidelberg platen in silver ink onto 540gsm black stock. The sheen from the silver ink changing with light from different directions. The heavy stock allowed for a deep impression which resulted a firm business card that feels solid in your hand.
[ SOURCE ]
17-Younique Business Cards
Double sided business card for Lithuanian graphic artist Justinas. Card printed on dark grey (almost black) extra thick stock with black ink. Card looks really very unique.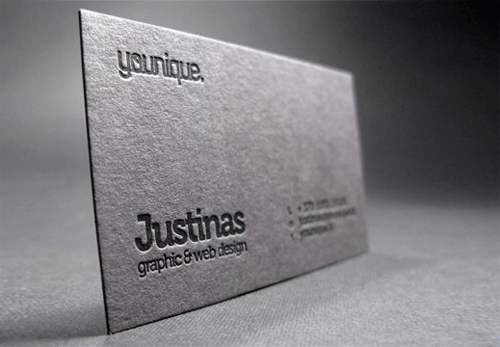 [ SOURCE ]
18- Bold Black Letterpress
The main logo is printed with clear varnish which makes it slightly more shiny than the rest of the black letterpress business card. The other details are in silver ink.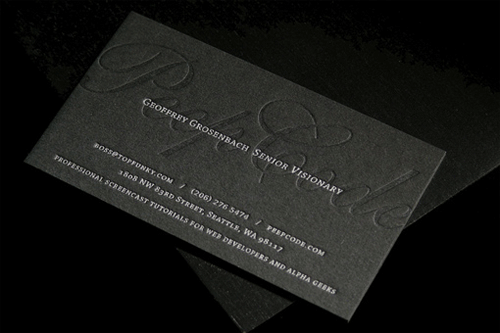 [ SOURCE ]
19-Edge Painted Letterpress
Bold and thick edge painted letterpress business cards designed for Ubiquitous, a creative design agency. Heidelberg platen presses were used for printing.
[ SOURCE ]
20-Sexy Business Card
Letterpress printed on black, super thick Museum Mount paper, foil stamped with clear gloss foil, pewter-silvery foil and hot pink foil
[ SOURCE ]
21-Exclamation 101
The information wraps the card from front to back. Information was letterpress printed on a thick two ply black museum board. Weight wise, it is about 200lbC which gives virtually no show through.
[ SOURCE ]
22-Business card – Anastas
Black business cards printed for photographer Anastas Petkov using Black Rising Museum Board.
[ SOURCE ]
23-Space150 V26 Business Cards
[ SOURCE ]
24-Human Hand Varnish On Black Business Card
This card has subtle tonal varnish on one side and PMS 877 metallic silver ink on the other. The paper stock is our custom 200lb Wausau Eclipse Black cover weight.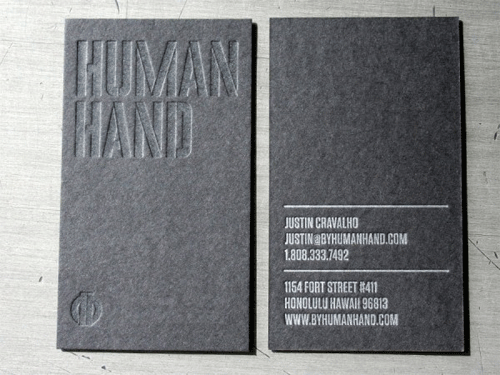 [ SOURCE ]
25-Metallic Letterpress Business Cards
These black business cards were letterpress printed on super thick black cotton stock (2-ply)
using Metallic Silver ink.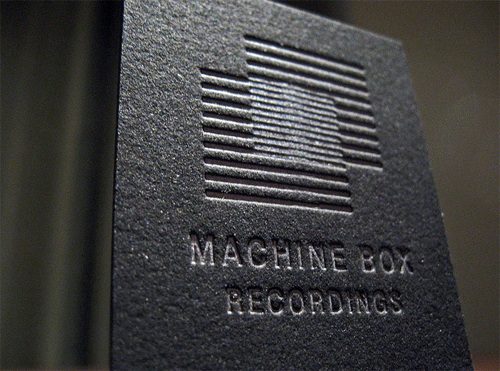 [ SOURCE ]
26-Scott Boswell Enterprises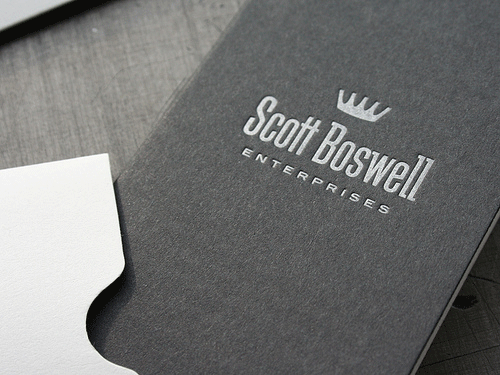 [ SOURCE ]
27-Silver Leaf Studio Card
[ SOURCE ]
Related Free Design Resources