20 Free Blurred Backgrounds in Pastel Colors
Blurred backgrounds continue to gain popularity in both web and print designs. You see these kind of designs in printed brochures and flyers as well as in blogs, websites, ad banners, web and mobile applications, and even in Powerpoint presentations. You can easily add depth to a rather flat layout by using a blurry backgrounds. For example, you can create lovely posters that you can frame later on with your favorite quote, a cool lettering fonts and using one of these blurry images as background.  That is just one of the many things you can do with these images.
ABOUT THIS BLURRED BACKGROUNDS PACK
Today, we are releasing an image pack consisting 20 high-resolution blurred backgrounds in soft pastel pink, blue, and purple colors.  The images are in ready-to-use JPEG files in high-resolution format of 12×12 inches or 3600 x 3600 pixels. These pastel blurred backgrounds were created by combining colors and creating gradients in Adobe Illustrator. Use these blurred backgrounds to create wallpaper or background for your iPhones, interesting blog headers or blog entry titles, for typographic posters filled with your favorite quotes, or for beautiful greeting and invitation cards. Below is the preview of all 20 blurry backgrounds that you will get from this pack. We hope you will find them useful in your projects. Enjoy!
If these are not enough for you, please checkout our previous post featuring over 700 blurry background textures that you can download for free.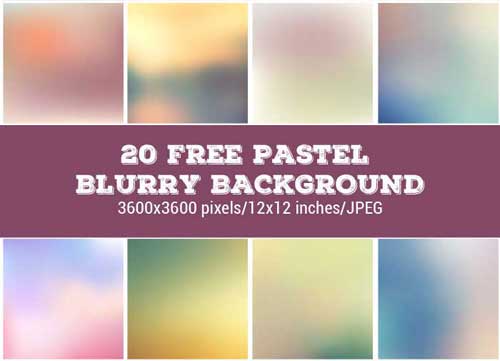 ---
TERMS OF USE FOR THE BLURRED BACKGROUNDS PACK
As with our previous freebies, You may use these blurred backgrounds pack for personal, noncommercial purposes only. Also, please refrain from making them available for download outside of this site. If you want other people to know about these freebies, please refer them to this original post. Also, you are not allowed to HOTLINK to the downloadable file.
IMPORTANT! You will need to input the password to open the archived file. We are doing this to prevent other people from hotlinking and violating terms of use of our freebies. We have been seeing our freebies being distributed by other sites without our permission. PASSWORD for these brushes is: "bdo" without the quotes.
If you want more of these backgrounds, then download also our new set of blurred background textures.
Related Free Design Resources