25 Free Branding Mockup Templates in Smart PSD files
Using branding mockup templates is a great way to showcase your collateral materials in a realistic way. Mockups allow you and your clients visualize the actual look of your creative works before finalizing them. Thus, using mockups can actually save you time and money, especially for those materials that need to be printed.
Mockups usually come as editable PSD templates with smart object layers. Using smart object layers, you can easily integrate your designs in the layout. In fact, you do not need to an expert in Photoshop to use these PSD mockups.
In this post, we put together a total of 25 branding mockups in Photoshop PSD format. These branding mockups will help you showcase your designs for logo, letterhead and stationery, envelopes, business cards, and other marketing collateral materials in a modern and realistic way.
To use these branding mockup templates, simply open the files in Photoshop, locate the smart object layers and drop your own designs.
---
FREE BRANDING MOCKUP TEMPLATES TO DOWNLOAD
To download the branding mockup template that you want, simply click on the download link provided below each preview image. The link will take you to the source page where you can download the file and get more information about each design. Hope you find them useful. Enjoy!
Free Identity and Branding Mockup
A set of some very cool identity and branding mockup PSD elements. The mockup allows you you to present your corporate branding or identity design in a very professional way. With the help of smart-object layers, you can easily add your artwork. You can even tweak the shadows and backgrounds to compliment with your branding design.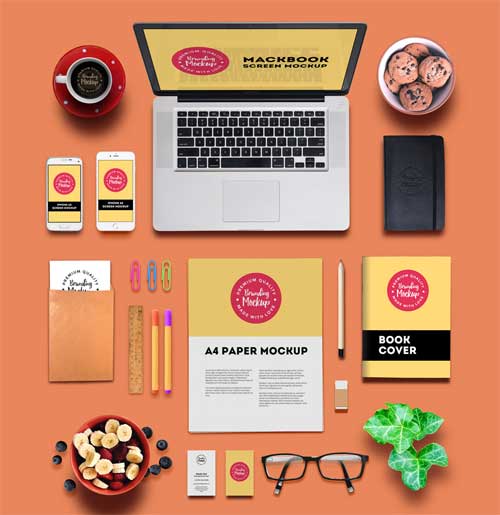 [ DOWNLOAD ]
Corporate Identity Mockup Part 5
Here is a realistic identity and branding mockup ideal for any business or brand. It includes a widescreen monitor, a piano keyboard, stationery, etc.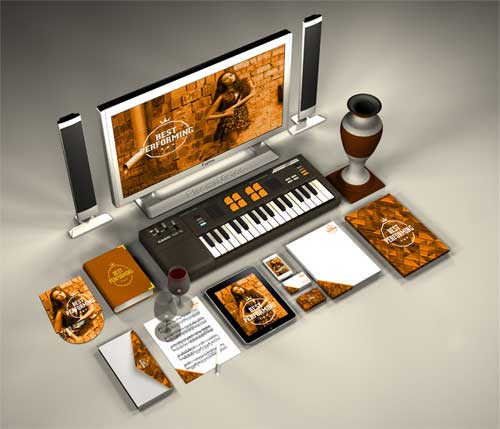 [ DOWNLOAD ]
Branding / Identity MockUp Vol.11
An exclusive branding/stationery mockup packed with lots of features. All objects and shadows are in separate layers while the background can be changed to anything you want.
[ DOWNLOAD ]
Food Packaging and Branding MockUps
Here is a set of 2 pre-made mockup scenes that you can use to showcase your food branding projects. Each PSD file includes an assortment of items that can be easily customized.
[ DOWNLOAD ]
Stationery MockUp Collection
Another cool perspective branding mockup for identity materials and stationery. The PSD include smart layers so you can easily drop your own work and add you own color scheme.
[ DOWNLOAD ]
Black with Gold Accent Stationery Mock-Up
If you wish to use a dark color scheme for your brand, then this PSD mockup template is for you. The design features stationery materials in black with gold accents.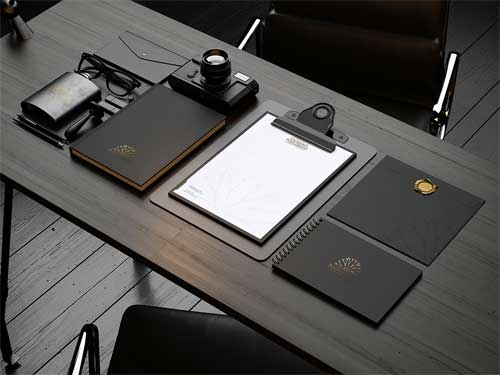 [ DOWNLOAD ]
Brand Identity Mockup Template (PSD)
A PSD layered vector based brand identity mockup to present your identity and logo design.
[ DOWNLOAD ]
Elegant Brand Identity Pack
An elegant branding mockup template that reflects the essence of sumptuousness in a sober way. This is perfect resource for exclusive service businesses.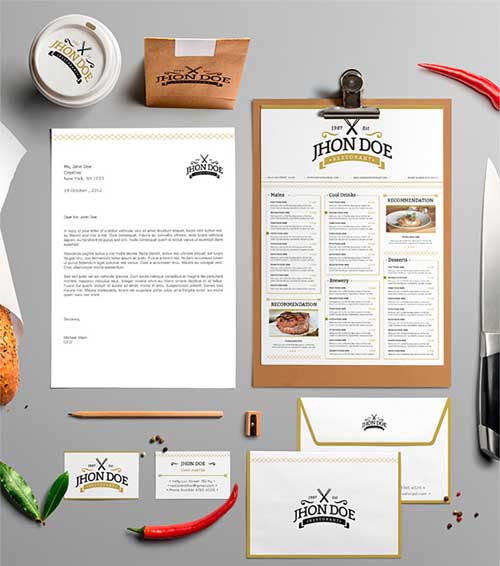 [ DOWNLOAD ]
Corporate Branding PSD Template
Top quality PSD branding mockup template to showcase your art works. It includes A4 sheets,business cards, envelopes, and CD cover. All stationery items and text layers can be changed with one click.
[ DOWNLOAD ]
Free Notebook Mockup For Branding
Here is a gorgeous free notebook mockup with movable elements. This is great for creating the perfect scene for your logos, sketches, notes, scrapbooks, etc.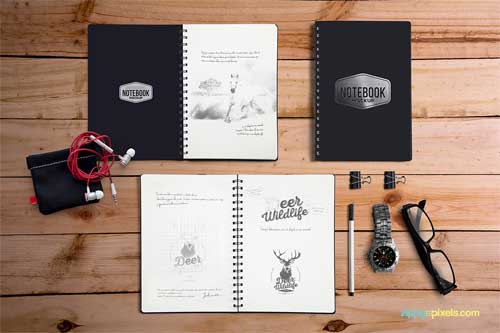 [ DOWNLOAD ]
Branding / Identity MockUp Vol.9
Here's a new set of stationery elements to showcase your branding projects with style. You can move, hide and edit any element separately. This high-resolution template allows you to easily create beautiful close-ups and previews of your design.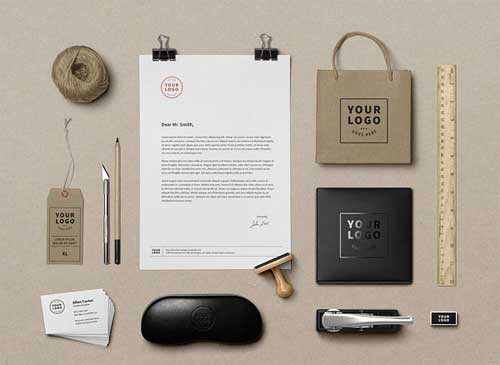 [ DOWNLOAD ]
Branding / Identity MockUp Vol.10
A high-quality resource great for photography-related branding projects. The PSD file includes smart objects and is fully editable to allow you to create the right composition for your project.
[ DOWNLOAD ]
Blank Stationery / Branding MockUp
With little skill in Photoshop, you may impress your clients showing them your work in its final form. In just three steps you can simulate the visual identity on various customizable objects in nine different angles.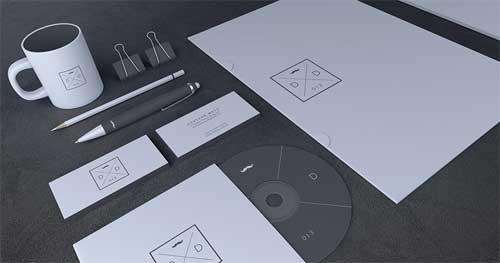 [ DOWNLOAD ]
Free Corporate Identity Mockup
This clean and high quality corporate identity package is suitable for any kind of business. Each template is fully customizable and come in a well organized Photoshop PSD file. All texts are editable and colors can be easily changed to what best fits you. The sample logo can also be edited or replaced your own one. All fonts used are free. Fonts download links can be found inside the help file.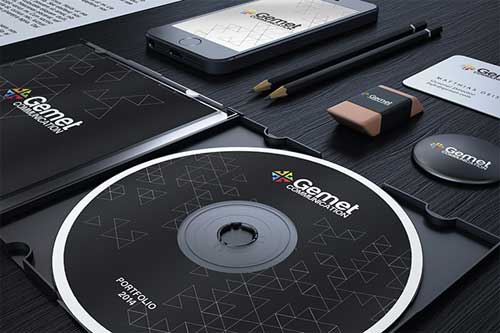 [ DOWNLOAD ]
Aviator: Branding Identity Mockup Vol. 3
Here is another branding mockup kit with an aviator theme.  The elements are mostly in dark colors, giving it a luxury high-end look. The design also uses yellow accents.  The PSD includes all the layer, which can be edited via Smart Object layers.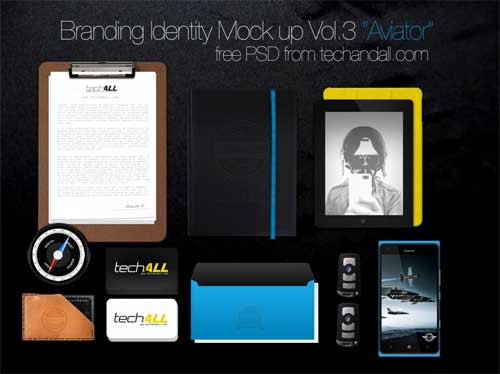 [ DOWNLOAD ]
Branding and Identity MockUp Vol.7
This is the seventh volume of the branding mock-ups series which consists a new set of elements to help you showcase your next branding project. You can move and hide any item as you prefer.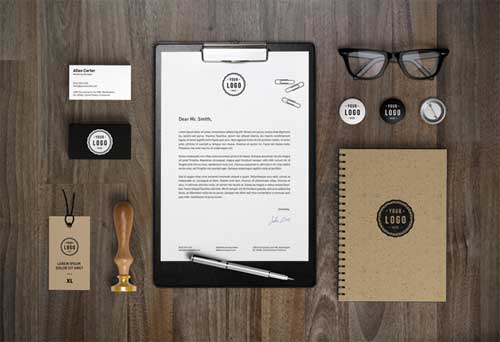 [ DOWNLOAD ]
Stationery Branding Mock Up Vol 3-2
Here is a simplified dark themed PSD stationery identity kit. It includes all the essential elements and a new high resolution floor texture background to help you showcase your next brand design project.
[ DOWNLOAD ]
Free Stationery Mock-Up Photoshop PSD Template
You may use this free PSD template to mock up and present your stationery designs such as letterhead, business cards, and envelopes. The PSD is well organized and uses Photoshop smart objects to make your life easier.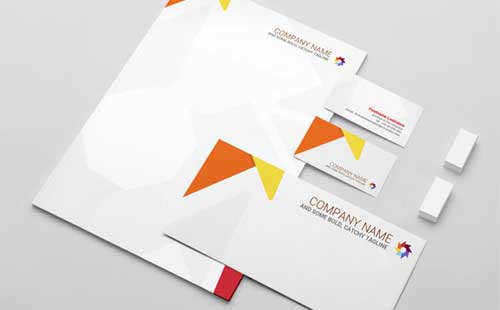 [ DOWNLOAD ]
Stationery Branding Mock-Up PSD Free
This mockup is not built on a photograph. Thus, you may easily manipulate the elements like shadows and lights. You may also move the objects around or remove those you do not need in the layout.
[ DOWNLOAD ]
Branding-Stationery Mockup in Yellow
Create your own branding showcase with this professional Photoshop PSD mockup. To use, simply add your design  via smart layers. The high-resolution PSD file is fully layered and grouped.
[ DOWNLOAD ]
Vintage Mock-Up Freebie
If you want a vintage theme for your business identity, this free mockup is for you. The template includes stationery, business cards, vintage pair of scissors, reading glasses, and pencils.
[ DOWNLOAD ]
3D Identity MockUp Design
Using this free realistic mock-up template, you can now convert your 2D identity design into 3D with just one click. This resource is completely editable and uses smart objects so you can adjust the mockup to your needs and have your work done in no time.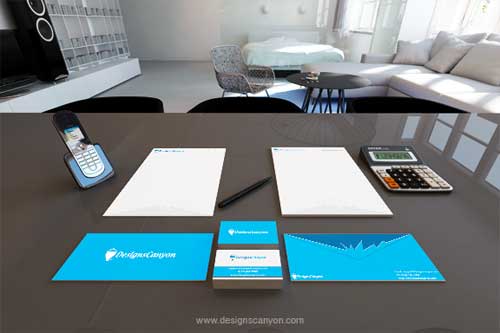 [ DOWNLOAD ]
Free Stationery Branding Mockup Pack
This free branding and identity pack contains editable items that are editable through Smart Objects . Simply add your logo or any other artwork to the template with a few mouse clicks. Included items are letterheads, business cards, compliments slips, etc.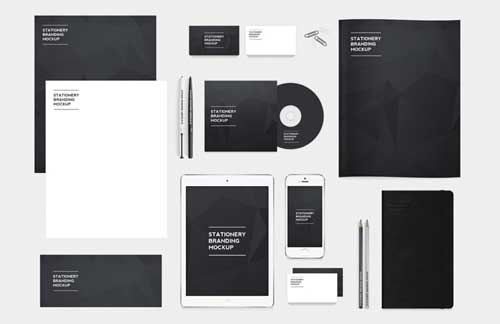 [ DOWNLOAD ]
Branding and Identity MockUp in Black and White
This high-resolution branding template in simple black and white design includes the following items: A4 sheets, envelopes, business cards, iPad, iPhone, pencils, eraser and clips.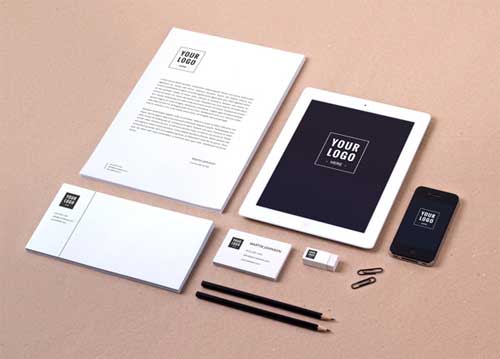 [ DOWNLOAD ]