250+ Free Building Clip Art Vectors to Download
Building clip art graphics are useful for creating city skyline silhouettes, which are popular in both web and print designs. That is why, we see a growing number of designers who make use of  silhouettes of buildings and city skylines especially as background for urban-themed designs.
In this collection, we put together more than 200 stunning illustrated building clip art vector graphics featuring city skylines of major landmarks around the world. We also included various buildings as well as popular monuments and landmarks.  Thus, you will see that most of these building clip art illustrations are great for banners and web headers. These are also useful as background image for large-format or high-resolution print materials since these files are in EPS or vector format (which means you can stretch them to any size you want without losing any detail).
However, if you need cityscape and skyline vectors in full colors, then this post might be more useful to you: 55 Sets of Free City Background Designs.
---
GROUP OF BUILDING CLIP ART GRAPHICS
To download the set of building clip art illustrations, simply click on the preview image and it will take you to the page where the vector graphics were originally posted. There, you will find the terms of use for each building clip art. And of course, the download link.
A set of four group of buildings clip art in silhouette effect. These building graphics also have a cartoon-style for drawing effect.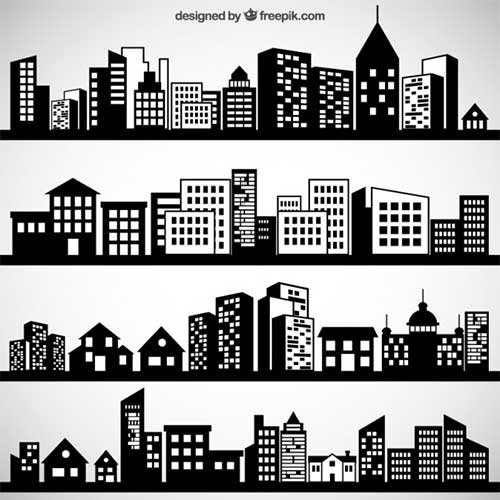 Another set of vector graphics featuring skyscrapers in group. These are perfect for creating city backgrounds in silhouette style.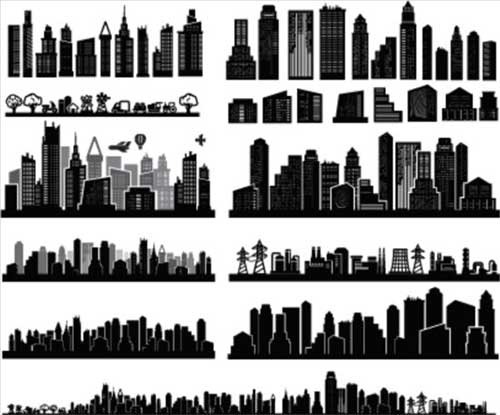 A set of vector graphics in cartoon style featuring group of buildings clip art.
First of all, here are 30 different group of building clip art composed of city skylines from Australia to New York. These are perfect for creating urban or grunge-style designs. Free to download under a Creative Commons Attribution 3.0 License.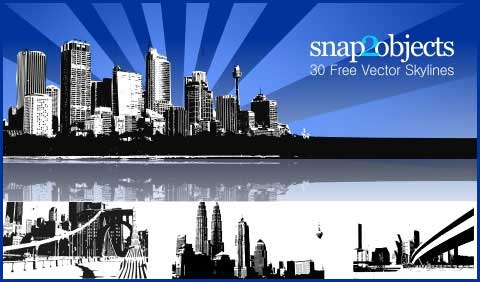 In this set, you will find two ready-to-use skylines of New York City in different colors and themes. The pack that you may download consists 2 PNG files, one of which is transparent. These are useful as banners or you can use them alongside a blog article. This set carries a Creative Commons Attribution-Noncommercial-Share Alike 3.0.
Use this graphic to create a city landscape with ecology/environment theme. This is great for brochure, posters, or flyer for an ecology event.
Here is another set of vector city skylines from Snap 2 Objects. This time, it features 30 city skylines from Sydney to New York. These were converted as vector graphics using an online vector-conversion tool called Vector Magic. These are free to use in your designs.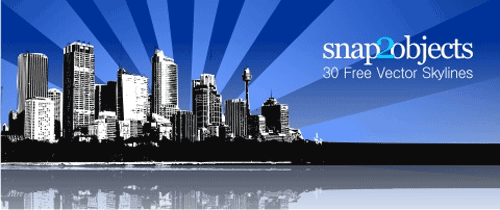 This editable vector graphic is perfect for creating vintage city scene.
Here is another city skyline silhouette design in EPS file from Vector Portal. This is perfect as background for banners, flyers, posters or any project that requires a city silhouette background.
In case the first two city silhouette EPS failed to meet your requirements, then here is another alternative, this time in panoramic/wide-angle format. These are also useful for banners or website headers.
In addition, here is a city skyline silhouette in EPS format that you can download from Vector Portal. Useful as background for banners, flyers, posters or any design that requires a city background setting. Same license applies.
A nice collection of city skyline silhouettes. There are 12 different skyline illustrations in this EPS file.
This EPS file features some cool design elements from New York City such as the Statue of Liberty and some landmarks of the city.
This set includes 15 various skyline silhouettes in vector format.
SINGLE BUILDING CLIP ART GRAPHICS
Meanwhile, here are 24 grungy silhouettes of city elements: buildings, building cranes, factories and so on. Everything you need to create you own grunge city landscape.
Here, you will find 57 very detailed silhouettes of vector buildings. This is a big collection of premium urban shapes of industrial buildings, houses, homes, cathedrals, hotels and a lot more. These are free to use in your designs, commercial or personal.
Furthermore, here is another set of building clip art set featuring 78 high-quality shapes of urban silhouettes. City scrapers and single buildings, houses, and popular buildings and monuments from around the world. You may use them for free to use in your designs, commercial and personal.
Meanwhile, here is a set of building clip art composed of Christian churches in silhouettes.  These churches also often have a dome  or other large vaulted space in the interior to represent or draw attention to the heavens. Other common shapes for churches include a circle, to represent eternity, or an octagon or similar star shape, to represent the church's bringing light to the world.
There are ten sketched isometric building illustrations in this file.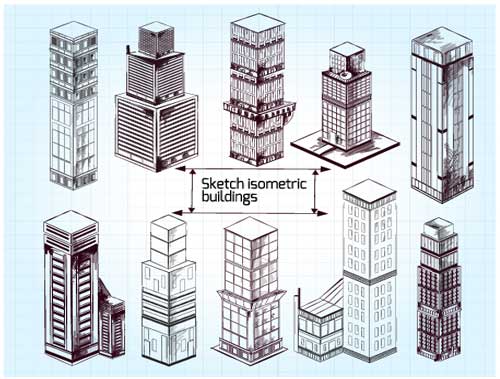 Here is another set of building clip art featuring hand drawn tall buildings in editable vector format.
In relation to this, you may also check out also our  free Photoshop brushes featuring city skyline of major cities worldwide such as Manhattan, Chicago, Boston, Las Vegas, Seattle, Toronto, Sydney, Beijing, Dubai, Russia, Hong Kong, and a lot more. Check on the image below to read this article and download these free Photoshop brushes: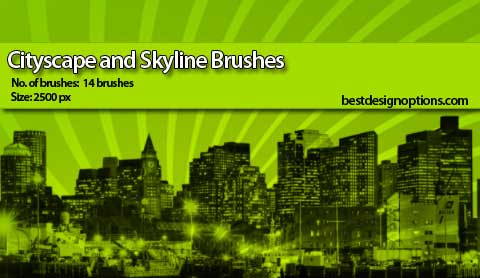 Related Free Design Resources