15 Professional-Looking Business Christmas Cards
Sending business Christmas cards to your clients and customers is a powerful marketing tool for any business. In fact, most experts agree that sending business Christmas cards deepens your relationship with your clients and customers. This gesture lets them know that they are important to you. When sending business Christmas cards, it is best not to go overboard with designer labels and customized messages. You should also remember to enclose a business card with your business Christmas cards. Most importantly, always remember to include a handwritten note inside the card to make it more personal. And please do not make sure that the name or company name of the recipients of your business Christmas cards are spelled correctly.
If you decide to send business Christmas cards to your customers and clients this year, here are some beautiful examples for inspiration.
---
EXAMPLES OF BUSINESS CHRISTMAS CARDS
Letterpress Love With Baker Associates
A bird themed holiday ornament cards featuring a little bird (a good luck Cardinal) with an ornate frame that die cuts and punches out of thick 60 point blotter stock. It is printed two color each side.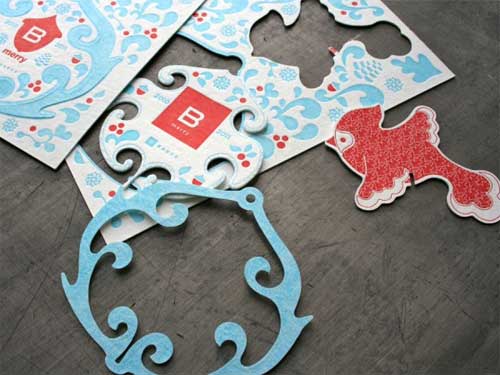 [ SOURCE ]
OrangeSeed Design Holiday Tea Card
This is a holiday card about appealing to the sense – it looks, smells and feels just right. OrangeSeed Design created this card for their holiday message plus a cup of orange tea. The card was die cut with a slit to hold the tea bags and scored into tri-fold panels.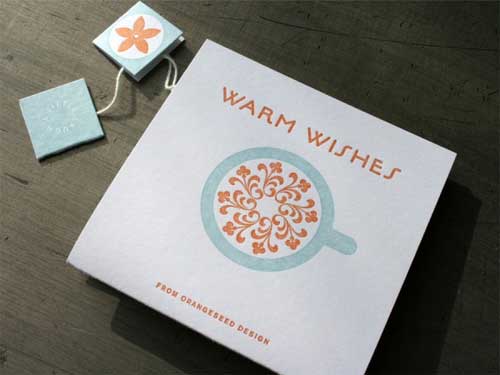 [ SOURCE ]
Eight Hour Day Letterpress Holiday Card
Who says typographic characters don't make delightful tree ornaments? This card combines green with hot pink to make a unique holiday color combo. The card was die cut to produce two parts for a desktop Christmas tree, to be decorated further with objects on your desktop. Since the paper is produced without any surface sizing, the blotter sheet has a more mottled appearance in how the textured surface accepts a large solid ink area like the green tree. This gives the printed piece some additional tactile quality.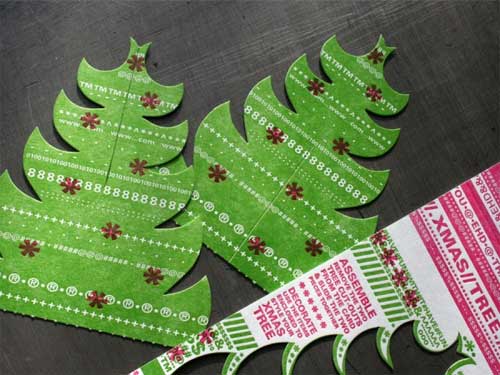 [ SOURCE ]
Christmas Cards 2015
A set of five Christmas cards specially designed with a pinch of naughty and spice by mashing up the designer's pet peeves and their favorite childhood Christmas movies with some illustration.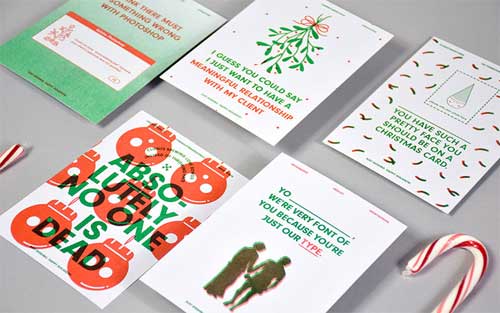 [ SOURCE ]
Initialising Christmas (dot) Exe Postcard
Designed for the purpose of both thanking my clients as well as to promote the company's services as a concept focused designer. The first in a series of digital technology crossed with traditional reproduction themed greeting cards, this card tells the story of Christmas in the language of MS-Dos.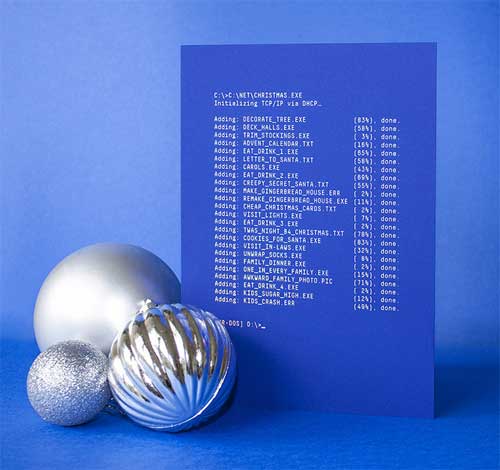 [ SOURCE ]
MSU College of Arts and Letters Holiday Card
A set of super-thick, duplexed and letterpressed coasters designed to outlast all those holiday hot chocolates. The idea is to create something 'that would live a little longer than just the short holiday season card. Thus, this set of four letterpressed coasters used a super thick, duplexed, Nennah Lettra cotton paper. The coasters have custom pattern illustration on the front in dark and lime green.
[ SOURCE ]
MANA Holiday Postcards MMXV
This card was designed as a personable holiday gift for our the company's clients, production, and art partners. The cards reflect our agency's creative culture through the use of photographs.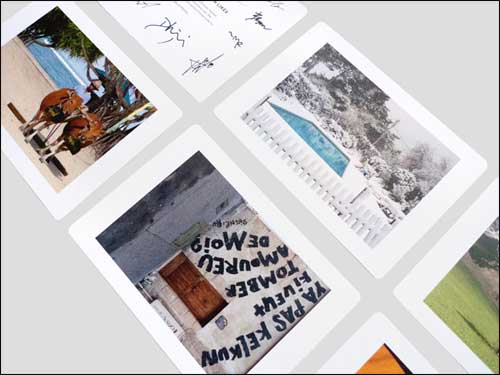 [ SOURCE ]
Upstatement Holiday Gift Box
Upstatement did not just simply printed a holiday card for friends, family, and clients. The firm designed and hand-crafted wood boxes and coaster sets, with inspiration from the firm's century-old office building.
[ SOURCE ]
Superfantastic Holiday Card
Using striking neon and hand drawn typography, Superfantastic's letterpress Christmas card aimed to brighten up the wintry holiday season for clients, friends and family.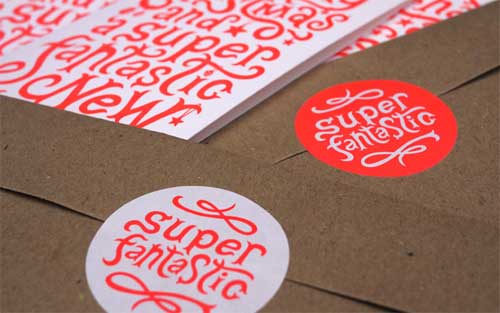 [ SOURCE ]
Big-Giant Holiday Cards
Big-Giant's textile inspired holiday cards are each signed, numbered, and come in a wide variety of color combinations.
[ SOURCE ]
Noise 13: Merry Mixmas
A set of six letterpressed postcards featuring misfitery at its jolliest. The spirits of jubilation and eccentricity combine to make for a delightful depiction of a Christmassy City by the Bay.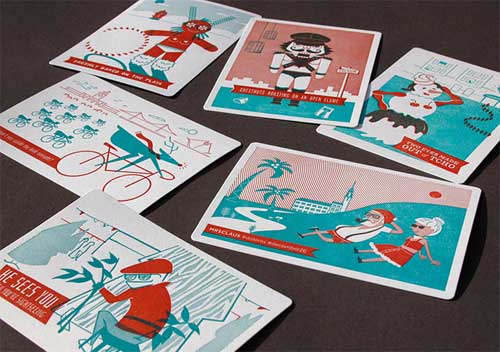 [ SOURCE ]
Spindletop Design Holiday Card
Spindletop Design'€™s 2016 holiday card begins the year with the dropping of the holographic, foil-stamped ball! This interactive card combines unique assembly and construction with bright and celebratory typography to start 2016 with a bang.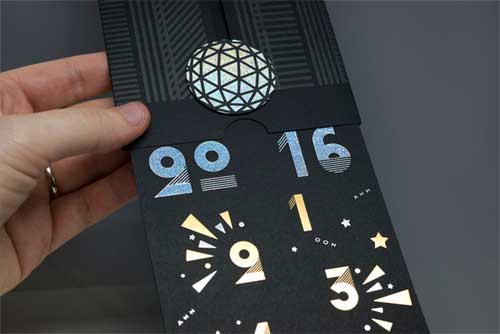 [ SOURCE ]
Floc5 holiday cards
[ SOURCE ]
2015 NSCA Holiday Card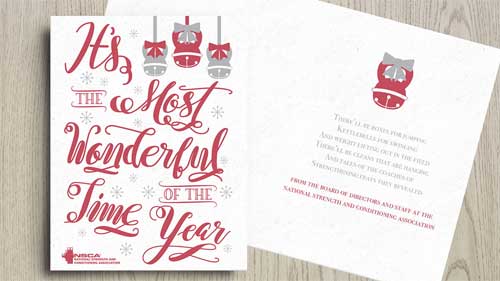 [ SOURCE ]
Clampitt Holiday Card
Since Clampitt is a paper company, it always try to create a holiday card that has a clever paper tie-in. This year, they thought these popup globes were perfect.
[ SOURCE ]
Related Free Design Resources