15 Free Chalk Photoshop Brushes for School-Related Design Projects
School days are still a few weeks away. But I am pretty sure, we all prepare early for these busy days. To help you come up with interesting designs for the kids, we decided to come up with a new set of chalk Photoshop brushes featuring school-related graphics. These graphics come as brushes that you can use in Photoshop. The images have hand drawn look and feature realistic chalk texture.
These chalk Photoshop brushes may be used for your personal designs and projects. They are especially useful in creating note cards, reminders, tags, etc. You can use them also for creating back-to-school greeting cards and post cards. You may also use them for creating Instagram quotes about school and related topics. For best results, use these chalk Photoshop brushes with nice chalkboard texture backgrounds and chalk fonts.
ABOUT THESE CHALK PHOTOSHOP BRUSHES
This set includes 15 high-quality brushes featuring school-related graphics which look like they were sketched using chalk. The images include a backpack, globe, pencil, alarm clock, heart, enevelope, among other things. Each brush has width of around 2500 pixels, which are high-res enough even for those designs you intend to print later on. The download link below include the Photoshop (.ABR) file you can extract and install in Photoshop CS and above. The image preview below shows all the brushes in this set.
HOW TO USE THESE CHALK PHOTOSHOP BRUSHES
When using these chalk Photoshop brushes, make sure to select "white" as your foreground color. However, you may also wish to use other colors such as blue, yellow, pink, etc. To do this, simply change the foreground color. These brushes are intended for stamping. You may apply styles and patterns to your brush to make them look more interesting. Likewise, opacity and the blending modes may be adjusted in Photoshop to get even more interesting effects. If you wish to get the image versions of these brushes in PNG (no background) format, please let us know by leaving a comment below.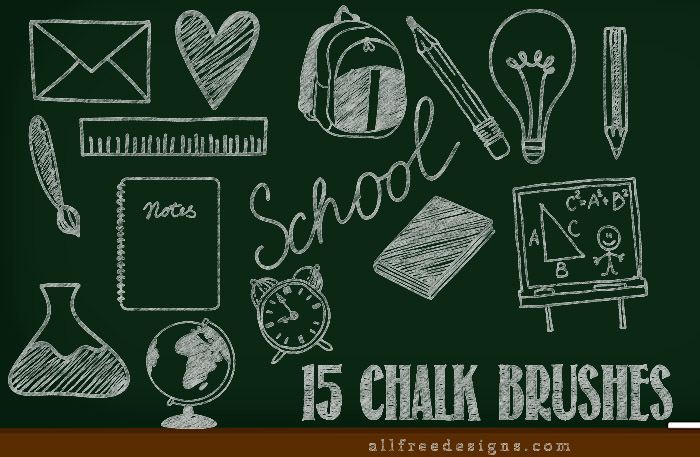 NOTE: If you are using Mozilla Firefox, please right click on the button and select the "Save link as" option.
TERMS OF USE:
You may use these chalk Photoshop brushes for personal projects only. Also we appreciate a link back if you use them. Most importantly, please refrain from making them available for download outside of this site. If you want other people to know about our freebies, please refer them to this post.
IMPORTANT!
You need a password (see above) to download the file. Sorry for the inconvenience but we need to do this to prevent hotlinking and discourage people from violating terms of use of our brushes. When prompted for a password, just key in "afd".
If you like these chalk Photoshop brushes, then you may also want to check out more free chalk brushes we have featured in this blog. Below, meanwhile, are previews of some of the chalk Photoshop brushes.