300+ Repeating Chevron Zigzag Patterns
Chevron patterns are  everywhere! You can find them everywhere from iPhone cases to wedding invitations to bookshelves and clothing. Chevron patterns are also popular as background for websites or to fill blank spaces in scrapbooks.
If you are wondering what chevron patterns are, they are those V-shaped forming zigzag patterns that come in various styles and colors.  So to keep you hip and trendy, here's a compilation of fun chevron patterns that you can download for free from various websites. The patterns usually come as ready-to-print digital papers although there are some that come as Photoshop  PAT files. Personally, I prefer the PAT files because you can still edit them and come up with hundreds of variations with just a single PAT file.
So start downloading these chevron patterns that you can print off at home and use for whatever tickles your fancy – be it scrapbooking, a background for a fun photo frame collage, cutting labels out of it, making it your blogging background, or hey – even some spooky Halloween crafts – just have fun with it!
If you want more zigzag patterns, checkout our post about repeating herringbone pattern backgrounds.
---
FREE CHEVRON PATTERNS TO DOWNLOAD
01: Chevron Scrapbook Papers in Soft Pink and Gold
There are 14 high-quality scrapbook paper featuring mostly zigzag chevron patterns in gold against soft pink paper background in this set, with each measuring 12×12 inches at 300 DPI resolution. They are available as ready-to-print JPEG files and may be printed on an A4 or letter sized paper or a 12×12 paper. For those who know how to use patterns in Photoshop, we also included the .PAT files so you can play around with them.
[ DOWNLOAD ]
02: Blue Chevron Background Patterns
A set of 9 chevron background patterns in blue color schemes. These patterns come in various styles and in various blue hues. The files that you may download include the Photoshop PAT file as well as high-resolution digital papers (12×12 inches, 300 DPI).
[ DOWNLOAD ]
03: HIGH-RES CHEVRON PATTERNS
A set of 37 high-resolution chevron zigzag patterns in  various colors. You can download only the color you want. The preview below shows only some of the patterns that are available for download from Flickr.
[ DOWNLOAD ]
04: CHEVRON PATTERN PIECES
There are 25  patterns in this set that you can use in your designs for free. They are high-res at 12×12 inches/300 DPI.
[ DOWNLOAD ]
05: CHEVRON PHOTOSHOP PATTERN
There is only one Photoshop chevron pattern in this set. The pattern is in white and transparent so you can layer it with any color you wish! You can actually make hundreds of chevron and zigzag patterns using this file. The preview sows the chevron pattern in 3 earth colors.
[ DOWNLOAD ]
06: FREE CHEVRON PATTERNS
There are 4 unique Photoshop (PSD) patterns in this set featuring chevron design in navy, powder blue, light pink, and gold. These may  be used for any personal or commercial projects.
[ DOWNLOAD ]
07: Everyday Chevron Papers
A set of 11 Chevron patterned papers. These are not .PAT files but rather ready-to-print JPEG digital papers with textured chevron patterns.
[ DOWNLOAD ]
08: CHEVRON PHOTOSHOP PATTERNS
This is a set of 16 chevron background patterns contained in one Photoshop PAT file. You need to have a Photoshop program for these patterns to work.
[ DOWNLOAD ]
09: ASSORTED CHEVRON PATTERNS
This is a set of 40 Assorted seamless tiling chevron background patterns in JPG format. The patterns come in various colors and textures.
[ DOWNLOAD ]
10: CHEVRON DIGITAL PAPERS PACK 1
Use these chevron papers for backgrounds, patterns, printables, etc. The colors you get in this free download are purple, blue, teal, aqua, green, pink, magenta, red, orange, yellow, grey, and black.
[ DOWNLOAD ]
11: SEAMLESS CHEVRON PATTERNS
This set consists 25 repeating chevron zigzag patterns that you can use for free in your designs. The download file includes both the Photoshop PAT file as well as the high-resolution, ready-to-use digital papers.
[ DOWNLOAD ]
12: Chevron Patterns for Photoshop
Here are 24 chevron patterns in different and attractive color combinations. These are perfect for any modern design that you have in mind. Note that the file you may download is in Photoshop PAT file. Thus, you need a Photoshop program to use them. But then, the options are limitless with PAT files. You got to love them.
[ DOWNLOAD ]
13: MULTICOLOR CHEVRON PATTERNS
There are five multicolor chevron patterns in this set.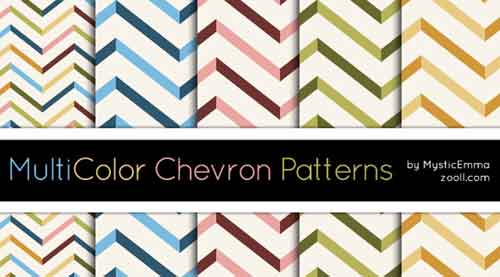 [ DOWNLOAD ]
14: 7 CHEVRON PATTERNS
You get 7 various colors that are sized 1600×1116 px from thi set of chevron patterns. These would make a really cute blog or header background, among other things.
[ DOWNLOAD ]
15: VINTAGE CHEVRON PAPERS
This set consists 6 chevron papers. This would look great for creating vintage-themed designs. These are ready-to-use images so you can use them in most computer programs.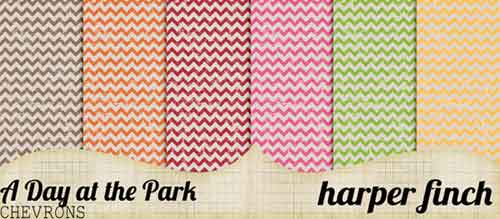 [ DOWNLOAD ]
16: FREE FABRIC TEXTURED CHEVRON
A set of 5 chevron patterns with fabric texture. The patterns come in black combined with either yellow, red, blue, and green.
[ DOWNLOAD ]
17: SEAMLESS ZIGZAG PHOTOSHOP PATTERNS
A set of 12 seamless patterns in various colors. The patterns are contained in a single Photoshop PAT file.
[ DOWNLOAD ]
18: OMBRE CHEVRON PATTERNS
There are 5 chevron patterns in this set in ombre style. The backgrounds are available in various colors: red, green, blue, yellow, and gray.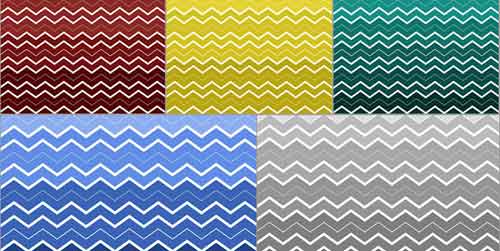 [ DOWNLOAD ]
19: SHARP CHEVRON PRINTABLES
There are 7 ready-to-print chevron patterns in this set available in bright colors.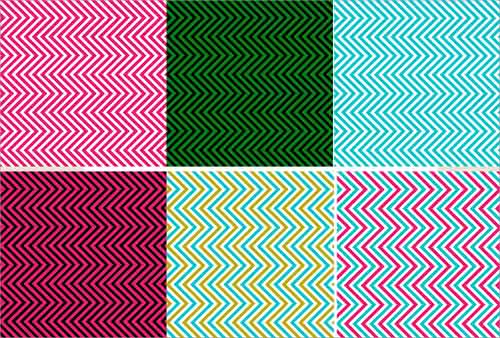 [ DOWNLOAD ]
20: PASTEL SEAMLESS PATTERNS
There are 30 beautiful pastel-colored seamless patterns in this set that you can use for Photoshop and Gimp. Not all patterns are chevron, but most of them are.
[ DOWNLOAD ]
21: FREE PHOTOSHOP CHEVRON PATTERNS PLUS DIGITAL PAPERS
Included in this download are ten 12×12, 300dpi .JPG files of all the color schemes shown in the preview for easy use in most situations. Also included, for anyone that knows their way around Photoshop, a .PAT file of a seamless chevron pattern in all of these colors for easy load into your pattern folder to fill any shape you need.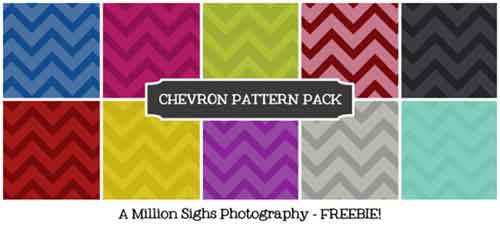 [ DOWNLOAD ]
22: 11 Free Pastel Chevron Zigzag Patterns
A set of 11 seamless patterns featuring a mix  of pastel and bright colors. With colors ranging from muted gray to yellow, orange, and green, we are sure these patterns will give your designs an extra oomph. Both the Photoshop .PAT file and high-res digital papers in .PNG are available for free download.
[ DOWNLOAD ]