45 Unique Chocolate Packaging Design Examples
Chocolate rules! Most of us have this strong affinity with chocolates. And since chocolates are among those products that come in almost the same taste, packaging or product presentation. Thus, chocolate packaging is an important factor. This is the main reason why chocolates come in various color, strength, shapes and sweetness. We have seen varied forms of chocolate packaging that range from very interesting and very creative.
---
45 CHOCOLATE PACKAGING DESIGN EXAMPLES
In this post, we tried to put together a total of 45 mouth-watering chocolate packaging designs for inspiration.
01-True Rum
This chocolate packaging contains coins made of chocolate and Caribbean rum.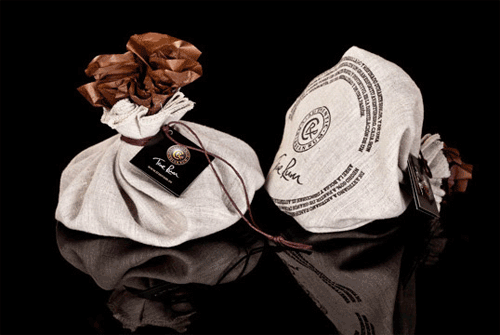 [ SOURCE ]
02-Thomas Haas Chocolates
These chocolates are perfumed with fine BC wine, oak barrel aged maple syrup from Quebec, vanilla beans from Tahiti, fresh citrus zest, loose leaf teas and organic herbs and spices.
[ SOURCE ]
03-Gü Puds and  Trifles
Dark, matte cardboard and delicious typography communicate this chocolate packaging mission's to evoke the nostalgic memories and magical smells of baking with chocolate.
[ SOURCE ]
04-Origens Chocolate Packaging Design for Arcadia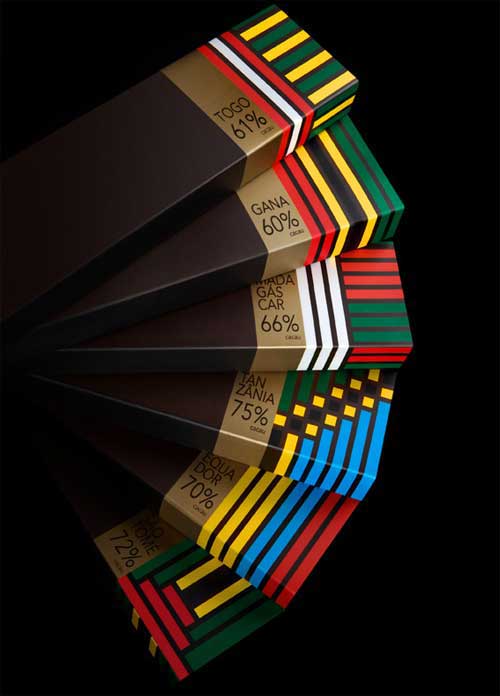 [ SOURCE ]
05-Ricard and Marta's Wedding Invitation
A special box of chocolates for Ricard and Marta's wedding invitation. A letter was concealed beneath each chocolate, and when all the chocolates were eaten, the complete message was revealed. The invitation thus became a gift for the invited guests as well as a very sweet way of inviting them to be part of the special day.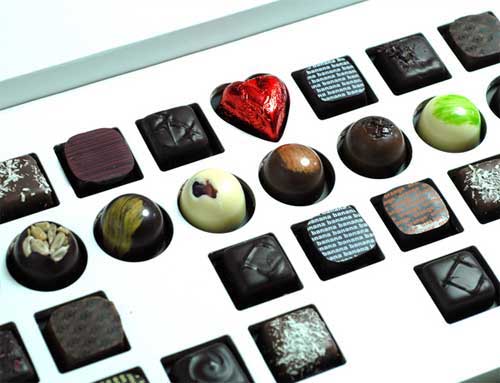 [ SOURCE ]
06-The Marmara Chocolate Packaging
Package design for the Marmara Hotels Chocolate and Wine Shop. The goal is to create elegant, luxurious and useful package sets for different kinds of handmade chocolates.
[ SOURCE ]
07-Dude. Sweet. Chocolate.
Local pastry chef with experience in the area's top kitchens launches her own quirky brand of chocolates and confections. The chocolate packaging has simple logo type, supplemented with series of stamps and stickers. Decorated standard boxes to create a feel unique to the brand were used.
[ SOURCE ]
08-Merchandising FMK
Manufactured for the anniversary of Faculty of Multimedia Communications in Zlin.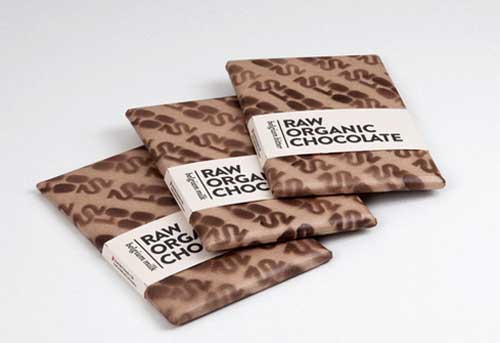 [ SOURCE ]
09-Midor AG Packaging Design
New chocolate packaging design for Midor's export brands.
[ SOURCE ]
10-Wafer Dallas
Proposed chocolate packaging Wafer Dallas. Creation of 3D illustration (Packaging plus mockups).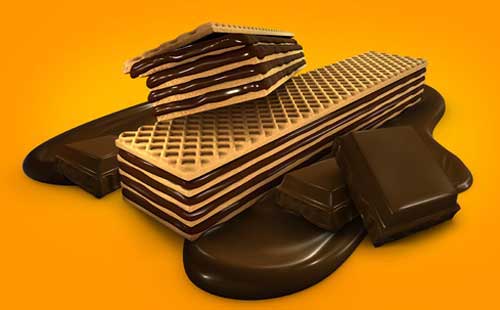 [ SOURCE ]
11-Chocolate Packaging
[ SOURCE ]
12-Brix Chocolate
Brix is the first line of chocolates specifically blended to compliment wine. Based on the finest single origin chocolate from Ghana, Brix masterfully combines the outspoken character of the single origin chocolate with the smoothness of the highest quality confectionery chocolate.
[ SOURCE ]
13-John and Kira's Chocolate Giveaways
The chocolate packaging represents the handcrafted and careful aesthetic instilled in the John & Kira's brand. The system of boxes is extremely versatile and can be efficiently assembled easily during busy seasons.
[ SOURCE ]
14-Vintage Packaging: French Chocolate Box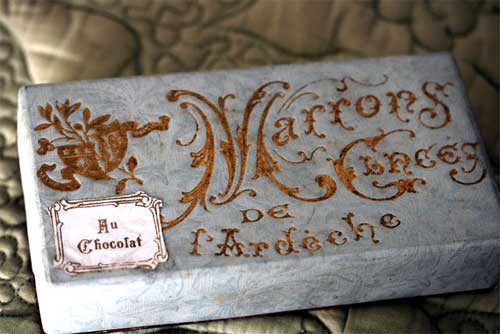 15-Budapest Selection Chocolate Packaging
Who wouldn't like to receive a postcard chocolate in the mail? The idea is pretty amazing.
[ SOURCE ]
16-Green Truffles From Brussels
Organic hand drawn type upright and tall just how sprouts grow out the ground. The Gold on the label is letter pressed and other details are also embossed.
[ SOURCE ]
17-Sweet Content Chocolate
This product gave birth to same-named project that connecting creative talents from many countries.
[ SOURCE ]
18-Monggo Chocolate Packaging
This chocolate packaging was Indonesian culture combined with the flavors of Monggo: dark, caramello, cashew nuts, praline,and ginger. Batik is a culture that was used for the design of this packaging because it has a certain philosophy and has a meaning when combined with each of these flavors.
[ SOURCE ]
19-Mast Brothers Chocolate
These artisan-made chocolate bars come wrapped in imported Italian papers and are finished with a simple label. They make a gorgeous presentation when stacked side by side.
[ SOURCE ]
20-Santini for Selfridges
Selfridges wanted a special chocolate, to coincide with National Chocolate Week 2008, and the fact that – due to world events – people are spoiling themselves with little 'treat' purchases.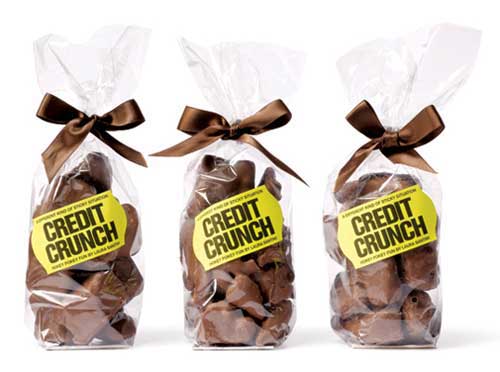 [ SOURCE ]
21-Chocolate Pie Chart
This unique chocolate pie chart is produced by New York designers Mary Matson and Matt Even from Mary & Matt.
[ SOURCE ]
22-Bite Me
The Bite Me brand was developed based on the concept of healthy life with correct portions. Now we can have a correct portion of chocolate since the new chocolate packaging is taking into consideration the percentage of cocoa. The more the percentage of cocoa to milk and other ingredients the bigger the chocolate size and vise versa, the less cocoa the smaller the chocolate becomes
[ SOURCE ]
23-Co-Couture
Co Couture produce award winning handmade chocolates and chocolate bars, supplying many high-end retailers including Liberty in London.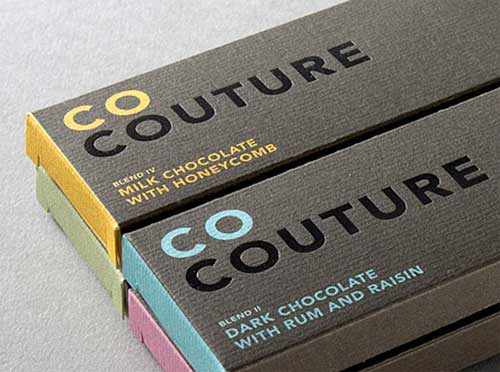 [ SOURCE ]
24-Divine Chocolate Packaging
This chocolate packaging design takes a step back and creates a simpler, more elegant package for the chocolate. Instead of using a paper wrapper, the candy is now encased in a thin cardboard to create a tactile experience that suggests that the chocolate is more precious than ordinary wrappers.
[ SOURCE ]
25-Chocolate Alchemy
Chocolate packaging design for a new range of chocolate bars launched 2012
[ SOURCE ]
26-Belmont Biscuit Co. Packaging
Boutique-style chocolate packaging to reflect the existing high quality product.Packaging project undertaken in one of my 3rd year design classes. The brief was to take an existing product packaging and redesign it to better suit the product.
[ SOURCE ]
27-Ecopack – Chocolate
[ SOURCE ]
28-Chocolate with Attitude
This chocolate packaging design is a wonderful example of how characteristics of a product can be translate into packaging design. Here, working with chocolate artist Henrik Konnerup, Brandhouse created 12 archetypes within one packaging.
[ SOURCE ]
29- Fearless Chocolate
Fearless Chocolate makes raw organic chocolate. What's 'raw' about it? They make their chocolate with unroasted cacao beans. Throughout the production of the chocolate, the temperature never rises above 118 degrees (F). For this reason, raw chocolate retains far more nutrients and valuable antioxidants than other chocolate. Their packaging is also kind of 'raw' and organic-looking.
[ SOURCE ]
30-Vere Chocolate
[ SOURCE ]
31- Lust Swiss Boutique Chocolate
Lust Swiss Boutique Chocolate is a sensuous blend of exquisite ingredients designed to seduce your palate.The bold identity is inspired by the idea of a passionate kiss where lipstick smudges when Lust takes over. It communicates a sense of passion and urgency that the Lust name demands, yet remains true to the brand's premium positioning.
[ SOURCE ]
32-Monbana Chocolate Cube
The format is innovative as a way of serving chocolate thins, which tend to lay flat if served on a plate or tray. This makes them more interesting.
[ SOURCE ]
34-The Discreet Charm of the Bourgeoisie
[ SOURCE ]
35-A Sweet Matching
If you are looking for the sweetest way to invite relatives and friends at your wedding, then you definitely found it!
Milk chocolate coating with your wedding invitation!
[ SOURCE ]
36-Salzburg Chocolate Werks
Type-inspired chocolate packaging.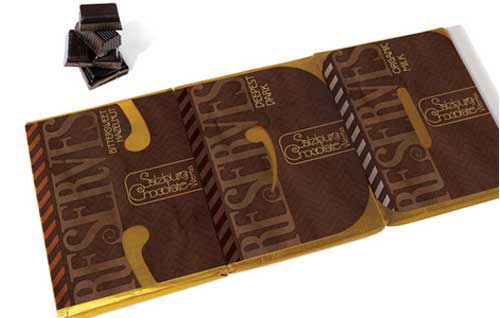 [ SOURCE ]
37-Chocolate Bar Packaging
The chocolate packaging design concept for this packaging is to transform these chocolate bars into postcards from different countries. The idea is to enjoy the chocolate as a cultural experience – put a piece of chocolate in your mouth and you will be there
[ SOURCE ]
38-Thomas Haas Chocolates
These chocolates are perfumed with fine BC wine, oak barrel aged maple syrup from Quebec, vanilla beans from Tahiti, fresh citrus zest, loose leaf teas and organic herbs and spices.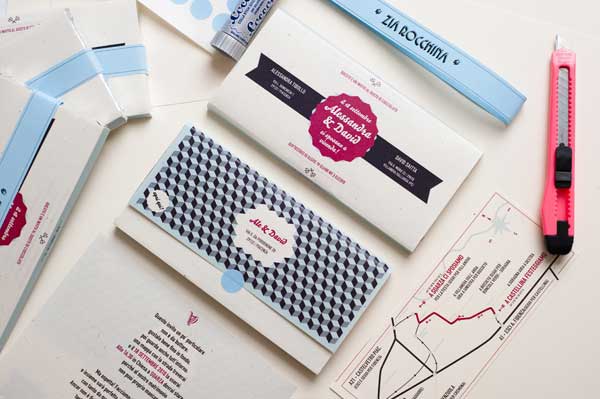 [ SOURCE ]
40-Ticino Chocolates
The main focus behind this chocolate packaging campaign for a brand of Swiss chocolate is simplicity. Consumers know exactly what is in each package and are presented with elements of simple design that are reflective of the pure ingredients that go into each chocolate.
[ SOURCE ]
41-Muscadine Chocolates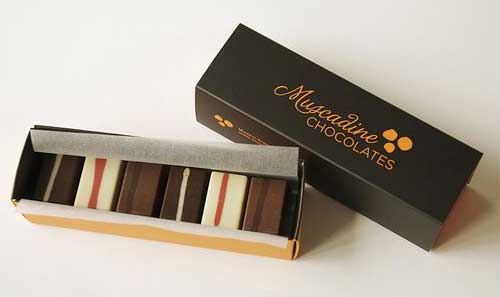 [ SOURCE ]
42-Bon Bon Fine Chocolate
Note the warm tones PDC creative used for the packaging that evokes colors of white, dark and milk chocolate.
[ SOURCE ]
43-Coppeneur Chocolates
[ SOURCE ]
44-Askinosie Chocolate
This chocolate packaging makes use of rugged military ration feel that brings to mind WWII ephemera and old typewritten forms. The bars feature a wonderful waxy paper that becomes naturally marred like a rugged leather saddle.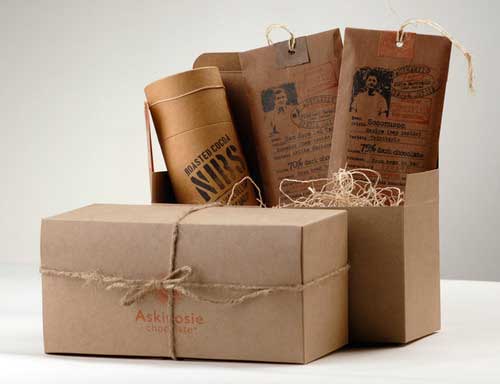 [ SOURCE ]
45-Original Beans Chocolate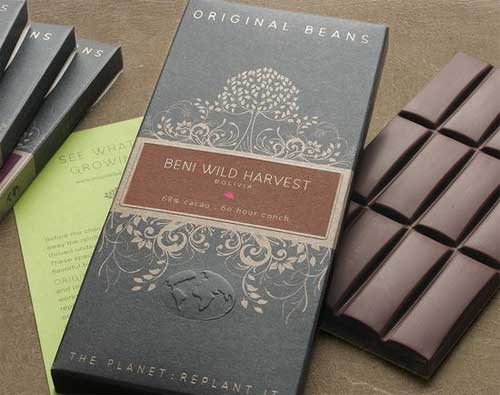 [ SOURCE ]
Related Free Design Resources