35 Creative DIY Christmas Gift Wrapping Ideas
So you have done your holiday shopping. So what's next? For most people, the next big challenge is how they are going to wrap their gifts so the meaning and thought they put in those gifts are not lost in boring Christmas wrap. If you have neglected this part in the past, then it's time you get creative in your Christmas gift wrapping this year. To get you started, here are our list of 35 excellent and do-able Christmas gift wrapping ideas. These gift wrapping ideas will surely help you big time in coming up with gifts that stand out in a crowd.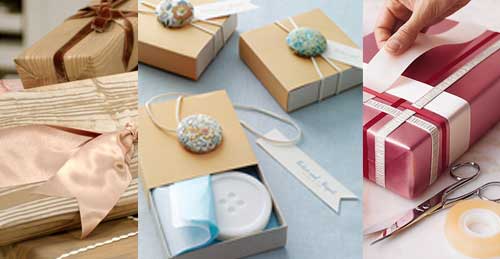 Simply follow the link provided below each image to know more details about each design. Most of them come with a step-by-step tutorial on how to do them. Have fun doing these very creative gift wrapping techniques!
---
DO-IT-YOURSELF CHRISTMAS GIFT WRAPPING IDEAS
Make It Sparkle
Metallic wrap and ribbons make any gift shine. Trendy metals such as gold, silver, copper and bronze add seasonal sparkle when paired with other colors or used alone for a monochromatic scheme such as the photo below.
[ SOURCE ]
Cheap and Chic
Recycled brown Kraft paper (which can be found in big rolls at your local craft, office supply or dollar store) is a great anytime gift wrap. Tie with twine and embellish with a pine cone and evergreen clippings from your backyard for gift wrap that's easy on the environment and your wallet.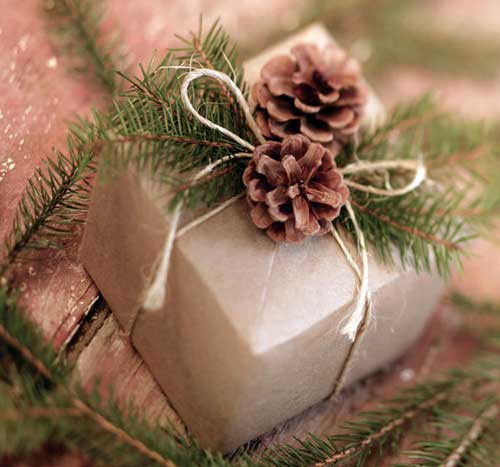 [ SOURCE ]
Accentuate Your Decor
Coordinate gift wrap with your home's decor for a designer look that's easy to achieve. When selecting paper, choose stripes, solids and patterns in the same color family for a polished and fuss-free look.
[ SOURCE ]
Eco-Friendly Paper Gift Wrap via Martha Stewart
Easy to find and work with, vintage and repurposed papers add pop to presents. Layer several colors and textures, or add vintage beads for a finished look.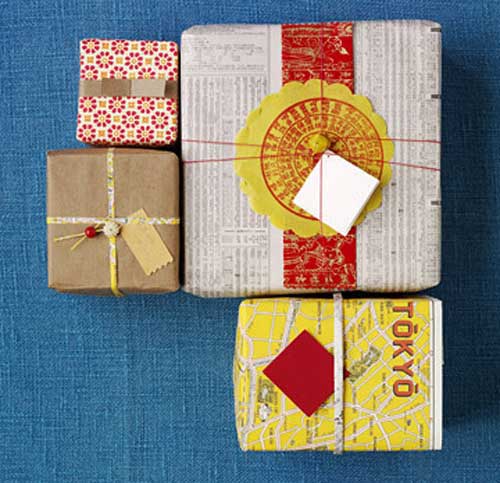 Tissue Paper Bottle Wrap via Martha Stewart
Forgo the predictable wine bag in favor of this easy alternative: Fold two layers of 9-by-12-inch tissue paper in half lengthwise. Tape folded edge to one edge of a 12-inch square of scrapbook paper. Wrap bottle, and tape. Cinch tissue at neck with a ribbon, and add a tag.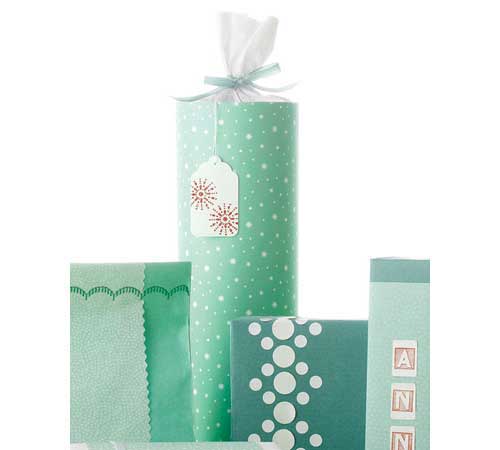 Potato-Chip Bag Gift Wrap via Martha Stewart
Give a new life to empty potato-chip bags by dressing up your gifts in them. Cut open a potato-chip bag along its seam to reveal the shiny white or silver inside of the bag. Flatten the bag, wash it with soap and water, and air dry. Then wrap your present and adorn it with ribbons and homemade cards.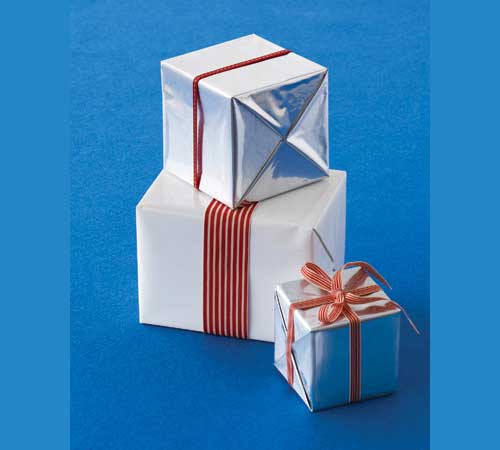 Japanese-Style Newspaper Gift Wrap via Martha Stewart
If you're still searching for that perfect gift wrap, look no further than your local newsstand. Add an unusual and memorable twist by wrapping your presents using foreign-language newspapers.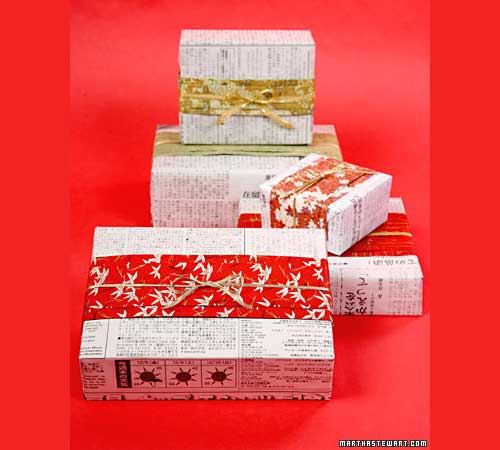 Translucent Gift Wrap via Martha Stewart
With a series of crisp folds or less expensive tissue — serves as both wrapping paper and ribbon.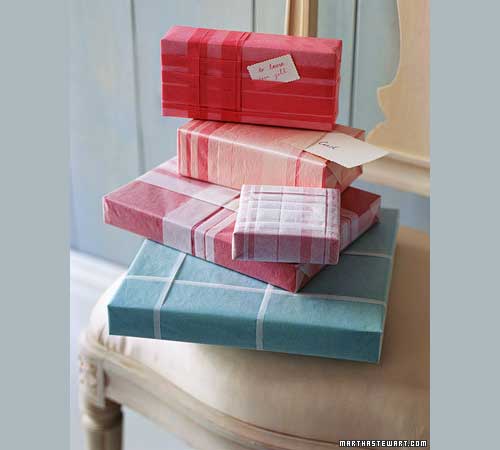 The Crafting Chicks' Newspaper Gift Wrapper
This is simple and well executed.  Wrapped presents in newspaper, bakers twine, and monogrammed tags.  Pretty easy, environmentally-friendly, and super cute.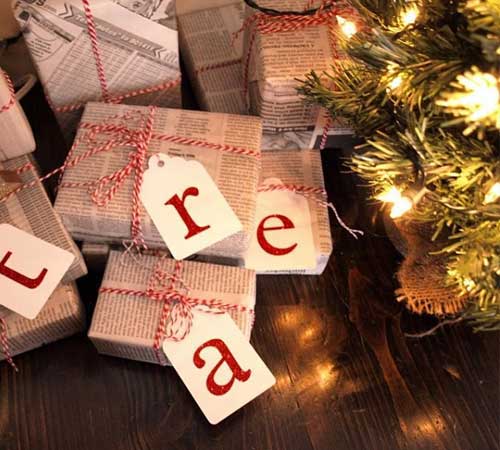 [ SOURCE ]
Have a Spare Tissue?
Do you ever find yourself with packs of tissue paper but not gift bags? Here's a way to use all of that spare tissue paper in a fun, creative, DIY way. Blogger Essimar layered different colors of tissue paper for a simple yet eye-catching look.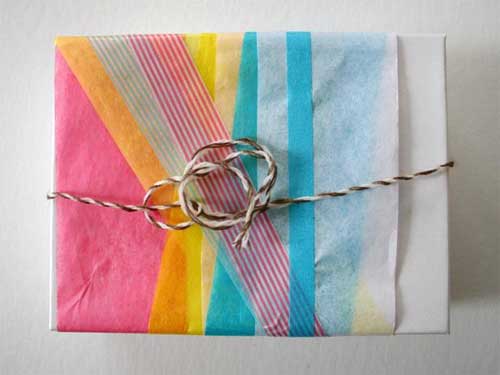 [ SOURCE ]
Tin Foil- Not Just For Sandwiches and TV Antennas
This material is the perfect fix for those odd-shaped presents, since it can be manipulated to hug whatever item you cover in it. Or even wrap your boxed gifts with this reflective foil for an eye-catching shine reminscent of Christmas tree tinsel.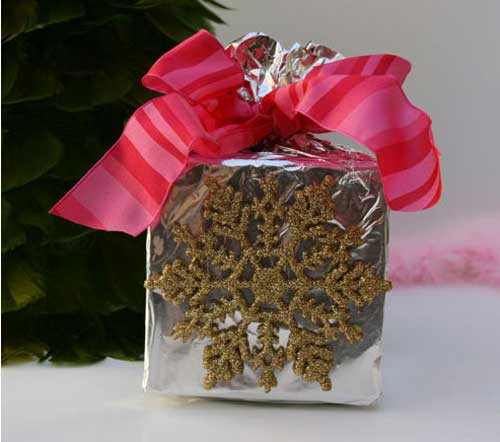 [ SOURCE ]
Put Some Pants On That Wine Bottle!
Dress up that bottle of wine you bring to your holiday dinner party with an old pair of slacks or denim jeans.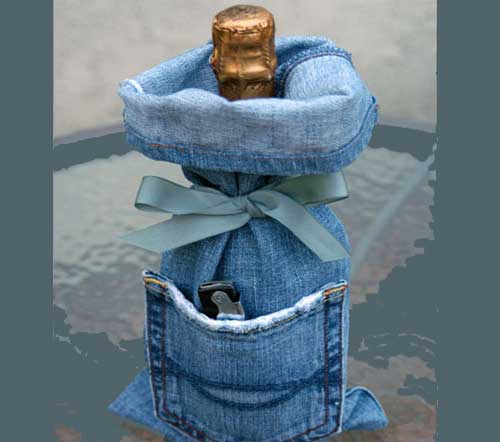 [ SOURCE ]
Make the most of your wrapping paper
Don't let your Christmas wrapping paper go to waste by adding a colorful twist to your presents with paper panels.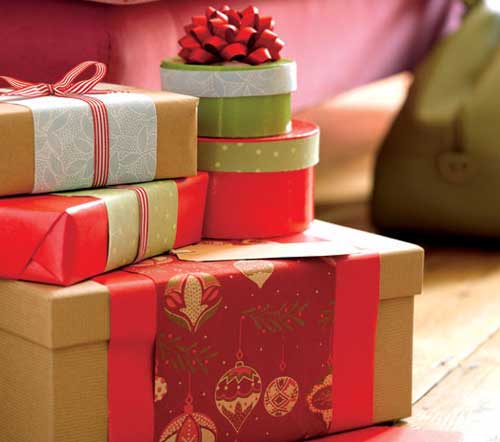 [ SOURCE ]
Rolls of Fun
For odd-shaped or tubular presents, try the Tootsie Roll twist. Depending on the fabric you choose, you can make this gift fit any occasion and stand out, too. Then, with two short strings, you can tie simple bows around the ends and voila! — you're set for that birthday, wedding or baby shower.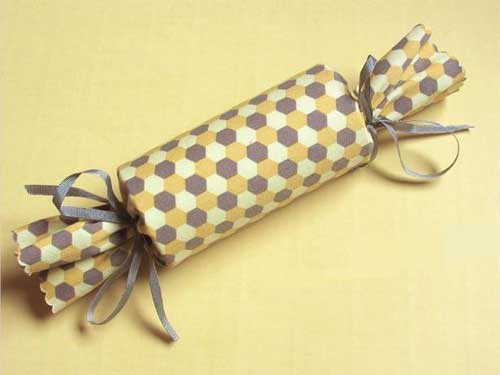 [ SOURCE ]
Yarn-Embellished Gift Wrap via Martha Stewart
Give holiday gifts unexpected panache by using leftover yarn in place of ribbon. Wind cotton or wool yarn around presents (solid-color paper looks best) a few times for thin stripes or several times more for thick ones.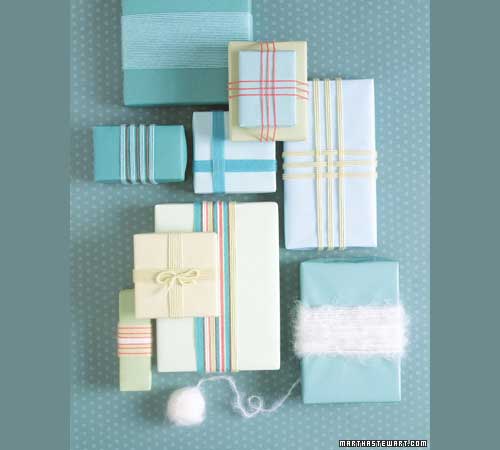 [ SOURCE ]
Faux bois parcel from Creatures Comfort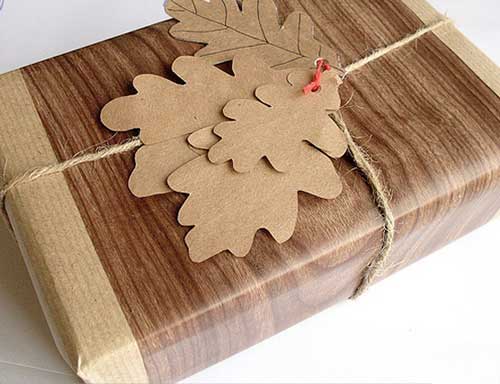 [ SOURCE ]
Wrap Your Gifts in Numbers
Using Vintage factory bin numbers and Vintage Math Subtraction' flash cards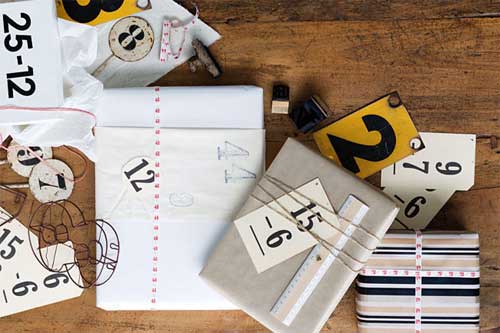 [ SOURCE ]
Simple and attractive embellishments can be made from plain white paper and jute twine
[ SOURCE ]
Using pages of text from magazines teamed with contrasting paper, letter stickers, cute ribbon and a hand-stamped shipping tag can make for affordable and striking gift wrap.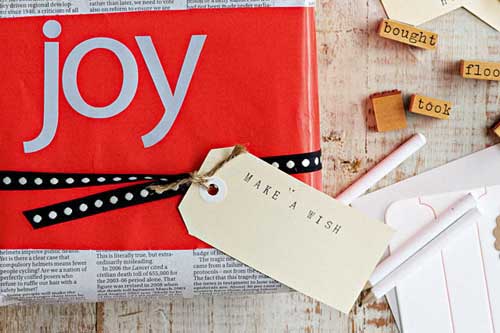 [ SOURCE ]
Wrap a Christmas gift in decorator kitchen hand towels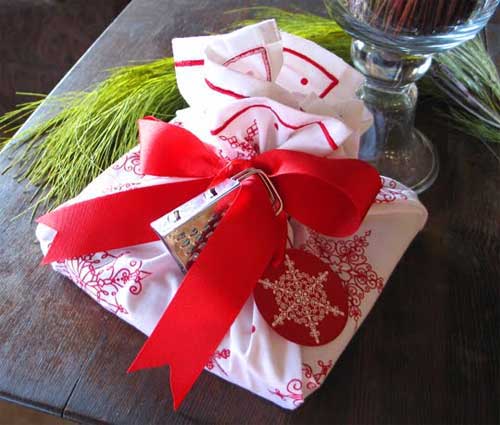 [ SOURCE ]
Embellish Bags with doilies, rick rack, old lace and jingle bells to wrap your Christmas gifts from Decor to Adore.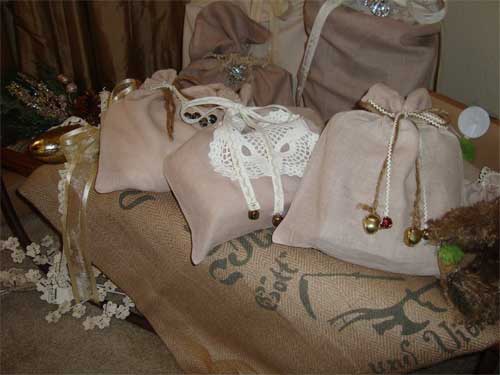 [ SOURCE ]
Making Gift Box Sashes with complete instructions by Amy Butler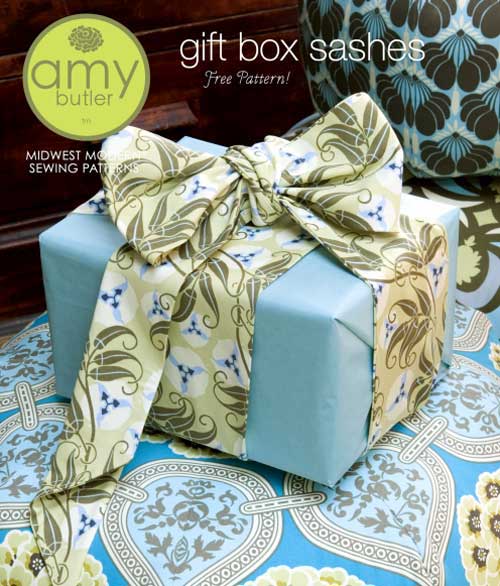 [ SOURCE ]
Pinwheel Origami Christmas gift box from Cut Out & Keep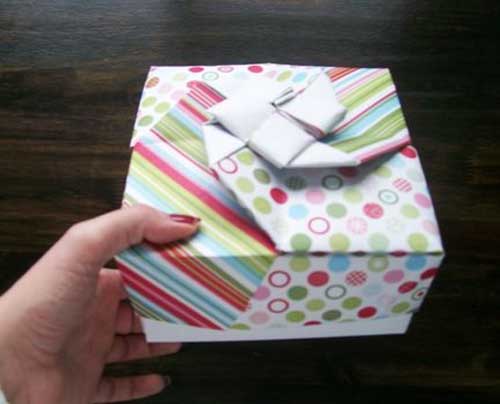 [ SOURCE ]
Snowman gift wrapping from Muffins and More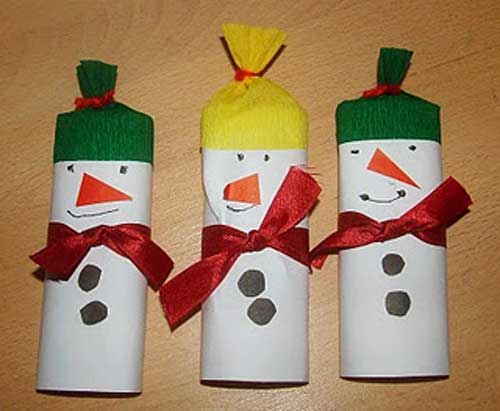 [ SOURCE ]
Monogram It
Stamp your kids' gifts with their first initial (all you need are alphabet rubber stamps, ink pads, and blank rolls of paper). That way, once they find your hiding spot, they'll know which presents to unwrap on the sly.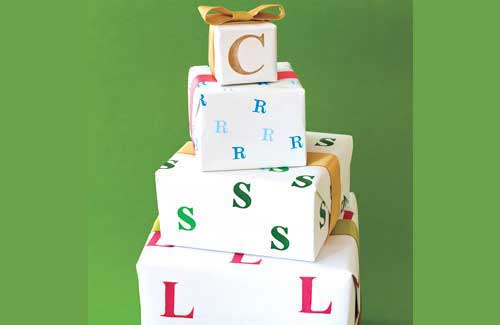 [ SOURCE ]
Gift Bags from Envelopes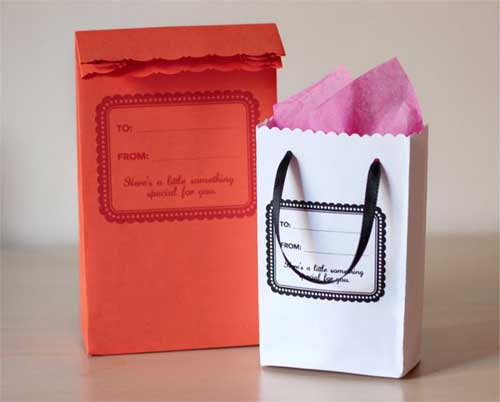 [ SOURCE ]
Embellished Origami Box tutorial from Inkurable Stampers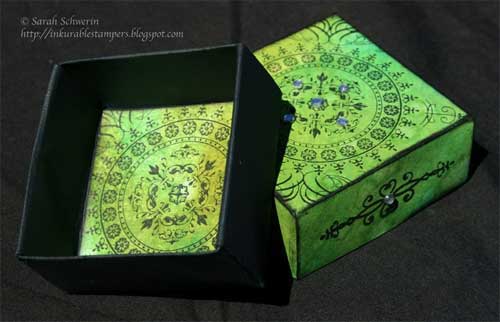 [ SOURCE ]
Do-It-Yourself Christmas Gift Wrap Ideas: Blooming Bag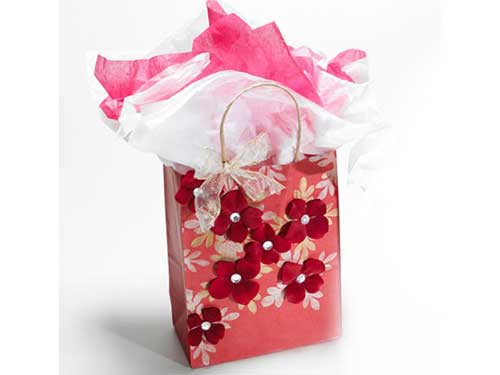 [ SOURCE ]
Newspaper Bloom
Yet another newspaper repurposed as wrapping. This one, however, uses striped ribbons, keeping the design classic current.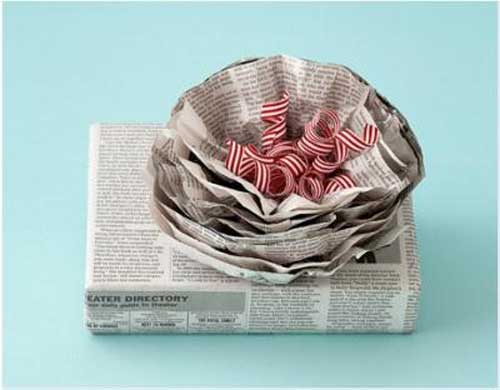 [ SOURCE ]
All The Trimmings
For a holiday look that lasts the season, go for gifts wrapped in traditional red and green.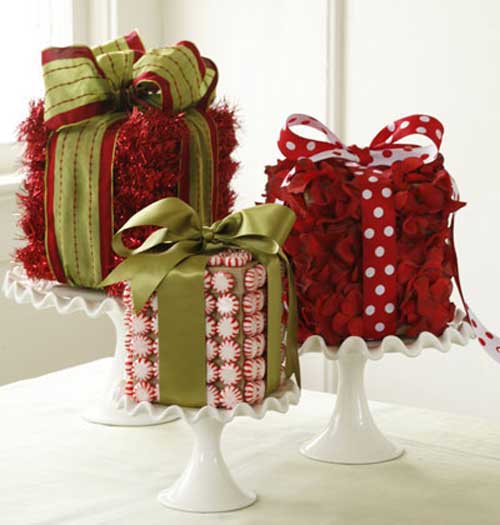 [ SOURCE ]
A Splash of Color
The designer channeled her inner grade-schooler by sandwiching colorful wax shavings between layers of tissue paper (three on the top and three on the bottom) and ironing them until the wax melted. After wrapping, Wong adorned the gift with an asymmetrically placed satin ribbon and a cluster of tissue dahlias.
[ SOURCE ]
Lucky Bags via Martha Stewart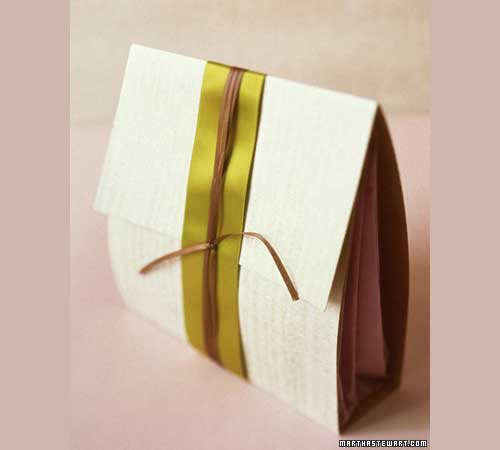 Cute as a Button
[ SOURCE ]
Wood-Grain Wrapping Paper via Martha Stewart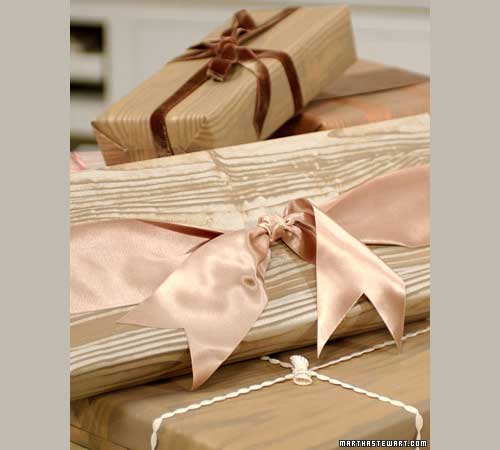 Woven Ribbon Wrap via Martha Stewart
Think outside the box by interweaving ribbons to dress up a gift.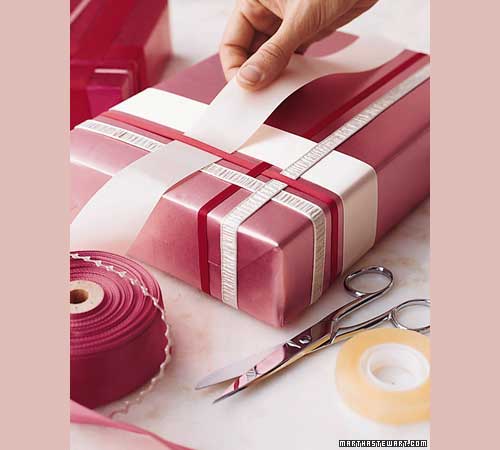 Related Free Design Resources