21 Unique and Inspiring Christmas Tree Design Ideas
Today is the first day of December, the Christmas month. Have you already put up your Christmas tree? If you are still undecided on how your Christmas tree should look like this year, we decided to come up with a roundup of unique and creative Christmas tree design ideas from around the globe to inspire you.
Most of these Christmas tree design ideas are made up of unique materials such as recycled bottles, papers, books, ladder and many other things that you did not imagine before as useful for putting up a Christmas tree. There are also ultra high-tech designs such as the Pacman-inspired Christmas tree design and the traffic lights Christmas tree.
To know more about each Christmas tree design and view more photos, simply follow the link by clicking on the preview image provided below. I hope you enjoy viewing these very creative and unique Christmas tree designs. Happy holidays!
---
UNIQUE CHRISTMAS TREE DESIGN INSPIRATIONS
01-1000 Unique Beer Bottle Christmas tree Design in China
Do you ever imagine that the thousand bottle of beer can be an amazing Christmas tree decor? This is the wonderful Christmas tree design structure that you can believe. Located in front of department store in China, you can see this Christmas tree design. If you never know, Heineken is always has creative and innovative ideas with their beer bottles, using square versions as structural bricks and such, this Christmas tree in Shanghai is very amazing created from 1000 beer bottles in festive as well.
[ SOURCE ]
02- A Murano Glass Christmas Tree
More than 8-meter high and with a maximum diameter of 3 meters, thisChristmas tree design is made of over one thousand multicolored tubes, all handmade and mouth blown as per Murano's Glass tradition. This was first exhibited in Murano in December 2006 and the following year in Venice in the Piazzetta dei Leoncini, right in front of St. Mark's Square.
[ SOURCE ]
03-Sprite Christmas Tree
This amazing 13-meter tall Christmas tree design is "made of 40 thousands 'SPRITE' plastic bottles" in Kaunas, Lithuania.
[ SOURCE ]
04-Pacman Christmas Tree from Madrid, Spain
The classic arcade game Pac Man lovers sure love this awesome Pac Man Christmas tree design, which can be seen at Nuevos Ministerios in Madrid, Spain.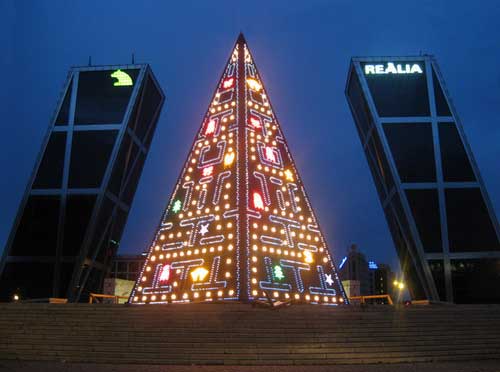 [ SOURCE ]
05-Christmas Tree Design for a Library
[ SOURCE ]
06- Recycled Christmas Tree
Here is another unique Christmas Tree design using recycled green beer bottles.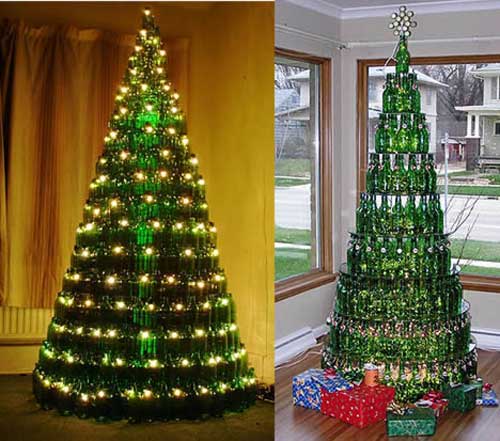 [ SOURCE ]
07-Tree Cycle
Last Christmas Bermondsey Square in London saw a unique Christmas tree made from 35 recycled bicycles, and this year Sydney takes the concept to a new level by creating it using 100 recycled bicycles. Christened the "Tree-Cycle," this Christmas tree is made from old bikes donated by a local recycling company. The bikes spray-painted in tree green color give the original tree-like feel, while the multi-colored tires appear like holiday lights.
[ SOURCE ]
08-Shopping Cart Christmas Tree Design
The shopping cart tree symbolizes both generosity and abundance, as well as acknowledging those less fortunate where their whole world may be housed in a cart. We see shopping carts everyday and take them for granted.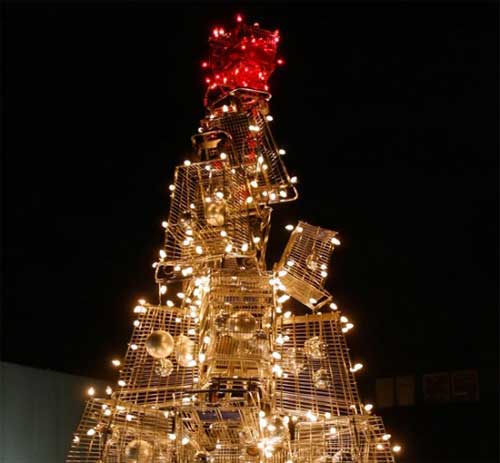 09-Gareth Pugh Christmas Tree
This tree uses 60 neon bulbs and is 3 meters in height. It was designed for the flagship Topshop Oxford Circus store in London.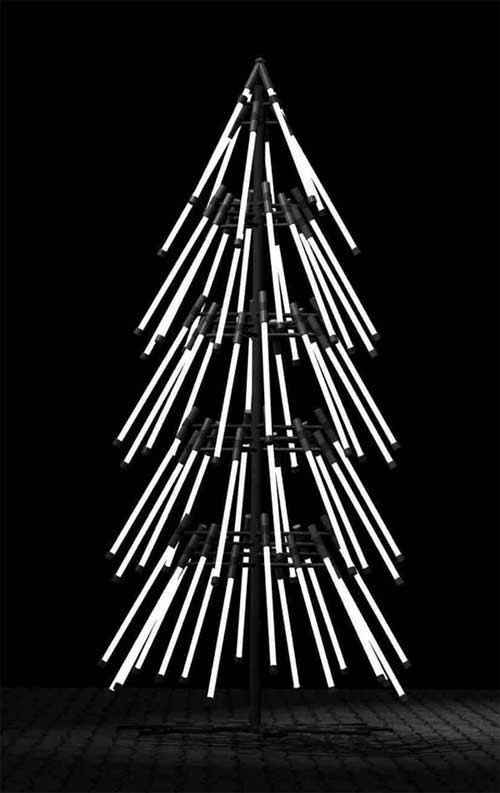 [ SOURCE ]
The Traffic Light Tree
This Christmas tree design was situated on a roundabout near Canary Wharf, at the junctions of Heron Quay Bank, Marsh Wall and Westferry Road in one of London's financial districts. The tree is eight meters tall and contains 75 sets of lights, each controlled by computer.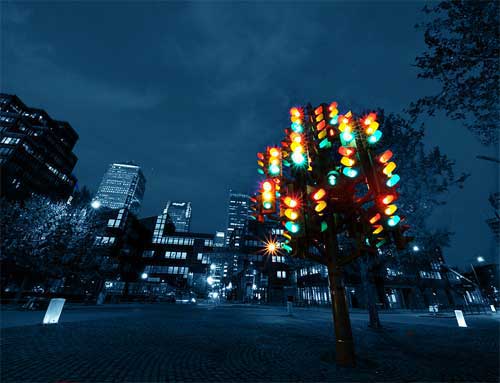 [ SOURCE ]
11- An unconventional Christmas Tree
A Christmas tree design made from 100% recycled wood. The outer layer is from vintage shipping pallets and the inner core is from pre used 2×4's for a sturdy (and straight) standing beauty of a tree. Looks great both day and night for an awesome one of a kind Christmas experience.
[ SOURCE ]
12-Stacked Stick Christmas Tree Design
Here's another Christmas tree design made entirely of fallen tree branches, resulting in a truly sustainable Christmas symbol.
[ SOURCE ]
13- Sticks Christmas Tree
This attractive Christmas tree design is made from nothing more than a few branches and twine and then decorated with a few pom-poms and white lights.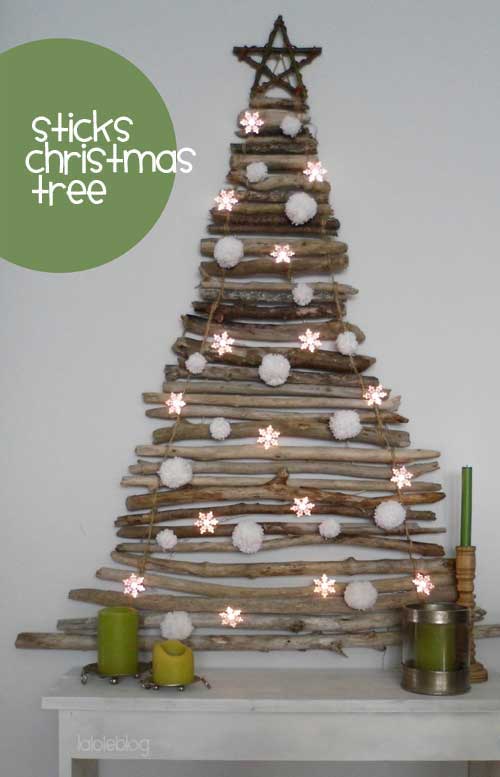 [ SOURCE ]
14-DIY-able Christmas Tree Countdown: Ladder Tree
[ SOURCE ]
15-DIY cardboard Christmas tree
Make your own Christmas tree using cardboards. To do this, simply position the triangle modules on top of one another starting with one of the medium sized ones on the bottom. Follow with the largest, the medium and the smallest on top.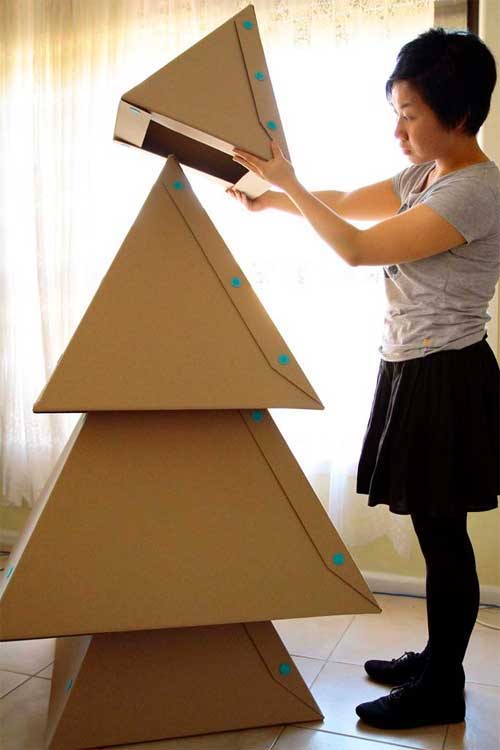 [ SOURCE ]
16-Christmas Tree Bookshelf
Who says a Christmas tree needs to actually be a tree? Not the fun folks over the pond at Form design firm. Brilliant.
[ SOURCE ]
17-Floating Christmas tree in Rio De Janeiro: a Latin American miracle
The world's largest floating Christmas tree lit up for the 15th time Saturday on Rio de Janeiro's Lake Rodrigo de Freitas.
18-Unique handcrafted driftwood Christmas trees
These handcrafted driftwood Christmas trees are perfect to display and enjoy in any room of the house, cottage, office, beach house or anywhere for the beach lovers motif. These driftwood trees are not just for the holiday season but should be displayed and enjoyed all year round. The trees average heights are 16″ to 18″ high, and diameters range between 12″ to 14″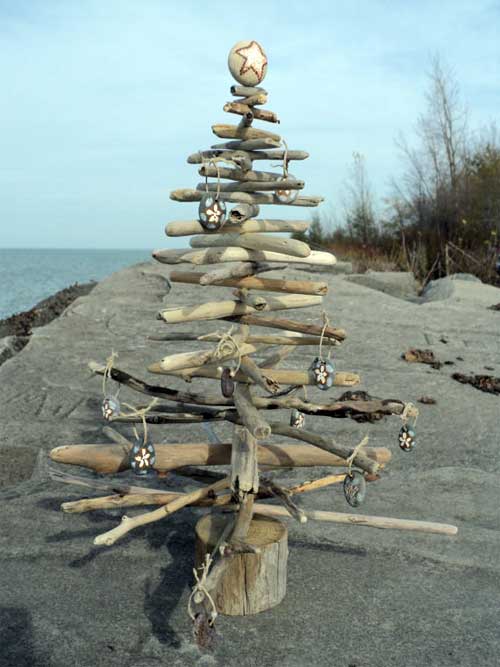 19-LCD TV Christmas Tree Display
A 26-foot-tall, Christmas-tree-shaped stack of 43 LCDs of varying sizes (from 19 inches to 52). This unique Christmas tree is part of  the Grand Central Terminal Kaleidoscope Light Show in New York City.
20-Beijing's Fiber Optic Christmas Tree
Fiber Optic Christmas trees are increasingly popular in China where the commercial aspect of the season celebrating the birth of Christ continues to grow.
[ SOURCE ]
21- Eco Christmas tree by Buro North
Australian graphic designers Buro North claim their plywood Christmas tree is "80% more environmentally friendly" than a traditional fir or spruce.Available in three sizes, the flat-packed tree can be used year after year.
[ SOURCE ]
Related Free Design Resources