37 Examples of Clean Business Card Designs in White
In the spirit of Spring cleaning, we have gathered together the most minimalist clean business card designs we found from all over the net. Minimalism has been an ever growing trend and will surely be in our midst in the next centuries. Who would not love minimalism with its clean, refreshing and simple look? Minimalism has overtaken the world of branding and marketing.
Today, we'll look at 35 beautiful and trendy examples of white on white inkless business cards. These business card designs give minimalism a whole new meaning. Inkless printing can be done through impression either through embossing or debossing.
You know what's the difference between these two techniques? Well, embossing is being done on top of the medium (paper, card,wood, etc.(top) where the image is raised–think certificate or diploma. This is done with a die + counter and is done without ink or registered to foil. Debossing, on the other hand, is done at the bottom of the paper or card using deep impression letterpress. The image or design is pressed into the paper and can be done with or without ink (blind).
---
WHITE-ON-WHITE CLEAN BUSINESS CARDS
The images below are just previews. We encourage you to visit the source to know more about each of them. To do that, simply click on the link provided below each preview image.
Henry and Company White Business Card
Designed by Ferreira Design Company, this clean business card design was letterpress printed with multilevel blind embossing for Henry and Company. It is an example of amazing design combined with precise printing.

[ MORE INFO HERE ]
Matthew Del Degan Clean Business Card
Del Degan's new business card almost resembles a bar of soap or a keycard, drawing attention to the nature of the card as an object, rather than a simple scrap of 2D information. Don't drop it in the shower though.

[ MORE INFO HERE ]
Kelly Kerwich Graphic Design Business Card
A set of very simple and clean business card design.These elegant square business cards are for a Portland, Oregon-based graphic designer.

[ MORE INFO HERE ]
Simon Laliberté Business Cards
Another inkless white letterpress business cards from a graphic designer.

[ MORE INFO HERE ]
Letterpressed Thank You Card
Here is a Thank You card printed via inkless letterpress that feature embossed floral design.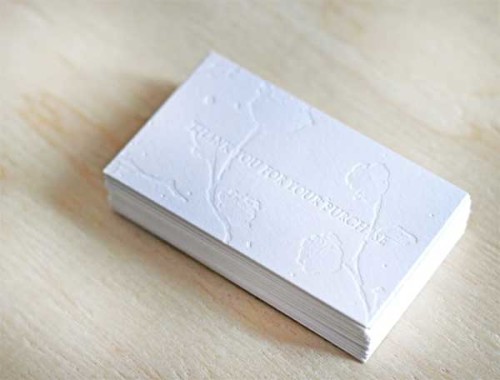 [ MORE INFO HERE ]
Sancy & Regent Clean Clean Business Card Design
This clean business card design combines classic type, proprietary quirk and subtle embellishment with tactile material choices and a hidden high quality print finish. It converys small-scale craft with consistent, curated quality.

[ MORE INFO HERE ]
Bennett Family Foundation's Letterpress Business Card
For this clean business card design, each element was letterpress printed for the text and with a beautiful blind inkless impression for the logo initials.

[ MORE INFO HERE ]
Jacob Ward's Blind (inkless) Letterpress Business Card
These cards have a heavy blind (inkless) letterpress impression on one side and black ink on the other. A blind hit needs a substantial amount of impression since it is relying only on the change in paper surface without any ink color to define the graphic. The large type size really pops on this card. If you have a good monitor and click through the pics below, you can see that even on a 220lb cotton stock there can be small amount of impression show through on the reverse side.

[ MORE INFO HERE ]
Tone-on-tone white and black inks
Using white stock 220lb Crane Lettra, the white cards were letterpress printed with opaque white ink contaminated with 877 silver.

[ MORE INFO HERE ]
Clean Letterpress Business Card Design
A business card design that sports an understated elegance while at he same time showing a designer's love of white space. Letterpress printings tactile feel successfully delivers the memorable impression and great conversation starter for this business card.

[ MORE INFO HERE ]
Trancendence Letterpress Business Cards
An example of an ultra minimalist clean business card design. It features a beautiful blind embossing using chunky types.

[ MORE INFO HERE ]
Letterpress Business Cards for Petel/Ostrikov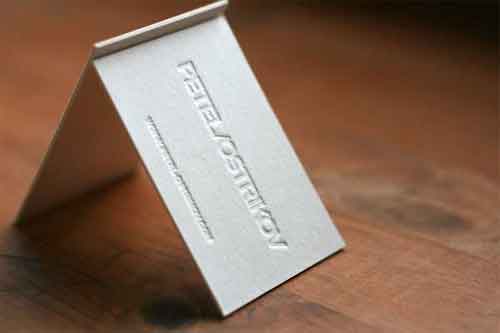 [ MORE INFO HERE ]
Thick Blind Embossed Business Card
Designed by Danah Nassief Design, these cards were printed on thick Lettra, blind printed (no ink) and edge colored in purple. They come with a custom purple envelope.

[ MORE INFO HERE ]
ProjectiOne Business Cards
A clean and simple business card design for Projectione. Made from vacuum formed polystyrene via inkless letterpress printing.

[ MORE INFO HERE ]
NBHG Calling Cards
These blind letterpress cards were printed on thick paper stock #220.

[ MORE INFO HERE ]
White On White Blind Press Embossed Letterpress Business Card
The pure white color scheme has a fresh and uncluttered feel which makes use of texture and depth for a tangible effect.

[ MORE INFO HERE ]
Simple Clean Business Card Design for Milk
The logo has been letterpress printed with a very deep blind impression on the front – this means that no ink is used and the logo is visible by the texture made on the card stock.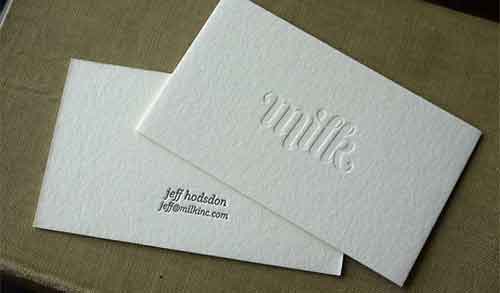 [ MORE INFO HERE ]
Substrata Business Cards by Chris Ellison
The Substrata text sinking into the lower margin of the card as a blind impression perfectly exemplifies the Substrata brand. The cards were letterpress printed on 220lb Crane Lettra, Ecru.

[ MORE INFO HERE ]
iPhone app developer letterpress cards
The back of the card is printed with a heavy blind (inkless) letterpress impression.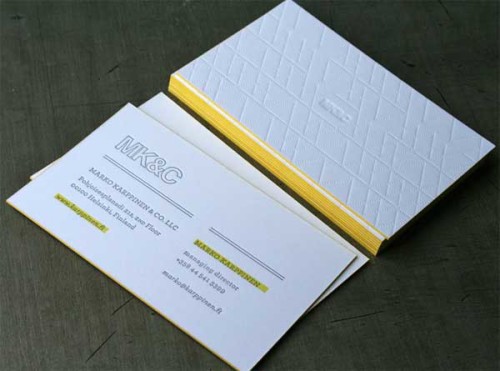 [ MORE INFO HERE ]
JOY Thick Clean Business Card
This card features a white foil stamping of the logo on one side, with standard one-colour letterpress on the other. The fluffy and heavy stock is a 600gsm crane lettra card, finished off with brand colored edge painting.

[ MORE INFO HERE ]
Business Card Design for Bar Lane Studios
All blind embossed, no ink, 700 GSM cotton card. The braille at the bottom of the card says 'Bar Lane Studios.'

[ MORE INFO HERE ]
Handmade Business Card
A simple and clean handmade calling cards with the name of the card owner blind embossed [letters raised above the paper without ink] on the front and contact information blind debossed [letters pressed down, indented, into the paper without ink] on the back.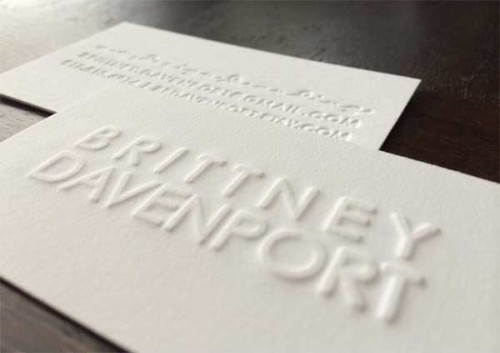 [ MORE INFO HERE ]
Tigg + Coll Business Cards
Here is a great example of a tinted deboss on Colorplan for architects Tigg + Coll. The yellow ink was hand mixed to match the yellow side of the Duplex.

[ MORE INFO HERE ]
Internet Marketing Business Card
Technically, these cards were not embossed. In reality, a so-called knockout effect was used to create a unique set of business cards for Tim Shea, an Internet Marketer and SEO wizard.

[ MORE INFO HERE ]
fFurious Namecard
fFurious adopts a minimalist design approach for its new business card, featuring one-color printing and intricate embossing work. Geometric patterns were used to suggest the various specializations that this agency specializes. These were embossed to create an intriguing, sensory experience which delivers an immediate and lasting impact. The debossed back of the card is further sandwiched with another card to conceal the debossing.

[ MORE INFO HERE ]
Blind Impression Letterpress Calling Cards
These were printed on double thick (600gsm) bright white stock with 2 colors (blind impression front and black on back). Design and letterpress by Missive.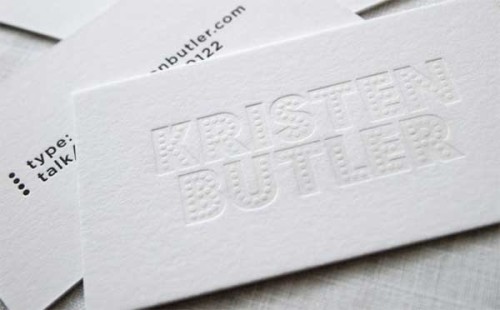 [ MORE INFO HERE ]
Rene Tate Photography Letterpress and Foil Cards
These cards were finished by duplexing them together to create a brown and white business card.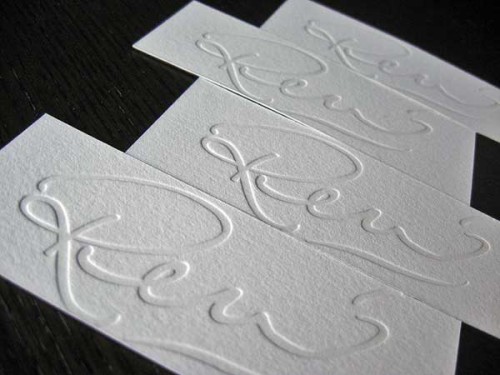 [ MORE INFO HERE ]
Studio 12 Architecture
One side of the card features a nice blind emboss of the company's logo. Printed on Crane's Lettra Fluorescent White 220 lb. cover stock.

[ MORE INFO HERE ]
Tasty 1-Color + Blind Emboss Combo
This business card incorporates a sophisticated silver ink printed on Epic Black Classic Crest and then a blind emboss of the company's name on Solar White Classic Crest. The two sheets were then mounted (pasted) together for an impressively thick (30+ pts) finished product.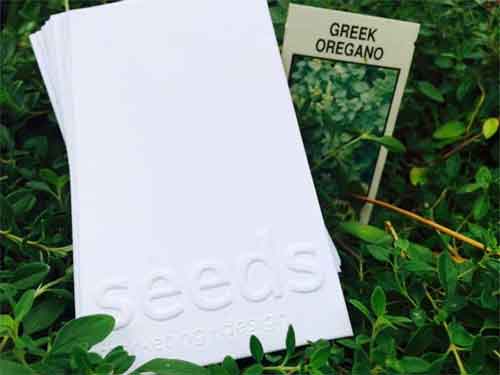 [ MORE INFO HERE ]
Optmyst Clean Business Card
Blind Pressed Embossing on Nouveau stock.

[ MORE INFO HERE ]
Blind Embossed Cable Knit Coasters
Vector cable knit pattern was blind embossed in each coaster via letterpress process. The result is a perfect place to rest your steaming mug of hot chocolate or a nice frothy cappuccino.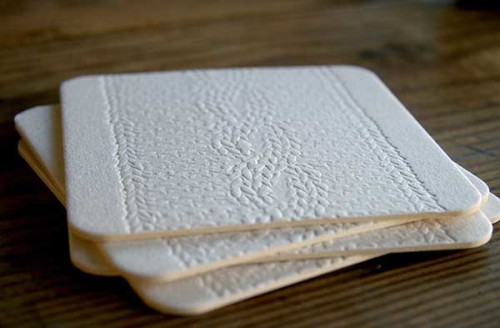 [ MORE INFO HERE ]
Alex Ultra White Clean Business Card
Double sided letterpress square business cards using a blind emboss and black ink on Colorplan white frost 700gsm.

[ MORE INFO HERE ]
Jonnel and David Ultra Clean Business Card

[ MORE INFO HERE ]
Never Without Business Card v.2
The new cards for Never Without done through embossing and blind letterpress printing.

[ MORE INFO HERE ]
Embossing Sand: A Clean Business Card Design
When first impressions count, subtle and elegant effects can be achieved by starting with a sand-textured card.

[ MORE INFO HERE ]