500+ Free Cloth Textures and Images to Download
There are many uses for cloth textures among designers and artists. Digital animators use cloth textures all the time to make their objects and spaces more realistic. In general, Web designers usually use textured images for backgrounds or wallpapers of a  web page. Although, when using textures for web design, it is best to be reminded that using complex and colorful backgrounds since it could confuse or distract readers. Instead, one should use appropriate and subtle texture backgrounds that work well with text. So, with a bit of imagination and creativity, you can come up with  graphic designs for different purposes with a unique and impressive look using textures.
One of the textures that many designers are using nowadays are fabric or cloth textures. For one,  fabric or cloth give our design a soft and comfortable feel to it. Here are some collections of  free cloth textures that I personally picked out of the thousands available online based on usefulness and beauty. I hope you will like them too!
However, if what you need right now are cloth textures that are free to use for commercial work, then visit also our roundup of free fabric textures.
---
500+ CLOTH TEXTURES IN IN HIGH-RESOLUTION
Below, you may download over 500 individual cloth textures. Most of these textures are high-quality and come in high-resolution JPEG format. To download the set that you want, simply follow the link provided below each preview image. Enjoy these freebies!
Creased Fabric Set: 14 Free Hi-Res Textures
14 free high-resolution creased cloth textures of wool, cotton, denim jeans, synthetics and other cloth types. I hope everyone should find something that they like. All images incredibly big at resolution of 3008 px by 2000 px.
[ DOWNLOAD ]
Fabric Textures from Smashing Magazine Texture Gallery
These cloth textures have been created by Smashing Magazine readers in its Smashing Texture Contest.  The collection has more than 50 sets of free fabric images contained in zipped archives. The file size of .zip-archives is between 1 and 15 Mb (depending on image resolution). You can use all textures for both private and commercial projects for free, without any restrictions whatsoever.
[ DOWNLOAD ]
High Resolution Fabric Texture Pack #2
Another super duper texture pack containing 9 juicy high-resolution cloth textures . Each texture is 2500px x 1667px in size and so should have you covered for most scenarios.
[ DOWNLOAD ]
Fabric Textures from Texture Z
There are more than 50 cloth textures that you can get from this site. Maximum size of these textures are 3072 by 2304 pixels or around 5MB depending on the size of the image. Free for both commercial and non-commercial uses.
[ DOWNLOAD ]
Fabric Textures Vol. 1 by Design Kindle
This volume includes 10 high resolution JPG images, each at 2000×1500 pixels in size. Using textures are a great way to make your designs look and feel more realistic.
[ DOWNLOAD ]
Around 200 Free Fabric Textures from Mayang.com
There are about 200 high-resolution image of fabric, cloths and rugs that can be downloaded from this site. Just click the icons for fabric textures (categorized as fine textures, patterned and other fabric). Resolution of each image is around 2560 x 1920. However, bulk downloading is discouraged. The download limit is 20 images per day (per IP address).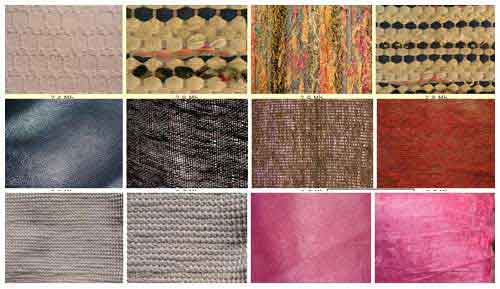 [ DOWNLOAD ]
Free Fabric Textures from Texture King
There are around 40 cloth textures that you can download from this site.  Resolution of each image is at 1600px (wide side). The textures on this site are free for use in any situation by anyone with only one exception.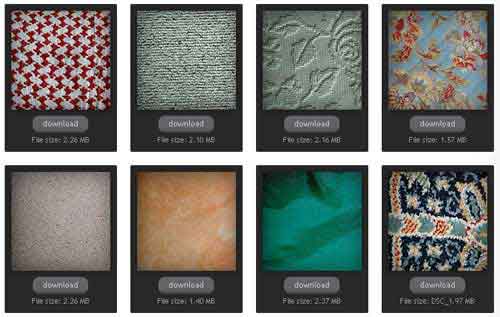 [ DOWNLOAD ]
Free Fabric Textures from freetextures.org
The site features around 40 high-resolution textile fabric texture images and all of them are 2272 pixels by 1704 pixels.
[ DOWNLOAD ]
Large Fabric Textures
The pack contains 5 large free cloth textures with ornaments. Size of the file is 5.5MB. Free for both commercial and non-commercial uses.
[ DOWNLOAD ]
Aurora Cloth Textures Pack
Five fabric and cloth images featuring hand painted cloth. All images are sized at 3000x2250px and 300 dpi.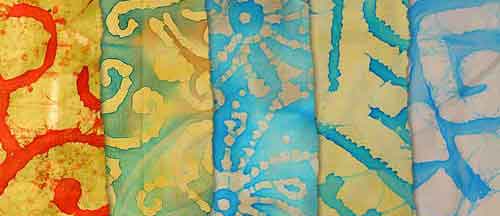 [ DOWNLOAD ]
Free Textures – 25 Free High-Res Fabric Textures Part 2
There are 25 beautiful cloth textures in this volume that you can use for free in your designs. These are all the same quality as the first volume, so that means, super high-resolution. Fabric textures are great for a lot projects, even if you just need some very subtle textures in your designs.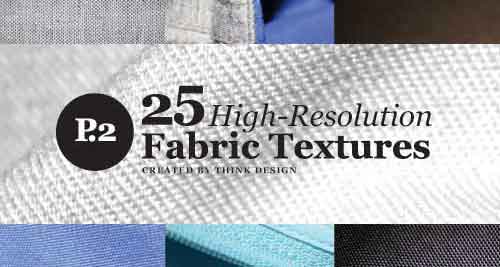 [ DOWNLOAD ]
Cloth Textures Pack 3
The pack contains 6 images featuring images of intricately designed fabrics and cloth. Each image is 2000 x 1500 pixels each in size.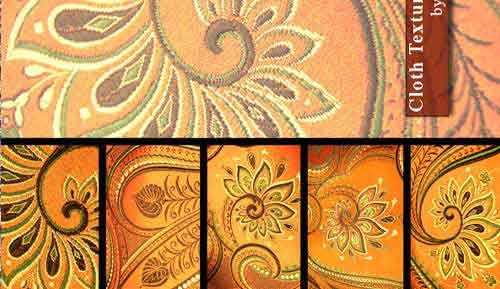 [ DOWNLOAD ]
Fabric Textures by Amanda Clayton
This fabric texture pack contains 6 cloth textures sized at 1200 x 1600 pixels at 200 dpi. Free for use in non-commercial and commercial works.
[ DOWNLOAD ]
Free Fabric Texture Vol. 1
There are 11 beautiful high resolution fabric pictures in this set for you to play with. Each fabric (jpeg) is a staggering 2500 px wide, giving you plenty of options when it comes to usage.
[ DOWNLOAD ]
Free Hi-Res Plain Fabric Textures Part 1
There are 12 high resolution plain cloth textures in this pack. Included are various fabric and cloth such as wool, cotton, denim jeans and synthetics. On average they are 2800 px by 1900 px in size.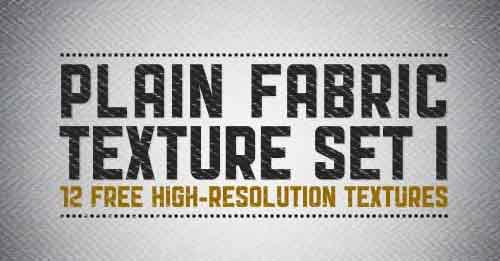 [ DOWNLOAD ]
Free High-Resolution Fabric Textures
There are 25 free images here, from fabric book covers to brightly-colored stuffed animal. Shots of subtle, softer fabric and cloths, as well as some nice draped clothing are also included. These are all super high-resolution so expect also the file size to be a little large.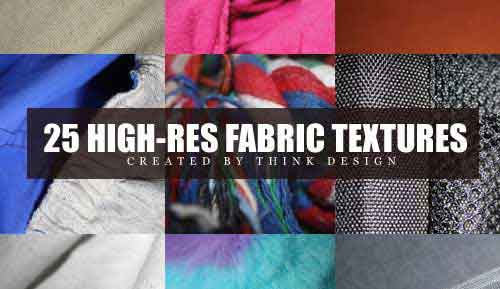 [ DOWNLOAD ]
Related Free Design Resources