10 Unique and Cool Calendars to Check Out
We are half-way through this year–2009. And since designing a calendar requires you to do it ahead of time to give time for printing and all, I think it is just about time to think about designing a new calendar for 2010.  This post features some very unique and cool calendars that you must check out. Most of these cool calendars are very unique…something that you might not expect in a calendar.
These creative calendar designs are also fun to use and may require your involvement since some of them are quite interactive in nature. I hope you will find these cool calendars inspirational.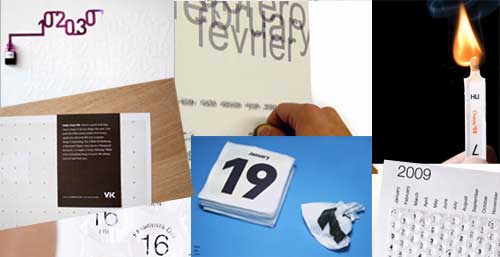 ---
10 MUST-SEE COOL CALENDARS
Know more about each design by clicking on the link found on each preview image. Additional information and high-resolution images about each design are available from the source website.
Camera Lens Calendar
First in our roundup of cool calendars is this camera lens chic calendar. The shutter speed and aperture rings enable the user to view the year, month and date. This calendar design is a unique dedication to people who love photography. The device shows dates right from 2008 till 2032 and weighs about 4kgs, making one of the heaviest calendars created so far.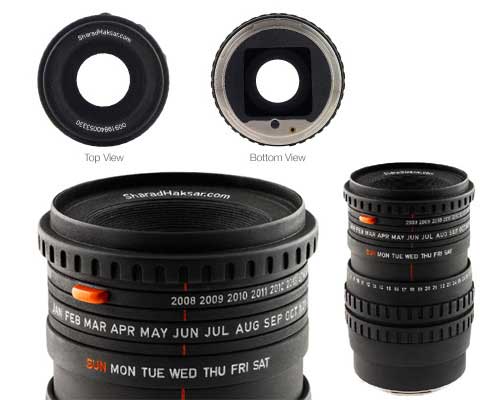 [ SOURCE ]
Chrono Shredder
The Chrono-Shredder is a cool calendar design that reminds us of the preciousness of our lifetime. It represents the passing of time by shredding the days of the year – printed on a paper roll – at a slow constant rate. To shred one day takes 24 hours. There is no "off"-button. As the seconds pass by, the tattered remains of the past pile up under the device.
[ SOURCE ]
Bubble Calendar
This one is a poster-sized calendar design with a bubble to pop every day. An ideal gift for a graphic designer or for someone who has tendencies to become obsessive/compulsive.
[ SOURCE ]
Calendar Made of Matches
A cool calendar design with each page representing a month. The comb-looking matches correspond to the days. The matches are real and the construction of the calendar is absolutely safe.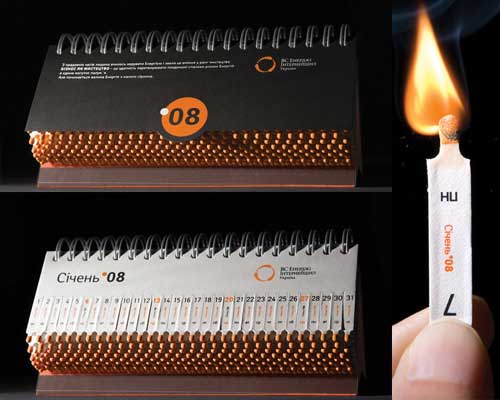 [ SOURCE ]
Magnetic Calendar Design
Eternal, easy customized magnetic calendar design. With, even, 32nd day of month just in case. Month's names abbreviated to 3 letters. Chips can be placed one over another. Special appeal of this calendar is special chips, like "Deadline", "Arrival", "Departure", five "Drink Day" and one "Don't Drink Day".
[ SOURCE ]
Scratcher Calendar
The scratcher is a cool calendar design that combines the lottery scratcher material but places it on a daily calendar, so the days can be scratched off with fun. This calendar design by Mr. Tom Design, makes keep up to date fun and interactive, for you would need to scratch off each day separately to make sure none are missed.
[ SOURCE ]
Ink Calendar
Another entry in our list of cool calendars is an ink calendar. Dipped in ink, the calendar will bleed as the days go by. Each number on the calendar is printed daily, until the end of the month when the ink well is dry. So, the calendar not only signals elapsed time but gives a true sense of it. The calendar is an invention of Oscar Diaz.
[ SOURCE ]
Napkins Calendar
Those tear away type calendars could be viewed by some as a waste of paper, and therefore, not green.  Each napkin is marked up with each day of the year. When the day is over you then use the napkin for blowing your nose on. If you don't need to blow your nose every day then you could use it for jotting down notes etc…
[ SOURCE ]
An Apple A day Poster Calendar
Have you been wanting to eat more fruit and vegetables? The Apple a Day poster provides a way for you to track your progress (and finally find a use for those annoying little labels stuck to your fruit). Just peel the stickers from your each of your fuji and affix them to the numbered squares for some preschool-style positive reinforcement. The poster calendar comes as an 18″ x 23″ letterpress poster.
[ SOURCE ]
20 Years Warranty Calendar
Last but not least in our list of cool calendars is the Schott Solar warranty calendar, which produces solar panels with 20 years warranty. In order to present the brand Schott Solar in a distinctive and meaningful way, he created a 20 year calendar, which sticks out of the wall more than 60 centimeters.
[ SOURCE ]
Related Free Design Resources