Free Easter Cards for Journaling Plus Gift Tags
For your Easter holiday celebration, we are presenting a set of  printable Easter cards for journaling and scrapbooking projects. The Easter cards come in two sizes 3×4 inches and 6×4 inches with matching gift tags and digital tape strips, labels and ribbons that you can download and use for free.
There are 12 3×4-inch cards and 4 6×4-inch cards featuring popular Easter symbols such as bunnies, baby chicks, colorful eggs,  twigs, foliage, hearts and stars. The gift tags also come in the same Easter pattern backgrounds and laid out in a one-page paper. The last set are tape strips and ribbons for labeling and other uses. To use them as tapes, you must print this page on a sticker paper. These labels and ribbons likewise use the same Easter themed patterns.
These printable Easter cards were created using the Easter patterned digital papers we released recently. If you haven't downloaded them yet, then you may get all the 16 pastel-colored Eastern background patterns. Aside from the printables we made out of these patterns, we are sure you will be able to find hundred other creative ways to use them.
ABOUT OUR FREE EASTER CARDS
The Easter cards are contained in a five-page Adoobe PDF file. All you need to do is to download the file (link below the preview image), extract the PDF file from the archived file, open in your computer, print, and then cut. The layout is 8.5×11 inches, thus it is best to print them on letter size paper. It will also fit on A4 size paper without a problem.
Use these journaling Easter cards to organize your Easter memories with family, friends and loved ones. These journaling cards are perfect as cover or title cards. You can write on them using permanent marker. You can also stick on labels and flags to decorate them. Below is a preview image featuring some of the journaling Easter cards included in the set.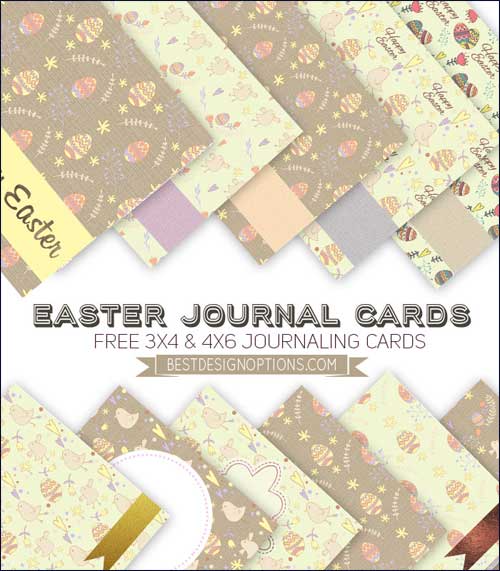 FREE EASTER GIFT TAGS
As mentioned, we are also giving away a total of nine gift tags sporting the Easter-themed pattern backgrounds in soft pastel colors. Like the journaling cards, these gift tags are laid out in on-page PDF file. Simply download, print and cut. All of the cards have blank space where you can write your personalized message. These would look great as tags for party favors, for party giveaways, or for gifts this Easter Holiday.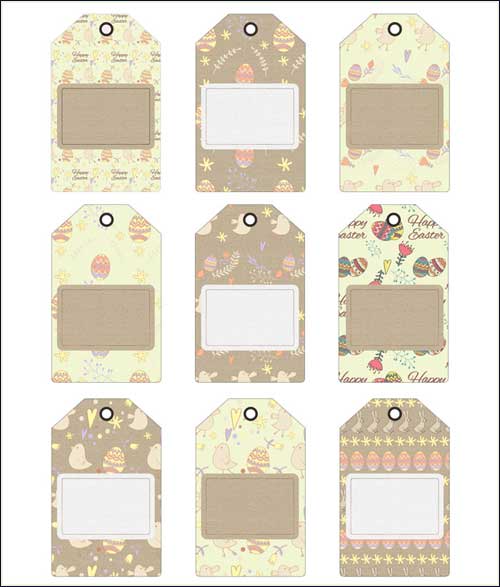 FREE EASTER-THEMED LABELS AND RIBBONS
Lastly, we also came up with a set of tape strips, labels, flags and ribbons sporting the soft pastel Easter-themed patterns. Each of these ribbons and labels has unique pattern on it. You can use these ribbons to label handmade giveaways or to add titles to your scrapbooks and journal entries. As usual, download, extract, print and cut. Remember to print them on sticker papers. We hope you will find these free resources from us useful in your designs. Let us know of what you think by leaving a comment below.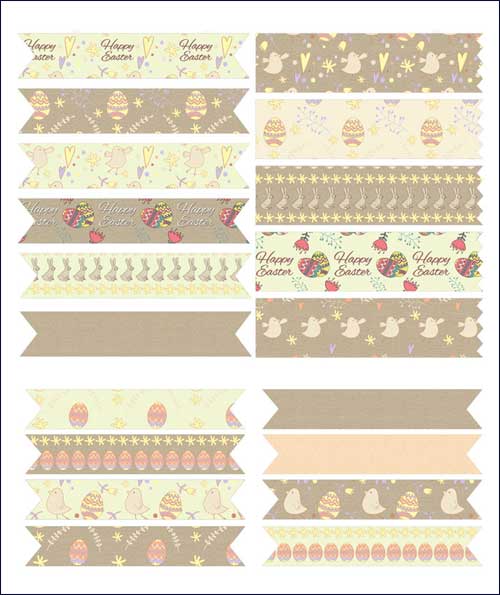 Please note of the password for extracting the zipped file. Enjoy!

TERMS OF USE:
These printables Easter cards are for personal projects only. Please credit us or link back to us if you use them. Also, please refrain from making them available for download outside of this site. If you want other people to know about our freebies, please refer them to this post.
IMPORTANT!
The download file is password-protected to prevent hotlinking and discourage people from violating terms of use of our brushes. When prompted for a password, just key in "bdo".
Related Free Design Resources