20 Flower Border Brushes for Photoshop
I have been dreaming of sunshine and flowers, too! These were my inspiration in creating this set of  Photoshop flower border brushes made up of flower and swirls. Created in Photoshop CS3,  most of these flower border brushes are corner brushes, which you can use as borders to frame your artworks. Each brush has a resolution of around 2500 pixels.
I have seen many beautiful flower and swirl brushes. But whenever I check the resolution of these flower border brushes, I almost always get disappointed to know that they are not high resolution enough for the kind of artwork that do. I just hope most of us would realize that it is more advantageous to set the resolution of our brushes to the maximum size that we could get. And in the case of Photoshop CS3, the maximum resolution of these flower border brushes that you can make is 2500 pixels. We can always spare a few storage bytes to accommodate these brushes in our collection (because large size of brushes also require bigger storage space).
If you are interested in really high-resolution Photoshop flower border brushes, check out my other Photoshop brush sets under the "FREEBIES" category. All of my brushes are 2500 pixels or so in size.
Below, you will have a preview on how these brushes would look like when installed in Photoshop: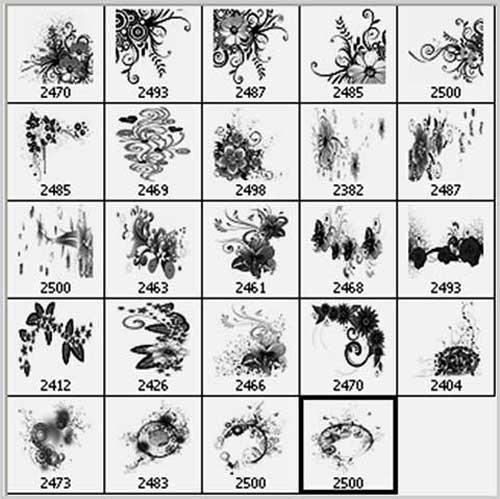 TERMS OF USE: Please limit the usage of this set to personal or non-commercial projects. I hope you'll find these brushes useful. We appreciate your comments. But stumbling or digging this post will make us happiest… 🙂 Enjoy!
IMPORTANT!!!: Please refrain from redistributing these brushes, (i.e., downloading this set and making it available for download somewhere else). Also, please do not HOTLINK to the downloadable file. Please refer to this post if you want to spread the word.
TO DOWNLOAD, click the button below:
DOWNLOAD BRUSHES
If you encounter any problems downloading my brushes, try using Mozilla Firefox. I'm sorry about this. I'm still trying to fix some issues with Opera and Safari.
RELATED FLOWER BORDER BRUSHES FOR PHOTOSHOP
01- Floral Frames Photoshop Brushes Part 2
All of the floral frames Photoshop brushes here are created using vector floral designs. Feel free to use the floral frames Photoshop brushes in designing birthday cards, anniversary cards, wedding cards, invitations or as photo frames.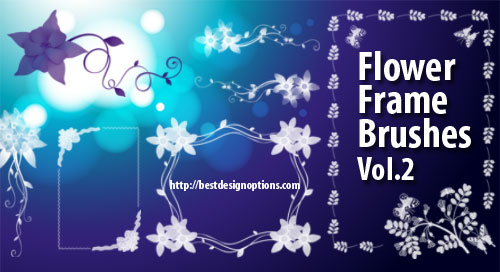 [ DOWNLOAD ]
02- Vector Flowers
This set contains 19 brushes of vector flower designs that you may use for free.
[ DOWNLOAD ]
03- Flower Frames
A nice set of Photoshop brushes consisting 5 flower frames for Photoshop CS2.
[ DOWNLOAD ]
04-14 Lovely Floral Border Brushes Free to Download
A set of Photoshop brushes that you can use as frames and borders. These are medium-resolution brushes, with size of each brush ranging from 500-800 pixels.  The designs feature hearts, flowers and swirls. These are prefect for digital scrapbooks or for making collage of your family pictures. Try it also for your pre-nup or wedding photos.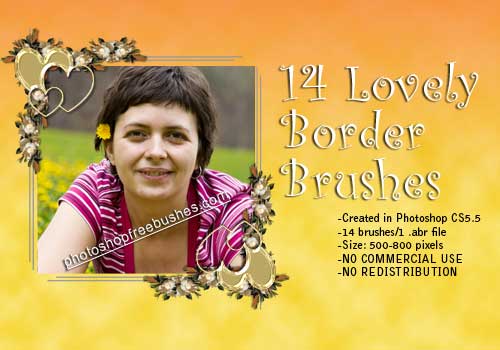 [ DOWNLOAD ]
Related Free Design Resources