25 Flower Brushes for Photoshop (Part 2)
This is my second set of flower Photoshop flower brushes composed of swirls and flora designs. My first Flower Photoshop brushes pack has been getting a lot of attention so I decided to come up with a follow up article or a new set of flower Photoshop brushes. Click here to view the first set of FLOWER BORDER BRUSHES.
This set consists a total of 25 flower brushes. These flower brushes have high resolution with size of each brush set at 2500 pixels. While the first set consists plenty of corner brushes, this set on the other hand features some frame brushes with flowers and swirls and some are a little bit grungy. Just checkout the sample pictures of the each Photoshop brush at the end of this post. This brush set is compatible with Photoshop CS and higher versions.
TERMS OF USE: Please limit the usage of these flower Photoshop brushes to personal or non-commercial projects. I hope you'll find these flower brushes useful. Your comments will be greatly appreciated. But stumbling or digging this post will make us happiest… 🙂 Enjoy!
Below, you will have a preview on how these flower brushes would look like when installed in Photoshop:
IMPORTANT!!!: Please refrain from redistributing these brushes, (i.e., downloading this set and making it available for download somewhere else). Also, HOTLINKING to the archived file is not allowed. Please refer to this post if you want to spread the word.
TO DOWNLOAD the flower brushes, click the button below:
DOWNLOAD SWIRLS BRUSHES
If you encounter any problems downloading my brushes, try using Mozilla Firefox. I'm sorry about this. I'm still trying to fix some issues with Opera and Safari.
---
RELATED FLOWER BRUSHES TO CHECK OUT
01-Bunch of Flowers
This set of Photoshop brushes consists bunches of flowers of different kinds and species and are ideal for creating greeting cards or gift tags for almost any occasion. There are pictures of roses in vases or in bouquets as well as other types of flowers in various arrangements. You can also use these images in creating backgrounds for wedding cards or save the date cards.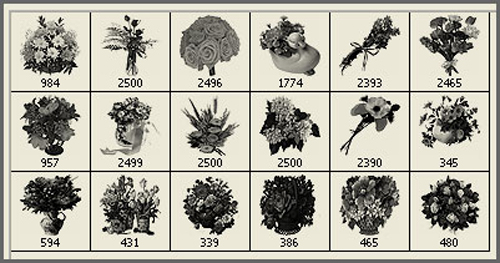 [ DOWNLOAD ]
02-Spring Flowers: 18 Free Photoshop Brushes
This set includes 18 ultra high-resolution Photoshop brushes composed of different flowers, a butterfly and foliage that are perfect as decorative elements ion your designs.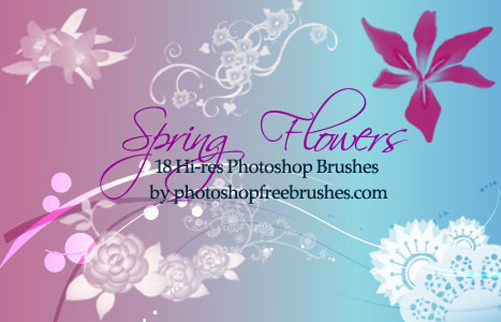 [ DOWNLOAD ]
03-Hi-Res Flower Brushes for Photoshop
This is a set of free Photoshop brushes featuring different varieties of flowers. Flower brushes included in this Photoshop brush set includes hibiscus, daisies, dandelions, sunflowers, tulips, suntan and many more.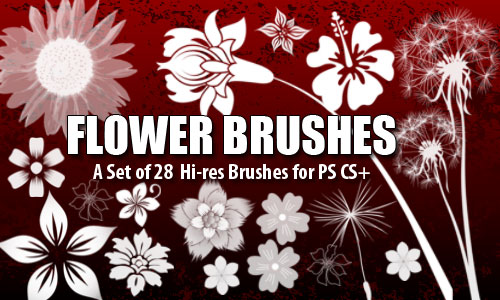 [ DOWNLOAD ]
Related Free Design Resources