16 Free Script Fonts For Elegant Designs
Free script fonts are elegant and formal. To use them effectively, however, you must match them with equally elegant photos or images. These type of fonts are usually used for formal occasions such as wedding invitation, formal dinner parties, scrapbooks, etc.. Free script fonts, especially those typefaces with fine lines and lots of swirls and flourishes have a feminine feel to them, and thus used for designs and graphic designs intended for females.
However, for serious occasions like when you are designing a formal wedding invitation, choosing ascript font is a bit more complicated. You cannot just pick a typeface that looks nice. Several factors must be considered when deciding on a font. According to lovetoknow.com, there are three major factors that you should consider in looking for the best font for a wedding event:
1. Character Set: If the font will be used for multiple purposes, a full character set including upper and lower cases, numbers, and punctuation is essential. Special characters may also be desirable depending on the wedding invitation wording.
2. Readability: An ornate script font may be beautiful and romantic, but it may be too difficult to read unless it is very large. Choose a font that is suitably formal but still legible at a practical size for the wedding invitations and other stationery.
3. Style: Script fonts are the most popular for weddings because they are stylish and elegant, but they are not the only option. A casual font is suitable for a second wedding or less formal event, and themed fonts can be used as well. An old English ornate font, for example, is perfect to use for a Renaissance wedding ceremony, while a gothic font may be best for a Halloween wedding.
So here are the best free script fonts that you can download for free or as shareware (Please check the individual Terms of use).
---
16 SETS OF FREE SCRIPT FONTS
SCRIPTINA
Less formal yet fun! The free script fonts curl together to create a tight but classic appearance. You may use this font for names and accents for wedding invitations or for logos or short words and phrases. This font is also best paired with a serif fonts to make important information such as dates more legible and easy to read. The numerals, especially the number 1 and 7 are very hard to tell apart in this typeface. Also, the loops and descenders require extra line spacing to be readable. (Available in PC/MAC versions).
[ DOWNLOAD ]
ENGLISH
This is more subdued compared to many free script fonts. The letters are a little more stylized compared to the more organic-appearing typefaces that many fonts use. English is the best choice if you prefer crisper and cleaner script fonts. (Available for both MAC and PC users)
[ DOWNLOAD ]
CHAMPIGNON
This type has slender letter forms similar to those older style of script fonts. Its classic style can give a wedding invitation a stately air. Champignon also comes with a secondary font that allows users to embellish letters of your choice with swashes. (Available for both MAC and PC users)
[ DOWNLOAD ]
FREEBOOTER SCRIPT
A fancy script font that is still quite readable despite of its exaggerated swooshes and swirls. Remember to use alternate characters to add variety and enhance readability of this typeface.
[ DOWNLOAD ]
COMMSCRIPT
This type mimics cursive handwriting but is more formal and has unique style. The letters also tend to connect between letters. The classic look of this beautiful script makes it a good choice for wedding and other formal invitation. (True Type Font for PC).
[ DOWNLOAD ]
EXMOUTH
This lovely formal free script font was distributed by Prima for free to introduce users to its commercial CD collection of fonts.(True Type Font for PC)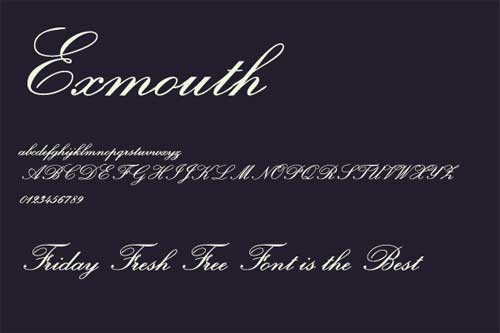 [ DOWNLOAD ]
OLD SCRIPT
This typeface is commonly used for wedding invitations and other formal documents.
[ DOWNLOAD ]
EDWARDIAN SCRIPT
Described by its author Edward Benguiat as emotional, lyrical, even passionate calligraphic typeface, Edwardian script has a look of a true handwriting.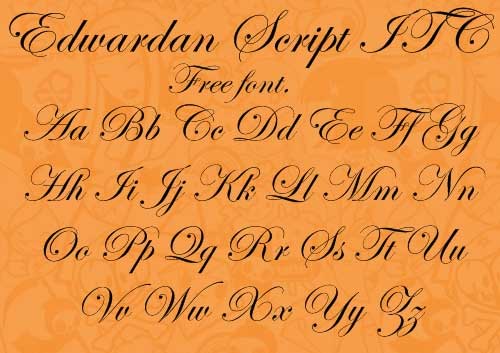 [ DOWNLOAD ]
SHELLEY SCRIPT
A new script face for the photo typesetting machines and offers different elegant letter script fontsforms.
[ DOWNLOAD ]
KUNSTLER SCRIPT
This typeface has a flowing and artistic, yet scholarly look, making it one of the favorites for formal invitations or announcements. You may also use this script font to add a personal touch to some types of work other than invitations. An advantage of this typeface is that there is also a bold and black version, something that is rare in copperplate fonts.
[ DOWNLOAD ]
Adine Kinberg Script
[ DOWNLOAD ]
Windsong Font
[ DOWNLOAD ]
Belphebe
[ DOWNLOAD ]
HANCOCK
[ DOWNLOAD ]
OHIO SCRIPT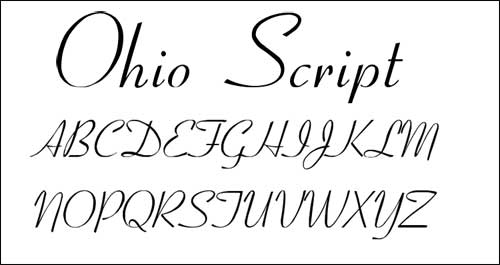 [ DOWNLOAD ]
MARRIAGE SCRIPT
[ DOWNLOAD ]
Related Free Design Resources