200+ Free Watercolor Texture Images to Download
I love watercolor textures in my designs because they bring back good and happy childhood memories. As a child, I loved drawing landscapes, people and things in vibrant colors. These days, watercolor art is one of the hottest trend in web design. Using watercolor textures  in web design is one of the easiest trick to make your websites look more artistic.  Watercolors also give your design a personal touch, making it more warm and inviting to others. At the same time,  they make our designs lively,  especially those in bright happy colors. That is why, in this roundup, we listed down some of the best free watercolor texture images that can be found online. I hope you will also find most of these images useful in your work and personal projects.
Visit our more updated roundup if you wish to download more free watercolor backgrounds.
---
200+ FREE WATERCOLOR TEXTURE IMAGES
01: 25 Hi-Res Yet Free Watercolor Texture Pack by Lost and Taken
This set contains 25 super high-quality images that you can use to add some artistic flare in your layout. Each of these images is 30-40 MB in size and the zip file is over 800 MB. So expect downloading time to be longer than the usual.
[ DOWNLOAD ]
02:  Free Watercolor Texture Pack from Geri Coady
There are 12 beautiful watercolor paper textures in this set. These textures were scanned real watercolor splashes and paintings.
[ DOWNLOAD ]
03 – Free Watercolor Texture Pack Volume 2 by Media Militia
There are a total of 30 high-resolution watercolor textures that you may download for free.Try playing around with colors by adding a Hue/Saturation adjustment layer or a gradient layer or by changing the layer style to overlay.
[ DOWNLOAD ]
04: Free Watercolor Texture Pack Volume 1 from Media Militia
A set of 36 high quality watercolor images perfect for adding that some creativity in your designs. Use them to change up and tweak your Photoshop projects.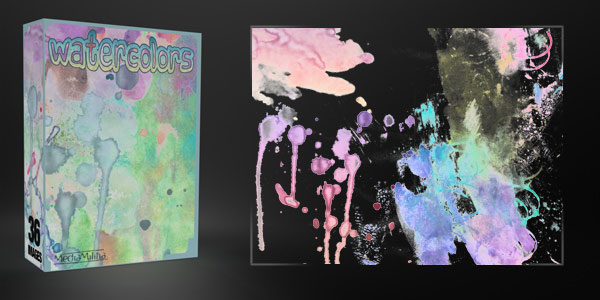 05 – Grungy Free Watercolor Texture Set by Bittbox
This pack consists 10 very high-resolution and also free images that you can use in your designs and projects.  These were created using Photoshop brushes created by the same author. You can either download only the free designs that you want by clicking on the images at bittbox.com or download the entire set by clicking the "download" button.

[ DOWNLOAD ]
06 – Textures: Watercolors by Jocosity
This pack consists 8 free textures with resolution of at least 1300 x 1900 pixels.

[ DOWNLOAD ]
07 – Large Painted Free Watercolor Texture Backgrounds by Kiho-chan
Five high-resolution free watercolor texture images featuring colorful paint strokes that are perfect for creating natural effects in your designs.

[ DOWNLOAD ]
08 -10 Free Watercolor Texture Techniques
In addition to teaching you how to come up with nice watercolor textures using different techniques, you may also download the high-res textures shown as examples from this post.
[ DOWNLOAD ]
09 – Let Sleeping Dogs Lie by looks like rain
This free watercolor texture pack consists 8 colorful watercolor designs with resolution of 1024 x 768 pixels each. Total file size of the zipped download pack is 10.2 MB.
[ DOWNLOAD ]
10 – Painted Free Watercolor Texture Set by Ikeschatzi
This pack consists 5 free colorful painted textures. Total file size of the zipped download pack is only 1.1 MB.

[ DOWNLOAD ]
11 – Watercolor Painting by I Love Colors
This pack consists two very high-resolution scanned watercolor paintings.

[ DOWNLOAD ]
12 – High Resolution Free Watercolor Texture Set by Cgarofani
the author's gallery at Deviantart features 10 high resolution watercolor textures that you can use for free. However, you have to download the textures one by one since these images were posted individually (not as a package that you can download as a set). But it is worth the hassle because the images are really high-resolution at around  2349×3037 pixels each.

[ DOWNLOAD ]
13 – 23 High-Res Water Color Backgrounds from Sad Monkey
Here are 23 more watercolor backgrounds you can use for free, including commercial usage. Each individual file can be found and downloaded for free at Sad Monkey's Deviant Art Page. Follow the link by clicking on the preview image. You can  download each watercolor texture that you want after the jump.
[ DOWNLOAD ]
14 – Free Watercolor Texture Pack from Graphics Fuel
A set of 7 high-resolution watercolor textures pack. These textures are great for adding splash of color to your design projects! The pack that you may download includes JPG images of the textures at resolution of 1740×1260 pixels each.
[ DOWNLOAD ]
15 – Cool Pastel Free Watercolor Texture Set
There are 20 watercolor textures you can use as background for your design projects.
[ DOWNLOAD ]
16- 12 Free Free Watercolor Texture Pack
The pack that you can download includes 12 free textures in PNG format. These textures have transparent backgrounds so you can still mix and match the colors by playing around with layer settings and opacity in Photoshop.
[ DOWNLOAD ]
If you like this post, then you might also be interested to checkout our roundup of free watercolor Photoshop brushes, featuring 14 sets of top notch brushes for your designs.