14 Sets of Graffiti Brushes for Photoshop
As a tribute to graffiti art, here are 14 sets consisting more than 500 individual graffiti background brushes artistically rendered in Photoshop that you can download for free. Most of these graffiti background brushes are free to use for non-commercial work only. However, terms of use may vary from one author to another. So please read and understand the fine-print thoroughly.
Graffiti (singular: graffito; the plural is used as a mass noun) is the name for images or lettering scratched, scrawled, painted or marked in any manner on property. Graffiti is sometimes regarded as a form of art and other times regarded as unsightly damage or unwanted. Also known as street art, graffiti has been there for centuries already but it was only in recent years when graffiti made a huge come back. It is a rapidly evolving art form, having become intertwined with hip hop culture, along with rapping, DJ-ing, and break dancing.
To some, graffiti art is merely vandalism. But to many of our young generation, considered this as an art form that's worth displaying in galleries and museums.
---
GRAFFITI BACKGROUND BRUSHES TO DOWNLOAD FREE
To download the graffiti background brushes set that you want, simply click on the preview image and it will take you to the page where you can download them. More information about each graffiti background brush set are also available from the author's page.
Graffiti Brushes Volume 1
These graffiti background images are 1027x768px in size. The download is just a hair under 4mb. There are 6 different graffiti themed brushes in this set.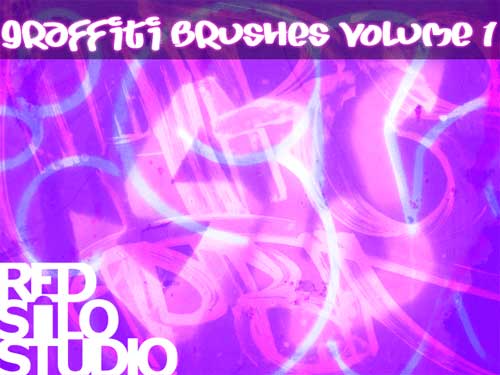 [ DOWNLOAD ]
Graffiti Letters Photoshop Brushes Vol.2
A set is composed of graffiti background letters that you can use for free in your designs. This is ideal for creating graffiti-style wallpapers or posters. There are a total of 24 images in this set with resolution of each brush set at around 1900-2000 pixels. Created in Adobe Photoshop CS2, these should work with any CS version of Photoshop.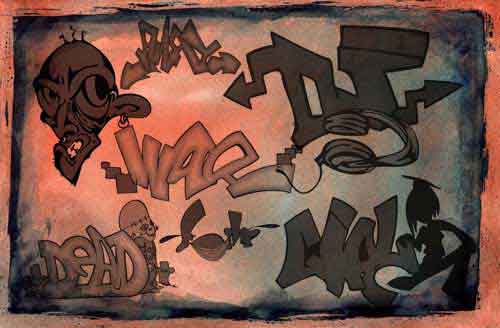 [ DOWNLOAD ]
LA Misc Graffiti Brushes
The pack contains 82 images of just misc. stuff and graffiti background designs in this pack. The download size is large at 11MB – but most of the brushes are in good size. These are perfect for creating high-resolution designs such as desktop wallpapers or anything that you need to print later.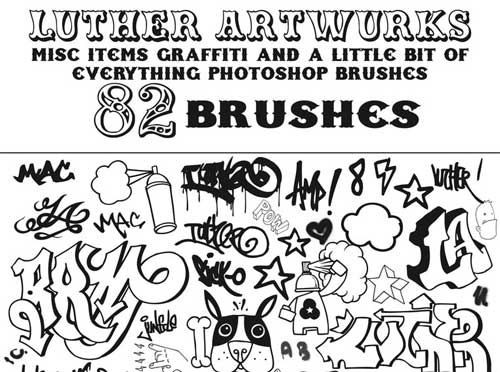 [ DOWNLOAD ]
DB Graffiti Arrow-Brush Pack
This Photoshop brush pack of graffiti background images includes a mixture of 'Arrow-Handles that you may use in your designs. There are around 50-60 brushes such as high-res graffiti arrows, simple, and medium level styles.
[ DOWNLOAD ]
Graffiti Brushes
A total of 82 graffiti background brushes in this set. Each letter is available in three different styles. There also some graffiti decoration brushes in this pack. You can use them however you want, except in commercial work.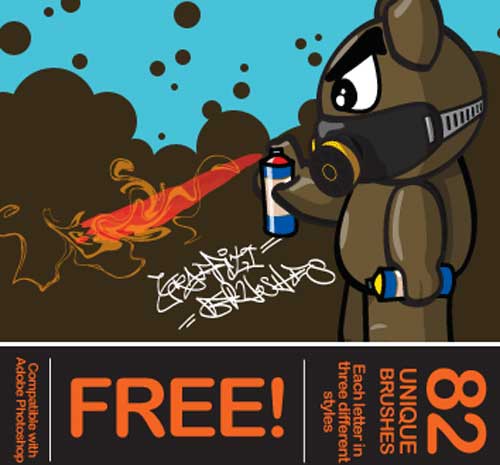 [ DOWNLOAD ]
Be A Pro Writer Final
Here, you will get the final version letter-by-letter brush set for graffiti tags. This pack features first letters, 2x middle letters, last letters, numbers and other fun stuff that will help you tag like a pro. Match the letters, rotate and resize the brushes to make your tags. There are about 140 different letter brushes in this set.
[ DOWNLOAD ]
Graffiti Alphabet letters
A pack of Photoshop brushes consisting 166 large style graffiti alphabet images, with different styles and variations.
[ DOWNLOAD ]
44 Free Graffiti Brushes for Photoshop
This brush pack contains 44 Photoshop brushes made from band (mostly punk)  logos and some graffiti.
[ DOWNLOAD ]
Urban Scrawl 2
A set of 29 images that you may use in urban grunge themes. These graffiti artworks are compatible with Photoshop CS and above.
[ DOWNLOAD ]
Street Tagger Version 4
There are a total of 7 graffiti designs that you can use in your designs. These are great for those wanting to create graffiti scene or hip-hop street scene.
[ DOWNLOAD ]
Graffiti Tech Arrows Pack 4
Fourth set of Photoshop brushes featuring tech arrows in graffiti style or effect.
[ DOWNLOAD ]
Graffiti Garden – PS Brush Set
A pack of floral and decorative graffiti art that you may use these free for non-commercial use only.
[ DOWNLOAD ]
Large Graffiti Art Brushes for Photoshop
In this set, you will find ultra high-resolution Photoshop brushes featuring graffiti art lettering.  The images are vector quality, making them suitable even for high-resolution or large-printing designs.  With resolution set at 2500 pixels, this set consists 22 Photoshop brushes and should work with Photoshop CS and later versions.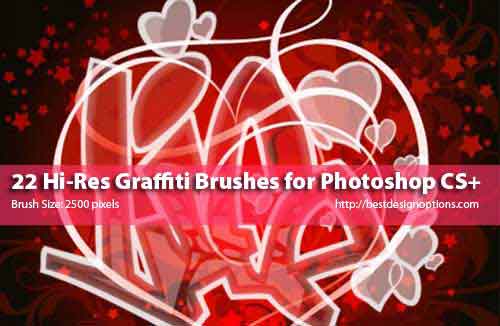 [ DOWNLOAD ]
Graffiti Package
A huge collection of graffiti art that you can use for free in your projects. The package includes the following: 41 HD 300 DPI Spray Paint Textures, 17 HD 300 DPI Ink Splatters, 3 HD 300 DPI Paint Drips, 24 Photoshop Brushes and 32 Vectors.
[ DOWNLOAD ]
---
I hope you find the above resources useful and inspiring. You may also wish to check out our graffiti wallpaper designs that you can download and free. To do that, simply click the image below to view some really awesome graffiti artwork that you can use as wallpapers.
Related Free Design Resources