200+ Free Halloween Background Patterns
With barely a month left before Halloween, we decided to round up some interesting Halloween background patterns that you can use for both web and print designs. These are tiling patterns, meaning, they indefinitely repeat either horizontally or vertically. Use them for a website dedicated to Halloween celebration or for your party design needs.
Using repeating, tiled patterns as a background in a web page layout is a popular design technique. Using tiling patterns are visually appealing and requires less time to load when viewing webpages. Lately, seamless patterns have been popular for print designs as well. You can see patterns as background for party invitation cards, business cards, posters, brochures, among other things.
These will surely look great as background for your party invitation, gift tags, party bunting, party poster announcements, etc. The first part are individual patterns that you can download from colourlovers.com while the second part are pattern packs–several patterns contained in one zipped file–that you can download and use for free. Click on the preview image to download the Halloween patterns that you want. Enjoy these freebies!
---
I.  15  HALLOWEEN BACKGROUND PATTERNS FROM COLOURLOVERS.COM
To download the pattern that you want, simply click on the preview image and you will be directed to a page where you can select the size or resolution that you need. You can also change the color scheme of the pattern if you wish.  These patterns are ready to use and may be downloaded as image PNG file. You may also download the PNG pattern and use it in Photoshop to fill a bigger canvas.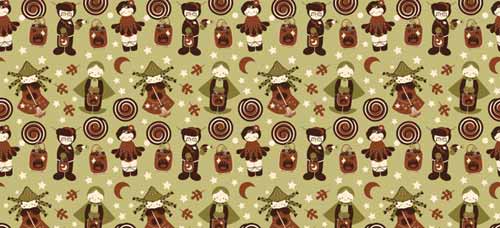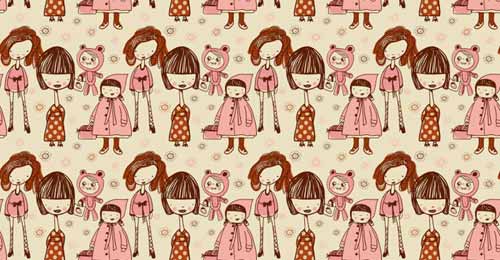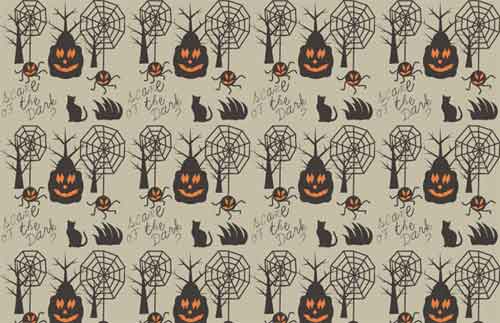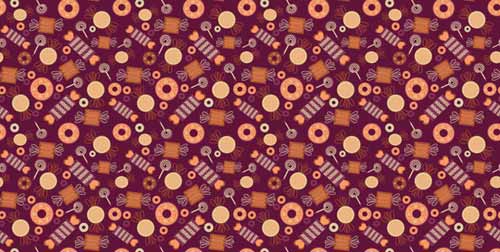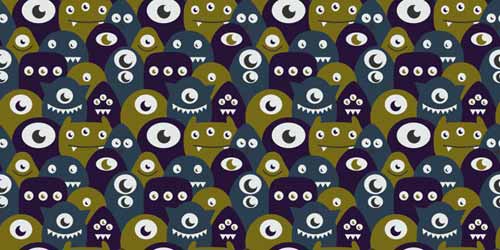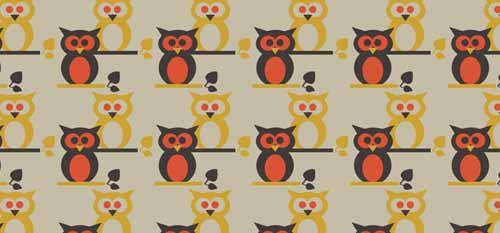 II. HALLOWEEN BACKGROUND: PHOTOSHOP  PATTERN PACKS
01:  FREE HALLOWEEN PATTERNS
Free Seamless Halloween Patterns in Purple
A set of 12 Halloween-themed seamless patterns in purple/violet and black color scheme.
[ DOWNLOAD ]
02:  Free Halloween Patterns in Orange and Black
A set of 12 seamless patterns in orange and black color scheme featuring Halloween designs.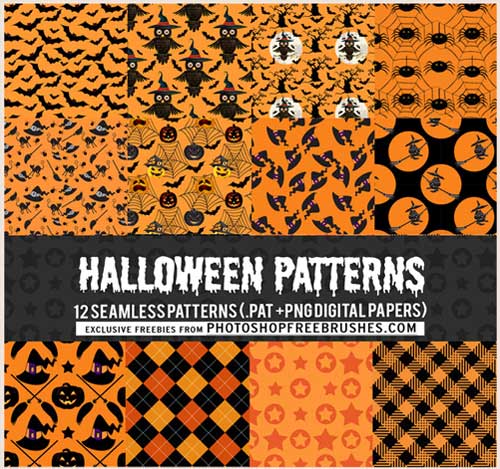 [ DOWNLOAD ]
03:  25 Halloween Photoshop Patterns
Inside the zip file is an image pack of every seamless pattern for use in Photoshop.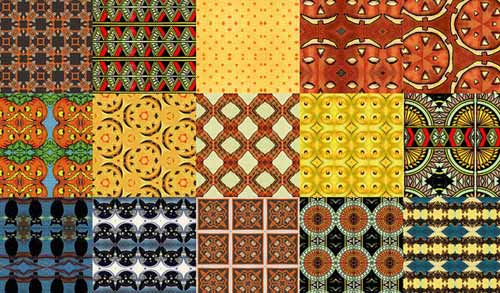 [ DOWNLOAD ]
04:  Happy Little Halloween Patterns
Printable Halloween designs featuring happy little pumpkins, candy corn, and other Halloween symbols.
[ DOWNLOAD ]
05:  Halloween Patterns Pack
13 Hi-Res Halloween Patterns free for personal or commercial use.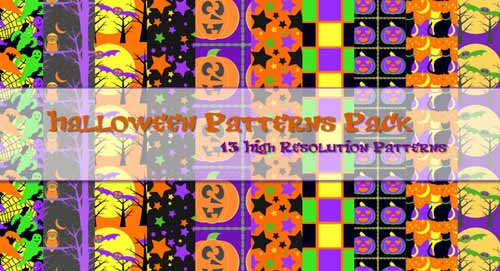 [ DOWNLOAD ]
06:  Halloween I
13 spooky patterns for Photoshop featuring, flying witches, bats, and other Halloween elements.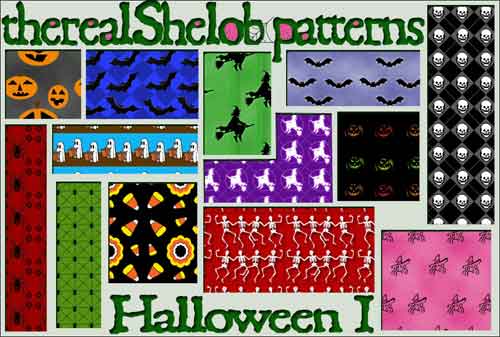 [ DOWNLOAD ]
07:  Halloween II Patterns
This second set of Halloween themed pattern backgrounds feature various scary Halloween objects such as zombies, skeletons, witches, etc.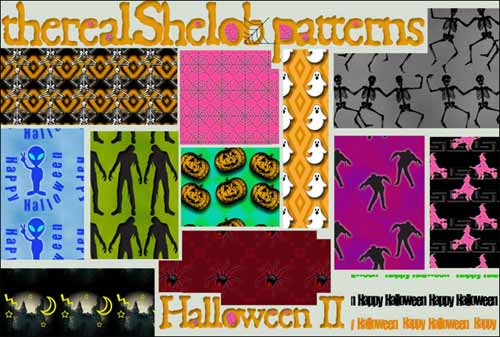 [ DOWNLOAD ]
08: Halloween III Patterns
The third set includes 12 patterns useful for your Halloween design projects.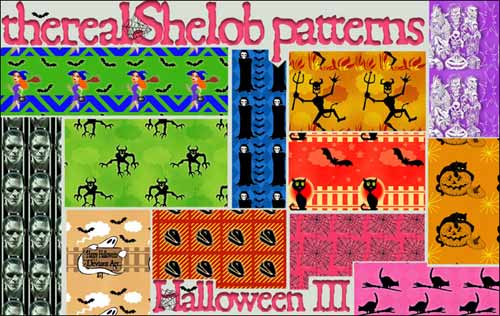 [ DOWNLOAD ]
09:  Halloween Patterns Pack
5 horrific patterns great as background for your Halloween-related design projects.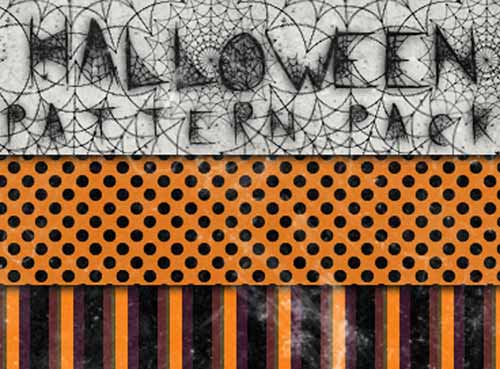 [ DOWNLOAD ]
10:  Halloween Pumpkin Patterns
There are 8 patterns mostly pumpkin in orange and black background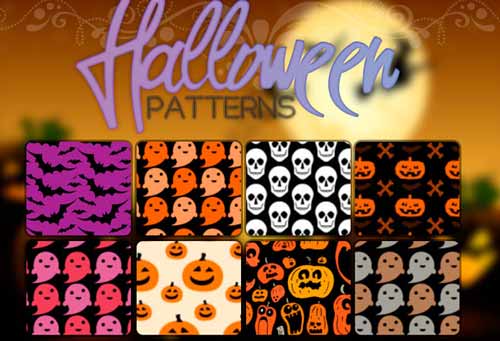 [ DOWNLOAD ]
11:  Halloween Pattern Backgrounds
12 cute patterns featuring pumpkins and Jack O'lanterns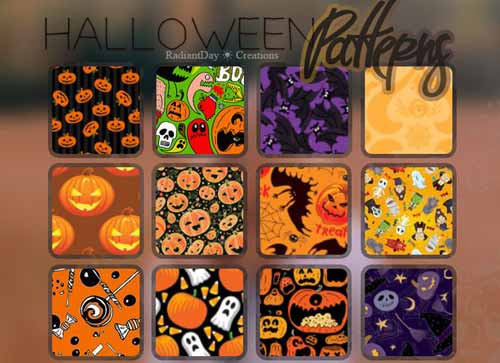 [ DOWNLOAD ]
12:  Halloween Paper
6 scary textures for your greeting cards, invitations, scrap compositions or background blog or personal page.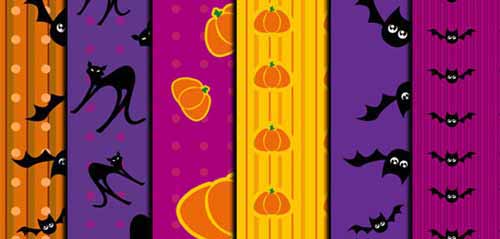 [ DOWNLOAD ]
13:  FREE HALLOWEEN PATTERNS
This free set includes 12 high quality JPEG files, plus the Photoshop .PAT file.
[ DOWNLOAD ]
14:  Halloween Pattern No. 2
There are ten orange-y patterns in this set contained in a single Photoshop .PAT file.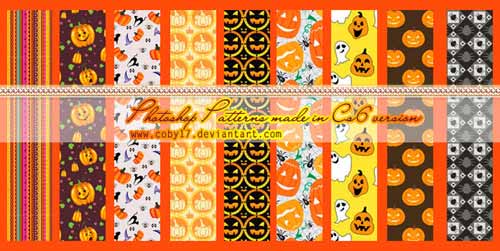 [ DOWNLOAD ]
III. VECTOR HALLOWEEN BACKGROUND PATTERNS
The next few entries are editable vector files. You need to have a vector editing program like Adobe Illustrator and CorelDraw to be able to use these Halloween patterns.
15:  Free Vector Halloween Background Patterns
A free editable vector file containing 6 cute Halloween background patterns. These patterns seamlessly tile so you can use them in large-format designs.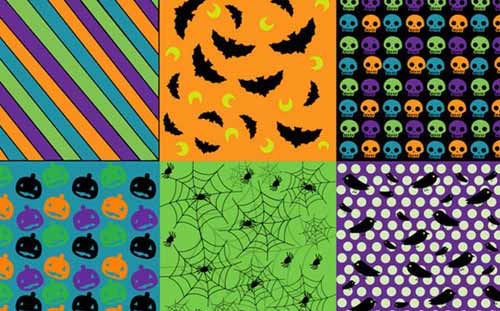 [ DOWNLOAD ]
16:  Halloween Cartoon Background
A set of 9 cartoon looking background patterns for Halloween. It also includes argyle as well as stripes pattern in Halloween colors.
[ DOWNLOAD ]
17:  Vector Halloween Cartoon Background
Here is the second set of vector patterns featuring cartoon looking Halloween objects.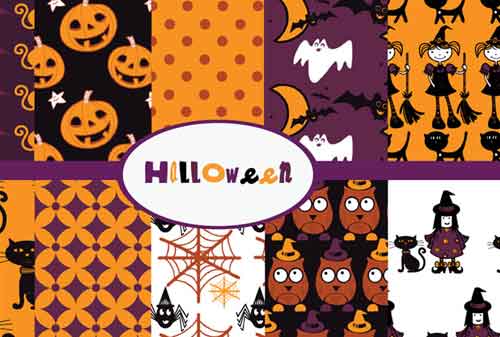 [ DOWNLOAD ]
18:  Stars and Skulls Halloween Pattern Set
A set of editable vector pattern featuring skulls and stars designs.
[ DOWNLOAD ]
19:  Abstract orange Halloween Pattern Pack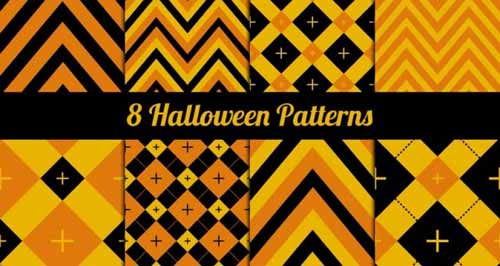 [ DOWNLOAD ]
20:  Colorful Patterns for Halloween
[ DOWNLOAD ]
21: Skull Bones Pattern
Seamless Halloween patterns featuring skulls and bones as well as geometric pattern stripes in orange and black color combination. These patterns are in vector format.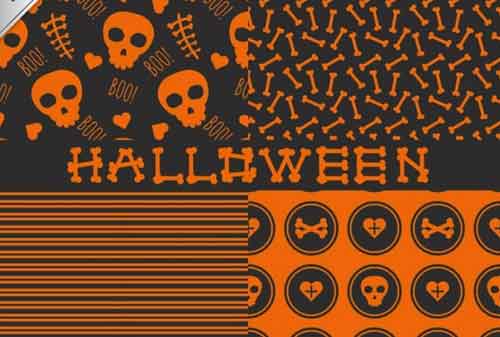 [ DOWNLOAD ]
22:  Trick or Treat Vector Patterns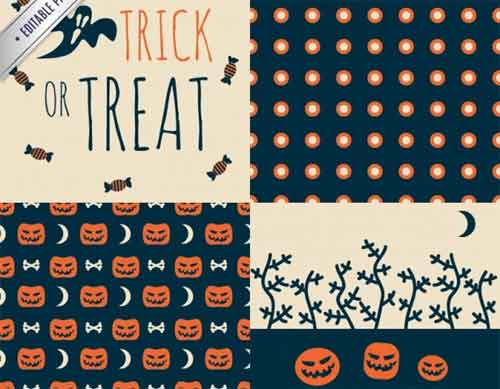 [ DOWNLOAD ]