New Halloween Clip Art Vector Graphics to Download
Soon it will be Autumn and I am sure many of designers out there are  already working on their Halloween-themed design projects. If not, then this could be a reminder that Halloween is almost around the corner and you have to start working on projects related to this season. In this post, we are providing you with a huge compilation of free Halloween clip art in vector graphics format.
Last time, we rounded up some useful and nice seamless patterns that you can use for free in your Halloween designs. In case you missed it, you can find it here: Free Halloween Background Patterns.
Meanwhile, this post provides you with link to Halloween clip art graphics. We handpicked these resources, carefully choosing what are new, unique and creative. The list include templates for Halloween backgrounds as well as poster and banner templates. The second part of the list is composed of graphic design elements you can use for your Horror, spooky, scary, and haunted designs.
I. HALLOWEEN CLIP ART: PARTY POSTERS AND BANNERS
Most of these Halloween clip art graphics are free to use for both personal and commercial projects (with attribution).  They are also in vector format, allowing you easily modify and scale them without losing resolution or crispness of the details. Enjoy these freebies!
A terrifying scenery for your Halloween designs. This could be an excellent design for a Halloween party poster or invitation card. It features an enchanted house, raven, graves and a frightening big full moon.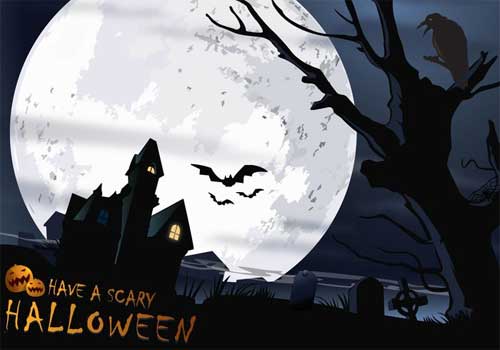 A scary poster design featuring scary Jack O'lantern, bats, and a dead tree. The poster also features scary blazing fonts. Use this template to make party posters or web banners for Halloween.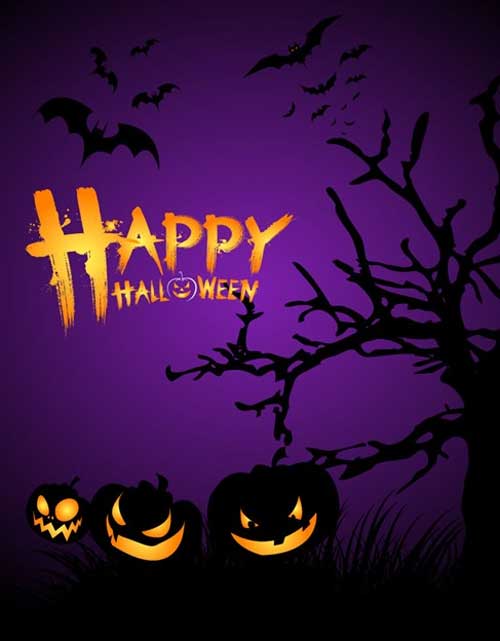 Here is another template for designing Halloween party posters. This vector template feature grungy background with an assortment of tombstones, bats, and other creepy elements around an enchanted old house. The text layers use a font with a slightly decayed look combined with a cursive font. Use this graphic to get guests lining up at your door for a party or other Halloween-themed event.
There are two poster designs in this set of free vector that you can use to make party posters or invitation cards for your costume party this Halloween. It is ready to print. just replace the text with your own to customize these templates.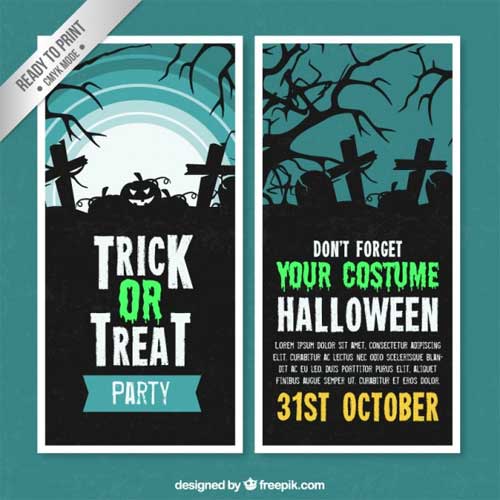 Here is another horror-themed vector template that you can use for creating scary designs for posters, flyers and invitation cards this Halloween. The design features a graveyard scenery with evil, haunted castle and old lifeless tree in the background.
A great poster template for creating interesting poster for your Trick or Treat event this coming Halloween. The design features a grungy background with scary creatures, a lifeless tree and old wooden fence.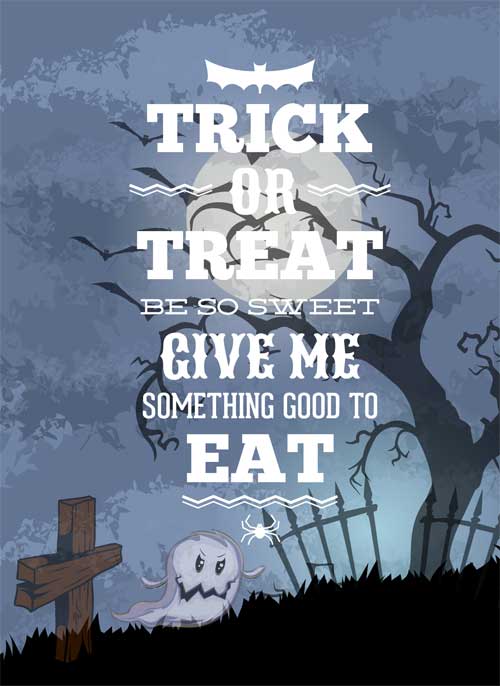 There are five banner template in vector format included in this set featuring haunted house silhouette and other terrifying design elements. These are useful for creating web banners as well as post cards and posters for Halloween.
A cute poster design template for Halloween featuring an owl sitting on a branch of a dead tree with a big full moon in the background.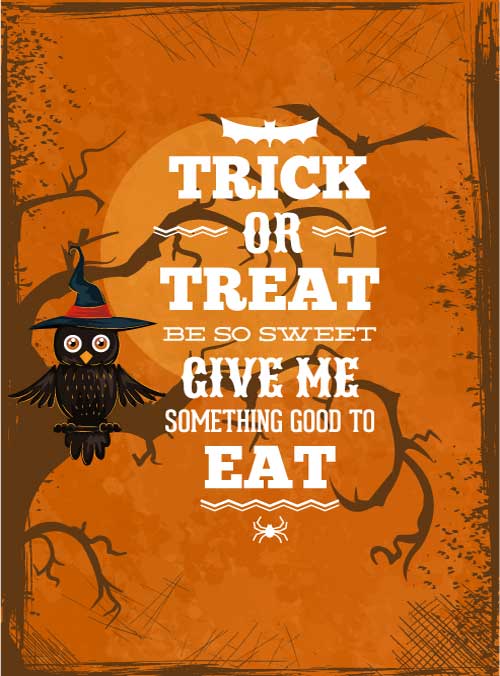 There are three vertical banners in this set featuring cute Halloween design templates in three color schemes: orange, teal and dark brown. These are great for party invites or for designing bookmarks.
A scary Halloween Trick or treat poster template you can use to make terrifying designs for your party. Includes silhouette of a haunted castle, flying bats and a black cat.
II. HALLOWEEN DESIGN ELEMENTS – VECTOR PACKS
This second part of the list are design elements contained in a single vector layout that you can use for your horror, and haunted designs.
A set of 9 spooky Halloween clip art graphics which include bats, ghost, witch hat, black cat, among others. These are vector files so you can use them in any format without losing crispness.
A set of 12 Halloween clip art icons you can use in your designs for websites, party posters, banners, flyers, etc. Include images of ghost, skull, tombstone, witch brew, black cat, etc.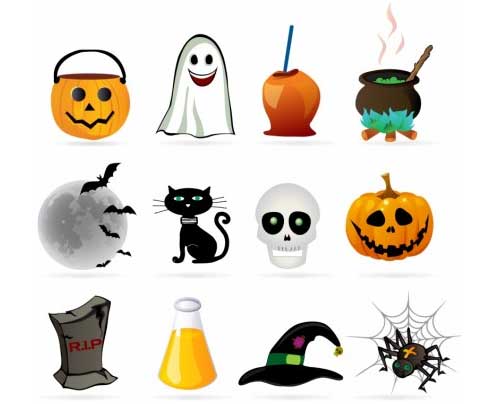 A huge collection of vector Halloween clip art featuring symbols, icons and elements you can use for your halloween designs. Includes anything from witches to spiders, and bats and skulls. These are all in vector format so you can use them in almost any design without worrying about resolution.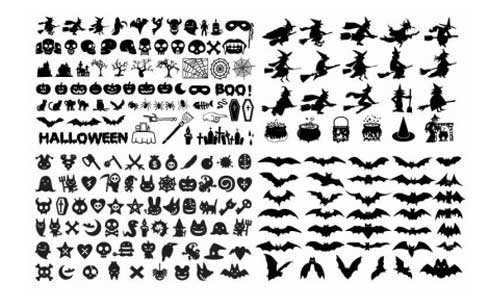 Another set of Halloween clip art. In case you didn't find what you need in our previous entry then I think you'll find it in this set.
Another set of Halloween design elements you can download and use for free. These are not silhouettes thus, the illustrations have mode details.
A set of cute looking Halloween clip art graphics in detailed cartoon style illustration that you can download ans use for free. The set includes tombstone, spider, skull, pumpkin, gift box, candle, bats, church, cat, broom, etc. in bright colors.
Set of Halloween cartoon characters; it includes Dracula, Frankenstein's Monster, ghost, mummy, grim reaper, witch, scarecrow, devil, skeleton, black cat and bat. These Halloween clip art graphics are perfect vectors to use in any promo related to Halloween celebration or horror stuff. High quality JPG included.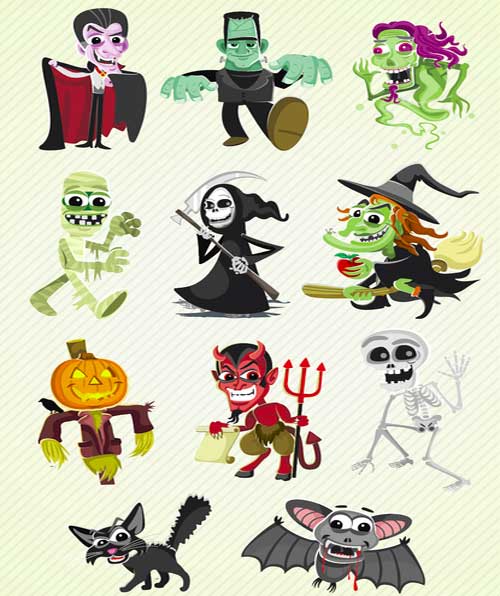 Awesome looking Halloween clip art set containing 10 different illustrations. The design is made with hunted houses, creepy pumpkins, graveyard, zombie hand, full moon, spider web, crooked trees and many others. These designs are perfect for background of poster, banner, invitation and other Halloween celebrations.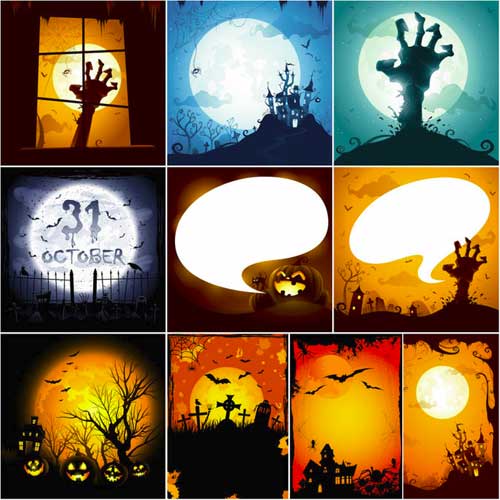 A set of 10 colorful label designs for Halloween. You can use them as template for making party stickers, gift tags for your giveaways or for the design of your posters and party invites. These are all vector and are customizable to fit your needs.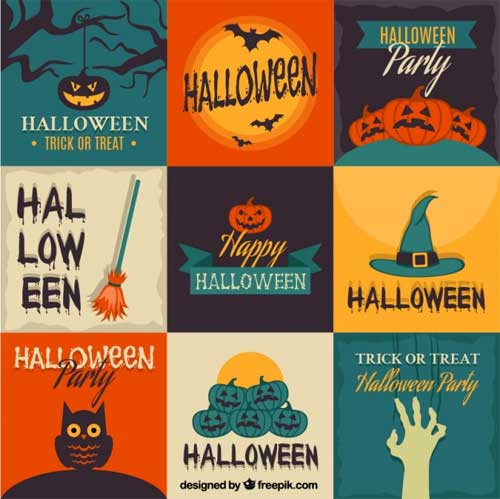 This Halloween clip art set includes quite a few Halloween badges with cool icons like witch, pumpkin, vat and more. High quality JPG included.
Related Free Design Resources