21 Heart Shapes and Flower Photoshop Brushes
Every weekend, we try to give away some useful freebies to our loyal readers. This week, we are giving away a set of Photoshop brushes composed of decorative heart shapes and flowers that you can use to design your own postcards or gift tags. These heart shapes brushes are not only suitable for Valentine's Day but for other occasions as well.  Use these heart  shapes brushes to highlight other elements in your design. Some of them can also be used as backgrounds, especially those with smaller hearts designs.
Created in Adobe Photoshop CS3, these heart  shapes brushes have resolution of about 2000 pixels wide and should work with any CS version of Photoshop. There are a total of 21 hearts brushes in this set.
TERMS OF USE: As usual, you may use these heart  shapes brushes for personal, noncommercial projects. However, please refrain from making them available for download outside of this site. If you want other people to know about these brushes, please refer them to this original post.
Please leave a comment if you happen to like my brushes or if find them useful. Your comments will be greatly appreciated.
IMPORTANT!!!: Please refrain from redistributing these heart  shapes brushes, (i.e., downloading this set and making it available for download somewhere else). Also, HOTLINKING to the archived file is not allowed. Please refer to this post if you want to spread the word.
Below, you will have a preview on how these heart  shapes brushes would look like when installed in Photoshop:
DOWNLOAD HEARTS BRUSHES
Size: 7 MB
Type of file: .ZIP
3 HEART SHAPES BRUSHES YOU MIGHT ALSO LIKE
Here are 3 more sets of heart  shapes brushes in case you need more for your romantic designs.
01-Hearts Photoshop and GIMP Brushes
A set of Photoshop & GIMP brushes composed of hearts, hearts, and more hearts. Includes: heart clusters, hearts with arrows, broken hearts,and a lot more! There are 24 total hearts Photoshop brushes in this set that should work with at minimum, Photoshop 7, Photoshop Elements 2 and Gimp 2.2.6.
[ DOWNLOAD ]
02-Hearts of Today by Brush Lovers
These are classically beautiful groupings of vector shapes and flowers that fit cozily within heart shapes. These hearts Photoshop brushes are perfect for Valentine's Cards!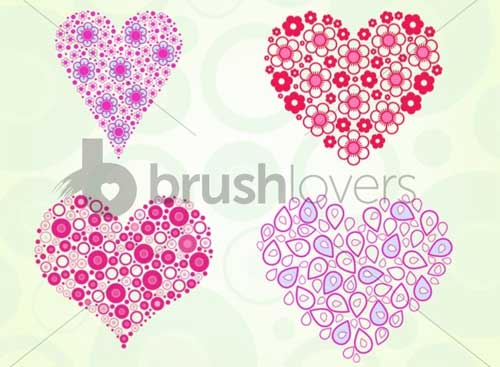 [ DOWNLOAD ]
03-Cute Hearts Photoshop Brushes
This set includes high-resolution images of hearts, roses, candles, chocolates, gifts, rings and many more. These hearts Photoshop brushes are ideal to use not only for Valentine cards or postcards but also for birthday, anniversary and cards for other occasions. There are a total of  25 hearts Photoshop brushes in this set with resolution of about 2500 pixels wide.
[ DOWNLOAD ]
Related Free Design Resources