18 Infographic Template Kits in Vector, PSD Format
In this post, we put together all the best but free infographic template kits in editable vector and Photoshop PSD formats. Infographics are the most popular tool nowadays for presenting financial data, workflow and processes, presentations, meetings, or just for personal inspiration. Designing an infographic, however, can be very tedious especially if you have to do everything from scratch.
Drawing charts, graphs and diagrams for example would surely consume a lot of time. In addition, you also have to think about creating icons and symbols that you will use for your infographic template designs. As graphic and web designers, time is a very limited and precious commodity. That is why having a handy infographic template can make our job easy and effortless.
The first 15 infographic template kits are in vector format while the last three are editable Photoshop PSD. Using these infographic template kits, you can extract the elements that you need and combine it with other elements. You may also change the color of the graphs, add text, so on and so forth.
To download the infographic template that you want, please click on the link below the preview image and it will take you to a new page where you can get the files from the original source. All of the infographic template kits are fully editable vector files, either in Illustrator, EPS or SVG. See also some interesting infographic examples from around the web.
---
VECTOR INFOGRAPHIC TEMPLATE KITS
The first 15 entries are editable vector graphics. To customize and edit, simply open the file in vector editing application like Adobe Illustrator.
Infographic Template Kit With Various Diagrams
This is a fantastic pack of vector infographic template with all sorts of useful charts, diagrams and graphics. Using these design elements for your infograhic can certainly save you time in creating them, allowing you to focus more on the creative process.
[ DOWNLOAD ]
Free Vector Infographic Kit
Here is an incredibly useful infographic vector template/kit that includes data-related graphics.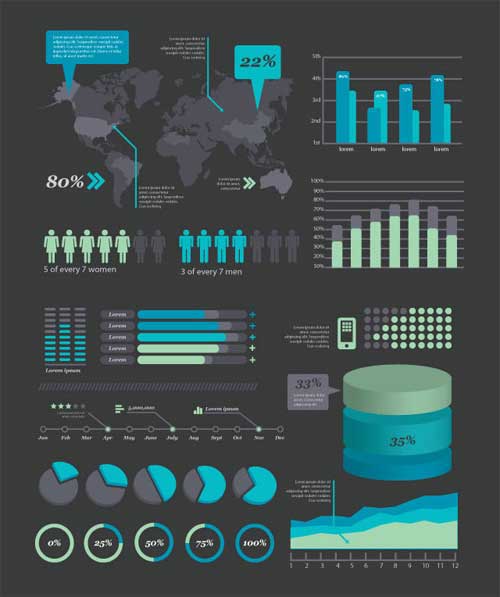 [ DOWNLOAD ]
Free Vector Infographic Vol.2
Here is a second set of infographic tools and templates that may be downloaded for free. Useful in creating business-related infographics.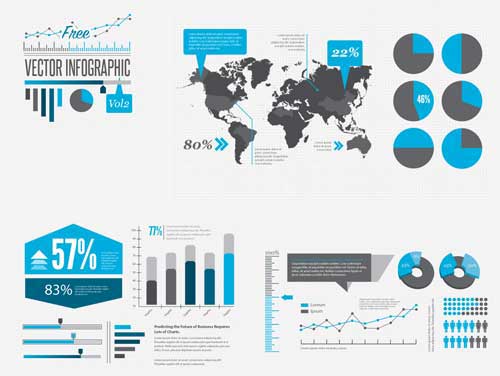 [ DOWNLOAD ]
Infographic Vector Kit by Web Designer Depot
An infographic vector kit, with the most used elements that you may need for your infographic designs.
Included in this set is a world map, gender elements, as well as multiple pie and bar charts. You can easily combine and modify all the elements to create a distinctive infographic.
[ DOWNLOAD ]
Retro Infographic Vector Graphic
A free infographic template in vector format featuring vintage or retro design. Includes chart, graphs and other design elements.
[ DOWNLOAD ]
Free Vector Infographic Design Elements
A beautiful pack of infographic design elements served up in blue. Just download, open in vector editor, change the text and you have a cool-looking information graphic.
[ DOWNLOAD ]
Vector Infographic Elements in Green
A free infographic template consisting of useful infographic design elements such as charts, graphs, maps, people icons, etc. in green color theme. Just download the zip file and add your own content. This is the easiest way to create a cool presentation. The download includes fully editable vector files.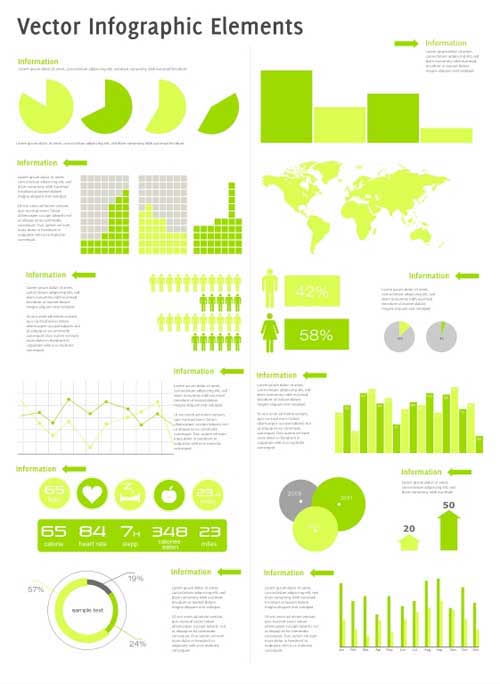 [ DOWNLOAD ]
Fresh and Free Infographic Set to Download
A new and fresh set of infographic icons, bars, pie-charts and graphs, in lively colors.
[ DOWNLOAD ]
Charts and Graphs in Vector Format
This set contains various colorful charts in vector format. Some samples include pie graphs, bar graphs, circle graphs, line charts, and other statistical graphs.
[ DOWNLOAD ]
Free Vector High Tech Infographic Template Kit
Your high-tech design not looking techie enough? Use this free set of hi-tech graphics and add that futuristic look your design. Incorporate these vector elements in your flash website or use as design elements on your wallpaper to create a unique modern look.
[ DOWNLOAD ]
Free Vector Infographic Kit
A huge vector set for creating infographics. Included in the package are over 50 elements, ranging from graphs and charts to maps and symbols.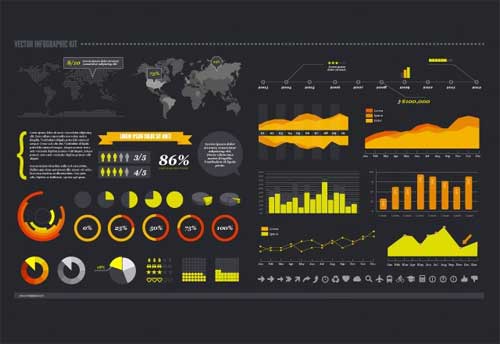 [ DOWNLOAD ]
Flat Ecology Infographic Set
This template features glossy-looking elements you can use for free in creating ecology-themed inforgraphics and charts. The pack includes various graphs, chart, strip, pyramid, recycle and many more along with some tree shaped pies, vehicles, factories and relevant elements in green color scheme.
[ DOWNLOAD ]
Minimal Colorful Statistical Infographic
A template for creating statistical infographics with retro color scheme. This vector infographic template is great for presentations about business growth, process or annual corporate report since it uses lots of bars graphs, charts, icons, stepping emblems and other related symbols.
[ DOWNLOAD ]
Abstract Colorful Modern Infographic Set
This infographic template features a flat-style design and colorful design elements. The design includes various graphs, chart, step and stages process presentations along with some labels, world map and grid lines with relevant signs.
[ DOWNLOAD ]
How to Make Beer – Vector Infographics
This is an editable vector file about an infographics on beer making. This might not be applicable for most of your designs but this would be great inspiration in creating your own infographics.
[ DOWNLOAD ]
PSD INFOGRAPHIC TEMPLATE KITS
The following infographic are Photoshop templates. You can open this files in Photoshop and edit the layers to customize them.
BONUS: Infographic Elements in PSD
This set contains 21 top quality infographic elements you can use in presentations, slide shows, display statistics, websites, prints and more. Each graph is fully editable and organized into distinctly colored layer groups. With just a few clicks, you'll be able to easily browse through the layers, it is very easy to understand.
[ DOWNLOAD ]
Magnolia Free – Infographic PSD Template
If you are doing your infographics in Photoshop, then this pack is for you. This PSD infographic template includes various charts, diagrams, and other graphic elements that you can use in your design.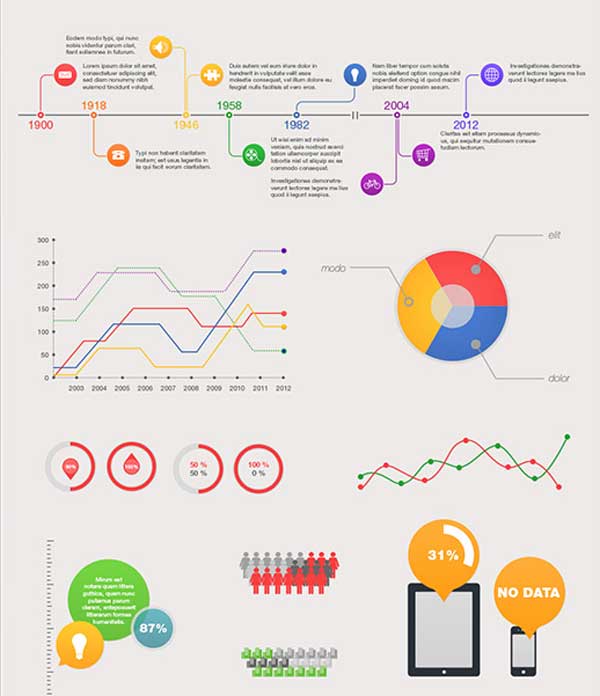 [ DOWNLOAD ]
Infographic Elements PSD for Free Download
A premium-quality but free infographic template in Photohop PSD format. Since all elements are in Photoshop shape, you can scale them without losing quality of the graphics.
[ DOWNLOAD ]
Related Free Design Resources