21 Sets of Free High-Quality iPhone 6 Mockup Templates
UPDATE: We have updated this post about iPhone 6 mockup templates to include mockups for iPhone 6s. Scroll down to download the free iPhone 6s mockups in four colors: rose gold, space gray, gold, and silver.
Six months after their release, Apple's 4.7-inch iPhone 6 and the 5.5-inch iPhone 6 Plus have become the most popular phone in the market today. The former features a 1334 x 750 retina display while the latter has an even more impressive retina display of 1920 x 1080. Both the iPhone 6 and the Plus are available in Gold, Silver, and Space Gray.
If you are a designer, I am sure you would want to know how your web design, mobile applications, etc. would look like in an iPhone 6 and Plus screens. Mockups are a great way to present your designs to your clients, buyers or prospective users in a realistic way.
For more mockups you can use and edit to present your mobile designs, then visit our collection of free editable PSD iPhone templates.
Part I: iPhone 6s Mockup Templates for Mobile Apps and Websites
The following mockups are for iPhone 6s model. The templates are in editable PSD formats with smart objects for easy integration of your own designs. To download the mockup that you want, simply click on the link below the preview image.
iPhone 6s Hand PSD
Here's a free PSD mockup of iPhone 6S with hand holding the phone. The mockups are available in four official iPhone 6S colors. Free to use in both commercial and personal purposes.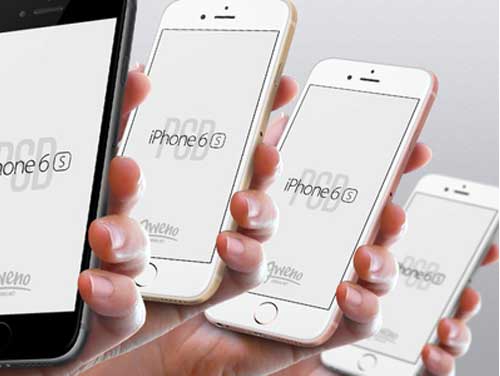 iPhone 6s in Rose Gold
This is the new rose gold PSD iPhone 6s mockup. Included are the iPhone 6s front, perspective, and three-quarter view to let you showcase your design in style.
iPhone 6S Free Vector PSD and Ai Template
High quality PSD and Ai mockup of a frontal and angled Apple iPhone 6S. This is perfect for showcasing your mobile app screens. To have your design displayed on the screen of the phone, all you have to do is drag your design into the smart object layer.
Part II: iPhone 6 Mockup Templates in Editable PSD Templates
In this second part, we put together the best free iPhone 6 and iPhone 6 Plus mockup templates that you can download and use for free. These are in Photoshop PSD formats and usually include smart objects. Using smart objects, all you need to do is to drop your design and it will render into something fantastic. (Go try it to know what I meant by fantastic). I hope you find these mock-ups useful. They are really high-res and high-quality but free. To download the mockup that you want, simply click on the title for each entry (in blue text). Enjoy!
Free iPhone Mockup
This file consists eight different views of the iPhone 6 in three colors: black, gold, and white.
Free Hand-Held iPhone 6
Here is a an iPhone 6 mockup with hand holding the phone.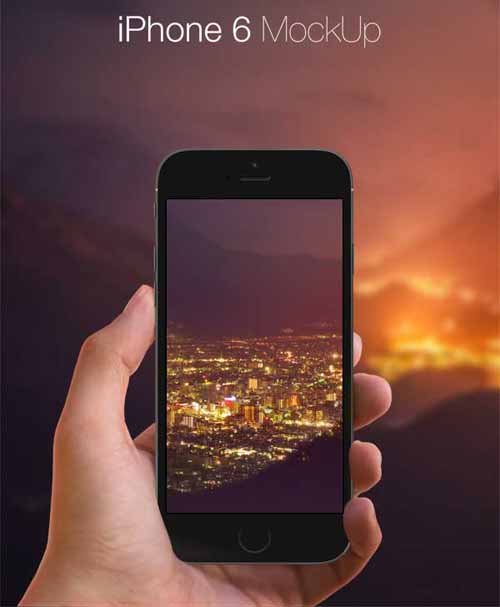 Free iPhone 6 and Plus Templates
A free iPhone 6 Plus mockup template, 5.5-inch layered PSD templates for personal use. There are two versions available for download: perspective and combined.
Photo-realistic iPhone 6 PSD Templates
This PSD file includes 10 iPhone 6 free mockups for presenting your App, Responsive Website, or anything else in a professional way. Created for web designers, mobile-app designers and developers and mobile-app developers, these templates allow you to preview your designs, apps and websites in a photo-realistic way.
iPhone 6 PSD Mockup
The PSD mockup features iPhone 6 in two colors arranged in editable layers. It uses smart objects for ease of use.
Free iPhone 6 PSD Mockup
Here are free iPhone 6 mockup templates in fully editable/customizable PSD layers. The templates make use of smart layers. Thus, all you need to do is click on those smart layers, throw in your design, and presto! you will be able to preview your designs in an iPhone 6 phone.
iPhone 6 and 6 Plus Photo-realistic Mockup
This pack contains photo realistic iPhone 6 and iPhone 6 Plus mock ups in PSD format. These are useful for displaying your projects such as responsive website designs, mobile apps, etc. It uses smart objects so you can easily integrate your work in the layout.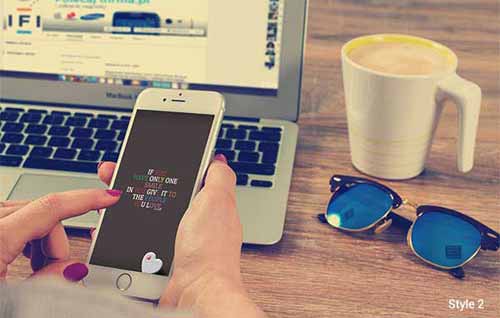 8 Free iPhone 6 PSD Templates
This pack contains eight different iPhone 6 mockup templates you can use for free in your project presentations. Included are mockups of iPhone 6 on hand, iPhone 6 Plus in white and in different angles. It uses smart objects and come in high-resolution (5184×3456 pixels).
iPhone 6 – Free Scalable Mockups
These mockups are in vector format and therefore, scalable. Includes front view, 3/4 from both sides and in all three colors–black, white and gold.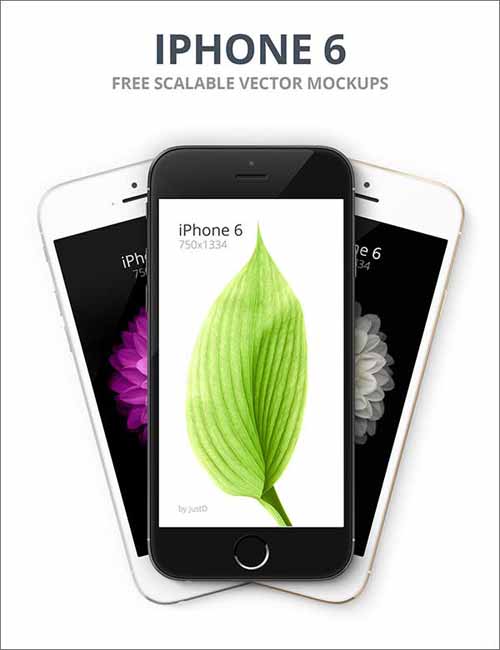 Free iPhone 6 PSD Template
Just a simple PSD mock up for presenting your designs through an iPhone 6. This mock up features smart objects to let you integrate your own design in just a few clicks.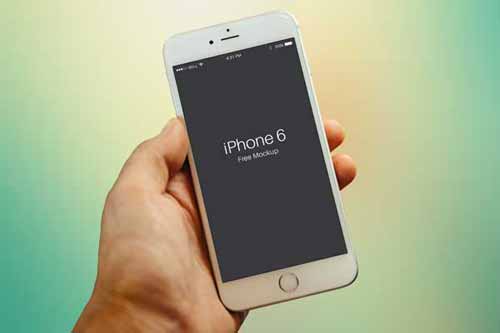 Photo-realistic iPhone 6 Plus PSD Templates
Includes five different iPhone 6 mockup templates white iPhone 6. These are completely customizable using smart objects. The mockups are high-resolution at over 5000 pixels wide.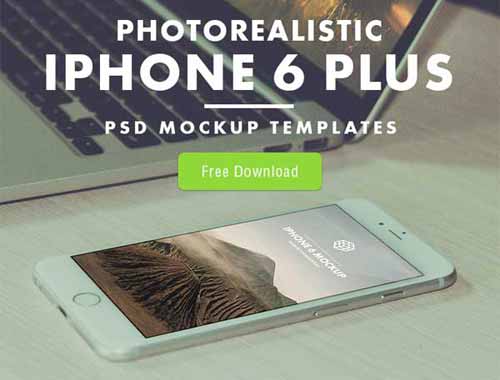 iPhone 6  PSD Templates and Coffee Cup
Here is another set of photo-realistic iPhone 6 mockups, this time with a coffee cup. The mockup comes in four different color variations.
Photo-realistic iPhone 6 Template Designs
The Photoshop files contains smart objects for adding your own screens and also some cool photo filters to personalize the photos to your needs. Perfect to use in presentations, web design or even for advertising purposes.
Free High-Res PSD iPhone 6 Templates
There are six easy-to-customize iPhone 6 mockups in PSD format that you can use even for commercial projects.
Free Awesome iPhone 6+ Mockup
Here is an iPhone 6+ mockup with a nice shadow, smart object screen and background will help your works look cool.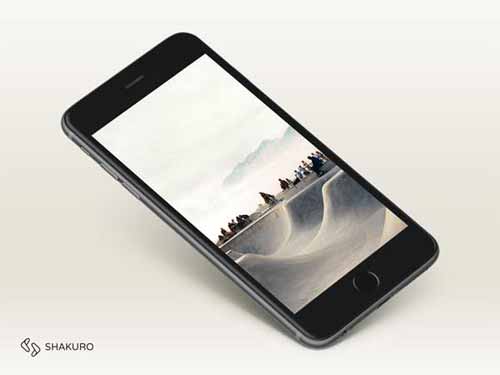 3D View iPhone 6 Template
This is a perspective iPhone 6 PSD with scalable vector shape to display your designs on a iPhone 6 PSD device. Available in the three colors you can use the smart layer to easily drag and drop your creations.
Apple iPhone 6 and iPhone 6 Plus Mockup
Free mock ups of Apple iPhone 6 and iPhone 6 Plus with editable layers and customizable screens.
Free iPhone 6 UI MockUps
A clean and modern UI mock ups with replaceable "Smart Object" screens, to present your application. This set includes six app mockups featuring "iPhone 6" with three colors (Space Grey, Gold, Silver).
Related Free Design Resources