20 Beautiful Japanese Brushes for Photoshop
For those of us who want to infuse some Japanese art in our designs, we are featuring today some of the best Japanese brushes for Photoshop that can be downloaded for free from around the web. Most of these Japanese brushes are composed of the famous Sakura or cherry blossoms, which are a metaphor for life in the Japanese culture. Aside from cherry blossoms, we also included graphics about the rising sun, Japanese temples, paper folding fans, paper lanterns, bamboo, and other well known symbols of the Japanese culture and art.
To get the Japanese brushes that you want, simply click on each preview image and it will take you to the download page. Terms and conditions on the use of these brushes are explained in the download/author's page. I hope you enjoy this collection.
---
JAPANESE BRUSHES TO DOWNLOAD FREE
01-Cherry blossoms PS brushes by Lileya
Composed of vector Japanese cherry blossoms that are perfect for Spring-themed designs as well. These are compatible with Adobe Photoshop CS and higher.
[ DOWNLOAD ]
02-Sakura: Cherry Blossom Brushes by ~differentxdreamz
Set includes  12 high-resolution Sakura or Cherry Blossom brushes between 500-800 pixels each in a .abr brush file.
[ DOWNLOAD ]
03- Sakura PS6 Brushes by Ninja-Ryo
This kit contains an .abr brush file (various brushes in different sizes), 1 preview image, a color chart (cherry blossom colors) and a 'how to add this brush' instruction sheet. For best results, start with the 'branch' brush on a separate layer – you can build up a unique branch image with overlaying the same branch at different angles. You can enlarge the branch by using CTRL-T. Try other blending options keeping everything on different layers as this is a multi piece kit (blossoms are in 3 parts for example).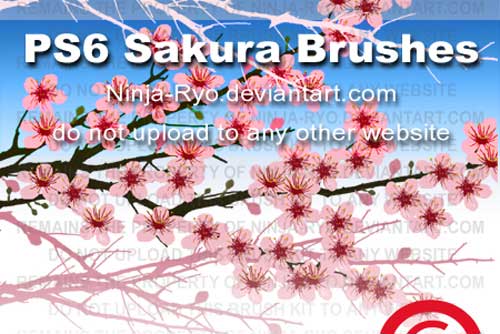 [ DOWNLOAD ]
04-Sakura Brushes by *Erulisse2
There are over 40 brushes of sakura in this set featuring different types of petals, some solid blossoms, line art/design of flowers, and some branches. Made in Photoshop CS2 but they probably work also for some older versions.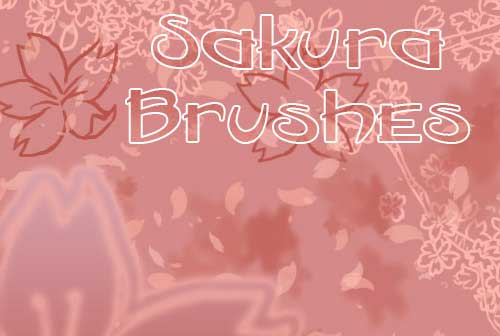 [ DOWNLOAD ]
05-13 High-Res Cherry Blossoms Photoshop Brushes
A set of 13 high-res brushes that you can use in your designs. These brushes were created using real pictures of cherry blossoms. They are high-resolution as well, with each brush measuring between 1500 to 2500 pixels.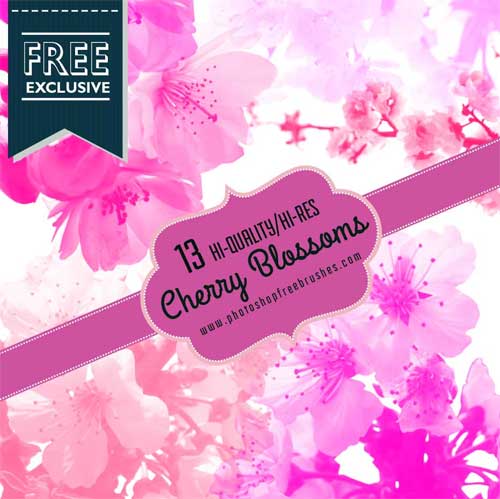 [ DOWNLOAD ]
06-Japanese Stencil Brushes by ~solitary-stock
A set of 10 brushes for Photoshop 7 and later versions created using Japanese stencils. Brushes are in various sizes, between 100-1300px.
[ DOWNLOAD ]
07-Flower Brushes by ~Aka-Joe
The brushes work with Photoshop 7 and up (and even in CS4 and CS5). Most of the flowers are a bit japanese and the sizes are between 1049 px and 2500 px.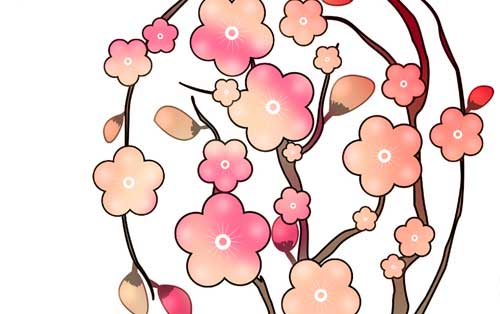 [ DOWNLOAD ]
09-Sakura Vector Brushes by ~smacc-stock
These are illustrations of Cherry blossoms and foliage with swirls and dots.
[ DOWNLOAD ]
10-Japan style by ~Gwendrilla
This set includes brushes paper lanterns and paper folding fans, which are popular in Japan.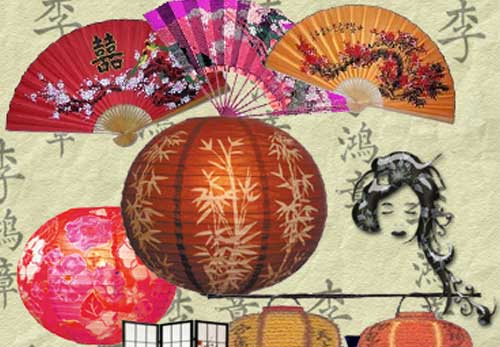 [ DOWNLOAD ]
11-Cherry blossoms PS brushes by Lileya
Composed of vector Japanese cherry blossoms that are compatible with Adobe Photoshop CS and higher.
[ DOWNLOAD ]
12-Roshi DA Brush Set 02 by ~roshi
Japanese calligraphy, old botanical/floral artwork, stamps, seals, and a bit of English text. Made with Photoshop 6.0.
[ DOWNLOAD ]
13-Sumi-e Style Brushes by ~NoirCat
This set includes 13 brushes composed mainly of cherry blossoms and other Japanese-inspired art.
[ DOWNLOAD ]
14- Japanese Brushes Set 2 by Kai Princess
This set includes 9 brushes made with Photoshop CS4.
[ DOWNLOAD ]
15-Japanese Brushes Set 1 by KaiPrincess
12 brushes made with Photoshop CS3.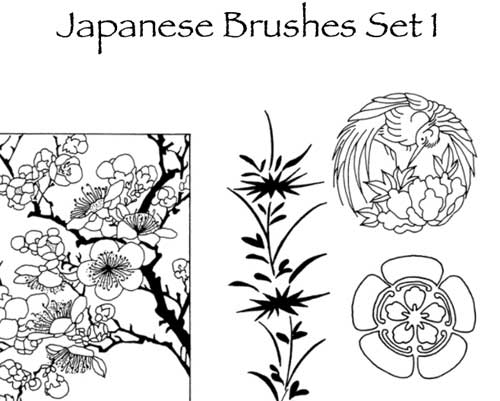 [ DOWNLOAD ]
16-Free Photoshop Brushes: Cherry Blossom 1
A huge pack of cherry blossoms buds and petals. For best results, try playing and testing different brush presets such as shape dynamics, scattering and color dynamics (just like in this preview you see below).
[ DOWNLOAD ]
17-Cherry Blossoms by ~haru-chan037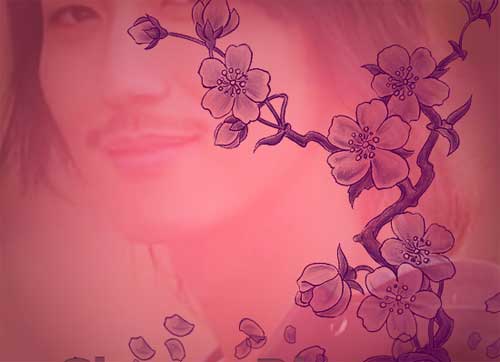 [ DOWNLOAD ]
18-Kanji Brushes by ~snowgarden
50 Kanji brushes for PS 7, ImagePack and translation of the kanji included.
[ DOWNLOAD ]
19-Japan Brushes by ~ki-cek
Pack of 11 Japan Brushes made in Photoshop 7.0.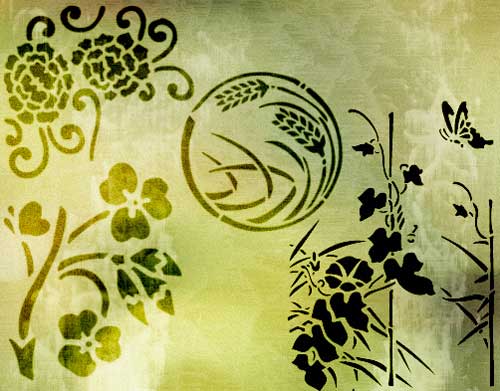 [ DOWNLOAD ]
20- Japan Brushes by ~lunabeam18
There are 29 Japanese-inspired brushes in this pack, including flower drawing, Japanese girl holding a paper umbrella, kanji or Japanese writing, and other Japanese symbols.
[ DOWNLOAD ]
Related Free Design Resources