250+ Lace Backgrounds for Web and Print Designs
Lace is a popular background for invitation cards, thank you notes, gift tags, greeting cards, and post cards for weddings, engagement announcements, birthdays, Mother's Day celebration and other special occasions. Adding lace backgrounds can easily add a touch of elegance and beauty in any layout. However, the good news is,  creating beautiful lace backgrounds is easy using ready-made patterns that tile seamlessly or by using stock photos of lace textures.
In this post, we rounded up hundreds of free resources that you can use to easily create beautiful lace backgrounds. The first part are Photoshop patterns and digital papers while the second part are vector files consisting of mostly, tiling lace patterns. The third and last part are actual photographs of lace in high-resolution format that you can use to create backgrounds. These photographs are mostly public domain photos. Public domain photos are free to use without the need to credit authors for both personal and commercial uses. We hope that you will find these free lace backgrounds useful in your creative projects. Enjoy!
---
I. Lace Backgrounds- PAT Files and Digital Papers
The following digital paper packs come in both Photoshop PAT file and digital printable papers in either JPEG, PNG, or PDF formats. Click on the title (in blue text) to download the pattern files. Enjoy!
Denim Background Patterns with Lace Accents
A beautiful set of free denim background patterns that are seamless or tileable. The patterns have real-looking blue denim texture with intricate lace overlay in off white.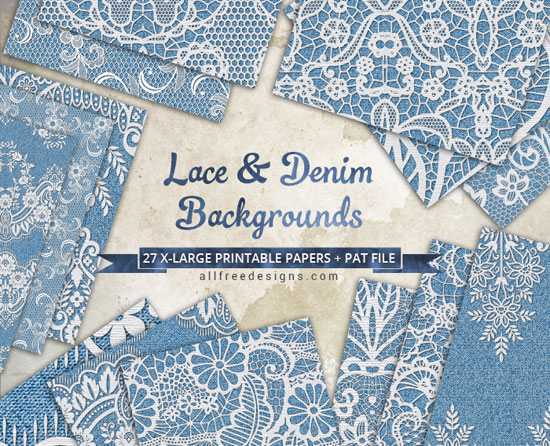 Lace Patterns in Black and White
In this set, you will find 12 black and white lace pattern patterns that you can use as backgrounds for your web and print designs. All of these lace patterns are seamless or tileable, making them ideal as background for websites or for those printables in high-resolution format.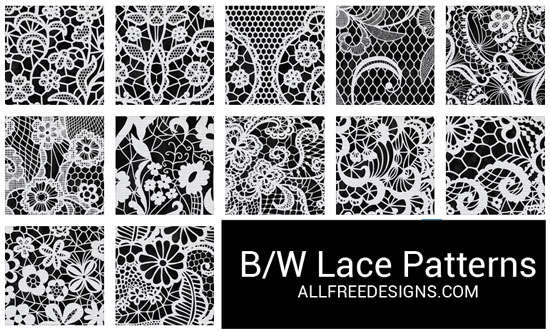 Free Lace Texture Backgrounds and Patterns
This set includes 25 seamless lace texture patterns in white and denim pastel backgrounds. These lace patterns are great as backgrounds for a poster or a greeting card or to texturize texts and other design elements.Use them to make journaling cards about wedding, birthdays, and other special and romantic occasions. These lace texture are repeating patterns in 12×12 inches at 300 DPI resolution.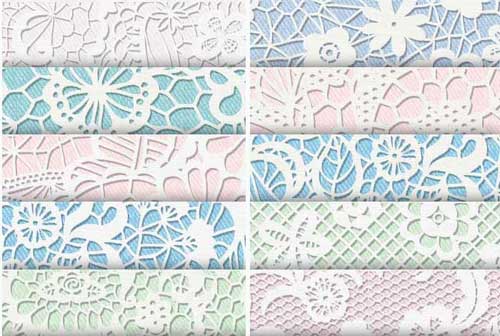 Silver Lace Patterns and Backgrounds
A set of nice repeating patterns featuring intricate lace designs in glittery silver. A total of 14 unique designs are included in this set. These patterns have a luxury feel in them and are ideal for projects such as wedding invitation cards, engagement announcements, baptism cards, and other special occasions.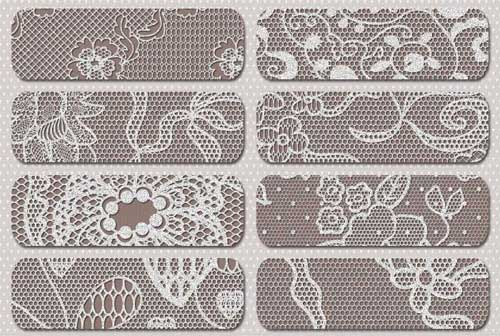 Free Lace-Patterned Backgrounds in Kraft Brown
The lace pattern looks very realistic with subtle shadow to the lace pattern. The lace decorative patterns also have the paper texture on them. These lace background patterns are high resolution at 12×12 inches at 300 DPI, making them suitable for both web and print projects.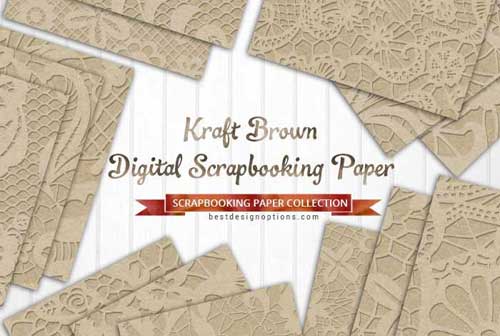 Luxurious Black and White Lace Background Patterns
A set of lace backgrounds consisting 20 luxurious lace patterns in black and white. They look gorgeous and elegant they will surely make great backgrounds for your projects. These lace patterns will look great as background for website as well as for printed materials such as invitation cards, business cards, brochures, leaflets, and even posters.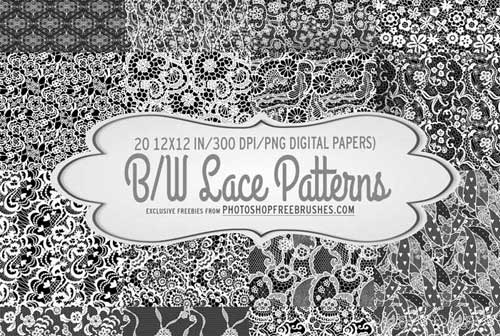 Lace Textured Patterns
This set contains 7 patterns featuring realistic lace patterns in black and white. The file that you may download is in Photoshop PAT format created with Photoshop Elements 10.
Lace Background Patterns (PAT Files)
This pack features 15 different lace floral background patterns for creating ornate and romantic backgrounds. The file that you may download is in Photoshop PAT file.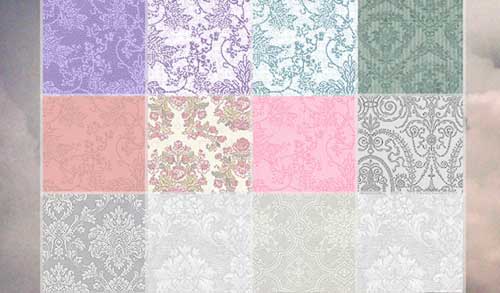 12 Black and White Lace Patterns
Another 12 realistic lace patterns in black.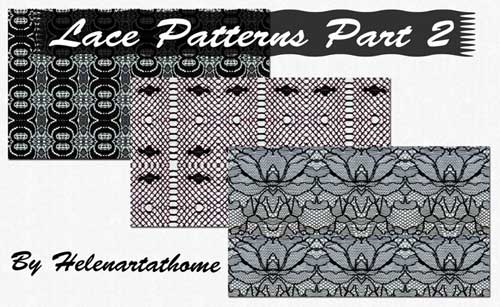 21 White Lace background Patterns
Here is another set of 21 lace background patterns that you may download for free. These are contained in one PAT Photoshop file.
Lace Patterns and PNG Files
There are 39 lace patterns  this PAT file. If you do not have Photoshop or your version is not compatible with the PAT file, you may use the image PNG files included in the download pack.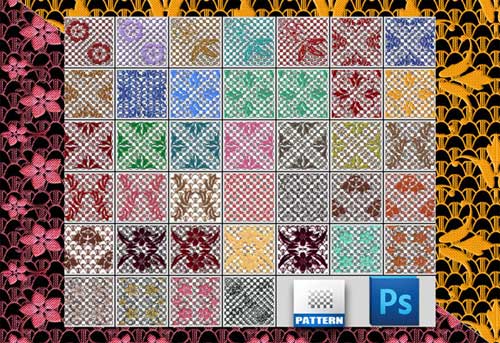 Aqua Lace Background Photoshop Patterns
There are 11 aqua colored lace backgrounds in this set of seamless patterns.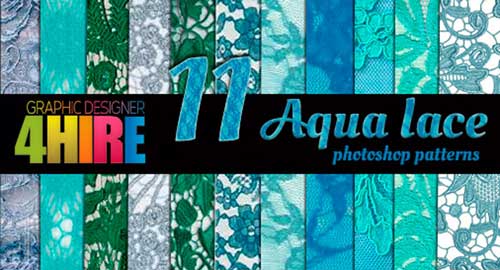 ---
II.  EDITABLE LACE BACKGROUNDS IN VECTOR FORMAT
The next few patterns are editable lace background designs in vector format (EPS or AI).
Lace and Mesh Pattern Swatch
A couple of lace and mesh pattern swatches made in Illustrator CS4 saved as CS2 format. You may use these patterns to create more complex lace patterns. You may either add paisleys or some ornate designs to make ore interesting lace patterns.
European-Style Lace Background Patterns
There are five seamless patterns in vector format in this pack that you can use for creating vintage-themed designs.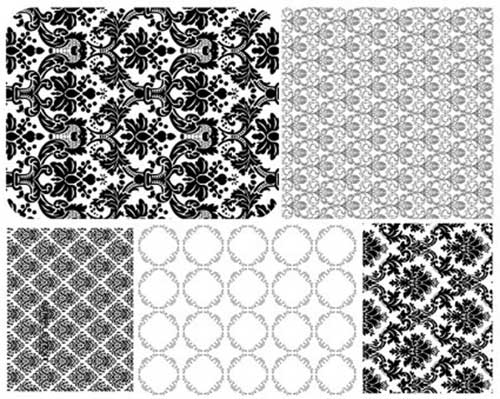 Antique Lace Background Vector Patterns
There are four antique-looking lace background in Adobe Illustrator format that you can get from this set.
Abstract lace background Free Vector
A nice abstract decorative lace background in vector format.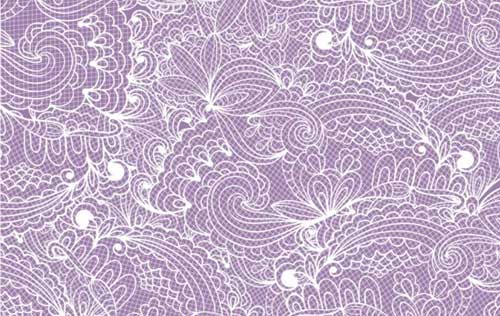 Lace Textures Vector Patterns
If you need new lace backgrounds for your designs download this set of colorful backgrounds with lace textures, if you prefer change the sizes or colors in this editable vector file.
Lace Texture Vector  Backgrounds
Designer lace texture to reflect the elegance of a woman.
Free Crochet Lace Vector Background
White vector doily lace on pink lace texture background. Great for use in scrapbooks and more.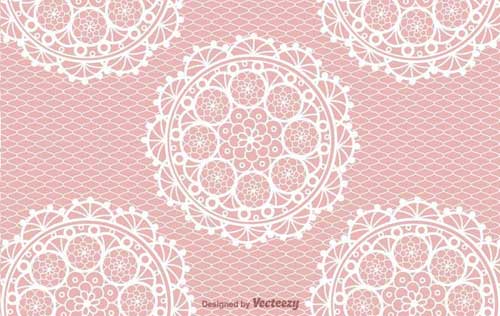 Hollow floral ornaments and lace vector Free vector
This vector file contains doilies made of delicate lace. You can use these lace doilies to create lovely backgrounds for your printables and other projects.
Vector White Lace Borders
Like the previous entry, this vector file is not actually a background material but something you can use to create backgrounds. The file includes beautiful white lace that you can use as borders or as decorative element in your layout.
---
III. LACE BACKGROUNDS AS TEXTURES
Below are free lace textures you can use as overlays or background for your projects. To download, simply click on the preview image.