Line Brushes Great for Techy and Modern Photoshop Designs
The easiest to create lines, especially if you need some patterns and abstract backgrounds in Photoshop, is to use line brushes. This way, you do not need to create them one by one using your line and pen tools.  There are actually a lot of free resources out there when it comes to line Photoshop brushes. You can choose from simple lines and dots to swirly, curly and twirly, to more complicated ones like techno lines and spirographs. For anything you need, I'm sure there's one that's waiting for you out there. The only problem, maybe, is how to find them.
In this post, we decided to put together a total of 65 great sets of line brushes that you can download and use for free. The variety range from simple lines to abstract as well as dots and dashes. Most of these sets are free for personal use only so make sure to check with the individual authors when using these brushes for commercial projects. To get the set that you want, simply click on the preview image and it will -take you to the source where you can download the brush set and view more information about it. Have fun with these brushes
To make it easier for you to browse through this kind of lengthy listing of line brushes, we decided to group them into six categories.
A. HIGH-TECH LINE BRUSHES TO DOWNLOAD
The first group is the high-tech and geometric brushes, followed by dashed and dotted brushes, abstract brushes, doodle and hand drawn lines, grunge bushes and those that do not fall under any of the above category as miscellaneous brushes.
01: Infinity Brush Set
A great vector brush pack inspired by the author's first brush set called Midnight City Brushes. There are 17 brushes in this set with resolution of 1000 pixels wide. Created in Adobe Photoshop CS3.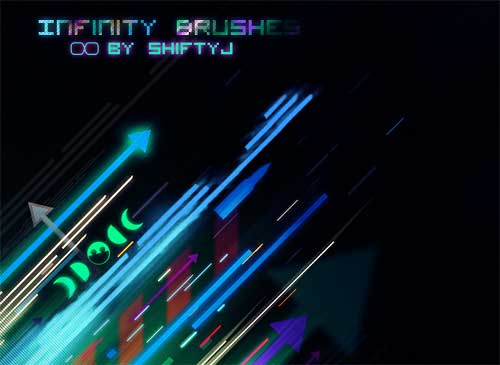 02: Scan Line Brushes
There are 10 line Photoshop brushes in this pack that you can use to create high-tech and futuristic designs.
03: Photoshop Tech Brushes
A niche pack of seven tech brushes. Each brush has resolution of 2500 pixels, 300 DPI. These tech brushes are useful in abstract, sci-fi, textural, futuristic, minimal and psychedelic work.These brushes are free for personal use.
04: Z-Design Tech Brush Set
There are a total of 40 brushes, full instructions are in the Read Me file. Compatible with most versions of Photoshop, up to CS5. As long as it accepts .ABR files.
05: Tech Line Photoshop Brushes
Some nice line brushes to enhance your abstract/vector work.
06: Geometric Line Photoshop Brushes
Includes 10 brushes with resolution of 2500px. Compatible with Photoshop CS- CS5.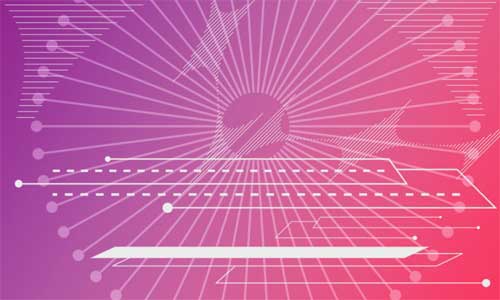 B. DASHED AND DOTTED LINE BRUSHES
07: Solid and Dotted Line Photoshop Brushes
A pack of solid and dotted lines created in Photoshop CS2. The packs comes with an image pack in case your version of Photoshop is not compatible with the ABR file.
08: Dash Line Photoshop Brushes
There are 15 different dashed lines in this pack. These are great fro creating abstract backgrounds for your designs.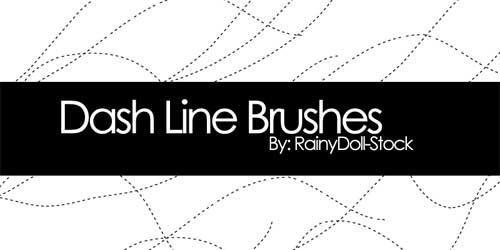 09: Crazy Line Brushes
Pack of 26 simple brushes, made with pen tool and dot/square brushes in Photoshop CS2. All brushes are high-res.
10: Dashed Line Brushes
A set of 30 Photoshop brushes composed of different dashed lines.
11: Dashed and Dotted Line Photoshop Brushes
There are six dashed and dotted line brushes in this set created for Photoshop 7.0 and up.
12: Dashed Line Brushes
There are 52 dashed line brushes for Photoshop CS. Image pack is likewise available for those using lower version of Photoshop or other programs.
13: Border Line Photoshop Brushes
Set includes 52 border/line brushes.They were created in Photoshop version 7.0.
14: Vector Line Dots for Photoshop 7
15: Dashed Line Photoshop Brushes
A set of brushes in the 'dashed line' style made with Photoshop 7.
16: Dotted Lines Photoshop Brushes
Includes 10 large brushes with dotted lines. Made in Photoshop 7.
17: Dotted Line Photoshop Brushes
These brushes were made using Photoshop CS3. An image pack is included in case you are using a different version of Photoshop.
18: Dotted Lines Set 01
This set includes 10 beautiful dotted lines for creating backgrounds
19: Just Lines
Includes various dotted and dashed lines.
20: Dotted brush pack
This set contains 13 brushes composed of horizontal and vertical dotted lines.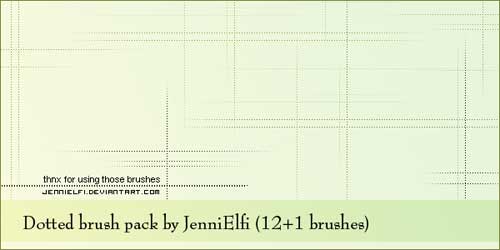 21: Dotted Line Brushes
Some odd dotted line brushes made for Photoshop 7.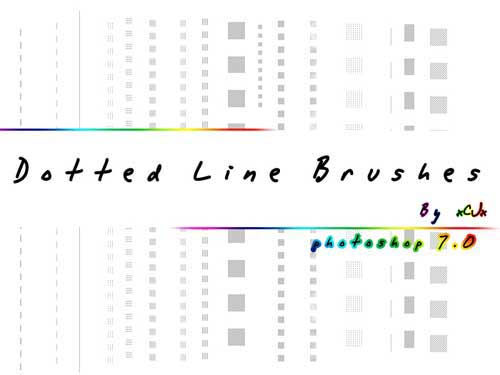 22: Dashed Line Brushes
Includes 30 brushes consisting dashed lines.
23: JLD Dotted Dashed Line Brushes
Includes 17 brushes composed of vertical and horizontal dotted and dashed lines.
C. ABSTRACT AND SPIRO LINE BRUSHES
24: Abstract Glowing Lines Brushes
This set features some strait lines brushes and some curvy lines brushes. Simply apply the outer glow and/or inner glow to get the lines brushes to come to life!
25: 3D Abstract Lines
Set contains 27 big (up to 2500px) brushes compatible with PS 7 and up.
26: Outer Space Grid Lines
Includes 10 abstract line brushes for Photoshop CS and up.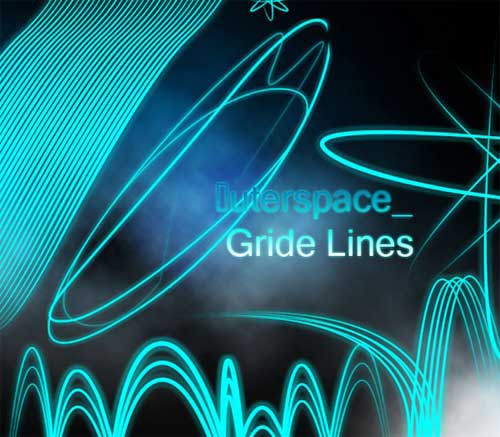 27: Hi-res Flowing Line Brushes
Set of 10 Hi-res flowing line brushes created with Adobe Illustrator CS4 and Photoshop CS4.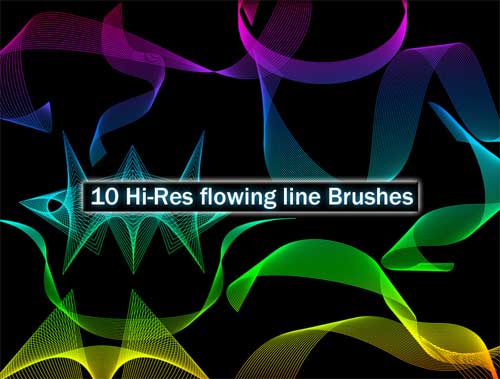 28: Magic Sparkle Lines
Includes 6 high-quality brushes featuring sparkling lines perfect for creating magical and fantasy themed backgrounds.
29: Photoshop Audio Lines Brushes
Fresh eMedia is offering some new technical audio line brushes, free for commercial and personal use. These brushes can be used to create equalizer effects in Photoshop with ease!
30: Abstract Lines Brushes
A set of 5 abstract line brushes that you can use in your designs such as backgrounds and other effects.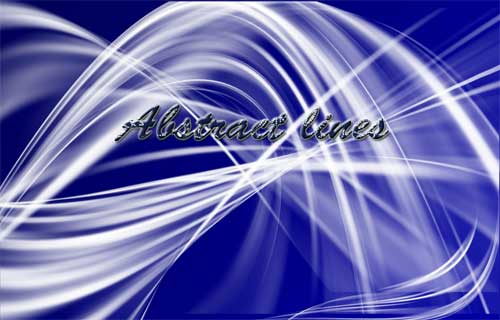 31: 15 Spirograph Brushes
Included in this set are 15 brushes featuring digital spirographs. If you are using a different program or a lower version of Photoshop, then you may use the .png files included in the download folder.
32: Photoshop Spirograph Brushes
This set features spirographic and basic fractal line brushes. Includes a mix of digital spirograph and line brushes that are free for personal use.
33: Free Line Art Pack 104 Brushes and 104 Vectors
A set of 104 high quality line brushes for your Photoshop.
34: Ribbons brushes
High-resolution brushes for Photoshop Cs3.
35: Lines Photoshop Brushes Set
Includes 9 wavy and abstract line brushes.
36: Curvy Line Brushes
Includes 36 curvy line brushes with resolution of around 2500 pixels.
37: Abstract Lines Photoshop Brush
38: 14 Lined Waves
Includes 14 stroked and lined waves great for background touch-ups.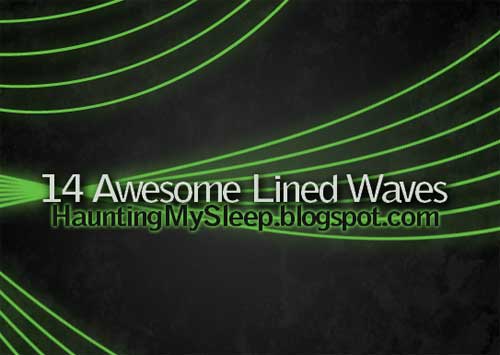 39: Scan Lines
Includes 4 scan lines brushes for creating backgrounds.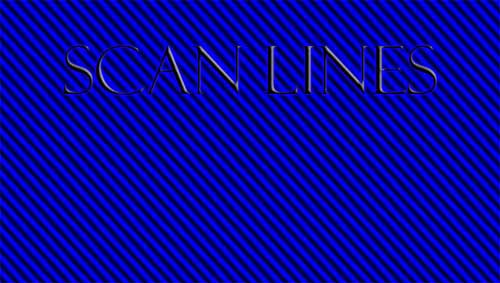 D. DOODLE AND HAND DRAWN LINE BRUSHES
40: Doodle Line Brushes
A set of doodle line Photoshop brushes.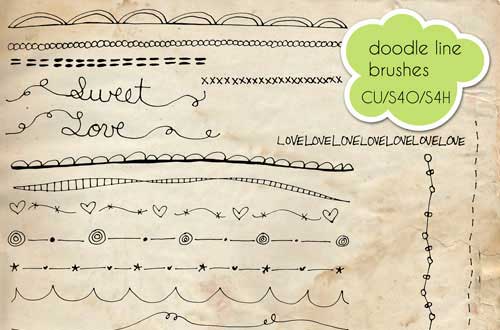 41: Sketchy and Line Art Brushes
Add an handmade and creative feel in your design with these sketchy lines. Includes 6 different strokes.
42: Messy Lines
This set is composed of 15 messy line brushes in .abr format.
43: Phone Lines
This set includes 23 curvy line brushes that resemble a telephone wire. Included are the .abr brush file and an image pack.
44: Curled Marker Lines Brushes
Created for Photoshop 7 and up, this set contains 11 curled marker lines.
45: Lined Scribbles Brushes
10 rough underlining scribbles brushes compatible with Photoshop CS and up.
Image pack included.
46: Art Class watercolor Lines
47: 12 Fine Line Art Brushes
These 12 line brushes are free to use for your drawings and decor- with finely pointed ends.
48: Basic Line Art
Total of 10 basic line art brushes free to download and use.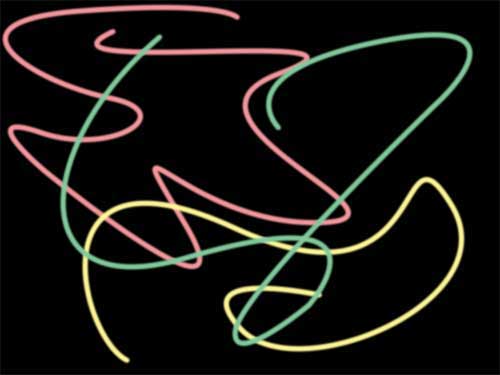 E. GRUNGE LINE PHOTOSHOP BRUSHES
49: Line 002
Contains 8 brushes composed of thin lines that look like scratches.
50: Grunge Lines Brushes Part 1
This brush set was created in Photoshop 7 and contains 35 brushes.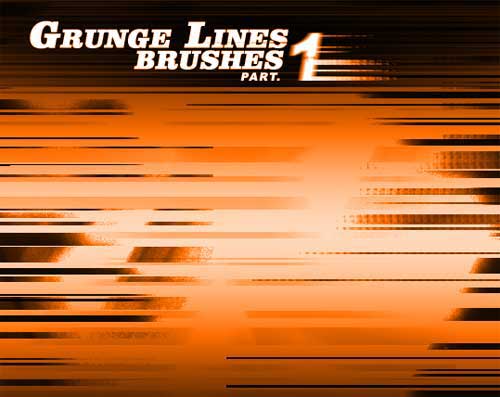 51: Grunge Lines Brushes Part 2
As the name suggests, this is a set of brushes composed of grunge lines. What makes this pack special are the various patterns incorporated in them. These are compatible with Photoshop 7.0and up!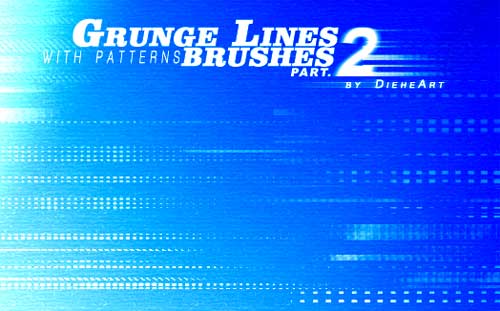 52: Grunge Lines Brushes Part 3
This brush set only contains grunge lines in slanting patterns.Like the last set, this brush pack is compatible with Photoshop 7 and up.
53: Speed Lines – 600 DPI
High-resolution brushes that mimic speed lines. Use the 'Rotate' option in brush palette to change direction of the lines.
54: Grunge Line Brushes
Includes 8 brushes with resolution of 2400px. Compatible with Photoshop CS – CS5.
55: Grungy Lines Brushes
A selection of grungy line brushes for any use you decide to put them to.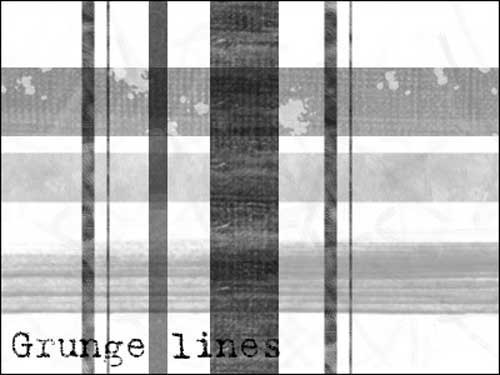 56: Watercolor lines
18 high resolution random textures between 840-2069 pixels each, in an .zip file.
F. MISCELLANEOUS LINE BRUSHES
57: Vector Brushes
Set of 5 brushes composed of vector lines, arrows, circles.
58: Pulse Line Brushes
This set of brushes is composed of pulse lines. Pulse lines are those you normally see on the life monitor in a hospital.
59: Photoshop Brush Lines
There are 16 different brushes in this set composed of grids, lines and spatters. These were created in Adobe Photoshop CS3.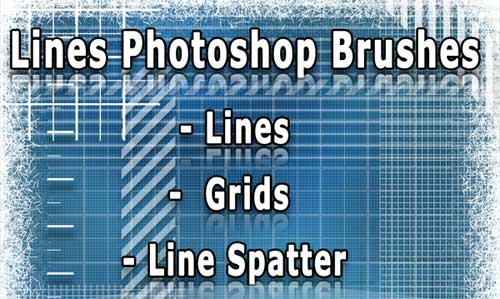 60: Let's Fade
A set of brushes composed of thin and thick fading lines.
61: Photo Lines Brushes
Includes brushes made of vertical, horizontal and diagonal lines useful for framing photos.
62: Diagonal Stripe Brushes
Include total of 5 Brushes in resolution of 1000px each.
63: Birds And Power Lines
This set includes 11 power lines and 8 solo birds.
64: 14 Beautiful Decorative Line Brushes
A set of line Photoshop brushes that you can use in your design. These are very useful for adding decorative elements in your photos of designs to make them more interesting. There are brushes with floral designs while others have hearts and other gemstones.
65: Arrows and Lines Brush Set
A nice set of brushes featuring arrows and curves.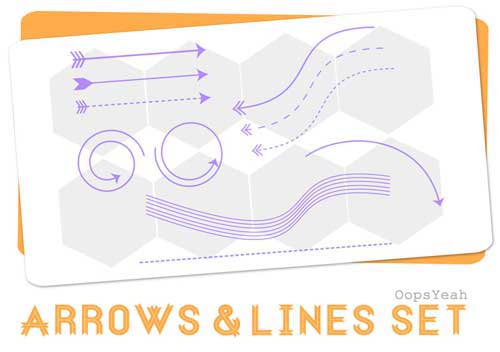 Related Free Design Resources