100+ Mason Jar Labels Free to Download
Organize your pantries by dressing up your mason jar and homemade food products with these labels that we are featuring in our blog today. Aside from kitchen organizing, these mason jar labels are also great for your homemade goodies that you want to give away as gifts to loved ones or as party favors for weddings, baptism, birthday parties, and other occasions. The mason jar labels that you may get from these links include round labels that you may use as toppers, square and rectangular labels for the jar sides, or the band type of labels that you can wrap around the jar to decorate them.
---
FREE MASON JAR LABELS TO DOWNLOAD
In this post, you will find labels for your spices, jellies, jams, cookies, and other food preserves. Most of them are ready to print using your home printer. To download the set that you want, simply follow the download link provided below each preview image. Enjoy these freebies.
Free Circular Labels for Mason Jars
In this post, you will find printable mason jar labels for pantry organizing. There are two types of mason jar labels that you may download from this site. The first set are circular labels for wide mouth mason jars but they can also be applied on the side of most jars or Tupperware containers. The other type are bands, which will fit most jars, unless they are very large in diameter. Below are pictures of these mason jar labels in action.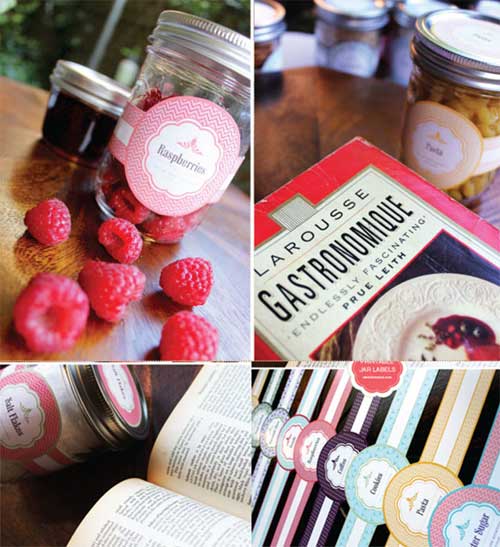 Printable Canning Jar Labels
These canning labels will definitely help turn your homemade goods into super cute gifts! All you have to do is print them, cut them out, and label them with the contents of the jar. Afterwards, simply lay the label on top of the flat lid of your jar, and screw the ring band on to hold it in place! You can print them on plain printer paper, or if you want to get fancy, buy some pretty card stock and make them even cuter. They look amazing on kraft colored card stock but would look good on other paper stock as well.
Printable Chalkboard Style Freezer and Canning Jar Labels
A set of freezer and canning labels designed with vintage chalkboard theme. These mason jar labels have blank spaces where you can write on and circle the date of freezing.  Use these printables to label your canned fruits, vegetables, sauces and juices.
Printable Vintage Chalkboard Pantry Labels + Gluten-Free Set
These printable pantry labels are ready to print, trim and apply to all of your pantry jars. Each kit has the large, medium and mini sizes to fit any jar. All of these can be printed onto worldlabel.com full sheet labels. The labels are designed so that you can trim them as a rectangle or follow the bracket shape of the design.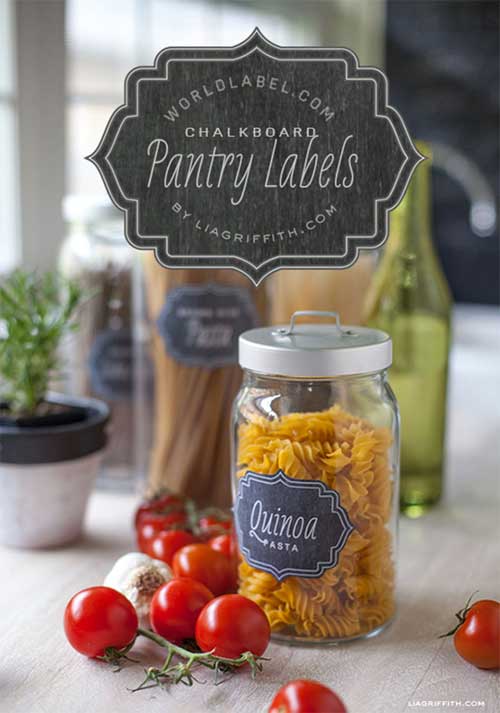 Printable Spice Labels With Chalkboard Background
a set of free printable spice labels featuring chalkboard texture background. These are great for kitchen and pantry organizing. All the labels are blank so you may also use them to label other items in your house.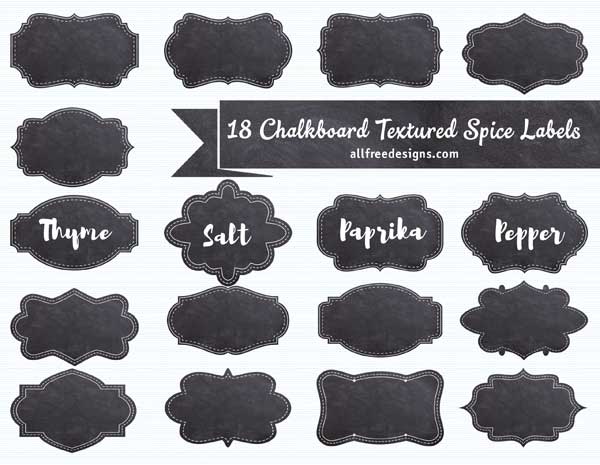 Printable Vintage Herb and Spice Bottle Labels
These labels in a vintage chalkboard style design are elegant, trendy, and functional. The labels you may find here include almost herbs, spices, salts, peppers and even extracts. Also included is a page of lid labels.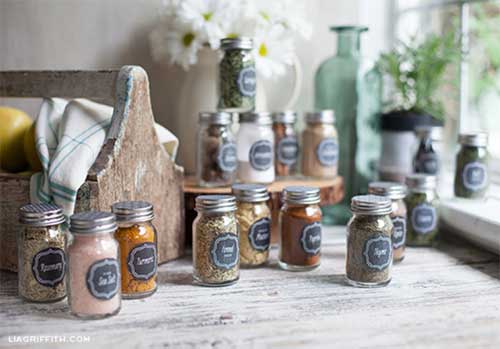 Peppermint Sugar Scrub with Free Printable Labels
This post is actually a tutorial on how to make  Peppermint Sugar Scrub! However, to complete the package, the author also included a set of printable labels that you can use to package the scrub as gift. These labels are for regular mason jar lids and the new smaller ones as well! You just print them, cut them out and place on the lid, but under the lid ring.
Round Printable Jar Labels
This set of printable labels includes four different lovely designs for Apricot Butter, Strawberry Jam, Cherry Chutney, and a Tasty Homemade blank label. Each design is available as printable PDF . The labels are 2″ in diameter, sized to fit on the tops of 8 oz. jelly jars. You could print them out at 100 percent on sticky label paper at home.
Do It Yourself Project: Sweet Treat Favor Tin
Although these printables were made for tin cans, they would also fit perfectly to mason jars. The file that you may download are templates in PDF. You can customize the labels based on the contents you are going to put inside the cans or mason jars. A step-by-step tutorial on how to customize the labels are available from this site as well.
Storage Labels for Mason Jars
Download hundreds of mason jar labels for preservatives, jams, storage, sauces, cookie mix, candy, honey, and other things you put in mason jars. The printables  are in PDF format. They are actually entries to the mason jar label contest by worldlabel.com. The labels are either for the lid, the front or both.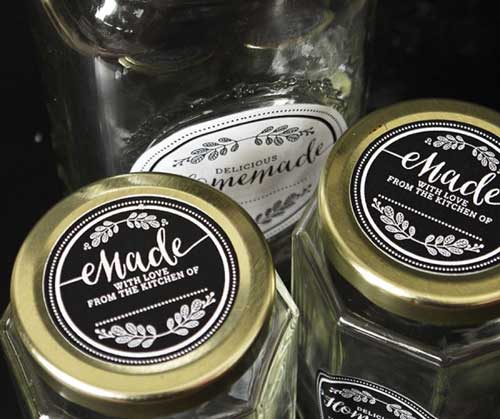 Labels for Wide Mouth Mason Jars
Although these kraft paper labels were made for cheesy kale chips, they are actually also great for packing up all kinds of snacks like jams and jellies.
Free Printable Canning Labels
This pack of canning labels includes six templates you can use as mason jar labels. Designs include polka dots and plaid designs. These are great for labeling your canned goodies such as jams, jellies, pickles, and sauces. The labels are round shaped with blank space for labeling.
Raspberry Jam Labels for Mason Jars
Not only will you able to download nice printable mason jar labels from this post, you will also be able to learn how to prepare a raspberry jam through an easy-to-follow step-by-step tutorial.
From the Kitchen of: 10 Differently Shaped Labels for Mason Jars
A set of 10 mason jar labels featuring various shapes–round, diamond, and square. Use them to label your canning jellies and veggies. These are perfect if you intend to give your homemade creations as gifts to friends and loved ones.
Mason Jar Tops
Here are 12 cute mason jar top labels in yellow-green hues. You can print it on Avery® 5294™ Circle Labels or a blank piece of card stock and cut with a circle punch.
Assorted Fruits Labels for Mason Jars
This set includes different labels for assorted fruit jams such as strawberry, blueberry, raspberry, peach, mixed berries, etc.
Assorted Jar Labels for Fruit Preserves
This is a set of  mason jar labels featuring mainly fruits (tomatoes, raspberries, blueberries, peaches, etc.).
Printable Jar Labels in Teal and White
A set of cute mason jar labels in soft teal and white color combination created in Microsoft Word. You may print these onto heavy card stock, cut out, and either glue or tape underneath the ring onto the lid of your mason jars!  You can either insert the text you would like in your favorite font, or write it yourself!
Related Free Design Resources