2 Free Ultra Minimalist Business Card Templates
Today, we are releasing another set of free minimalist business card templates featuring a simple and clean style of design. The templates use light earth tones of white and ultra light brown with canvas texture. Except for the logo name, these minimalist business card  designs made use of light and sans serif font type. The details on the cards only include the essential ones: name, contact number, email address and website address.  To break the monotony and to prevent the tendency of to become boring and dull, we used a logo name in script font with a glittery gold texture. Below is a mock-up preview of these business cards.
Minimalist designs are timeless. Minimalism, which is a design style characterized by extreme spareness and simplicity, are among the design trends that just never gets old. You can find this style in print and web design as well as in product design and architecture in almost any era. We can therefore say that minimalism is classic and at the same time classy. It works with many different types of  media.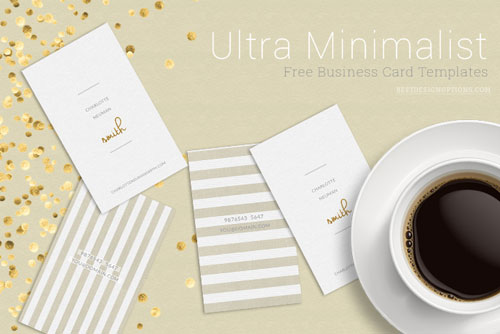 ABOUT OUR MINIMALIST BUSINESS CARD TEMPLATES
These minimalist business card templates focus on simplicity and beautiful typography, making them look very refreshing. And because they are extremely simple, they would surely stand out against all the other design clutter. Just imagine a traditional business card in loud colors with all the redundant details crammed into a tight space that everything becomes unreadable and useless. So go minimal and your business cards will surely grab the eye of potential clients and customers first.
The minimalist business card designs come in vertical orientation and two variations. The first one features a back design with horizontal stripes while the other has vertical stripes design. There is, however, only one design for the face of the card. It only uses two font types (which are free fonts that y0u can download and use for free). The business cards have two sides, front and back and sized 3.5 inches by 2 inches.
HOW TO USE OUR MINIMALIST BUSINESS CARD TEMPLATES
To customize these cards, you need to have an Adobe Photoshop program. You can edit these templates using Adobe Adobe Photoshop CS or higher. Simply locate the layers that need customizing such as the logo/name, addresses, contact numbers, etc.
These minimalist business card designs are ideal for anyone who loves simple, clean and functional design style.  All the elements in these templates may be replaced or edited. For example, if you have your own logo, simply replace the initials at I used as logo there. However, if you wish to retain the look of these business cards, then it is very possible since all the fonts used in the layout are free fonts that you can download.
Below are the previews for these ultra minimalist business cards. The download link is below the preview images. I hope you like them as well.
If you want to use these templates but do not know how to customize them, simply send us a message and we will customize them for you for a minimal design fee.
Technical details:
Compatible with

Adobe

Photoshop CS6
Size: 3.5×2 inches, Vertical, CMYK, 300 DPI with bleeds (.125 inch) on all sides
Layers are organized in folders and are all editable.
Two-sided layout (front and back)
Fonts used: Wedding Chardonnay Font for the logo/name, Lato for the details. You may

download

these fonts by clicking on the name of the fonts above.
TERMS OF USE
You may use these minimalist business card templates for personal use only. Please do not sell them or make them available for download outside of this site nor claim it as your own designs. We hope you will find them useful.
IMPORTANT! The download file is password-protected to prevent hotlinking and discourage people from violating terms of use of our templates. PASSWORD for these templates is: "bdo".  Please note that the templates are contained in an archived file format (RAR) so you need to have a program like WinRAR to open it.
DOWNLOAD
password: bdo