32 Sets of Free Vector Music Clip Art Graphics
Summertime is synonymous to parties and music festivals. Thus, we think it is timely to come up with a round up of free music clip art in vector format that you can use for your design projects. In this post, we put together a total of 32 sets of music clip art that you can mix and match.
The first few sets includes drawings and illustrations of popular musical instruments such as guitars, violins, drums, keyboard , and piano. There are also sets of vintage instruments for your retro-themed party flyers and posters. Likewise, we included a set of wind instruments as well as audio and sound equipment sets. To complete your poster or flyer, we also added silhouettes of people holding musical instruments as well as vectors of dancers' silhouettes doing dance moves like hip-hop and dub step. There are also silhouettes of people in a party or concert.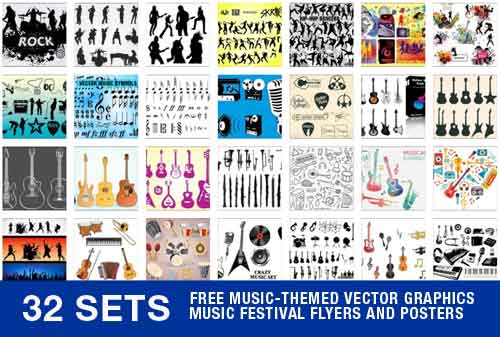 These music clip art vector graphics are useful for creating music posters and flyers as well as for parties. You can also use them for web-related projects such as for web banners and websites. These are music clip art are in vector format so you can use them for high-res layout that you intend to print later on. Because they can be resized and not resolution-dependent, these are perfect even for big posters. You need to have a vector editing program like Adobe Illustrator to be able to use these music clip art graphics. We hope you find these useful in your work. Enjoy!
If you like this roundup, then checkout also our collection of  summer holiday poster templates.
---
I. MUSIC CLIP ART: POPULAR INSTRUMENTS
This set of music clip art includes various musical instruments from strings, brass, drums, among other things.
Another set of vector music clip art featuring musical instruments such as guitars, violin, piano, trumpet as well as a microphone and background with music notes.
Here is another vector graphics of musical instruments and symbols. It includes multicolored cartoon images of electric guitars, acoustic guitars, violins, trumpets, maracas and musical notes.
Another set of free vectors consisting various musical instruments with a cartoon look. These are ideal for kiddie themed designs.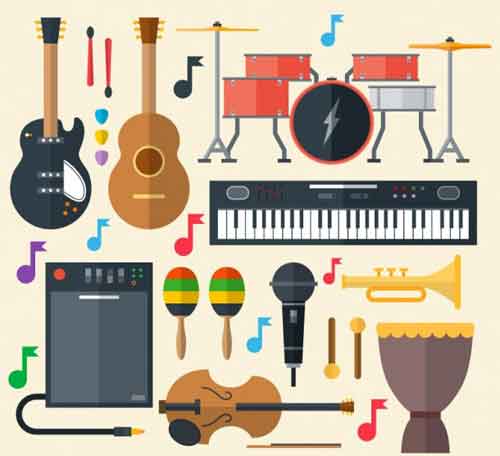 Musical instruments and devices: everything a rock or pop band would need for a concert or rehearsal; acoustic and electric guitars, bass, drums, speakers, microphone, headphones, etc. It's a nice vector set to use in promos for music studios, websites, shops, and more. High quality JPG included.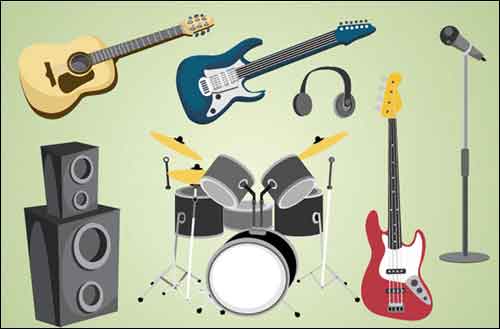 A set of free vectors consisting of various music instruments like guitar, ukulele, trumpet, violin, piano, etc.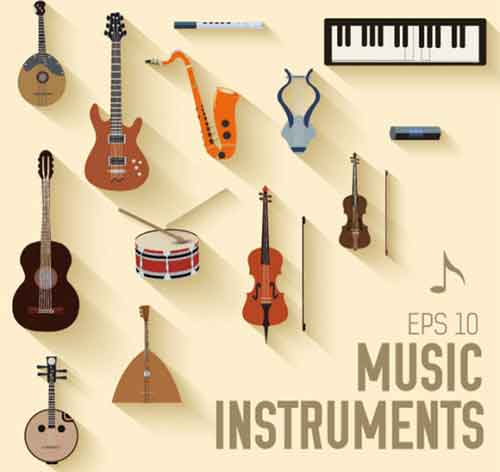 Huge set of various musical instruments in black and white color scheme contains manual and electrical guitars, piano, panpipes, orchestra, trumpet, headphone, microphone, treble, tuba and many more.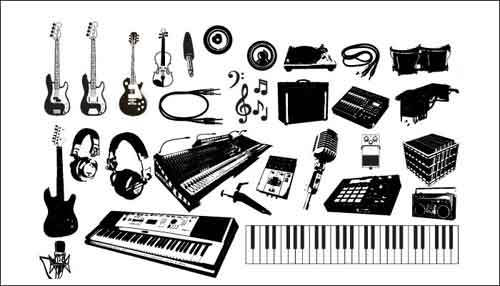 This free vector set consists of several musical instruments in both colorful and b/w version, in AI & EPS format.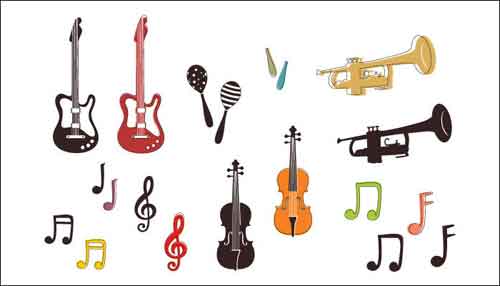 Musical Instrument set in silhouettes.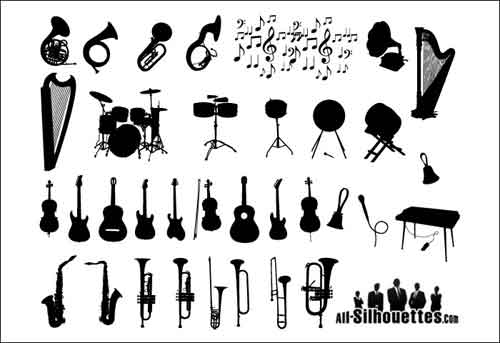 Crazy musical instrument pack in grungy black and white illustration mostly. 2 different electrical guitars, sound speaker, microphone, vinyl musical note and crossbones danger skull symbol.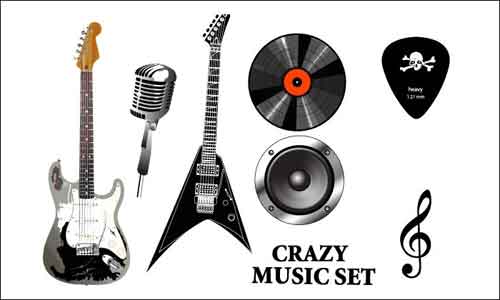 10 different mix musical instruments in colored illustration. The pack contains maracas, drums, xylophones, tambourine and mores.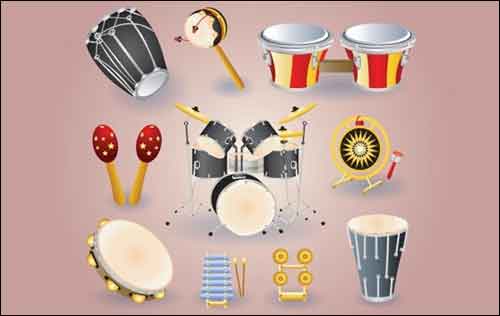 Includes 6 different musical instruments such as guitar, violin, piano, etc.
A heart shaped pattern filled with music instruments and symbols.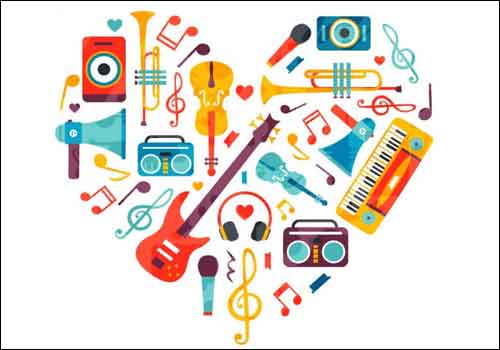 This set of vectors feature musical instruments in colorful trendy designs.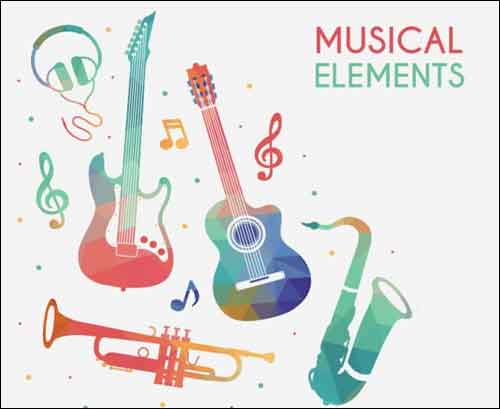 Musical vector footage of many different guitars. Acoustic and electric instruments, various shapes, styles and decorations. Free vectors for musical instruments, music, concerts, rock music and bands visuals. Guitars graphics to create music club adverts, guitar shop logos or stickers.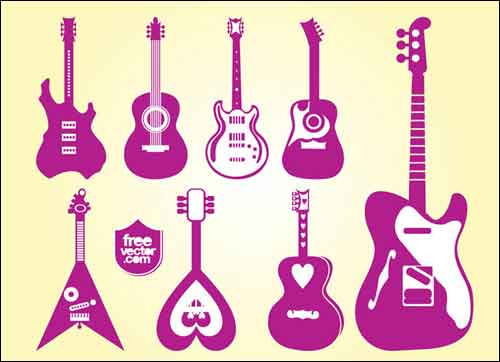 This set includes 5 different types of guitars in editable vector format.
A set of three guitar illustration in line art style.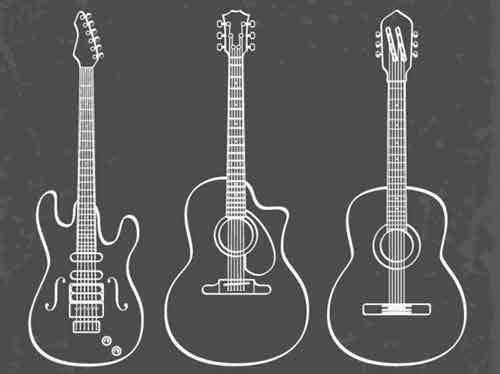 There are 10 silhouettes of various guitar types and styles in this set that you can use for your party posters and music festival brochures.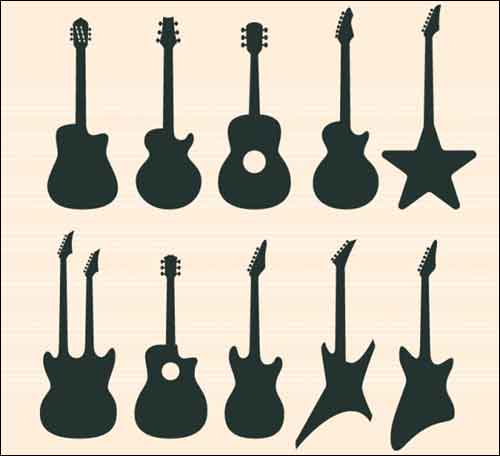 Ten of the most popular electric guitars in vector format. Choose your weapon and rock your design!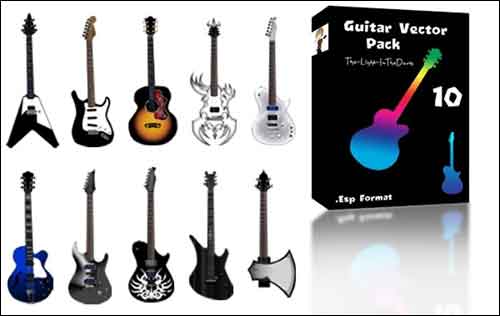 This set includes a retro-style guitar and other musical instruments that you can use for your retro-vintage compositions.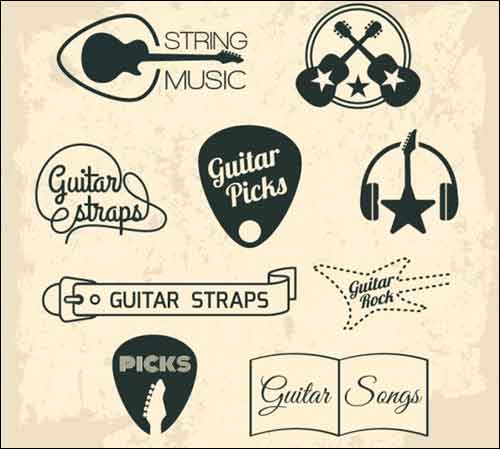 Technology and music vector footage of audio equipment. Black-and-white images of a cassette tape, different magnet-o-phones, round speakers with sound waves and a vintage studio microphone.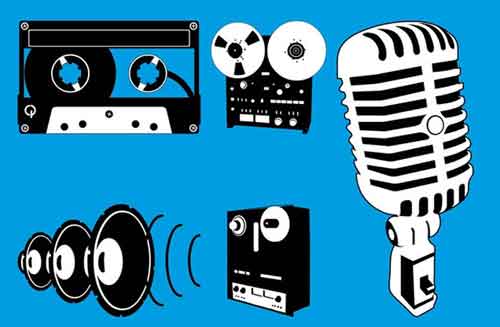 Do you need to write an original score? Download this set of musical elements to write your original rock music, classical, jazz, etc.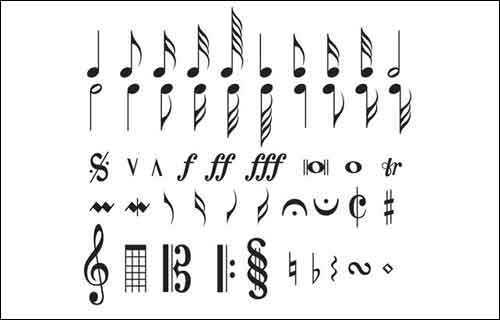 Some basic music symbols in this set  such as beamed and dotted music notes, accidentals and dynamics symbols, music clefs and music notes and time signatures symbols.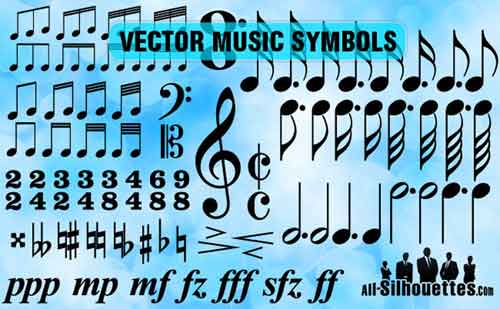 A cool pop rock music vector design pack with electric guitars, drum set, amplifier, rock star logo, vinyl record, headphones, etc.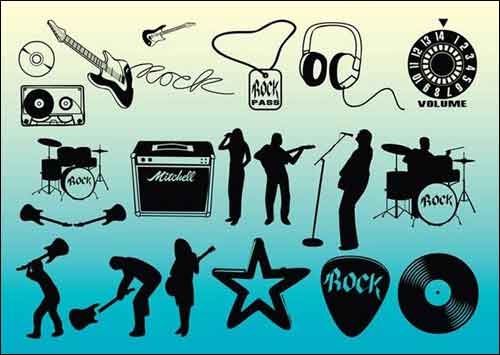 Silhouettes of various woodwind and brass instruments – saxophones, trumpets, flutes, bassoons, clarinets and others. Free vectors for your orchestras, bands, concerts and musical equipment visuals.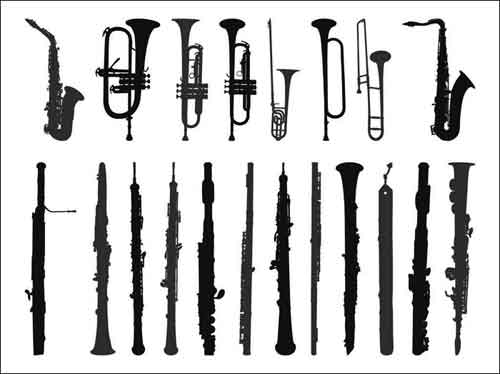 II. PARTY VECTORS – MUSIC CLIP ART
A free party music vector art with lots of vector graphics for your party flyer and poster designs. Includes elements like music speakers, dancing girl silhouettes, turntables, music DJs, guitars, trumpet, etc.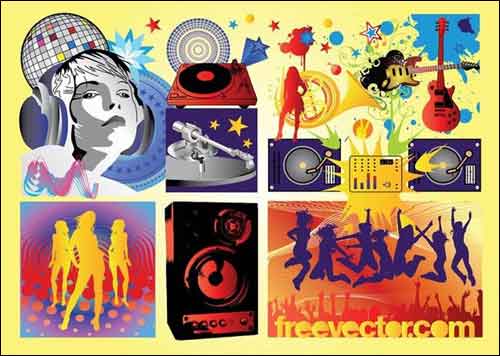 Here is a vector set compose of doodled drawings of musical instruments.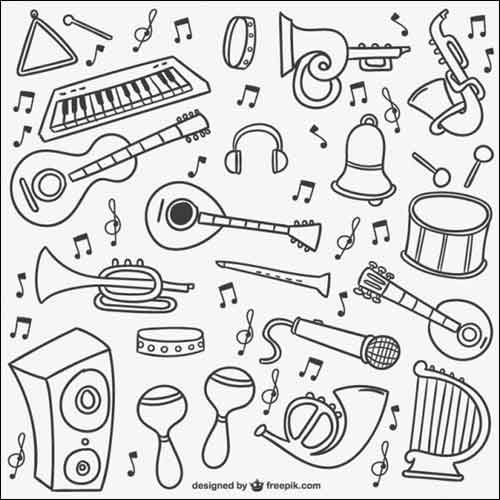 Another cool set of vector dancers' silhouettes. This time, street dancers (b-boys, hip-hop, modern dance).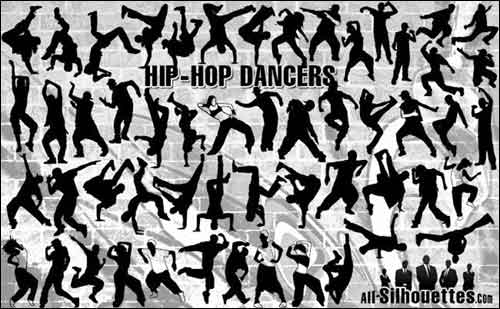 Modern music vectors with dub-step images and text art. Many silhouettes of people dancing to electronic music. Men and women with different moves and outfits. Logos and type art for the popular artist Skrillex and the musical style. Free vectors for music, dub-step and dancing designs.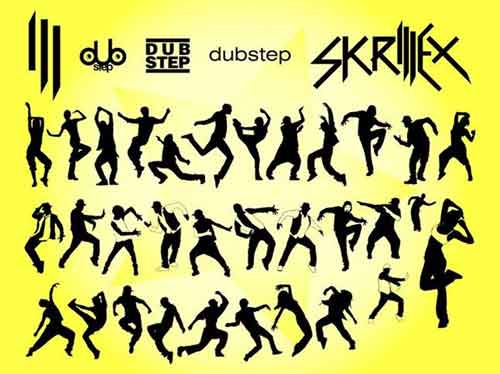 Vector resources in the theme of live music, gigs, and concerts. Including a selection of silhouette graphics of band members, guitarists and singers.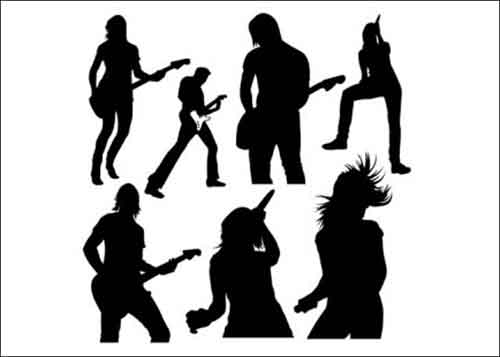 This is a set of three banners featuring silhouettes of a concert event.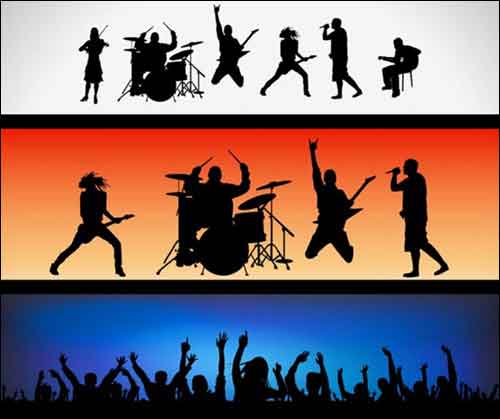 A set of 19 silhouettes of musicians playing wind, string, and percussion instruments. They are perfect for concerts, music classes, instruments promos and more.
Here is a silhouette of a rock band playing live on stage. This vector has a space for a text, so you can announce concerts, festivals band names and more.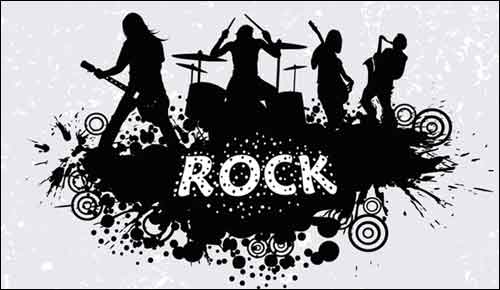 SPONSOR: