90+ Free Seamless Nautical Patterns and Backgrounds
Feeling nautical and ready for a refreshing sea breeze? It is summertime—the perfect season to hit the beach or take a sail. To help you recreate the look and feel of the shore in your design projects, we have a come up with a comprehensive list of free nautical background patterns. These designs have sea and summer themes, perfect for your designs this Summer. These nautical background patterns are mostly editable vector EPS or illustrator files, giving you extra flexibility when it comes to colors and arrangements of the design symbols and patterns.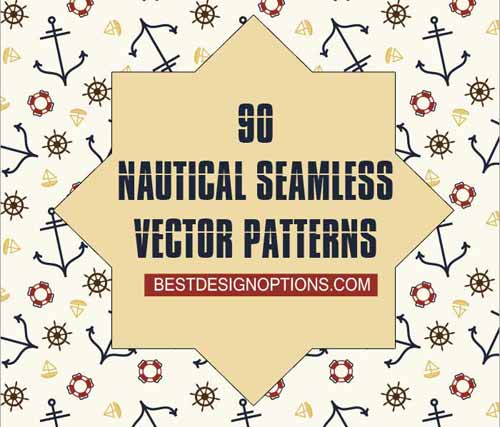 So what are you waiting for? Say Ahoy! and sail the adventures of the high seas with these lovely nautical background patterns. Pattern designs include blue and red stripes, waves, anchors, and other shapes. Other designs are fishes, boats, steering wheels, and lighthouses. There are also seashells, shorebirds, and other nautical symbols.
FREE NAUTICAL BACKGROUND PATTERNS TO DOWNLOAD
These nautical background patterns are great for adding a fun new look in your designs. These are particularly great as backgrounds for websites or for printed materials such as invitation cards for baby announcements, baby showers, birthday parties, and even for nautical themed weddings.
Before you jump to downloading the vector nautical background patterns, I wonder if you are also interested to download some free nautical backgrounds in Photoshop PAT format. Below is the preview. Hit the preview image to get to the download page.
There are 9 editable vector nautical patterns in red and blue color scheme.
A sweet set of vector nautical patterns in powder blue for your web and print projects. It includes hearts, anchors, chevron and fish scales patterns.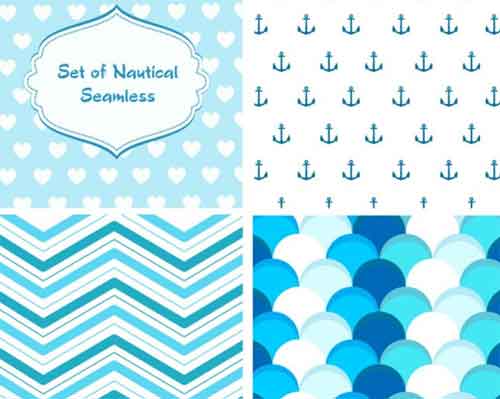 A kiddie nautical set of patterns in vector format. The set are in lovely light and dark blue colors and includes, doodled waves, anchors, whales, and sailboats.
This free editable EPS vector file features hand drawn waves and sea creatures like seahorses, starfishes, seashells.
Another set of blue nautical-themed vector patterns  featuring sailboats, lighthouses, steering wheels, knots, seashells and other marine elements.
This set of vector pattern has striped background plus the usual nautical elements such as anchor, knots, steering wheel, compass, etc. These patterns are perfect for designs about sailing, summer, travel, among other things.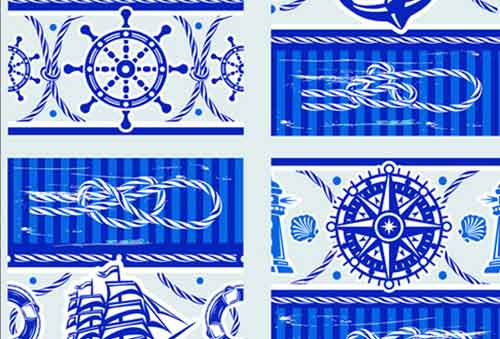 This set of free patterns and background features speed boats, lifesavers, striped backgrounds, waves, and seashells in light blue and white color combination.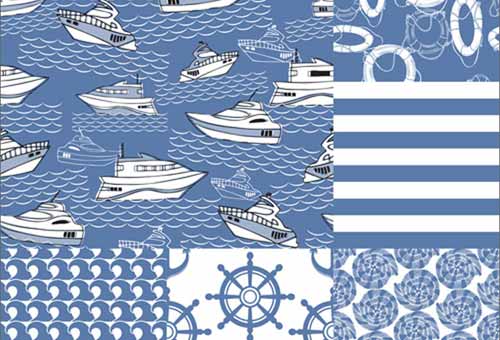 Another editable vector pattern set featuring nautical elements in blue and red.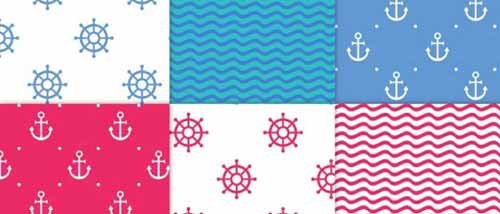 Free EPS file Different Nautical pattern vector set 04 download
A seamless pattern in vector format featuring nautical elements in blue and white color scheme.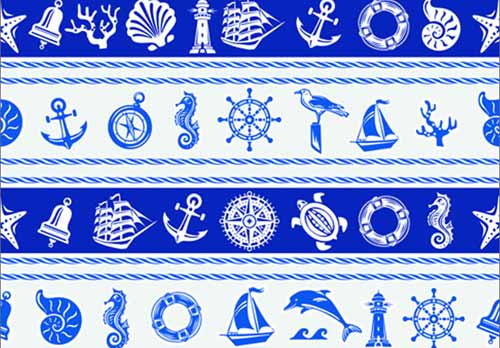 Sailboats and anchors in red and blue color scheme. This would be perfect as background for a nautical themed birthday party or a baby shower for a baby boy.
Just another nautical themed pattern in vector format featuring sailboats and compasses in vintage brown color combination.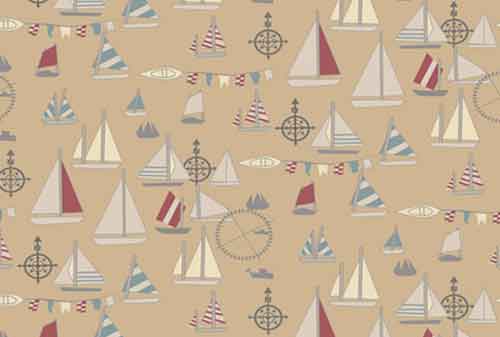 A simple pattern in vector format featuring anchor and steering wheel. You can always change the color scheme if you want to since this is an editable vector file.
For your kids-themed designs, here is a cute pattern featuring paper sailboats.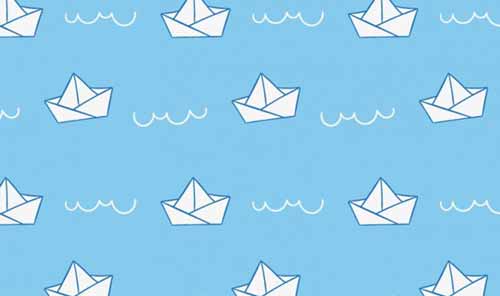 This set of 6 editable pattern in vector format are ideal for children-themed designs. The patterns are in light blue and feature hand drawn waves.
Another wavy vector pattern in different shades of blue. These are perfect for Summer-themed projects.
A set of five seamless vector patterns featuring tropical beach symbols such as sea shells, crabs, stars, waves, ships and other tropical motifs.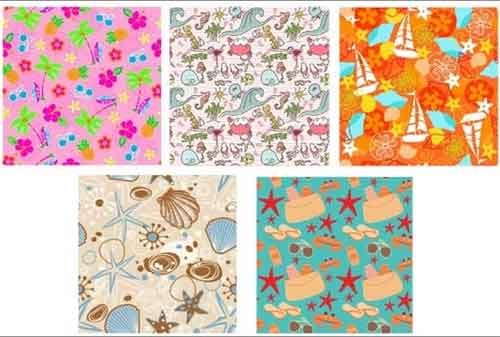 A sea life seamless pattern vector with coral and tropical fish.
Need a cute coral reef fish seamless pattern vector for your next project? This new cute coral reef fish seamless pattern vector illustration is probably just what you need.
A seamless repeating pattern featuring hand drawn seashells in a beach-inspired color palette.
This pattern in bright yellow background features beach time icons perfect for Summer-themed projects.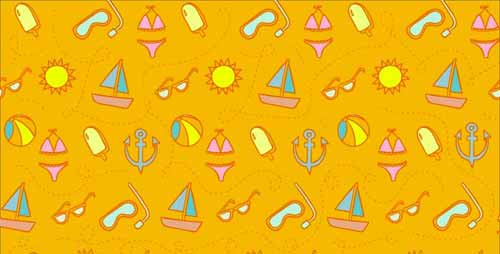 Another pattern for your summer holiday designs featuring beach-related items in mint green and white.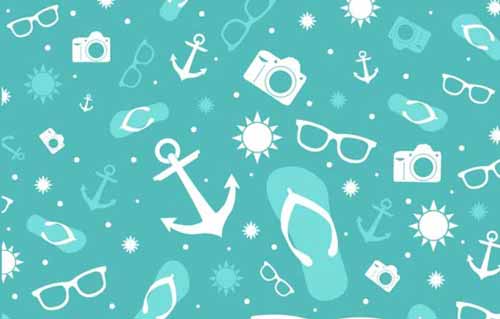 This seamless pattern includes summer icons such as flip flops, suitcases, cameras, sun glasses, etc.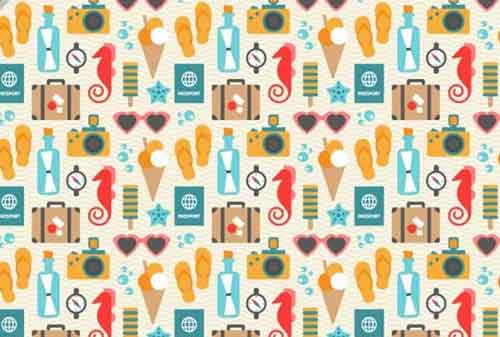 SPONSOR: