20 New Year Backgrounds and Wallpapers to Welcome 2010
You have reached this page because you were looking for new year backgrounds and wallpapers. But before heading to the main article, we think you might be more interested to check out our collection of 35 cheerful new year wallpapers for 2012.
The new year 2010 (MMX) will be a common year starting on Friday. This is according to the Gregorian calendar. It will also be the first year of the 2010s decade. Since we are facing problems related to climate change, the United Nations also proclaimed the year 2010 as the International Year of Biodiversity. The proclamation is aimed at raising the awareness of people worldwide about the importance of biodiversity. Saving biodiversity requires an effort from everyone. The UN hopes that through activities and events in many countries, the global community will work together to ensure a sustainable future for us all.
Meanwhile, according to the Chinese Zodiac, the Year of 2010 is the Year of the Tiger, which begins on February 14, 2010 and ends on February 2, 2011.   The Tiger is the third sign in the cycle of  Chinese Zodiac, which consists of 12 animal signs.  It is a sign of courage. This fearless and fiery fighter is revered by the ancient Chinese as the sign that wards off the three main disasters of a household: fire, thieves and ghosts.
---
NEW YEAR BACKGROUNDS AND WALLPAPERS
The Biodiversity Year and the year of the tiger are the dominant theme of most New Year wallpapers for 2010. Here, we gathered 20 of the most creative new year wallpaper designs to welcome 2010.  To download the wallpaper of your choice, simply click on the preview image. Doing so will take you to a new page where you can pick the right resolution appropriate for your screen. Have a happy new year everyone!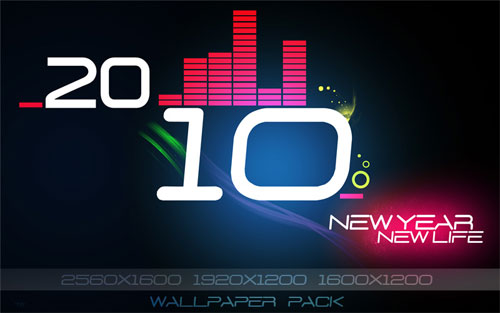 Related Free Design Resources