Ocean Clip Art Brushes Featuring 20 Sea Creatures
We had a great weekend at the beach.  While walking on a white sandy beach with my four-year old son, we spotted different sea shells and a few star fishes. They were very beautiful so I took plenty of pictures of these lovely creatures that we saw. When we reached home, I was so excited when I found out that the pictures really looked great that I decided to make a set of ocean clip art brushes.
I created these ocean clip art brushes using Photoshop CS3 so I assume (correct me if I am wrong) that you can use these sea brushes with any CS version of Photoshop. The set features 20 ultra large-sized Photoshop brushes of seashells, star fishes, crab, octopus, shark, dolphin, manta ray, etc. The picture above, however, does not include all the 20 Photoshop brushes in this set. The maximum resolution of each brush is set at around 2500 pixels while the file size of the zipped .ABR file that you can download is around 21MB.
Below is the preview of the sea brushes in Photoshop CS3: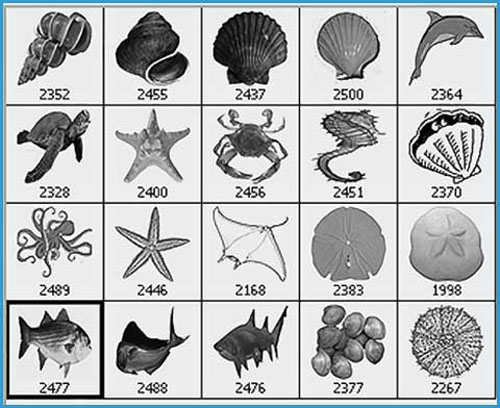 You may use these ocean clip art Photoshop brushes for free and without any restrictions in both your private and commercial projects. However, please refrain from making this set of sea brushes available for use in other websites. Please link to this article if you would like to spread the word.
DOWNLOAD BRUSHES
5 MORE RELATED OCEAN CLIP ART BRUSHES FOR PHOTOSHOP
01-Sea Shells Free Photoshop Brushes
This great set of free sea Photoshop brushes consists different images of sea shells. These are useful for creating websites, scrapbooks, Photo albums or other beach and vacation-themed designs. The brushes include pictures of scallops, star fish and other sea shell species. This brush set is compatible with Aobe Photoshop CS3and other CS versions of Photoshop.
[ DOWNLOAD ]
02-ShellsPS Brushes
For your summertime projects, here is a set of sea brushes for Photoshop from Hawksmont consisting 9 shells and 2 starfish. Go ahead and create yourself your own little sea.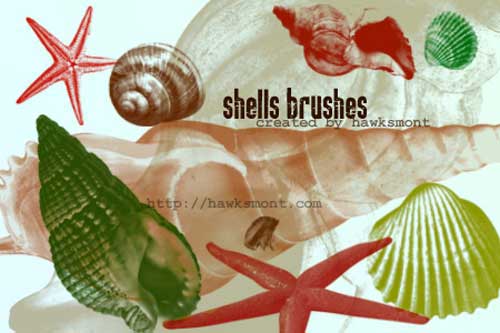 [ DOWNLOAD ]
03-Shells Brushes
These sea brushes are compatible with Photoshop 7. It includes photos of shells and other sea creatures.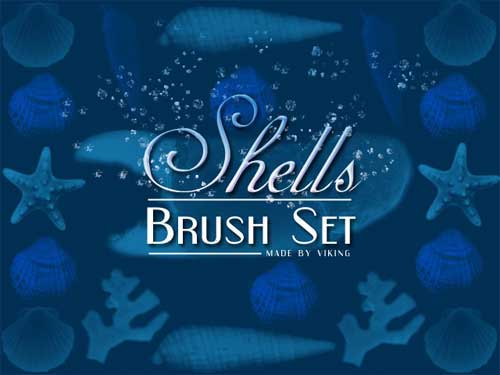 [ DOWNLOAD ]
04-Seaside Memories Brush Set
A set of sea brushes consisting sea-related stuffs such as shells, star fish, etc. This would be useful in creating a summer or beach-themed layout. Sizes of the brushes are in the teaser. Shadows are only used for the preview and are not applied to the actual brushes.
[ DOWNLOAD ]
05-Sea Life Brushes
A set of 11 sea brushes for Photoshop composed of sea creatures you can use for creating beach-themed designs.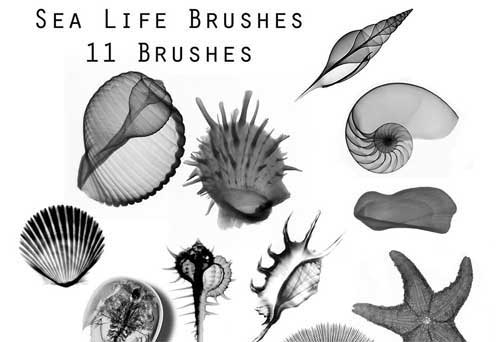 [ DOWNLOAD ]
Related Free Design Resources