15 Exclusive Ornament Photoshop Brushes
It has been ages since the last time we posted a free set of Photoshop brushes. So here is an exclusive set of of ornament Photoshop brushes that you can use for free in your personal designs. This set includes 15 different ornaments in various shapes and sizes that you can use as main element of the design of to highlight other images. You can also use these brushes to create nice patterns that you can use for desktop wallpaper designs or for website background. The size of each brush range from 166 pixels to 383 pixels. Created in Adobe Photoshop CS3, these lovely ornament Photoshop brushes should work with any CS and higher versions.
TERMS OF USE: Please limit the usage of these ornament Photoshop flower brushes to personal or non-commercial projects. I hope you will find these ornament Photoshop brushes useful. If you use these brushes, please link back to "http://bestdesignoptions.com". Your comments will be greatly appreciated. But stumbling or digging this post will make us happiest… Enjoy!
IMPORTANT!!!: Please refrain from redistributing these ornamentPhotoshop brushes, (i.e., downloading this set and making it available for download somewhere else). Also, HOTLINKING to the archived file is not allowed. Do not link to the ZIP file please.l Please refer to this post (using the URL in your browser window above) if you want to spread the word.
Hit the download button below to download these ornament brushes.
DOWNLOAD ORNAMENT PHOTOSHOP BRUSHES
Size: 600KB
File Type: Zip/ABR
MORE ORNAMENT PHOTOSHOP BRUSHES
If you like this set, then please check out also these five sets of ornament brushes. To download the set that you want, simply follow the text link provided below each preview image.
01-24 Exclusive Decorative Shapes Photoshop Brushes
This set consists high-resolution shapes Photoshop brushes featuring different decorative shapes. There are a total of 24 shapes Photoshop brushes in this set and since I created this set using Photoshop CS3, I think this should work with any CS and above versions of Photoshop. These shapes brushes are useful if you need to add some decorative elements in your design.
[ DOWNLOAD ]
02-15 Rosettes Photoshop Brushes
A collection of 15 beautiful rosettes. But what are rosettes? A rosette is an ornament or badge made of ribbon or silk that is pleated or gathered to resemble a rose and is used to decorate clothing or is worn. You may use the rosettes Photoshop brushes as a decorative element in any of your design.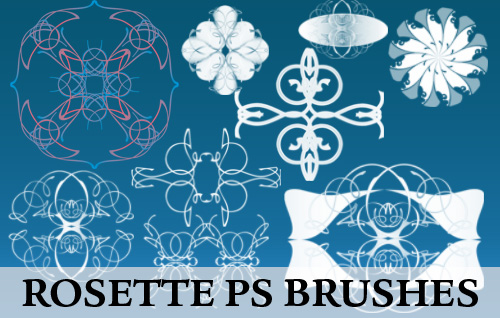 [ DOWNLOAD ]
Related Free Design Resources