26 Sets of Free Paisley Photoshop Brushes
Paisley background designs have been in fashion for more than a hundred years. This twisted tear-drop design and pattern has a long and varied history, involving Scottish shawls, the Franco-Prussian war and the swinging sixties. Today, paisley background is currently going through a revival as exhibited in some of the current collections. Paisley designs are not just common in fashion industry. You see them in interior decorations as well as in online and web designs.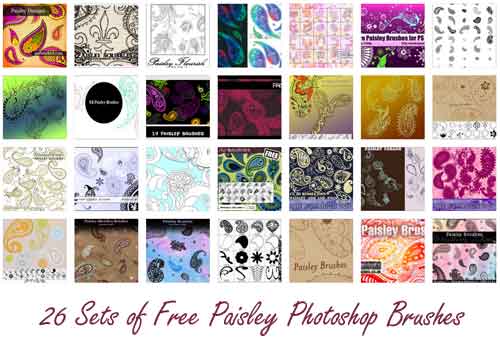 In this post, we put together over a hundred paisley background designs contained in 26 Photoshop brush sets. most of these brushes are high-res and may be used even for those projects that you intend to print later. These brushes are perfect for creating retro and decorative backgrounds for greeting cards, party invitation cards, for website background designs, among other things. If you need more paisley designs, then check out our collection of beautiful seamless paisley patterns. I am sure you are going to love them as well.
---
FREE PAISLEY BACKGROUND PHOTOSHOP BRUSHES
01:  PAISLEY PHOTOSHOP AND GIMP BRUSHES
A set of 37 brushes made up of various paisley background elements compatible with Photoshop and GIMP. Includes tons of the "classic" paisley shapes, as well as some embellishments (like little flowers, swirls, etc) that are commonly added to paisley patterns.
[ DOWNLOAD ]
02:  PAISLEY SKETCHES PHOTOSHOP AND GIMP BRUSHES
A set of 29 high-resolution brushes featuring various sketched paisley background elements — paisley shapes, as well as little ornaments and embellishments that usually come with a paisley pattern. Use them to create your own paisley designs.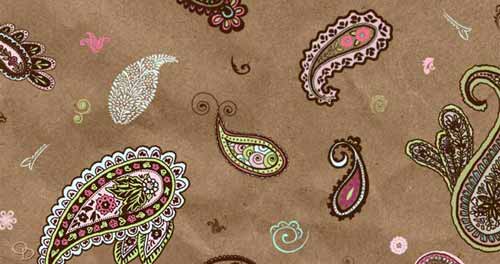 [ DOWNLOAD ]
03:  FREE PAISLEY BRUSHES
A set of 28 brushes featuring different paisley background and designs. It also includes flowers and other decorative elements that usually come with paisley designs.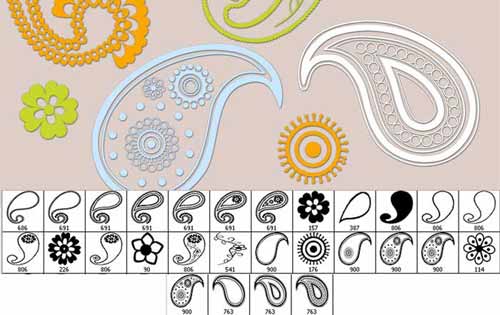 [ DOWNLOAD ]
04:  HIGH-RESOLUTION PAISLEY BRUSHES
These brushes are very detailed because they have been created using vectors. Includes various shapes and designs of paisley elements.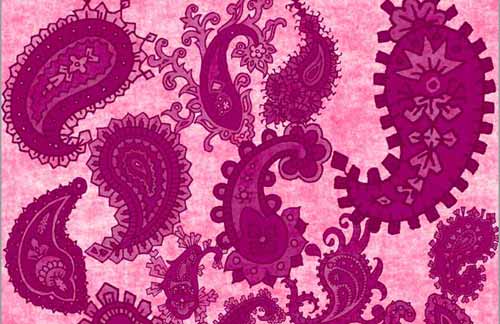 [ DOWNLOAD ]
05:  PAISLEY PARADE
There are 14 Photoshop brushes in this set created in Photoshop CS4. The preview below shows how the brushes would look like on both dark and light backgrounds.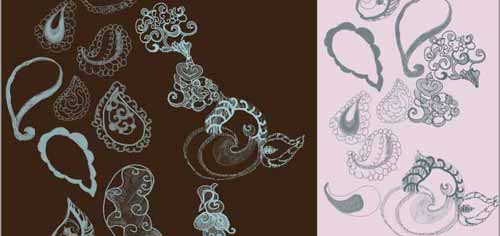 [ DOWNLOAD ]
06:  FUNKY PAISLEY BRUSHES
A set of funky paisley background brushes you can use in your designs for free. The set includes some fancy brushes and some plain ones for you to dress up however you like. The brushes are huge, resize as needed! The .PNGs are included also if you cannot use the .ABR file.
[ DOWNLOAD ]
07:  PAISLEY DOODLE BRUSHES
This set of paisley background designs was created from sketchbook doodles – they look good colored as shown in the image below.The download pack includes a Photoshop ABR brush file (created in PS7), the terms of use, plus an image pack of transparent PNGs.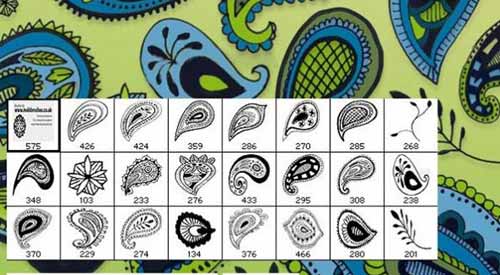 [ DOWNLOAD ]
08:  FLOWERS AND PAISLEYS PHOTOSHOP BRUSHES
A set of 5 high-resolution paisley background brushes composed of flowers and paisleys you can use even for commercial purposes.
[ DOWNLOAD ]
09:  FREE PHOTOSHOP PAISLEY BRUSHES
A free set of beautiful paisley background brushes for Photoshop, all as vector images. Some smaller pattern fill elements are included. The average brush resolution for the paisley motifs is about 1500 pixels.
[ DOWNLOAD ]
10: PAISLEY DESIGN BRUSHES FOR PHOTOSHOP
These paisley background brushes are high-resolution and compatible with Photoshop 7.0 up to Photoshop CS5 (and new versions). Use them to make new design projects whether it be digital scrapbooks , wedding invitation designs, web design, print design projects, paper towels, wallpapers, tee shirts and … possibilities are endless!
[ DOWNLOAD ]
11:  PAISLEY BRUSHES FOR PHOTOSHOP
There are 16 paisley background brushes in this set that you can use for personal, non-commercial projects only. Included in this brush pack are flourishes and flowers for "filling" the empty paisleys.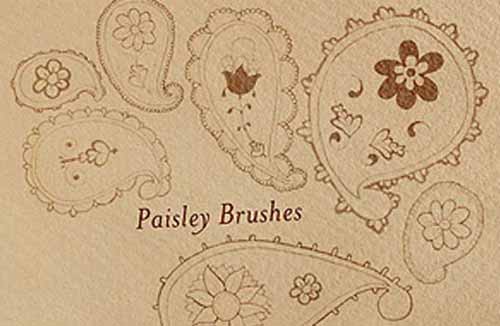 [ DOWNLOAD ]
12:  INDIAN PAISLEY BRUSHES
A set of 1O high-resolution paisley background featuring Indian paisley shapes. These brushes are ideal for both web and print designs because of their resolution and details. These images were drawn by hand and scanned at 300dpi.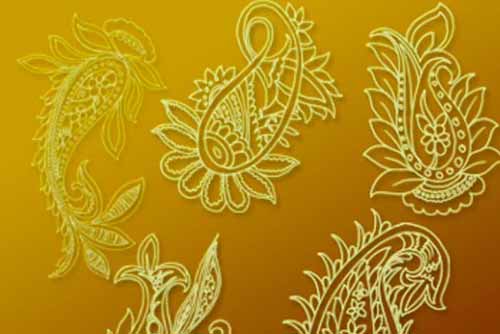 [ DOWNLOAD ]
13:  INDIAN PAISLEYS AND DECORATIVE ELEMENTS
This brush set is a collections of Indian paisleys and small decorative motifs ( 3 main paisley and 16 decorative elements). You can use the smaller decorative brushes to decorate the bigger high-resolution paisley shapes. The brushes were created in Photoshop CS3 so they should also work with any CS version of the program.
[ DOWNLOAD ]
14:  PAISLEY WITH DECORATIVE MOTIFS
There are 13 brushes in this set composed of 2 main paisley shapes and 11 decorative paisley design elements, from which u can make your own new paisley. These are high-resolution brushes created in Adobe Photoshop CS3.
[ DOWNLOAD ]
15:  HAND DRAWN PAISLEY BRUSHES
There are 6 paisley brushes in this set created in Photoshop CS2. These paisley designs were hand drawn using pencil.
[ DOWNLOAD ]
16:  MIX SIZED PAISLEY BRUSHES
There are 14 paisley design brushes in this set in various sizes and resolutions.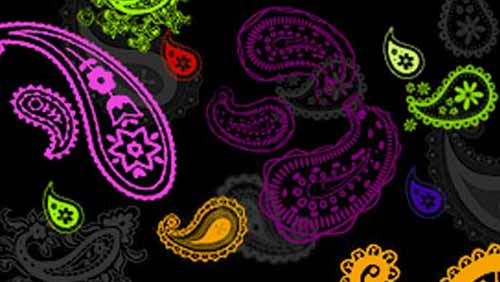 [ DOWNLOAD ]
17:  HOLLOW PAISLEY BRUSHES
There are 54 paisley brushes in this set create in Photoshop CS4. The brushes are in large, medium and small resolution. Mix and match them to create your unique paisley designs.
[ DOWNLOAD ]
18: INDIAN PAISLEYS + DECORATIONS
A collections of 22 brushes composed of main paisley background designs and 19 small decorative elements you can use to make your own unique paisley ornaments.
[ DOWNLOAD ]
19:  PAISLEY BRUSH SET
A set of 37 paisley designs you can use to make backgrounds and patterns.
[ DOWNLOAD ]
20:  RETRO PAISLEY BRUSHES FOR PHOTOSHOP
A set of 16 high-resolution paisley and flourishes plus retro design elements such as  circles, swirls, stars, etc. These brushes were created using vector images, making them suitable even for high-resolution or large-printing designs.  Created in Photoshop CS2, each brush set at around 2500 pixels.
[ DOWNLOAD ]
21: PAISLEY ORNAMENT BRUSHES
A set of 24 high-resolution Photoshop Brushes in different sizes and variations (largest around 1024px). Compatible with any version of Photoshop, all images are handmade and scanned.
[ DOWNLOAD ]
22:   PAISLEY SWIRLS BRUSHES
There are 5 brushes in this set consisting of highly-detailed decorative paisleys.
[ DOWNLOAD ]
23:  PAISLEY SCRIBBLES BRUSHES
This set consists 18 sketchy hand drawn paisley designs in various sizes.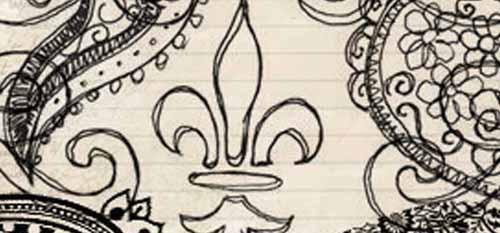 [ DOWNLOAD ]
24:  DOODLED PAISLEY SHAPES
NOTE: This is not a brush set bu a custom shapes set that you can use to create brushes in Photoshop. Or, you can use them in your designs via the shapes panel.
[ DOWNLOAD ]
25:  FREE PAISLEY PHOTOSHOP BRUSHES
A set of paisley designs. Each brush was hand drawn then scanned and turned into brushes with Photoshop CS2. There are 10 brushes, the largest is 2300px.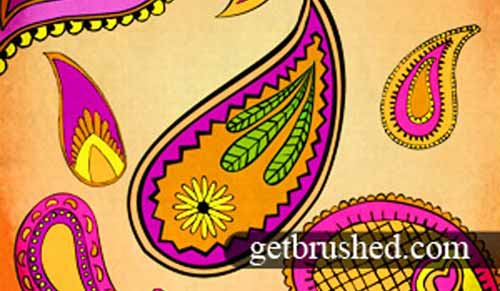 [ DOWNLOAD ]