16 Paisley Brushes, Flourishes for Photoshop
This set This set consists ultra high-resolution paisley designs and flourishes as well as retro circles, swirls, stars, etc. These paisley designs brushes were created using vector images, making them suitable even for high-resolution or large-printing designs.  There are a total of 16 retro-style paisley designs in this set. These paisley brushes have high resolution with size of each brush set at around 2500 pixels.
TERMS OF USE: Please limit the usage of these paisley designs brushes to personal or non-commercial projects. I hope you'll find these paisley brushes useful. Your comments will be greatly appreciated. But stumbling or digging this post will make us happiest…  Enjoy!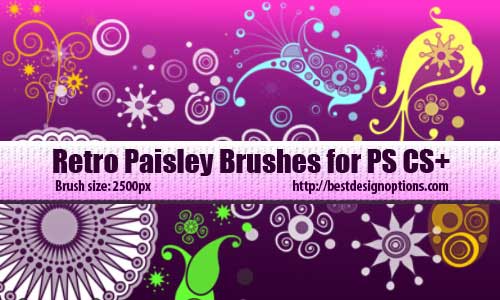 IMPORTANT!!!: Please refrain from redistributing these paisley designs brushes, (i.e., downloading this set and making it available for download somewhere else). Also, HOTLINKING to the archived file is not allowed. Please refer to this post if you want to spread the word.
Below, you will have a preview on how these paisley designs brushes would look like when installed in Photoshop: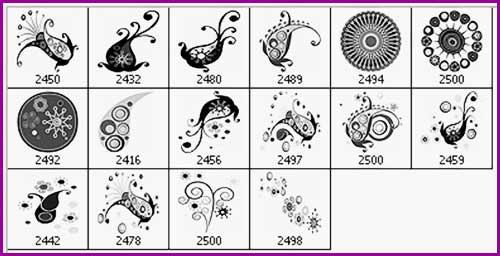 Click the button below to open the download dialogue box
DOWNLOAD RETRO BRUSHES
5 RELATED PAISLEY DESIGNS BRUSHES
In case you are looking for related brushes, we look for the 5 best paisley brushes from around the web. To download the set that you want, just each preview image.
01-Free Paisley doodle Photoshop brushes
This set features sketchbook doodles – they look good colored as shown in the image below. For personal/non profit use only. The pack includes a Photoshop ABR brush file (created in PS7), the terms of use, plus an image pack of transparent PNGs.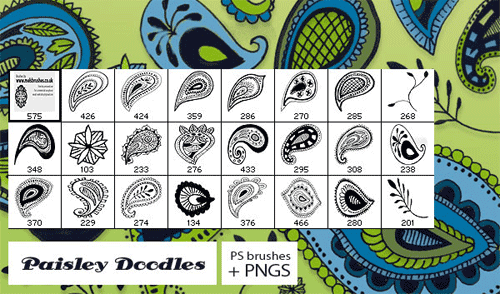 [ DOWNLOAD ]
02-Funky Paisley Brushes with Image Pack
A set of funky paisley brushes that you can use to add some fun and decorative elements in your designs.There are some fancy brushes and some plain ones for you to dress up however you like!  The brushes are huge, re-size as needed!  The download pack also includes the PNG images.
[ DOWNLOAD ]
03-Paisley Photoshop & GIMP Brushes
A set of Photoshop & GIMP brushes composed of various paisley elements. This set includes tons of the "classic" paisley shapes, as well as some embellishments (like little flowers, swirls, etc).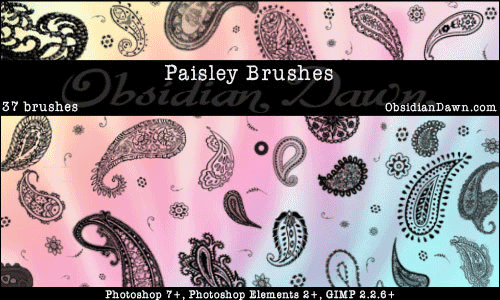 [ DOWNLOAD ]
04-Paisley Brushes Plus PNGs
Paisley is a shape which looks like half of the Yin yang symbol and a vegetable motif of Persian and Indian origin. Paisleys usually features flowers, curves or any other geometrical shapes as decorations. Traditionally, paisley were the favorite royal regalia, crowns, and court garments, as well as textiles used by the general population. This set of Photoshop brushes feature sketchbook doodles. Images in .PNG are also included.
[ DOWNLOAD ]
05-Flourish brush pack created in Photoshop cs3. Please do not use for commercial use without the authors permission.
[ DOWNLOAD ]
Related Free Design Resources