Photoshop Gradients: 600+ Shades to Download Free
In Photoshop, the gradient tool is one of the most useful especially when creating background, icons, buttons for the web and many other things. Today, let us have a simple step by step tutorial on how to maximize the use of this Photoshop tool. At the end of this post, you well find plenty of free Photoshop gradients that you can download and use for free in your designs.
The gradient tool is grouped with the Pain Bucket Tool in the Tools palette usually located on the left side of the screen. And since gradient tool is not the default tool displayed in Photoshop, you have may either use the mouse or first press G and then Shift+G to alternate between the paint bucket tool (which is the default tool displayed) and the gradient tool.
HOW TO ACCESS THE GRADIENT TOOL IN THE TOOLS PALETTE:
Once the gradient tool is selected, an option bar will appear, which then offer you with options to make a new gradient, customize an existing gradient preset or upload more gradient presets to Photoshop.
THE GRADIENT TOOL OPTION BAR:

I will not deal so much about how to customize or create a gradient. Instead, I will focus on how to install preset gradients, like for example, when you downloaded a gradient (.grd file) and would like to load it in Photoshop.
---
How to Install Photoshop Gradients?
FIRST STEP:
Put your gradients file (.grd) in the 'Presets' directory of your main Photoshop program folder, under the subdirectory 'Gradients'. For example, using the default installation path for Photoshop CS3, gradients should be saved in this directory: C:Program FilesAdobeAdobe Photoshop CS3PresetsGradients
SECOND STEP:
If the gradients you just saved do not show automatically in the gradient set menu, just go to the gradient editor by clicking on the preset picker (As shown in the illustration below). Once the editor opens, select "load…" and locate the directory/folder where you save your new gradients.
You are now ready to use your gradients. Now, if your gradient preset folder is empty, then maybe it is time you start downloading some nice gradients online. To help you get started, I provided links to some free Photoshop gradients that you can download and use in your projects . I also included a preview for each set so you'll have an idea how the gradients look like before actually downloading them. I hope you'll find something useful in this post. To download the set of gradients that you like, simply click on the text link found below each preview image and it will take you to a new page where you can download the .GRD file that you can load later in Photoshop. Enjoy!
---
600+ Photoshop Gradients to Download Free
1) Web style gradients #5 by crazykira-resources
30 very useful for a nice web 2.0 style. This work is licensed under a Creative Commons Attribution-No Derivative Works 3.0 License.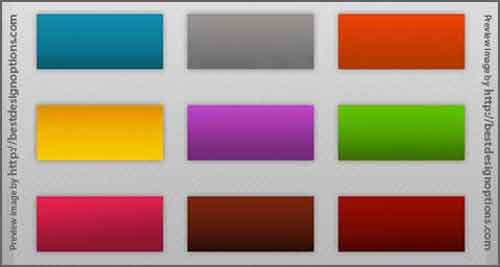 [ DOWNLOAD ]
2) Web style gradients #9 by crazykira-resources
20 gradients in lighter shades that are very useful for a nice web 2.0 style as well.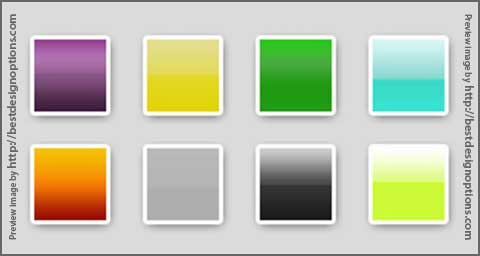 [ DOWNLOAD ]
3) Apple Mac Photoshop Gradients by mppagano
54 gradients that are similar to gradients by Apple Macintosh.
[ DOWNLOAD ]
4) 75 Photoshop Gradients by Elven Sword
75 individual gradients contained in 4 Photoshop GRD files. Files in .rar are the following: ES Autumn.grd, ES Rivendell.grd, ES PinkSplash.grd, ES SeaDreams.grd. These are free for both personal and commercial uses.
[ DOWNLOAD ]
6) Rosa Photoshop Gradients by Elven Sword
90 especially for girlie-teeny designs. The monochromatic look of these gradients are also useful when creating a clean and minimalist look in your design.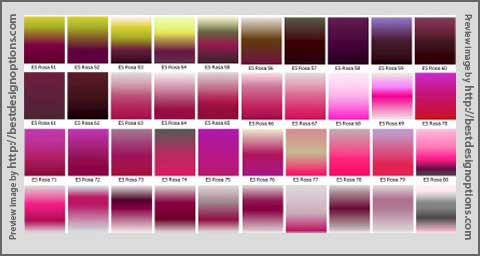 [ DOWNLOAD ]
7) Wall Photoshop Gradients by Magdalena Stock
36 gradients taken from stock photos of walls and made in Photoshop 7.0.  However, they do work in other versions of Photoshop. An image pack of 100×100 gradient images are also included in case you ant to use the gradients for making icons. If you take them, please credit magdalena-stock here or colortone at LJ.
[ DOWNLOAD ]
8.) Photoshop Gradients: Blues by 77 Words
45 blue-ish photoshop gradients. Blue because it is the new white. You can never go wrong by using blue in your designs. So here are blue gradients that you can use to create a 3D or glossy effect.
[ DOWNLOAD ]
9) Soft Blue Photoshop Gradients by Kumquats Lair
18 gradients created in Adobe Photoshop. You may use these gradients for making icons, wallpapers ore any other graphic designs. Free to use in any project, personal or commercial. However you need to credit the author.
[ DOWNLOAD ]
10) Lighten Photoshop Gradients by draconis 393
20 gradients was created in Adobe Photoshop CS2 and would probably work best when blended in "Lighten" mode in Photoshop.
[ DOWNLOAD ]
12) Underwater Photoshop Gradients by mille petit
As its name suggests, these 12 gradients are inspired by underwater colors such as corals, grass deep sea water, etc.
[ DOWNLOAD ]
13) Coffee Photoshop Gradients by Elven Sword
Strictly for Coffee lovers, this set includes 30 brown photoshop gradients for Photoshop 7 and above.
[ DOWNLOAD ]
14) Vintage Photoshop Gradients by Elven Sword
This of 75 gradients would be very useful in creating vintage, paper, fire, frame, rust, text works, autumn landscape themes, etc.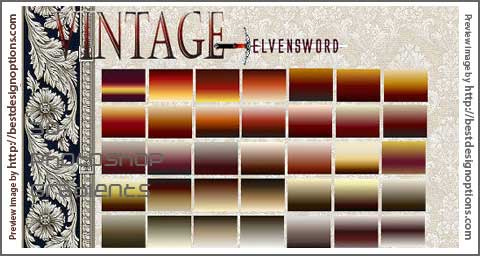 [ DOWNLOAD ]
15) In the Pink Photoshop Gradient Set by kitten bella
A set of 36 pink shades of gradients for Photoshop that includes gloss effect, metallic, sheer, transparent, and other effects. The shades range from pretty pink to bright tropical fuchsia, hot pink, ballet pink, lilac pink, barely-there pink, bubblegum, cotton candy, lipstick and barbie pink and many more.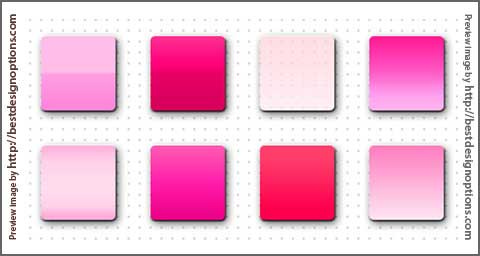 [ DOWNLOAD ]
16) Soft Green Photoshop Gradients by Kumquats Lair
There are 20 green gradients, from light to dark shades, in this set.
[ DOWNLOAD ]
17) Skywalker Photoshop Gradients by Elven Sword
These 35 gradients would make a very nice backgrounds such as clouds or sky elements in your designs.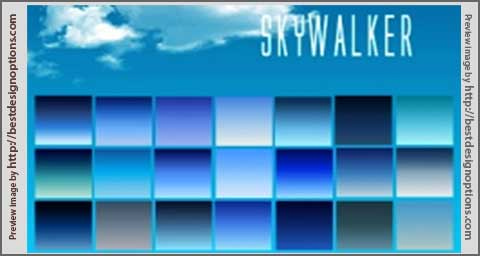 [ DOWNLOAD ]
18) Glow Photoshop Gradients by Baby Chanel
13 gradients in this set that you can use with Paint Shop Pro, Photoshop, Photoplus, and other graphics program. Simply set the gradient layer to 'Lighten' or 'Screen' to make the effect work properly.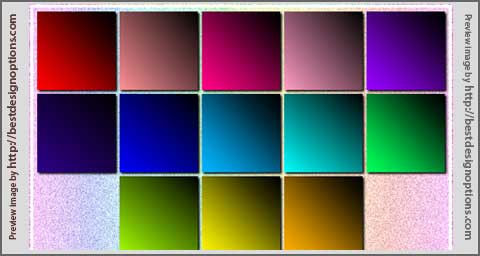 [ DOWNLOAD ]
19) 24 Random Photoshop Gradients by Graphic Dump
This set includes 24 random but very nice glossy gradients. The downloadable zipped file includes both the image pack and the gradient (grd) file.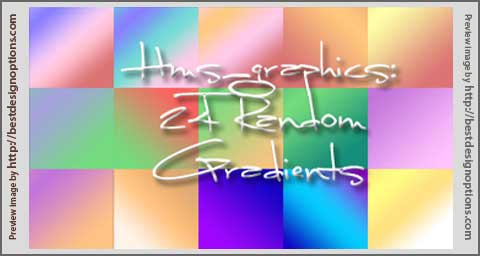 [ DOWNLOAD ]
20) Black+Color Photoshop Gradients byFreaky-x
This set includes 20 simple black and color gradients. Maybe some of you could use them in your work.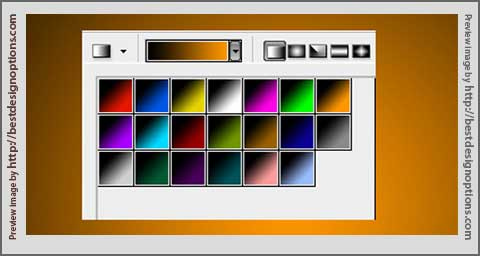 [ DOWNLOAD ]
Related Free Design Resources