Photoshop Pencil Brush Sets For Hand-Drawn Effects
Photoshop pencil brush sets are useful when you need to add some sketched or hand drawn effects in your designs. For example, you can simply use a Photoshop pencil brush to create new drawings and doodles or to shade some cartoon characters. You can also make digital drawings and paintings using this Adobe program to look like they were hand drawn using these kind of brushes. For example, you can use these Photoshop pencil brush sets to create a sketch portrait of a friend or relative and send the drawing to him or her as a gift. I am sure there are hundred of ways you can make use of these Photoshop brushes in your projects.
Below, we rounded up a total of 15 Photoshop pencil brush sets that you may download for free. Use them to create a more personalized artwork like post cards, greeting cards, thank you cards, among other things. To download the set that you want, simply click the preview image. Make sure to review the terms of use of each brush before using them, especially if you want to use them for commercial works. Most of these Photoshop pencil brushes are free for personal use only.
If you like these free resources, then checkout also our collection of free chalkboard brushes for Photoshop.
---
PHOTOSHOP PENCIL BRUSH SETS FOR FREE DOWNLOAD
Please note that these Photoshop pencil brush sets can only be downloaded from the Deviantart page where they are originally posted. Just click on the preview image of the brush set you wish to download and it will take you to a new page where you can get the brush file. Most of these brushes are free for personal and non-commercial uses. If you plan to use it for purposes other than what have been mentioned, it is best to check with the authors first as the terms of use may change from time to time. Enjoy!
01: REALISTIC PENCIL BRUSH FOR PHOTOSHOP
This set of free Photoshop brushes consists 11 realistic pencil strokes (6 original brushes plus 5 new ones). These are useful for creating artworks.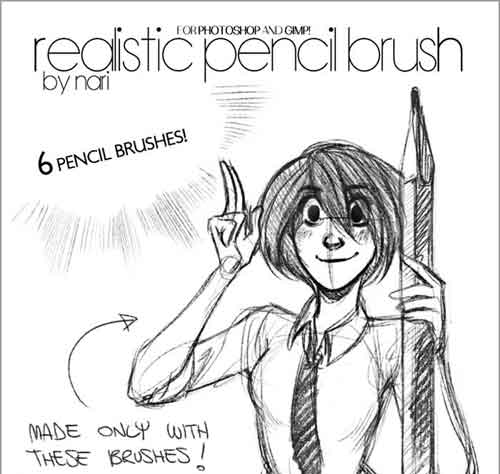 [ DOWNLOAD ]
02: REAL PENCIL BRUSHES FOR PHOTOSHOP
This set contains 6 custom pencil stroke brushes such as mechanical pencil (HB), HB pencil, B pencil, and 2B pencil, etc.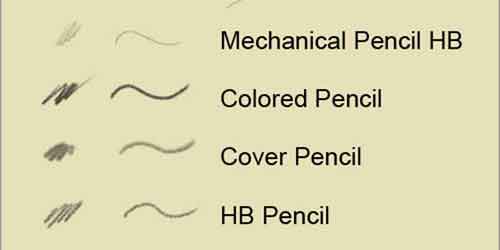 [ DOWNLOAD ]
03: PENCIL BRUSHES TOOL PRESETS
A set of many brushes for Adobe Photoshop. The preview shows what they look like although the sketch mainly used the 2b pencil. Feel free to adjust spacing and play with the settings to make "your" favorite pencil brush.
[ DOWNLOAD ]
04: PENCIL BRUSH AND TOOL
The download pack contains a tool [.tpl] and a brush [.abr]. This was created in Photoshop CS% and must be compatible with all CS versions of the program.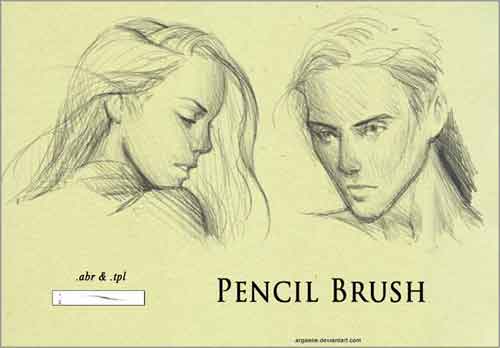 [ DOWNLOAD ]
05: BRUSHES PENCIL 2
A set of 80 pencil brushes intended to look like different kinds of pencil strokes. These brushes were created in Photoshop version 7.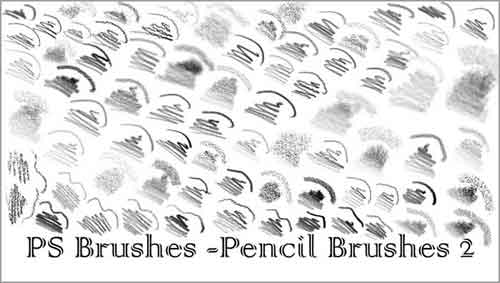 [ DOWNLOAD ]
06: DIGITAL PENCIL BRUSH SET
This pencil brush set for digital pencils was created in Photoshop CS5. It might work with PS CS6, but this is not guaranteed.
[ DOWNLOAD ]
07: PENCIL BRUSHES FOR PHOTOSHOP 7
There are 13 brushes in this set composed of brushes that are meant to look like pencil strokes.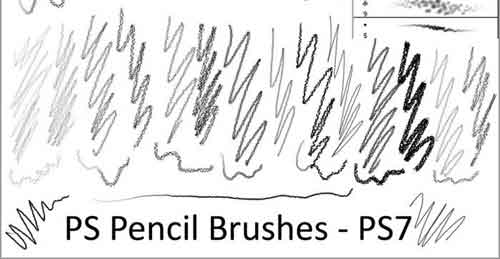 [ DOWNLOAD ]
08: PHOTOSHOP PENCIL BRUSH
The drawings in the preview image below were drawn using this pencil brush. While most brushes have a tendency to go too black too fast, this one stands through multiple traces still feeling like a pencil. Another good thing it has is that it handles brush sizes very well. You can use it thin and fat as a filler and gives good results.It is also a low resources brush. No double pen tip, just simple tip + texture. It's fast on low end machines.
[ DOWNLOAD ]
09: PENCIL PHOTOSHOP BRUSHES
There are 5 pencil strokes brushes in this set you can use for painting in Photoshop.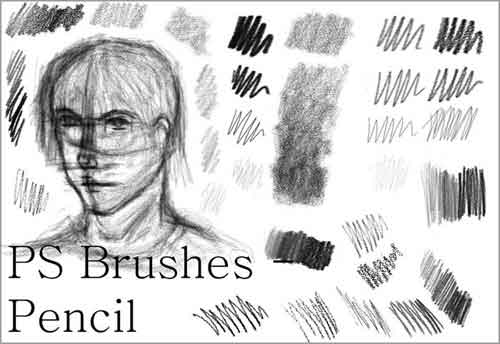 [ DOWNLOAD ]
10: PHOTOSHOP SKETCHING SET
A sketching brush set for Photoshop. Some brushes have more graininess to them than others. This should work for all versions up to CS5. Feel free to adjust settings to suit your needs.
[ DOWNLOAD ]
11: PENCIL BRUSH SET
Set of 7 sketching pencil type brushes for you to try.
[ DOWNLOAD ]
12: SKETCHY PENCIL BRUSHES
This set contains two brushes: a normal rough pencil brush and a smaller detail pencil type brush. Both brushes run really fast in cs6, and give a great sketching feeling.
[ DOWNLOAD ]
13: REALISTIC PENCIL BRUSHES
Some realistic pencil brushes for Photoshop use. These were made with Photoshop CS6.
[ DOWNLOAD ]
14: PENCIL SKETCH PACK
A set of very basic brushes that emulate the look of a graphite pencil. It contains a small collection of sketching brushes and 2 eraser brushes.
[ DOWNLOAD ]
15: SKETCH AND INK PHOTOSHOP BRUSHES
A small set of simple brushes for sketching in Photoshop. These brushes imitate pencils and ink pens.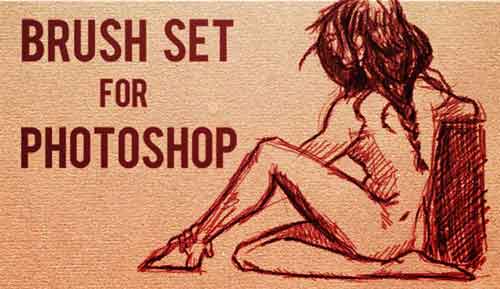 [ DOWNLOAD ]
16: PS BRUSHES: SKETCHY PENCIL ALPHA
A set of Photoshop brushes plus JPEG image sheet you can use for sketching in Photoshop.
[ DOWNLOAD ]
17: CARBON PENCIL BRUSHES 2013
Here is a set of drawing brushes featuring real carbon pencil shapes and textures on paper.
[ DOWNLOAD ]
18: 3 PENCIL BRUSHES FOR PHOTOSHOP
The set contains three different brushes: (1)The first one is a 2B pencil. This is the Goldilocks pencil for traditional sketching as it is neither too hard, nor too soft. You can achieve a large range of values with it depending on how hard you push against the surface.(2) The second brush is a 4B pencil. Use this for a light touch. The only downside in traditional medium is that you have to sharpen it every 3 minutes, but in Photoshop you won't have to worry about that. (3) The third one is a mechanical pencil.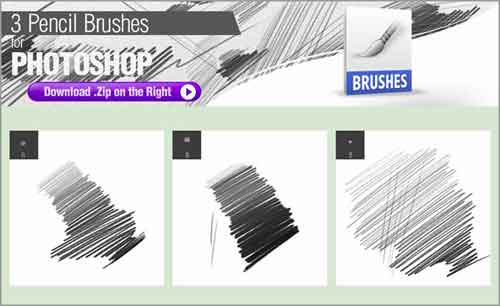 [ DOWNLOAD ]
19: COLORED PENCIL BRUSHES FOR PHOTOSHOP 7
This pack includes 20 Photoshop brushes. These are meant to look like colored pencil. Created in Photoshop 7.
[ DOWNLOAD ]
20: COLORED PENCIL BRUSHES FOR CS5
This pack contains 10 brushes  compatible with Photoshop CS5.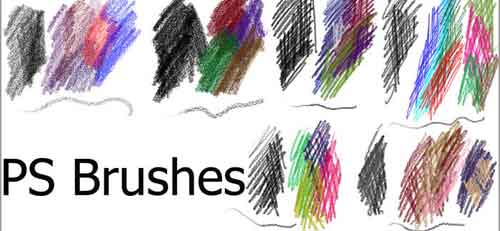 [ DOWNLOAD ]
21: PENCIL SHAPES BRUSH SET
There are 9 brushes from sketches using colored pencils.
[ DOWNLOAD ]
22: SKETCHTASTIC BRUSH PACK
This pack of free brushes include crosshatch pencil, stipple brush, among other things. For best results, use these brushes with a tablet. Please note these are actual brush presets you'll need to draw stuff with, and not gigantic 1000px stamp things of stuff.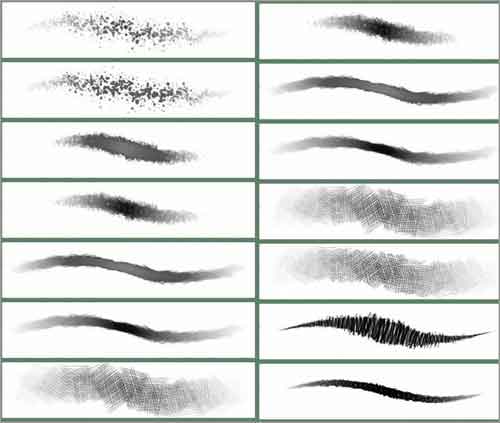 [ DOWNLOAD ]
23: COLORED PENCIL BRUSH SET
Several Colored Pencil brushes to give your designs an organic textured feel.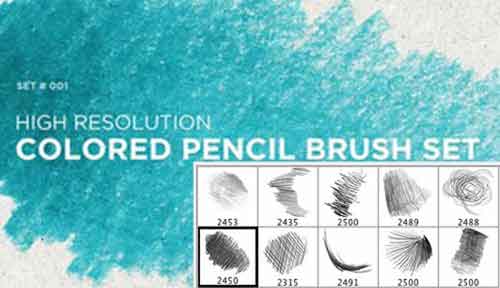 [ DOWNLOAD ]
24: COLORED PENCILS PHOTOSHOP BRUSHES
A limited demo brush set composed of 5 brushes. They are high-resolution as indicated in the preview below.
[ DOWNLOAD ]
25: CROSSHATCH BRUSHES
Here is a set of cross hatch brushes. These are great for adding a natural look to paintings.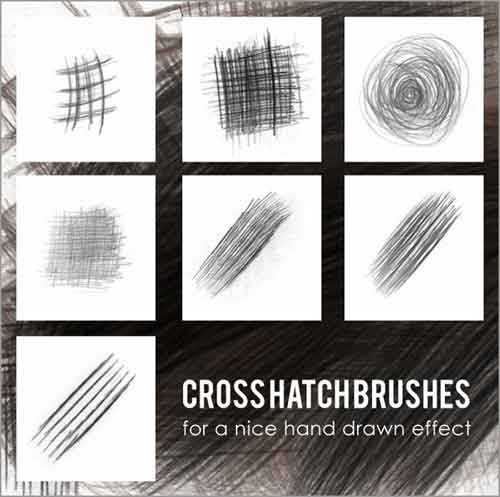 [ DOWNLOAD ]
26: PENCIL BRUSHES FOR PHOTOSHOP
A set of 15 pencil brushes for making sketches in Photoshop. Each brush has size of between 1665 and 2408 pixels. It also includes the image pack in case you are using a different program or version of the Photoshop.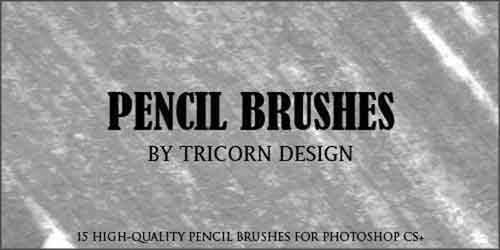 [ DOWNLOAD ]
27: 15+ PENCIL BRUSHES
A set of pencil brushes you can use for adding hand drawn effect in your drawings and images in Photoshop.
[ DOWNLOAD ]
28: PENCIL FRAMES BRUSHES
This set contains 12 pencil brushes featuring frames and borders. These brushes are compatible Photoshop CS3. It also includes a PSD file for those with other versions/apps.
[ DOWNLOAD ]
29: PHOTOSHOP PENCIL BRUSH
Here is a tasty and stylish pencil brush for all your Photoshop sketching needs! This brush for PS is handy for doing more visually interesting sketches that can add a nice layer of texture for you to paint on top of, as well as just making nicer looking digital drawings.
[ DOWNLOAD ]
30: THE SKETCH ARSENAL
Here is a set of tool presets consisting of 2 types of color brushes and 2 types of color pencils. There are also 3 drawing pencils with different lead types, a fine-line work pen, a dry marker, among others.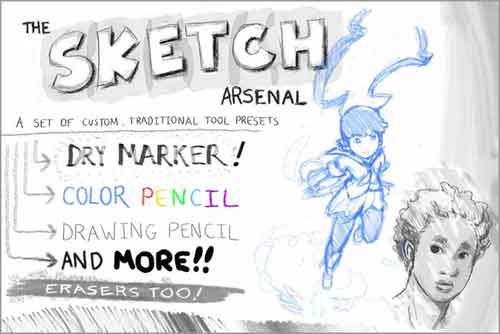 [ DOWNLOAD ]
Related Free Design Resources