26 Free Pink Flower Background Patterns and Digital Papers
Nothing looks sweeter than pink flowers. They evoke feeling of gentleness, happiness, and love. Thus, they are the color of choice and adornments for romantic events like wedding, engagement, and Valentine's Day. This is true especially the use of soft pink hues. So today, I am releasing a set of pretty pink flower background patterns that you may use in your projects.
These pink flower background designs come as Photoshop patterns (PAT) and as  printable JPEG format and in high-resolution sizes. You may use these pink flower background patterns for websites headers and banners. They also look great as background for greeting cards, and social media profile pages. With Valentine's Day coming next time, pink flowers are also suitable for cards, gift tags, stickers, and journal pages for this occasion. Another great use for these digital papers is to use them as borders to frame your photographs or as gift wrapper for small items or gifts. Or better yet, use them as background for wedding invitation cards and save the date cards.
These pink flower background patterns look very romantic and luxurious. The details are also very pretty. Just use your creativity to discover a thousand more ways to do with these pretty patterns.
ABOUT THESE PINK FLOWER BACKGROUND PATTERNS
There are 26 different pattern designs in this set sporting soft pink colors. However, due to disk space limitation, I only included 10 of the 26 designs as high-quality digital papers. Each paper measures 12×12 inches at 300 DPI resolution. They are available as ready-to-print JPEG files. You may print these on an A4 or letter paper or a 12 inches ×12 inches paper. The preview below feature some of the pink flower background patterns included in this set. The Photoshop (PAT) pattern file is also available, in case you need to be more flexible in using these patterns in your designs. And most importantly, if you wish to see all the 26 designs.
Below is the preview of some f the patterns in this set. I also included an individual preview of some of the designs at the end of this post. Please note that not all of the 26 designs are included in the preview below. The download buttons are located after the preview image. Just select the file type that you prefer. Enjoy!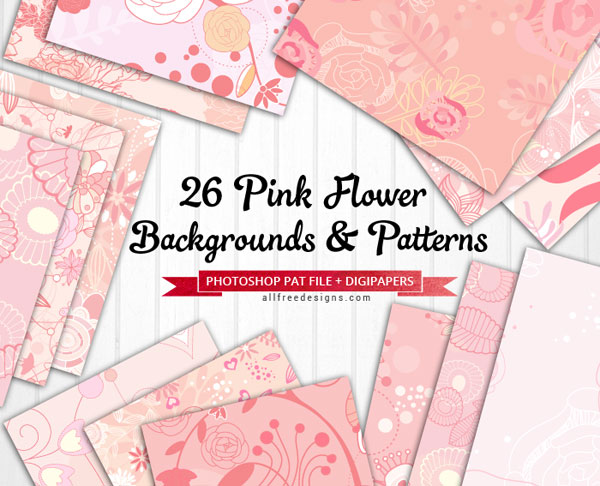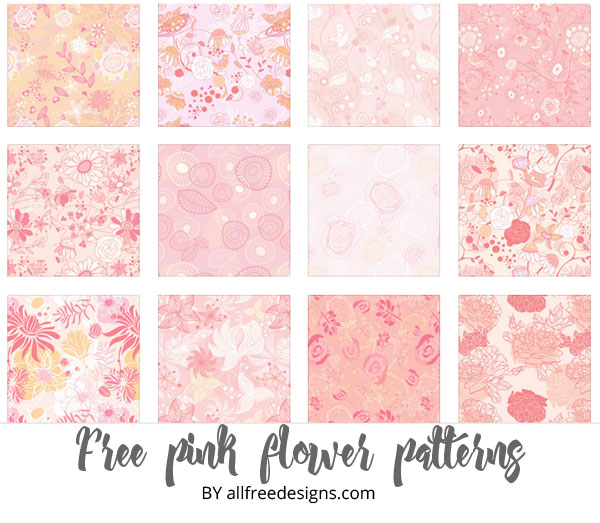 TERMS OF USE:
You may use these pink flower background patterns and digital papers for personal projects only. Also, I  appreciate a link back if you use them. Most importantly, please refrain from making them available for download outside of this site. If you want other people to know about our freebies, please refer them to this post.
IMPORTANT!
The download file is password-protected to prevent hotlinking and discourage people from violating terms of use of our resources. When prompted for a password, just key in "afd".
---
Below are individual previews of our pink floral background designs.