Poster Mockup Templates for Showcasing Designs
Poster mockup templates are proven to be the best way to visualize how your designs will look like in real world backgrounds. Thanks to poster mockup designs, designers and their clients, most especially, are now able to visualize how a particular poster would look like when hanged or framed on walls. With poster mockup designs, you can try different layouts and choose what looks best before printing your final output.
So, if you are looking for a creative way to present your poster designs, we have rounded up a total of 35 free editable Photoshop PSD poster mockup templates. All of these mockups include Photoshop smart layers for easy editing and integration of your own designs. So what are you waiting for?  Go ahead and grab them all!
If you need more mockups for showcasing your designs, you may also checkout our roundups of PSD mockup templates for print designs and PSD billboard mockups.
I. Hanging Poster Mockup Templates
The first 12 entries are poster mockup designs for hanged posters, complete with clips and hanging rails. These are ideal for displaying big posters such as those A0- or A3-sized posters.
01: TRIPLE HANGING POSTER FRAMES MOCKUP
Use this free PSD poster mockup template to present your pictures in a unique and in minimalist style. Use the smart layers to place your design and change the pictures. The PSD poster mockup includes the layered PSD file with smart objects. It is also high-resolution at 4896×3264 pixels.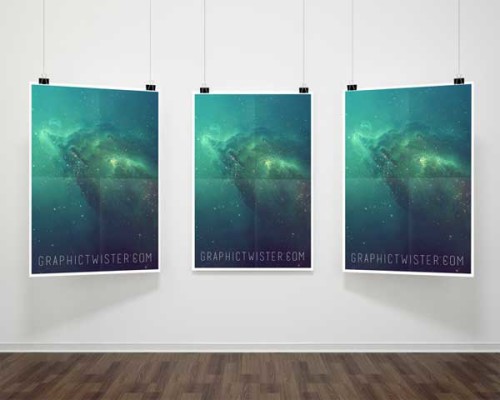 02: FREE POSTER PSD MOCKUP
A free poster mockup in PSD file format by Zoki Design, this template is ideal for showcasing your poster designs. Size of the poster is 486×668 mm.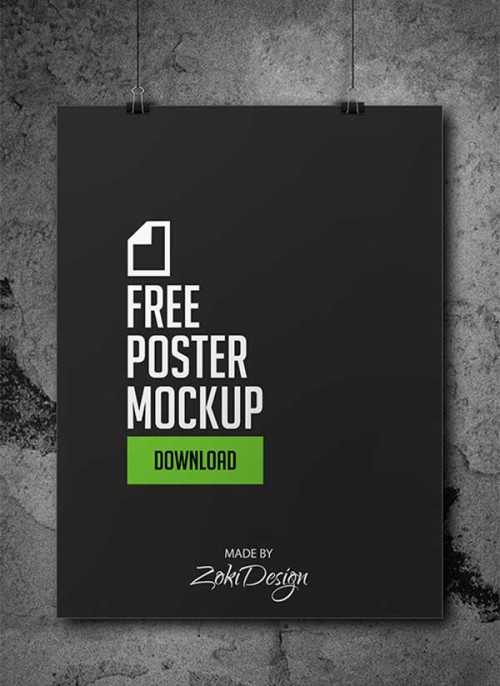 03: FREE HANGING POSTER MOCKUP
A clean and easy-to-use poster mockup template for displaying your flyer, poster, or any artwork designs. If you do not know how to use this file, do not fret because a help file is included in the download pack.
04: FREE SIMPLE POSTER MOCKUP
Another poster mockup with clean white background for showcasing your poster design. Having white and clean background lets your audience focus on the poster design. This file is editable in Adobe Photoshop and in high-resolution format.
05: FREE POSTER MOCKUP PSD
Here is another mockup template for making close-ups and previews of your work. With this mockup, you can show a realistic impression of the final result of your poster. The file that you may download is a fully layered editable PSD file with poster design included!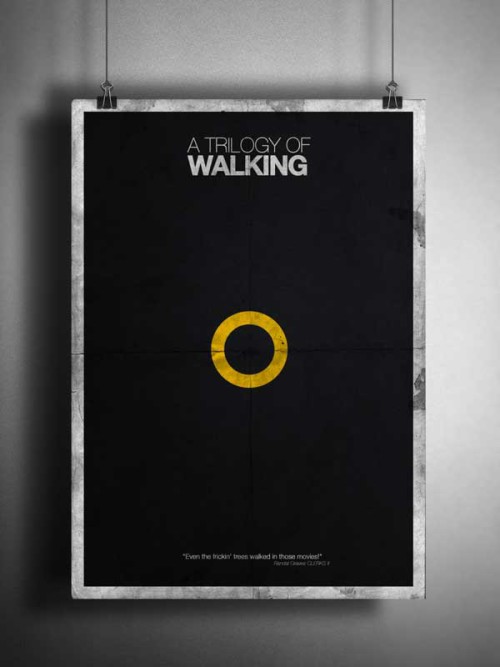 06: FREE POSTER DESIGN MOCKUP
A mockup created in Photoshop by Tim Easley. With these mockups, you have many options in showcasing your designs. These are completely free for personal or commercial use.
07: FREE A3 AND A4 POSTER MOCKUP
A free mockup for A4 flyers or posters. The templates feature mockups with clips, without clips, with paper folds, with light glare, or blurred background. Choose what suits your presentation objectives.
08: LARGE POSTER PSD MOCKUP
use this poster mockup to showcase your large-format posters, pictures, and artworks in a realistic style. To use this template, simply drop your artwork via the smart object layer and you are ready for presentation.
09: A0 POSTER PSD MOCKUP
This mockup is intended for showcasing your your poster or artwork design in A0 size (841 x 1189 mm or  33.11x 46.81 inches). This A0-sized PSD mockup includes a fully editable PSD layers with smart objects for easy integration of your design.
10: REALISTIC MOCKUPS FOR POSTER DESIGNS
A realistic poster mockup for showing off your poster designs in hot pink background. Well, the design poster should be in colors other than hot pink.
11: PSD POSTER MOCKUP PRESENTATION
Here is an elegant poster mockup for showcasing your posters, pictures and artworks in a realistic way. Simply click on the smart layers to place your design and change the pictures.
12: POSTER MOCKUP PRESENTATION
A three-dimensional slanted side-view poster mockup for presenting your poster designs. Includes smart objects for easy integration of your designs.
II. Framed Poster Mockup Templates
The last 23 entries are poster mockup templates for framed posters. Both modern and vintage styles are included.
13: TRIPLE POSTER FRAME MOCKUP
A clean poster template in editable PSD for displaying your photographs or designs in frames. Use the smart layers to place your artwork or to change the pictures.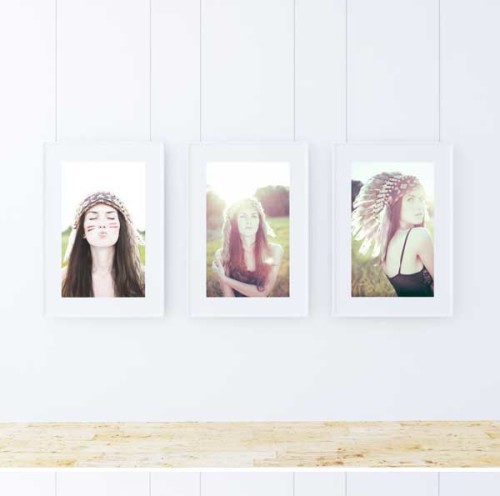 14: ARTWORK FRAME PSD MOCKUP
A realistic mockup for displaying your artwork in frames. This editable PSD template is best for displaying your poster designs and other projects. Includes a smart object for easy replacing of the design with your own.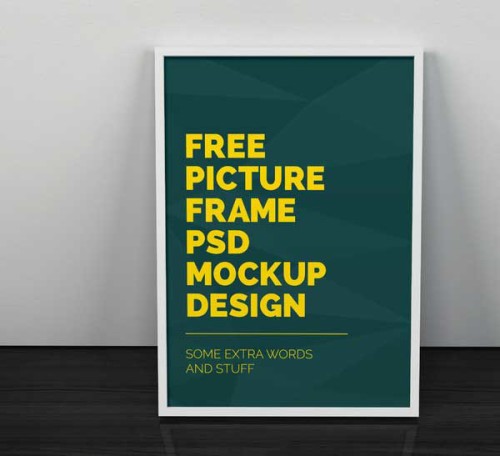 15: ARTWORK FRAME PSD MOCKUP VOL. 2
A high-resolution PSD mockup for showcasing your poster, flyer or other designs. Also included is a smart object layer for integrating your artwork.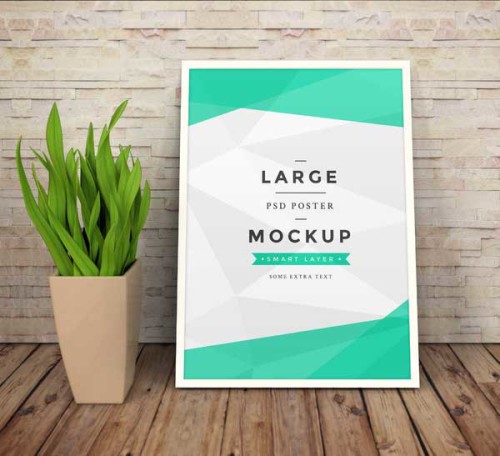 16: SINGLE POSTER FRAME MOCKUP
Another framed mockup, this time with a slanted/side view. The free Photoshop PSD file is fully layered and includes smart objects for an easy drag and drop action.
17: DOUBLE LEFT POSTER FRAME MOCKUP
Also a slanted/side-view framed mockup but this time, with two frames. In case you need to present two poster designs side by side, then this mockup is for you.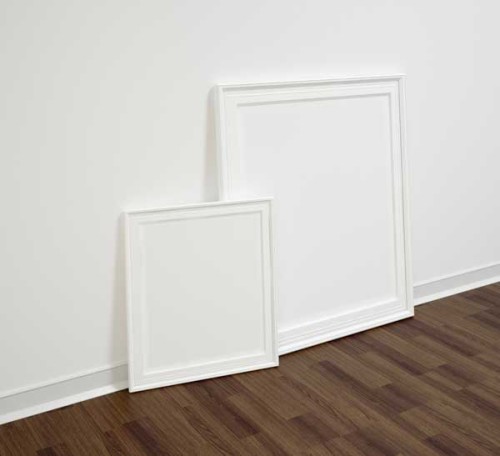 18: POSTER DISPLAY MOCKUP VOL. 7
Here is a stylish way to present your poster or flyer designs. Simply use the smart layers in this poster mockup to place your designs in the template. The dark frames and wooden floor add contrast to the enter scene.
19: STYLISH POSTER PSD MOCKUP
Another stylish framed poster mockup you can use for free. As with the other templates, this one also includes a smart object for easy placement of your artworks.
20: FREE PSD POSTER FRAME MOCKUP
Here is another framed poster mockup done in Photoshop. The layers are fully editable and includes frames in two different thickness options.
21: PSD MOCKUPS FOR POSTERS
Here is another free Photoshop PSD to mock up your poster in. It has some settings that can be customized easily. For example, you can easily change the background color to any color you like, and a border to make your art all fancy and such.
22: FREE GRAVITY PHOTO FRAME PSD MOCKUP
An editable PSD poster mockup of a bunch of Photo Frames falling from the sky into a minimalist studio. You can edit the images through smart objects in Photoshop easily and quickly to make mockups of your own personal projects.
23: FREE A3-SIZED MOCKUP FOR POSTERS
A photo-based, editable, premium framed mockup. The template includes two separate smart objects for quick and simple content exchange. It also features special effects on separate layers, such as reflections, paper texture, light and shadows.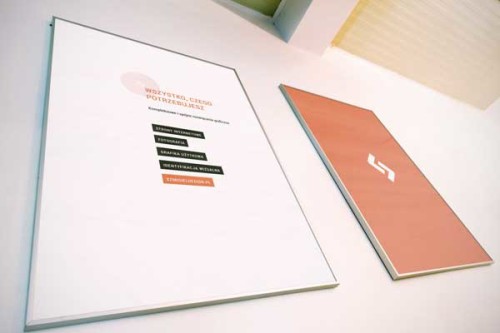 24:  FREE PHOTO FRAME PHOTOSHOP MOCKUP
Another photo frame poster mockup that can be used to showcase work of professional photographers, illustrators and digital artist.
25: FREE FRAMED MOCKUPS FOR POSTERS
A high-quality but free PSD poster mockup to showcase your designs or photographs in frames. These are high-quality template at 4000 x 2400 pixels (300 DPI).
26: FLYER/POSTER FRAME MOCKUPS
A set of mockup designs for displaying flyers or posters in frames. Included are two options:  horizontal and vertically oriented layouts.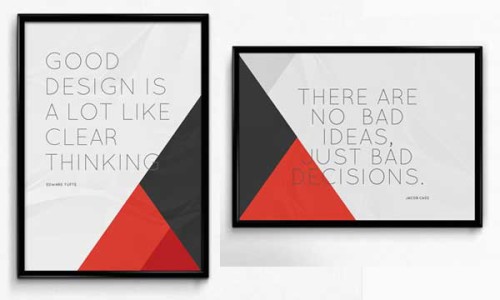 27: TWO SIMPLE PSD MOCKUPS FOR PHOTOS
This poster mockup is available in two background options: a wooden background and a concrete wall background.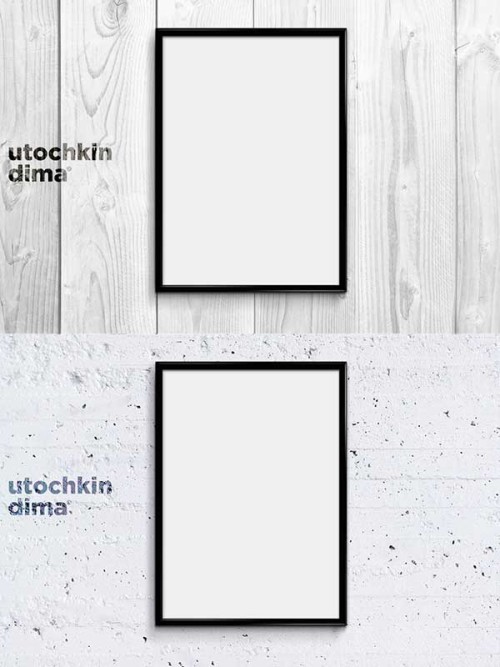 28: POSTER FRAME MOCKUPS IN PSD AND VECTOR
A great mockup collection of PSD poster frames illustrated and designed with Photoshop, Illustrator, and 3D Studio Max. The free PSD file includes picture frames in different styles, shapes, border patterns, and textures. These are perfect for showcasing your poster or photo in a stylish and nice way. This package is probably the biggest free package around the web, containing over 10 poster PSD frame mockups and templates.
29: PHOTO FRAME PSD MOCKUP TEMPLATES
A set of 4 real photo frames. The free PSD templates include smart objects for easy placement of your own design. The preview image below only shows two of the frame designs included in this set.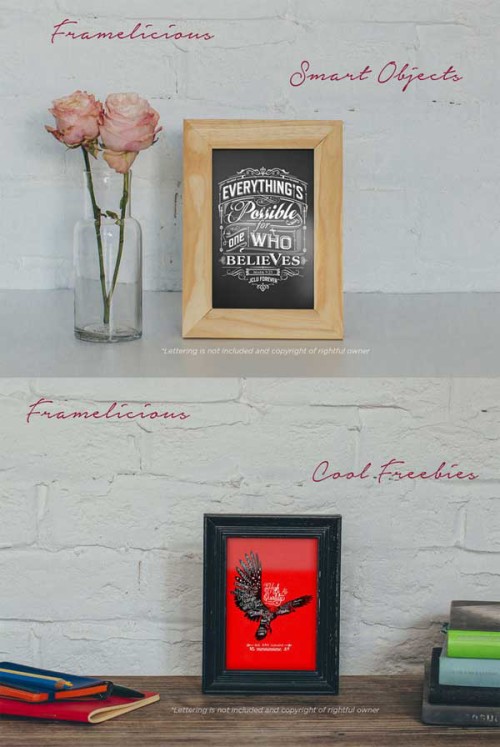 30: FREE FRAME MOCKUP TEMPLATE
Here is a clean and easy-to-use frame mockup to present your work like flyers, posters, stationery etc.
31: FREE FLYER PRESENTATION MOCKUP
A logo and a flyer/poster mockup templates in Adobe Photoshop PSD format from Cruzine Design. The preview below only shows the poster mockup.
32: MOCKUP FOR FLYER AND POSTER 01
With these incredible PSD poster mockups, you can edit, show, and display your work in a professional manner within a matter of seconds.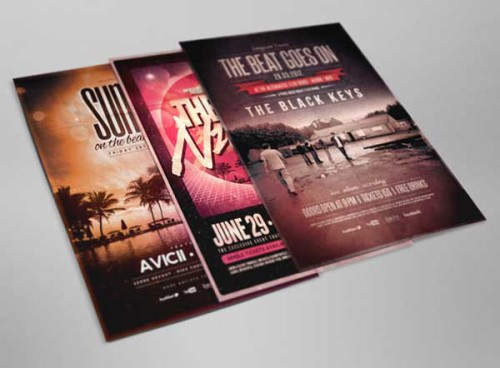 33: MOCKUP TEMPLATE IN PSD FOR POSTERS
The template is a layered PSD file which allows you to quickly and easily set up your presentation. The file allows you to create a poster with or without a frame. All elements are editable, which means, you can change the colors or the shadows to suit your own style. Just drop the image of your poster into the marked layer, resize it and you are done. Photoshop's clipping masks will take care of the rest for you.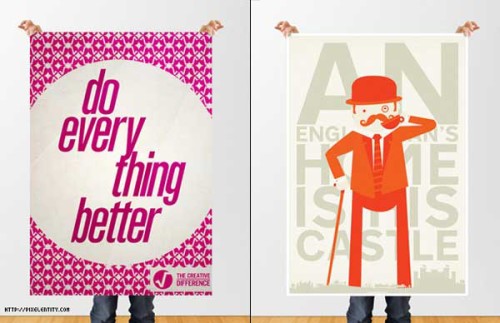 34: FLYER PSD MOCKUP
Another editable free mockup template with smart objects for showcasing your poster or flyer designs.
35: POSTER DISPLAY MOCKUP VOL. 5
And yet another mockup for displaying your poster designs in PSD that you can download and use for free. This template also includes smart objects for easy integration of your own design.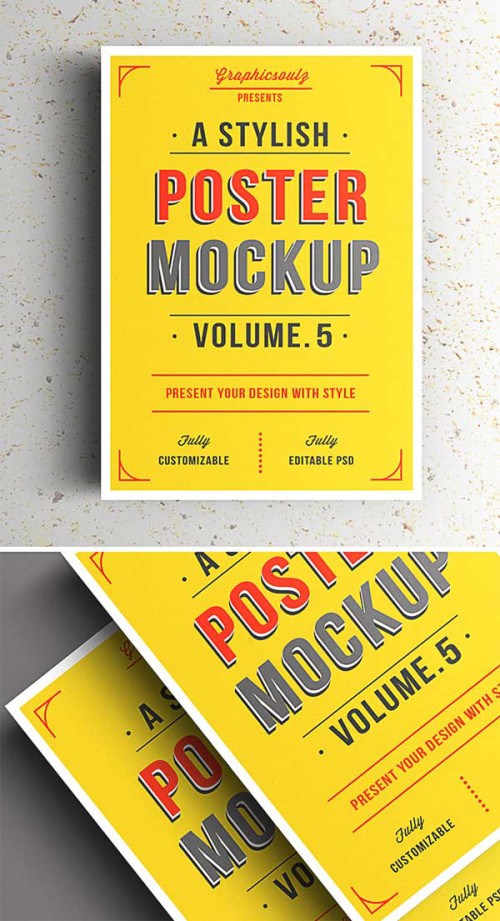 Related Free Design Resources