30 Free Vector Summer Holiday Poster Templates
Summer is just around the corner. I am sure most of you have started working on your projects for this season. Summertime is the most fun part of the year. It is usually associated with travel and leisure, beach parties and sports events. If you are looking for poster template designs you can use for making Summer-related creative projects, then you have come to the right spot.
Here, we put together 30 summer-themed vector poster templates. Most of these vector files are free to download and use for both personal and commercial purposes. The templates include backgrounds ranging from retro to modern as well as typographic designs. These vector files are very easy to use. Sometimes, all you need to do is drop your text to customize them. For some, you just have to replace the texts included in the template.
FREE SUMMER-THEMED POSTER TEMPLATE DESIGNS
To download the vector file that you want, simply click on link below the preview image. Enjoy these high-quality vector freebies and don't forget to come back because we will be updating this page with more vector poster template resources that you can get for free. Have fun!
01: SPARKLING SUMMER
A nice poster template with a summer theme featuring lush grasses and bokeh background in yellow. This is perfect for poster or flyer designs.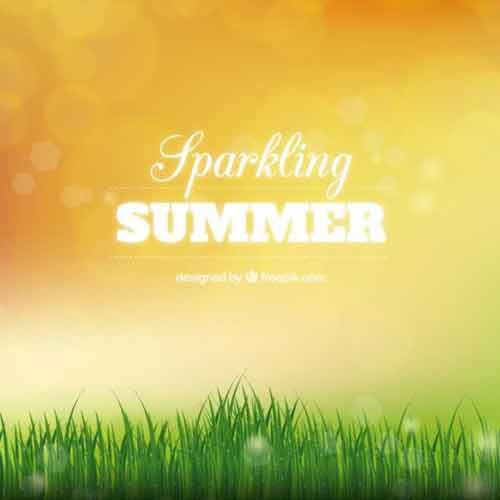 02: SUMMERTIME ILLUSTRATION
An awesome Summertime typographic illustration that you can use for free. This vector template is great for designing posters for your Summer events.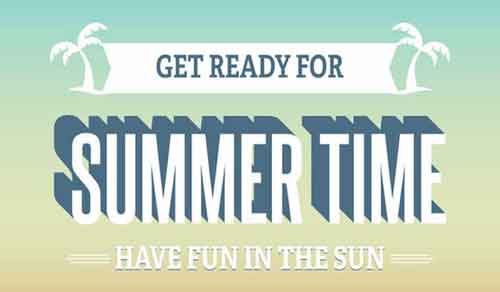 03: BEACH SUMMER HOLIDAY
A poster template for summer holidays showing a life float, sandals, and sea stars on sand near the shoreline of a beach. Use this template for summer vacation promo flyers or any other design related to travel and beach. A high-quality JPG file is also included.
04: VINTAGE SUMMER VACATION POSTER
Here is a vintage-style poster for summer featuring cocktail drinks, beach chair, and palm trees.
05:  SUMMER HOLIDAY POSTER TEMPLATE
Another fun poster template in vector file featuring flip-flops half-buried in the sand, star fish and a blurry sea background in light blue.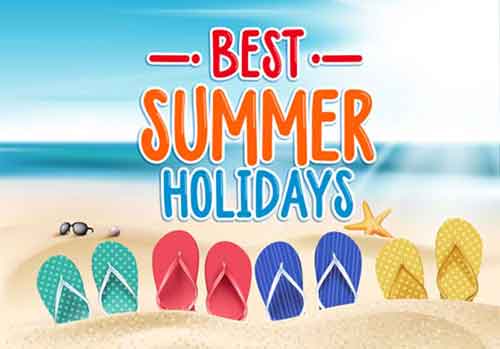 06: SUMMER POSTER TEMPLATE
This vector file includes cocktail drinks and sliced fruits with blurry background.
07: SUMMER PROMO/ADVERTISING TEMPLATE
A fun summer travel-themed vector template you can use to create ads or promo materials for a travel agency or as poster for summer parties and events. The template includes palm trees and silhouettes happy active people.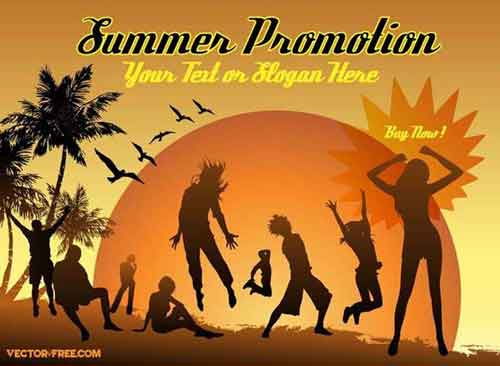 08: WAITING FOR THE WAVES POSTER
A vector template for posters and flyers with a summer vacation theme. The design includes colorful surf boards and palm trees.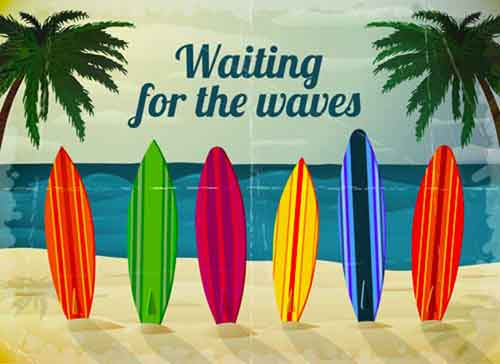 09: SAY HELLO TO SUMMER POSTER
Another Summer-themed poster you can use to create fun posters and invitation cards for your events this summer.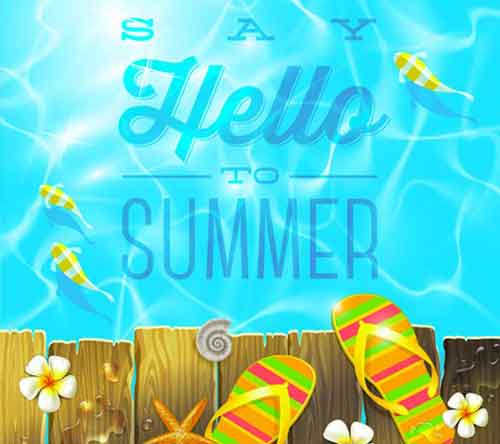 10: RETRO TROPICAL SUNSET BEACH POSTER
A vector template featuring sunset and silhouette of palm trees and flying birds. This template is perfect to use in promoting tropical beach destinations.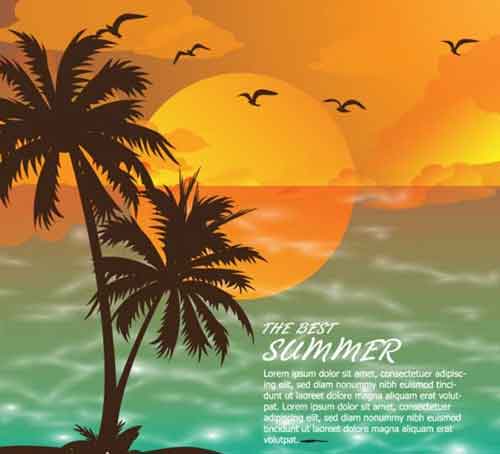 11: BEACH PARADISE VACATION POSTER
This vector poster template shows a beach scene with a sailboat, clouds, and an island with palm trees.
12: VECTOR BEACH TRAVEL BACKGROUND
An exquisite beach travel promo background showing a wine glass with a beautiful sunset background. It's a perfect background to use for promo materials related to tourism, vacations and beach. High quality JPG is also included.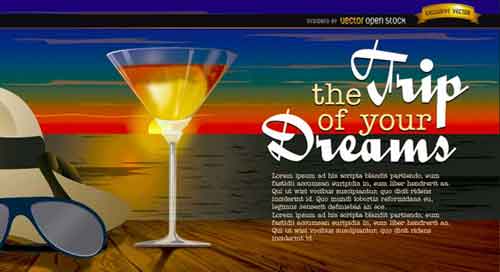 13: TROPICAL SUMMER VECTOR BACKGROUND
These awesome summer vectors are part of the packs that can be found in Summer Bundle, from Vectorpack.net
14: BEACH RESORT VECTOR BACKGROUND
Another summer beach-themed vector template featuring sunny blue skies, a dolphin, beach chairs, and umbrellas. Just add your text to customize this template.
15: SUMMER BEACH VECTOR ART
Another fun template for poster or flyer featuring a serene beach setting with summer sun, surf board and flying bird.
16: PINK VECTOR SUMMER TEMPLATE
A summer-themed party poster template in pink.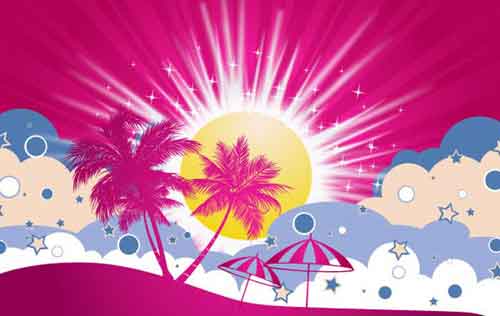 17: VECTOR SUMMER POSTER TEMPLATE
For your summer events and parties, here is a fun vector poster template you can use for free. Simply edit the text to customize this template. You also have the option to retain the entire look by using the fonts used in the design. Links to where you can download the fonts for free are included.
18: BLUE SUMMER HOLIDAY POSTER TEMPLATE
A free vector template you can use in designing summer-themed posters.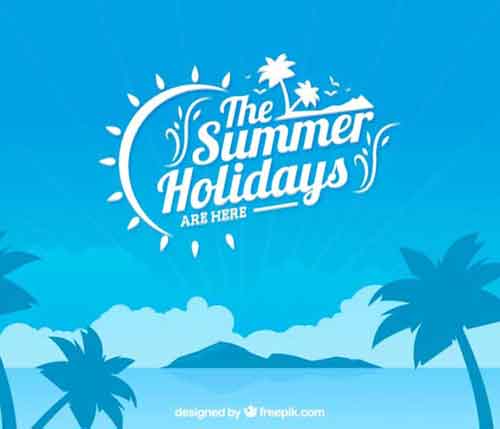 19: SUMMER PARTY POSTER TEMPLATE
Another free vector file for creating Summer party posters. It features nice editable typography and tropical palm tree background.
20: RETRO HOLIDAY VECTOR BACKGROUND
Here are two vector templates you can use to create Hawaiian-themed Tiki parties.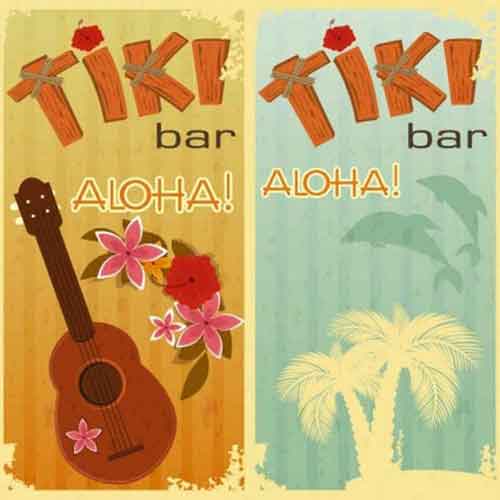 21: SUMMER BEACH DUSK POSTER
22: SUMMER HOLIDAY POSTER TEMPLATE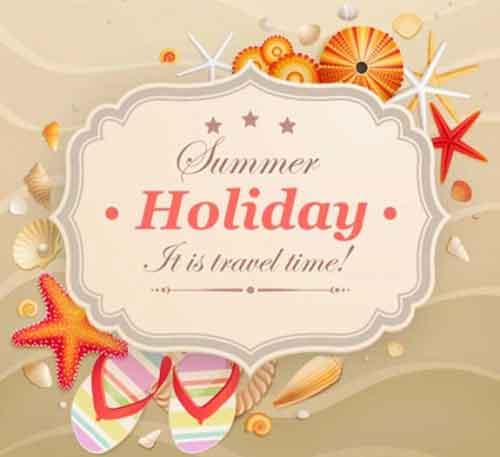 23: TYPOGRAPHIC SUMMER POSTER
24: ABSTRACT SUMMER BACKGROUND
Here is a modern abstract (low-poly) background design you can use in designing posters. It comes in bright orange colors.
25: RETRO SEASCAPE TROPICAL SUMMER POSTER
Another retro-style poster template featuring a tropical beach scene with big waves, palm trees and cocktail drinks.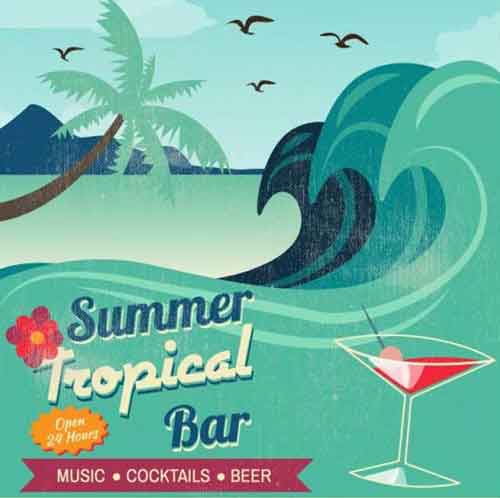 26: SUMMER HOLIDAY POSTER TEMPLATE
Another sleek typographic poster template for summer events and parties.
27: TROPICAL BEACH SUMMER POSTER
28: WATERCOLOR SUMMER POSTER TEMPLATE
29: SUMMER HOLIDAY TEMPLATE
30: HAVE A GREAT SUMMER POSTER
If you like these templates, then checkout also our printable summer post cards and tags. You know what? You can make your own journaling and greeting cards using templates above. Our printables might give some ideas on how to make these vector templates useful.