16 Free Printable Journal Cards Featuring Gold Damask Background
As a way to inspire you on how to use our free design resources, we decided to come up with a new series of freebies. Every week, we will try to come up with printable freebies using the free patterns, backgrounds, PNG design elements, Photoshop brushes, and vectors, that can be found in our website. As first in this series, we are giving away a set of free printable journal cards for your scrapbook and other craft projects composed of note cards, tags, and sticker ribbons and labels.
These printable journal cards are great for Project Life journals but would also be useful for other journaling and scrapbooking projects. Project Life, made popular by Becky Higgins, simplifies how you document life and preserve memories. It uses a scrapbooking system that allows you to pair your pictures and journaling with pre-designed title cards and journaling cards. Simply slip your photos, the pre-designed cards, and other memorabilia into the Photo Pocket Pages and voila! a stylish unique masterpiece to document your life. For example, you can create a photo journal of a wedding, birthday celebration and other occasion using this system.
ABOUT OUR FREE PRINTABLE JOURNAL CARDS
There are 16 printable journal cards in this set includes The 3×4 cards may be used as title cards, a note card, or to decorate your journal page. The size of the cards will fit perfectly into your Project Life filler pockets. There is a blank label on the face of the card where you can put your customized or personalized texts. You can use them as the first or the title card in your album or to introduce the next journal entries. All the journal cards have gold damask designs in black solid background. These printable journal cards look very elegant and luxurious and are therefore suited for formal occasions and events such as wedding anniversaries, black-tie corporate events, etc. Below is the download link for these printable journal cards.
DOWNLOAD
password: bdo
---
FREE PRINTABLE GIFT TAGS
We also created a set of printable tags to complement the printable journal cards. These tags also have the gold-black damask patterns and a blank space where you can put your message or notes. You can use this as tags for your journals or as label for home-made products such as for handicraft, mason jars, clothes, etc. You may also use them as gift tags or a book marker or even as tags for your party flavors and giveaways. The tag measures approximately 3 by 2 inches.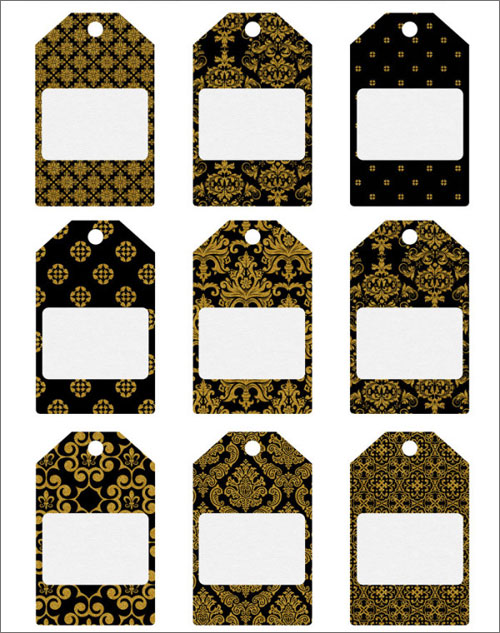 DOWNLOAD
password: bdo
---
FREE PRINTABLE LABELS AND RIBBONS
And lastly, we also came up with a set of ribbons and tapes featuring the gold-black damask designs. You can print them on sticker papers and use them to tape your photos and other memorabilia on a page, you desk wall, or as a page marker for books and thick documents. You can also use them as paper straw flags or to stick notes for your friends, kids, and loved ones. The ribbons measure around 3 inches in length.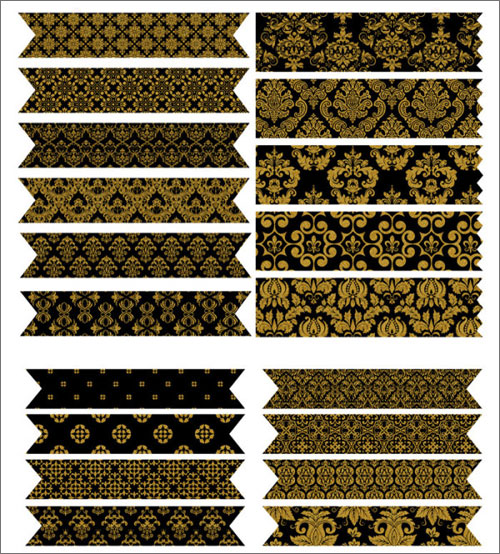 Included in the download pack is the ready-to-print PDF file. Please note of the password for extracting the zipped file. Enjoy!
DOWNLOAD
password: bdo
---
We hope you will find these free resources from us useful in your designs. Let us know of what you think by leaving a comment below.
TERMS OF USE
These printable journal cards, tags and ribbons may be used for personal projects only. A link back is required if you use them. Also, please refrain from making them available for download outside of this site. If you want other people to know about our freebies, please refer them to this post.
IMPORTANT!
The download file is password-protected to prevent hotlinking and discourage people from violating terms of use of our free resources. When prompted for a password, just key in "bdo".
Related Free Design Resources