Printable Mini Calendar for 2017 Free to Download
UPDATE: We understand how you like this printable mini calendar set. Thus, we come up with a 2018 edition of this. Don't worry the updated set has a new fresh look. Download now our 2018 printable mini calendars.
Our 2016 printable mini calendar has been among the most downloaded freebie that we released last year. So if you missed downloading it, don't worry, because we have updated the design with 2017 calendar. So let's begin the countdown to year 2017 with this set of beautiful printable mini calendar. Sized 3 x 5 inches, these are ideal for journals and scrapbooks. You can also print them on stickers and stick to your notebooks if you wish. Or, you can hang them on your walls using binder clips.
Below is a preview of our printable mini calendar. They sport a nice watercolor floral design, with each month having a unique look.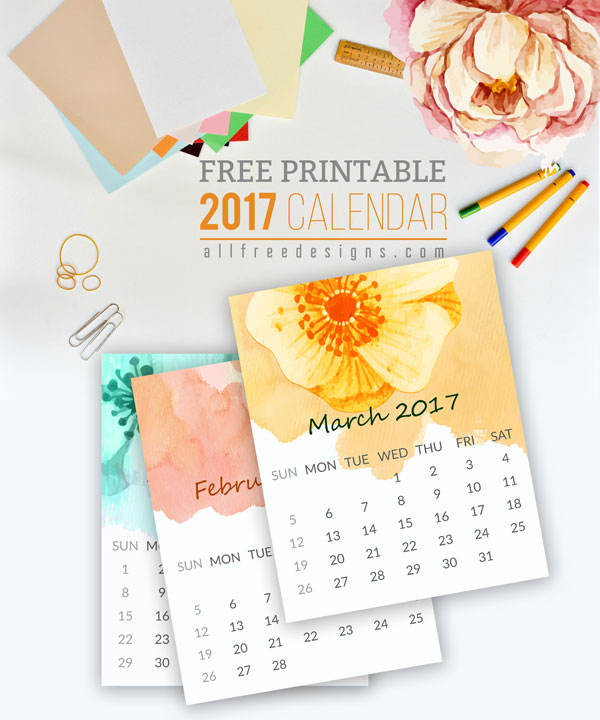 The file that you may download is 100 percent printable. Simply download the high-quality PDF file and print out on nice thick paper at home or at a copy shop. Hang it on your fridge, wall or just place it on your desk. If you are into journals and scrapbooks, then these monthly calendars are perfect as they are sized at around 4 inches by 3 inches.
Watercolor graphics have been making big waves both in print and web designs. You see them in posters, flyers, magazines even on web banners and website layouts. A trend this big will surely continue until the next year or so. Thus, we decided to have our first printable mini calendar freebie to have this handmade look using watercolors. Each month of the calendar comes in unique color and floral graphics. You may also use this printable mini calendar as gift this holiday season, that is, if you want to give something unique, useful, and memorable yet inexpensive gift to friends and colleagues.
The artwork on the PDF is locked and may not be edited in a program like Adobe Illustrator or Photoshop. This mini note-sized calendar is meant to be used as-is. We hope you enjoy these freebies. Let us know of what you think by leaving a comment below.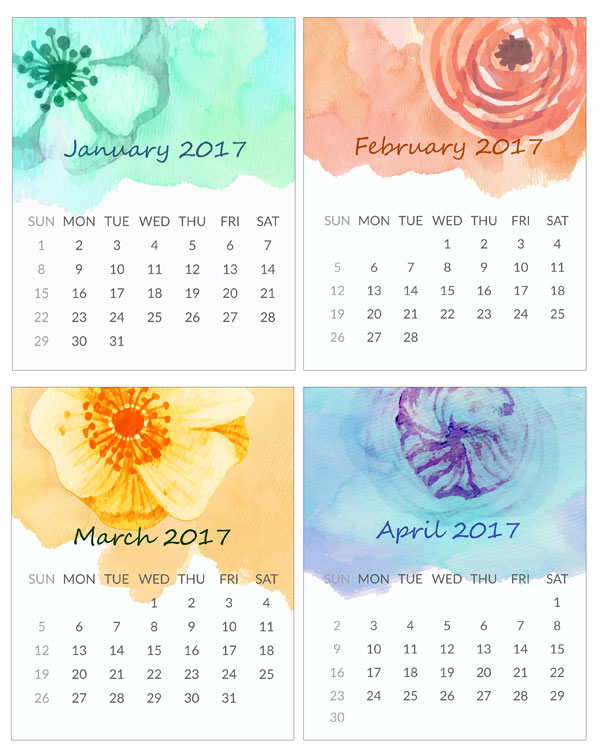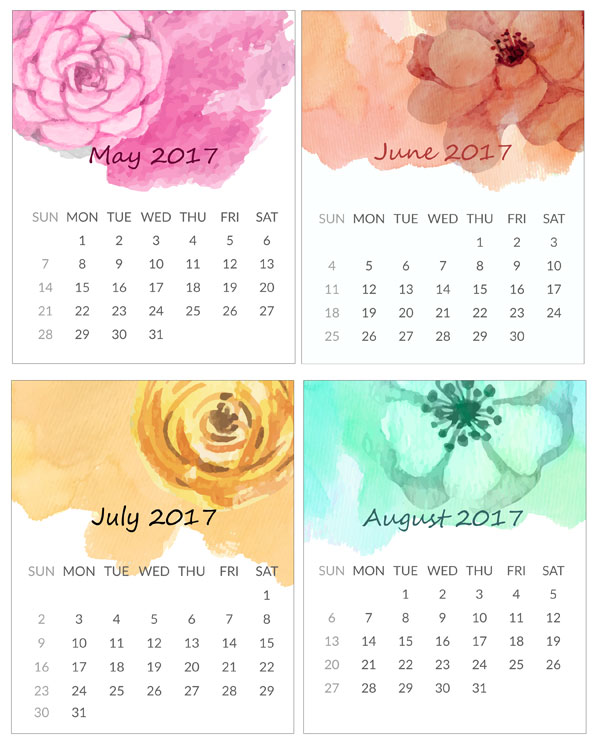 HOW TO USE THIS PRINTABLE MINI CALENDAR for 2016
1. The file that you may download is in PDF. You need at least an Adobe Acrobat Reader to view the file. If you do not have an Acrobat Reader, you may download this for free here: https://get.adobe.com/reader/
2. The PDF file has 3 pages, 4 month each. Print the file using a letter size card stock. For best results, use 240GSM paper or thicker.
3. Cut the cards along the edges using scissors
4. Alternately, you can print this using sticker paper and just stick on notebooks or walls.
TERMS OF USE FOR OUR PRINTABLE MINI CALENDAR:
Our printable mini calendar may be used for personal purposes only. If you want to  and a link back is required. Also, please refrain from making them available for download outside of this site. If you want other people to know about our freebies, please refer them to this post.
IMPORTANT!
The download file is password-protected to prevent hotlinking and discourage people from violating terms of use of our brushes. When prompted for a password, just key in "bdo".
---
UPDATE:
We are happy to announce a new set of printables using these lovely floral watercolor backgrounds. Visit our new page and download this set of freebies consisting 6 journaling cards (3×4 inches) and 6 postcards (4×6 inches) with motivational quotes. Below is the preview of the postcard designs.   Click on the image to visit the page.
---