8 Printable Note Cards for Journaling in Glittery Orange
In this set, you will find 8 unique printable note cards for journaling cards in 4×3 inches dimension, 9 blank gift tags, and a set of ribbons and flags that you can use as tapes or labels. All of these printables sport the glittery orange-white patterns.
Most of these printable note cards for journaling have blank labels, giving some flexibility on what to do with them. There are also some cards with motivation quotes on them. The printable note cards that we are giving away here are just some of the many ways you can do with these sparkling orange digital papers. Because orange is a happy color and full of energy, you can use these cards for recording happy events in your life such as family gatherings, birthday celebrations, friend reunions, and other special occasions.
It has been weeks since we posted our set of free digital scrapbook paper in glittery orange patterns. If you haven't seen them yet, then you have to check them out. Those scrapbooking paper are high-quality at 12×12 inches at 300 DPI. You may use these scrapbooking paper to create beautiful scrapbook pages, greeting cards, photo frames, and so much more. However, if you do not have time to design your own journaling cards, worry not because we decided to create a set of printables using these digital papers.
ABOUT THESE PRINTABLE NOTE CARDS
Theprintable note cards for are sized 4×3 inches and contained in a three-page Adoobe PDF file. All you need to do is to download the file (link below the preview image), extract the PDF file from the archived file, open in your computer, print, and then cut. The layout is sized 8.5×11 inches, thus it is best to print them on letter sized paper. It will also fit on A4 size paper without a problem.
To give you a better idea on how these journaling cards look like when printed, we also included below some close-up previews of these cards.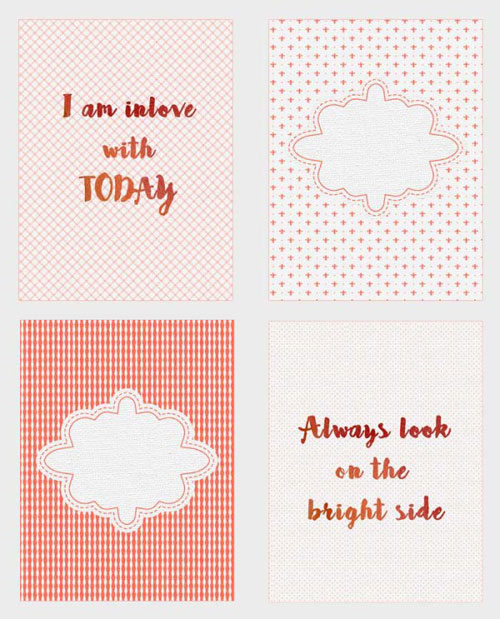 DOWNLOAD
---
FREE PRINTABLE GIFT TAGS IN GLITTERY ORANGE
As mentioned, we are also giving away a total of nine gift tags sporting the sparkling orange patterns. Like the journaling cards, these gift tags are laid out in on-page PDF file. Simply download, print and cut. All the gift tags have thank blank labels on them, allowing you to write customized or personalized messages. These would look great as tags for party favors, for party giveaways, or for gifts for birthdays.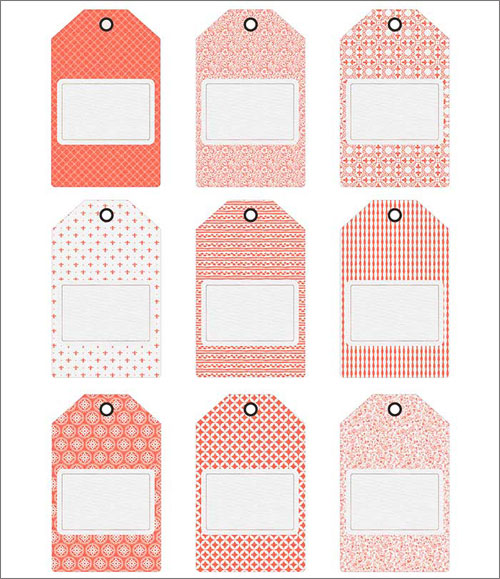 DOWNLOAD
password: bdo
---
FREE PRINTABLE LABELS IN GLITTERY ORANGE
Lastly, we also came up with a set of labels, flags and ribbons using the same sparkling orange patterns we used for the journaling cards and gift tags. Each of these ribbons and labels has unique pattern on it. As usual, download, extract, print and cut. Remember to print them on sticker papers. We hope you will find these free resources from us useful in your designs. Let us know of what you think by leaving a comment below.
Included in the download pack is the Photoshop .PAT file and the ready-to-use JPEG digital paper pack. Please note of the password for extracting the zipped file. Enjoy!
DOWNLOAD
password: bdo
---
TERMS OF USE:
These printables may be used for personal projects only. A link back is required if you use them. Also, please refrain from making them available for download outside of this site. If you want other people to know about our freebies, please refer them to this post.
IMPORTANT!
The download file is password-protected to prevent hotlinking and discourage people from violating terms of use of our brushes. When prompted for a password, just key in "bdo".
Related Free Design Resources