33 Creative Restaurant Menu Design Examples
Aside from listing down the dishes and drinks and their corresponding price, the restaurant menu design is also the most important internal marketing tool of any restaurant, cafeteria, fast food, bar, club, snack bar or wine room. In fact, the menu that you hand to customers when they get in your restaurant is the only piece of printed advertising material that you are sure will be read by the customers.
Thus, when designing a restaurant menu, one must think of it as your restaurant's business card. The menu introduces your restaurant to customers, including not just what food and beverage you offer, but also the overall dining experience that they should expect. As in any other branding materials, a menu should also have the graphics and colors that customers see in your restaurant. In other words, its design should complement the theme, decorations, food quality and price range of the  establishment.
To demonstrate what we mean by all these, we come up with a round up of creative and effective restaurant menu design examples, mostly from the portfolio of designers via Behance and Underconsideration. The images that you will find below are just low-resolution version of the originals and are shown here for demonstration purposes only. View more information and pictures in higher resolution by clicking on the source link for each entry.
For more inspiring designs, also check out our post on brochure design examples.
---
EXAMPLES OF CREATIVE RESTAURANT MENU DESIGNS
A. Restaurant Menu Design with Eye-Catching Photographs and Graphics
01 – Saray Menu Design
Menu design for Saray (Turkish for "palace"), a Middle Eastern restaurant in Boston. Traditional patterns were created to show the elegance and beauty of the restaurant's Middle Eastern roots.
02 – Peppa Restaurant Menu
Using traditional elements, the menu design's cover features lamination and metallic foil stamping and bound via saddle stitching.
03 – Boston Pizza Menu
Boston Pizza's deep dish binder menu featuring over 100 menu items and 24 gourmet pizzas definitely reigns supreme.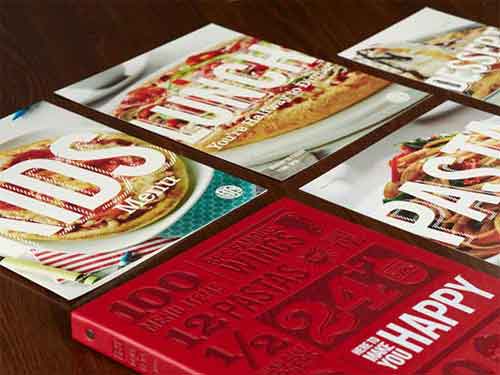 04 – Vittobeneto Restaurant Menu
A wooden cutting tray was used as a base menu.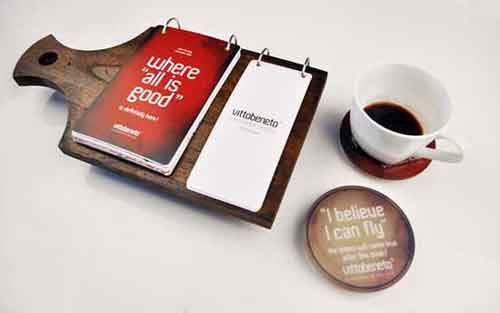 05 – Restaurante Submarino
This menu design simulates the circular interior design and the underwater feeling created by the floor-to-ceiling aquarium which surrounds much of the restaurant's dining area.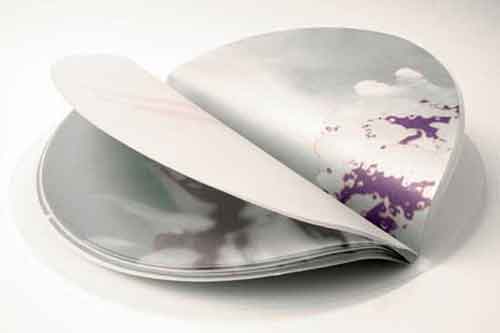 06 – Play Again Menu Design
Suited for a playful venue, this menu represents the shape of a billiard rack.
07 –  Shift Pub Menu
Blending with the electric style of Shift, this pub menu has the shape of a vinyl. The unique collages were made from music-themed images and patterns.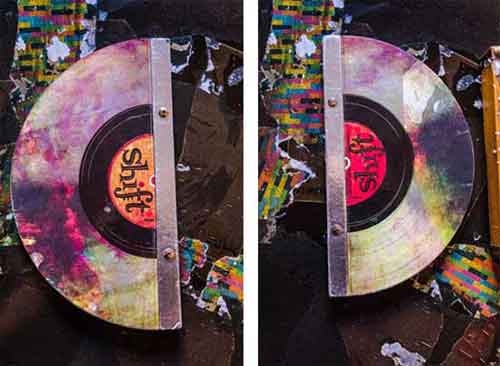 08 – Table Top Menu for Gotham Pizza
This is a table top with a die-cut top of the skyscraper.
B. Restaurant Menu Design Examples Using Illustrations
09 – Fade Street Menu Design
Steve Simpson's illustrations on the menu for Dublin's Fade Street Social encapsulate the unique Irish sense of humor, the celebration of Irish food and character, and the high standards at affordable prices in a relaxed setting behind gastro bar's concept.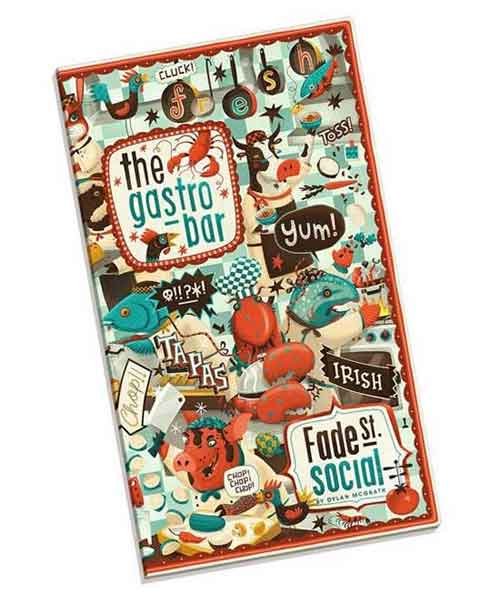 10 – Maremar Restaurant – Menu
This colorful menu for a Brazilian restaurant makes use of graphic elements that made reference to the sea movement, texts in gray scale and pictures of the plates.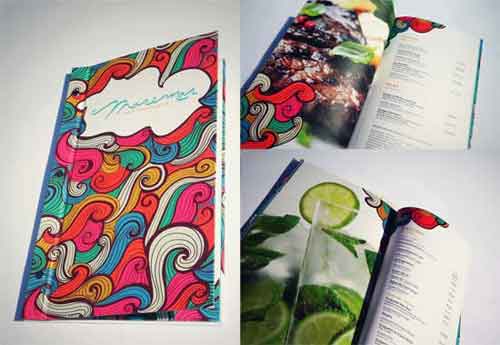 11 – Cafe Mangil Menu
A colorful illustrated menu for a chain of Italian casual dining restaurants in Mumbai. Their logo is inspired by a fork and spaghetti–simple, recognizable yet quirky.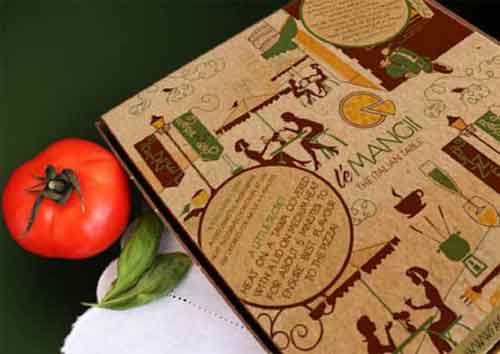 12 – Chalkboard Mexican Restaurant Menu
This is a chalkboard-inspired menu for a Mexican restaurant. The design makes use of chalkboard texture and font types with chalk texture.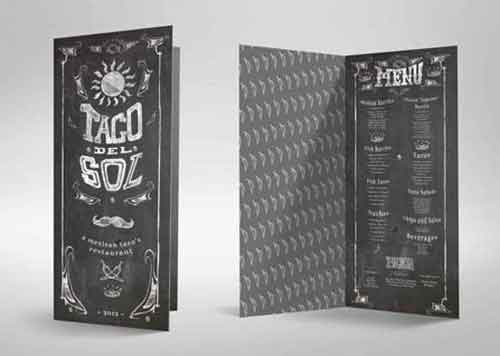 C. Vintage and Retro-Inspired Restaurant Menu Design
13 – Hatch & Sons Menu Design
Designed for an Irish Kitchen based in Dublin, the menu and other branding materials were based on the old dockets and invoices of the dairy, which existed in the late 19th century.
14 – Chinchilla Coffee-House Menu
Menu design for a boutique cafe featuring vintage inspired typography.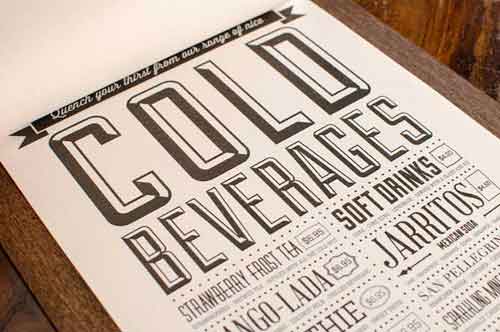 15 – TQLA Restaurant Menu
This layout makes use of retro type in a smart, modern layout to reflect the restaurant's fun and energetic atmosphere.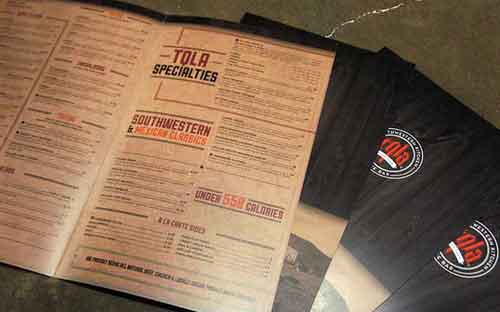 16 – Rosty Restaurant Menu Design
Retro and typographic menu design for a restaurant specializing in steaks and potatoes.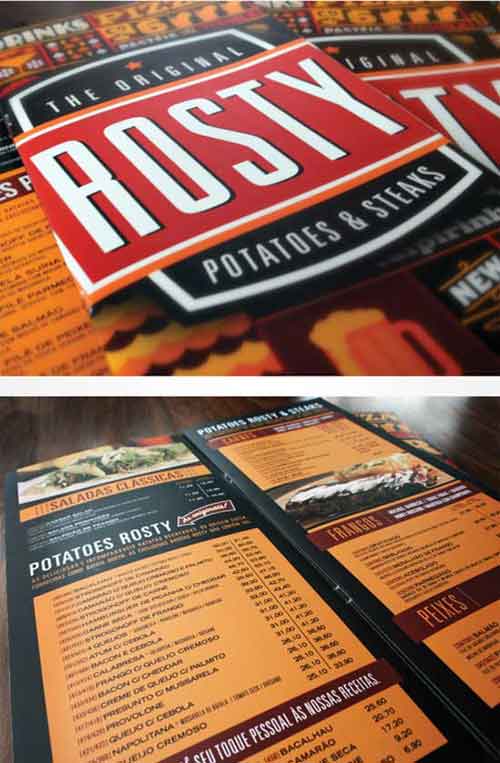 D. Use of Typographic Elements in Restaurant Menu Design
17 – Menu Design for Enden Af Gaden
The playful use of graphics and typography in black and white makes this layout very striking.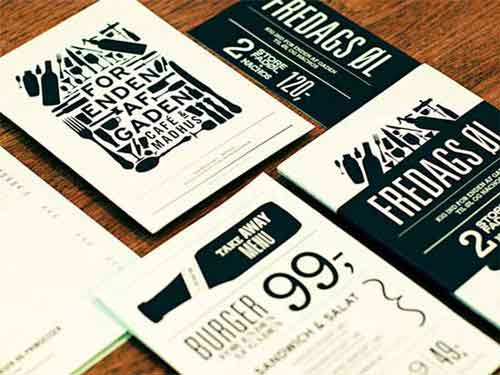 18 – Terreiro Restaurant Menu
The clever typographic play and the use of a fresh color palette makes this menu layout an outstanding design piece.
19 – Cabbages and Kings' Menu
Fun and bold layout with grunge look.
20 – Kachina Southwestern Grill
Kachina's menu is a great example of a southwestern restaurant with a touch of Mexican style.
21 – Slotted Spoon Menu
Traditional and contemporary converge in this menu for a restaurant serving one of life's treasures: meatballs.
22 – Trafiq Menu Design
A playful mixture of early twentieth-century typography and a contemporary, psychedelic visual language that, together, pay homage to the tiny, toy store-like shops for which the club is named.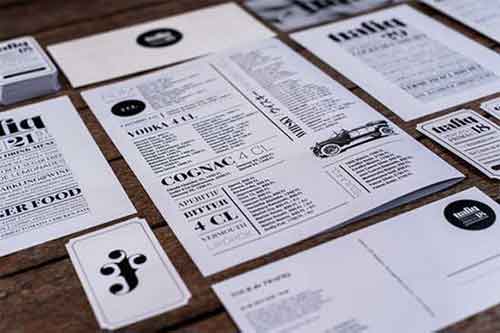 23 – Riso8 Restaurant Menu
Modern and clean design for an Italian restaurant's menu.
24 – Schnipper's Menu Design
The mix-and-match red and black letters and the use of cyan shade of blue makes this menu design eye-catching.
25 – Zizzi Wine Menu
A fun design using types for a restaurant that specializes on wine.
26 – The Point Menu Design
Inviting, contemporary and rustic. To achieve this look, this menu design makes use of retro types in a simple layout of lines boxes and ribbons.
Minimalist Restaurant Menu Design Examples
27 – The Chequers
A menu design for a British pub that looks very clean and modern. This layout makes use of two colors, black and white, and lots of lines and boxes to organize the contents, making the menu easy to read.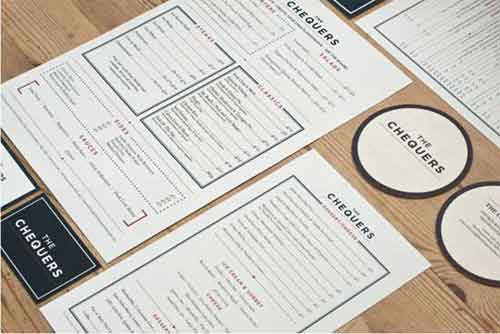 28 – Wallace Whisky Bar Menu
This menu looks very elegant in black and white plus a clean use of typography and grid layout.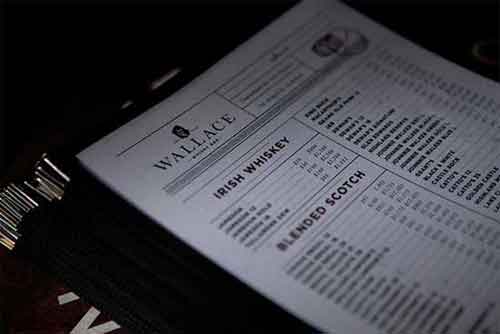 29 – Manchester Press Bagelry
This one-page offset letterpress menu is from a former letterpress-shop-turned bagelry.
30 – 72 Sycamore Menus
A logo and menu for a fictional restaurant called 72 Sycamore. It's a comfortable, woodsy restaurant, only open on holidays. Each holiday has a slightly different menu, and is mounted onto a board with a holiday-specific hand-lettered logo laser-etched into it. I heart hand-lettered anything.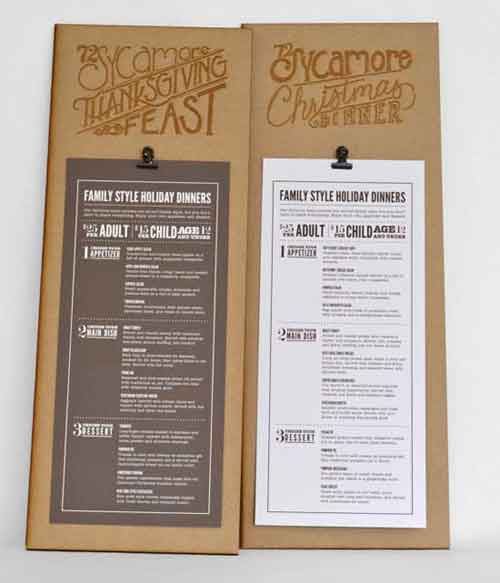 31 – Blanc Restaurant Menu
Design of the new brand identity and menus of the restaurant for Mandarin Oriental Hotel in Barcelona.
32 – Aroma Gastronomic Lounge Menu Design
A clean, modern and minimalist design for a restaurant using a simple Gotham typeface for the logo, that would be in black and the rest of the senses in transparent UBI.
33 – Indocafe Food and Wine Menu
Both menu designs have blind embossing on leather fabric for the pattern, white ink and silver hot stamp for the logo.
Related Free Design Resources