20 Free Retro Icons Sets for Vintage Designs
Retro design is becoming a new trend as manifested in the growing number of web designs, advertisements, and print materials that makes use of this design style. In this post, we are featuring a collection of free retro icons that you can use to compliment a retro or vintage-themed website.
In case, you are interested in retro Photoshop brushes, I would like to recommend that you checkout my earlier post on vintage free photoshop brushes.
---
FREE RETRO ICONS TO DOWNLOAD
There are 20 sets of free retro icons below. To download the set that you want, simply click on the link below each preview image and a new page will open where you can download the icon files.
Retro Candy: Free Icon Set
A free icons set featuring retro and hand-drawn theme. There are 18 icons in PNG format in this set that includes objects such as a chat bubble, a notepad, a martini glass, and more.
[ DOWNLOAD ]
Retro Vector Icon Set 2
This set includes 12 retro vector icons with transparency and 100 percent free to use. Wireless router, mouse win, mouse mac, coffee cup, pen tablet, paper, Macbook air, sunglasses, headphones, freaky water pot, addictive coffeepot, satlink. Standard on a white background, but with the included EPS file you can put it on whatever background you want.
[ DOWNLOAD ]
Retro Table and Chair
Retro table and chair 3d model that are quite different model from usual chair and table, shaped in unique style, excellent make more variation on your design project, free to download for personal use.
[ DOWNLOAD ]
Smashing Retro Icon Set
A set of 10 beautiful, high-quality "vintage" icons, created by Russian design agency SoftFacade especially for Smashing Magazine and its readers. The set contains 10 original icons: search, sign-up, calendar, news, RSS, comments, email, ads, home and address.
[ DOWNLOAD ]
Patchwork Worn Cloth Icons
There are 154 social networking/ social media icons with worn and vintage look.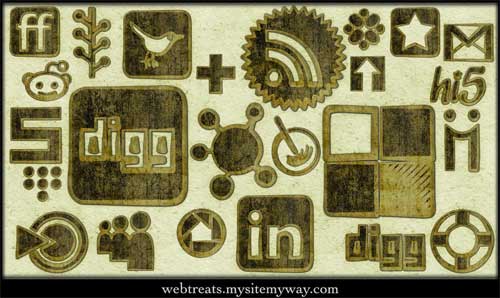 [ DOWNLOAD ]
50 Free Retro and Vintage Icons
The pack features 50 different vintage elements that can give your new designs a stylish old school appearance.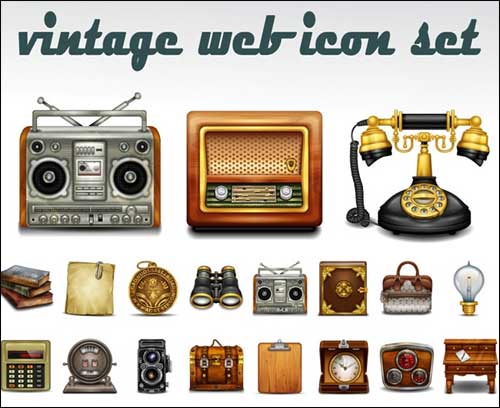 [ DOWNLOAD ]
Retro Icons Freebie
If you are a fan of retro style, then this is for you. There are four sets of icons to replace native applications icons.
[ DOWNLOAD ]
40 Gamy Vintage Social Media Icons
There are 40 gamy vintage social media icons in this set. All icons are vector in Illustrator format. These icons are ideal to use with websites and blogs with light and dark backgrounds.
[ DOWNLOAD ]
Retro Pack
This pack contains vintage items such as a compass, an old television set, a phonograph record, an old torn paper and a lot more. These icons are free for non-commercial uses.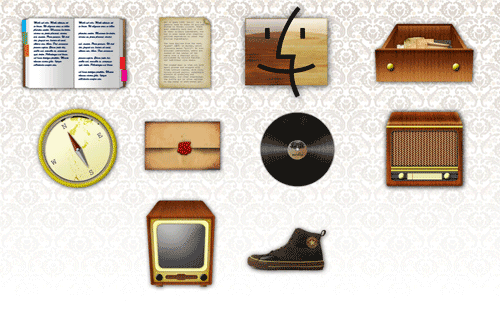 [ DOWNLOAD ]
Outline Retro Icon Set
This set contains 12 classical elements in hand drawn and sketched style. All icons are in vector Illustrator format.
[ DOWNLOAD ]
M'peepz  Vintage People Icons
This set includes four (4) men and four (4) women (one from the 40s, two from the 50s, and the wonderful rosie the riveter) and then the two icons–bob marley and virtruvian man.
[ DOWNLOAD ]
Vintage Folders
There are nine vintage Mac OS X folders in 512×512 PNG format.
[ DOWNLOAD ]
21 Free Social Vintage Icons
There are 21 icons that you can use for your web projects. The PNG files come in 64×82 size.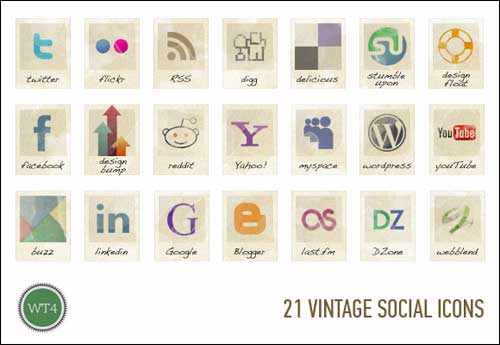 [ DOWNLOAD ]
Retro Icons Collection
There are 16 icons with retro theme in this set that you may download and use for free.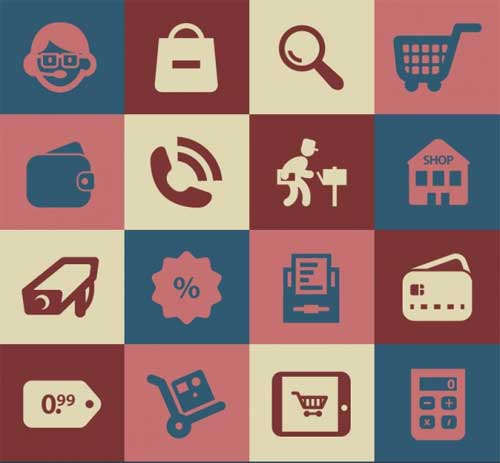 [ DOWNLOAD ]
Square Social Media Collection
There are 12 social media icons in this set representing popular social media sites such as facebook, Twitter, Pinterest, etc. All icons are in editable vector format.
[ DOWNLOAD ]
10 Free Vintage Retro Badges
Badges are very popular elements in modern web. Here are 10 free badges in Photoshop PSD format that you may download and use for free.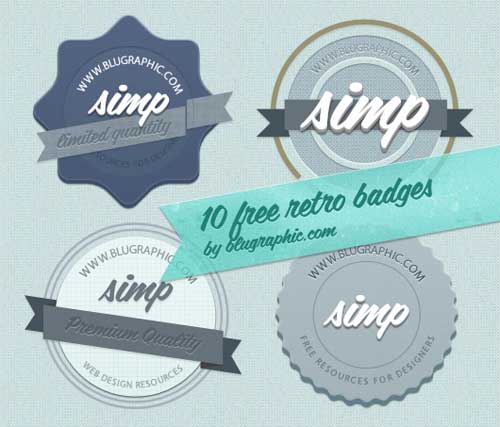 [ DOWNLOAD ]
Free Vintage Design Icons
There are 50 free vintage icons in this set consist of classical objects you can use in your web design projects.
[ DOWNLOAD ]
70 Free Vintage Social Badges
get these 70 cardboard-textured badges featuring almost all popular social media websites. These are great for your blog and websites.
[ DOWNLOAD ]
Ocean and Sea Labels Stamp Vector Set
[ DOWNLOAD ]
Education Icons Collection
Here are 25 vintage-style icons about education that you can download and use for free.
[ DOWNLOAD ]
Related Free Design Resources